Do your armpits really need detoxing?

Why yes, friends. They really do!

Have you ever tried switching from a regular to a natural deodorant and noticed that you seriously stink at the end of the day? That's because your armpits are filled with toxins from years and years of using aluminum-filled deodorants. The key is to find products that can balance out your pH in order to kill odor-causing bacteria.

Lucky for us, Crunchy Mama Bear created an armpit detox mask to help de-stinkify your transition into the world of natural deodorants. And we enlisted 10 of our followers to test it out with us!

Why We Love Crunchy Mama Bear

We discovered Crunchy Mama Bear through Instagram, and boy are we grateful for this find! The brand was founded by Rebecca Nowak, a beautiful mom and breast cancer thriver who wanted to create a line of natural products that were safe for her and her family to use.

She is a firm believer that armpit health is breast health, which is why she sent us and our 10 followers her Armpit Detox Mask and Natural Deodorant to test out. How awesome is that?!

Everything she makes is handcrafted in small controlled batches and made with only the purest natural ingredients. Not to mention, her Etsy store has 5 out 5 stars with 930 reviews!! It's safe to say, Rebecca is KILLING IT.
---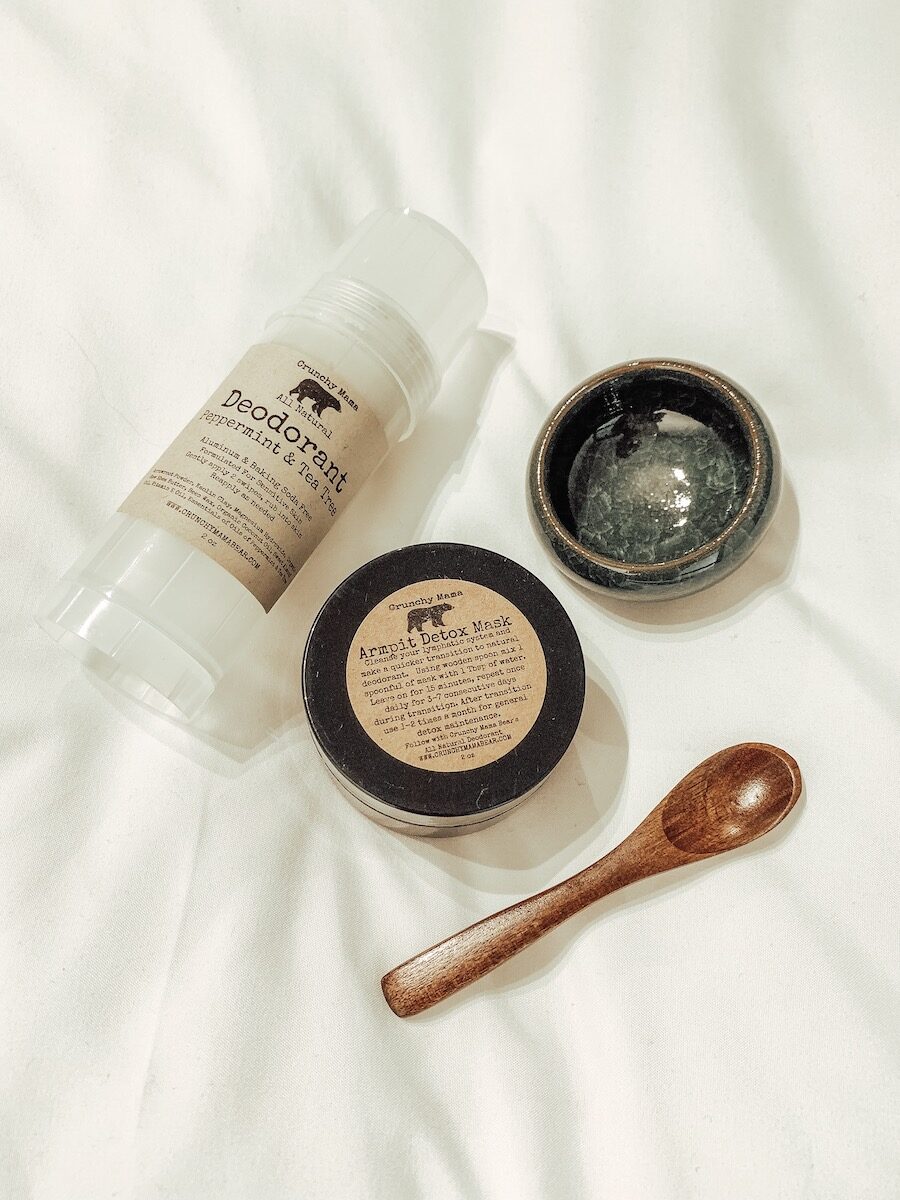 ---
Crunchy Mama Bear Armpit Detox Mask
Did you know that up to 70% of breast cancer is found in the armpits and upper region of the breast? That's why it's SO important to take care of your armpits, ladies!

This mask is a serious MUST for your health, especially if you're trying to switch to a natural deodorant. It's made with super clean ingredients that help pull all the toxins out of your lymphatic system, which helps natural deodorants work better overall.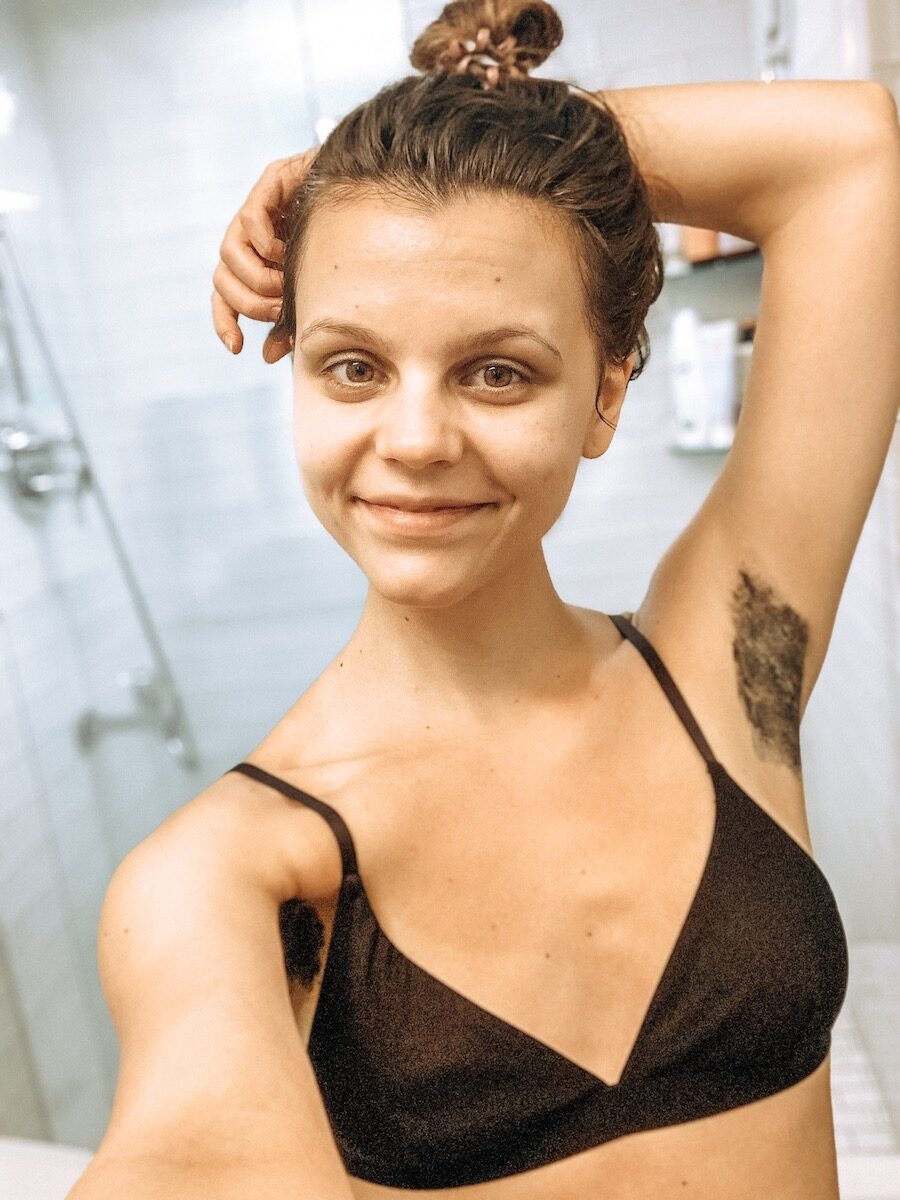 It's made with bentonite clay, charcoal and essential oils of rosemary, lavender and tea tree…that's it friends!
After using this mask for four days in a row, I can safely say it made a serious difference in the effectiveness of my deodorant. I felt like I barely needed it!

Check out the video below for a quick rundown of the mask and how I use it!
What our experimenters thought:

It was easy to mix up and apply! I liked how cooling and refreshing it felt on, but I struggled to find 15 minutes where I wasn't running from one place to another to apply it!
Love how easy it is to use and felt that it really helped with the efficacy of the deodorant as well.
It's a nice fine charcoal powder that doesn't have any real smell to it. Easily mixes with water into a paste. When applied there is no stinging, burning or cooling sensation – perfect for a sensitive spot like the armpits. Dries nicely, but taking it off can get a little messy, but that can easily be fixed by applying the mask before a shower and wiping it off in there. After the mask came off my pits felt dry, didn't smell, and felt prepped for the deodorant.
My skin felt so clean and fresh! It really got into my pores and got all of that nasty stuff out of there!!
Did it work for them?
After about day 4, I felt that I didn't need to reapply deodorant as often as I did earlier in the week. While there was still some smell I'd notice about myself, I was more tolerable after using the detox armpit mask.
I noticed that as I used it more, the deodorant worked better and I needed to re-apply deodorant less throughout the day.
My armpits were having a rough time before I started using this mask. Some type of deodorant I used before getting this box had left a burn/rash, and my armpits were just raw. Once I healed up, I started using this mask, and it really helped me to start fresh again and give the deodorant a fair shot!
I really didn't notice any dramatic changes. Yes, my pits felt refreshed after every use, but after using it consistently day after day for three weeks I still can't make it through a day without having to reapply the deodorant. I do think that my pits don't smell as much, but I still do have to reapply the deodorant. I do want to continue to use the mask to see if I need more time to detox, but maybe it's not the mask. Perhaps, I need a stronger natural deodorant.
Crunchy Mama Bear Natural Deodorant
When it comes to natural deodorants, it really is a lot of trial and error! Especially because everyone's bodies are so different. For me, thicker, creamier and freshly scented deodorants like Crunchy Mama Bear work best! Not to mention, after doing her detox mask, both her deodorant and Kopari's seem to be working better for me.
For Sam, however, this deodorant didn't work for her AT ALL! She was stinky by the end of the day and felt like she needed to re-apply too much.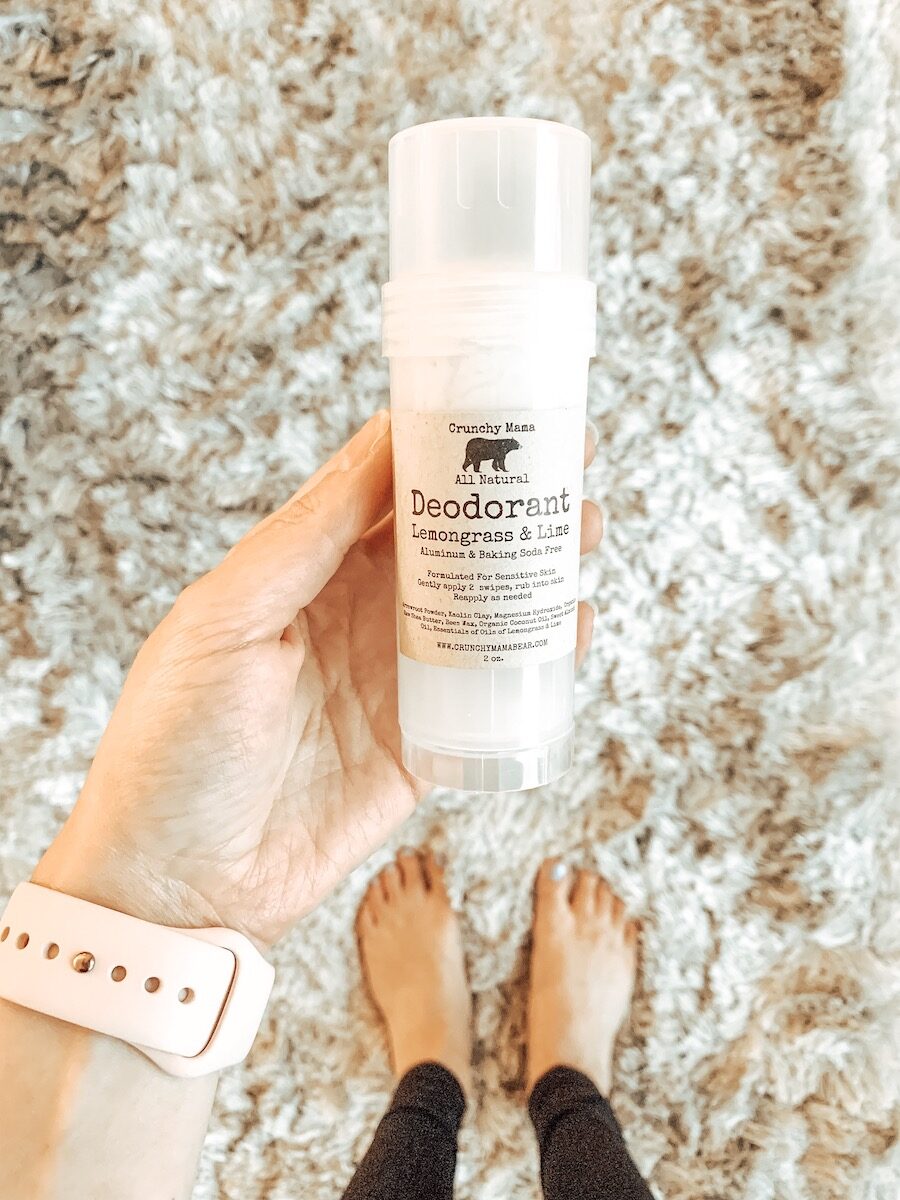 Texture: Thick and creamy – it's best to apply a couple of swipes and massage it in with your fingers
Scents: Lemongrass Lime, French Lavender and Peppermint Tea Tree
Ingredients: Arrowroot Powder, Magnesium Hydroxide, Shea Butter, Organic Coconut Oil, Sweet Almond Oil, Beeswax, Essential Oils, Kaolin Clay
Did the deodorant work for our experimenters?
I really enjoyed the lemongrass and lavender scented deodorants. While the first few days were rough, I was sweating a lot and the scent was not pretty, I felt like I trusted it more and more as the days went by. I felt like I didn't have to carry the deodorant with me throughout my day unless I'd be out of the house 12+hours. I also felt like I could lift up my arms and the scent wouldn't escape!
Yes it did work and has worked I liked the lemon grass one a lot. I think it will be something I repurchase and the products have me thinking I should switch to more natural products.
I do like the fragrances of the deodorants, but unfortunately, their coverage does not last throughout the day. I wanted them to work so badly, but they just did not hold up.
The scents were great, not too overpowering and I liked using a few so I didn't get sick of just one scent!
The deodorant was really comfortable and didn't stain my white shirts (I wear a lot of white tops)
Their deodorant wasn't my favorite. I used it every day and none of the scents were ones I'd want to use regularly, I also felt I had a hard time getting the full application I needed since I had to use my fingers to apply it. I prefer Lume Deodorant which has been my go-to since I made the switch to natural.
Should you try Crunchy Mama Bear's armpit detox mask and deodorant?
Yes, yes, 10000x yes! Her products are clean, effective and amazing for your health. What more could you want?

Plus, our experimenters agree that these products are totally worth buying. 100% of them would purchase the Armpit Detox Mask again and 70% would purchase the Natural Deodorant again!
Armpit Detox Score

Natural Deodorant Score

Be sure to join our community for a chance to be a part of our next group experiment!