Seriously, though. When Claudia convinced me to make the switch to natural deodorant, it didn't go so well for me. (Just read our Native review!) Being that I had only tried one brand, I wasn't exactly ready to give up on the whole natural deodorant switch. So I ran over to Whole Foods and picked up a stick of Schmidt's Natural Deodorant (I had heard great things about this one).
The first thing you see when you go on Schmidt's website is a big headline that reads, "We heard natural deodorant never works so we made one that does." Um, hello! SOLD!
So what makes this deodorant work (or not work)? You'll just have to scroll down to see what I figured out!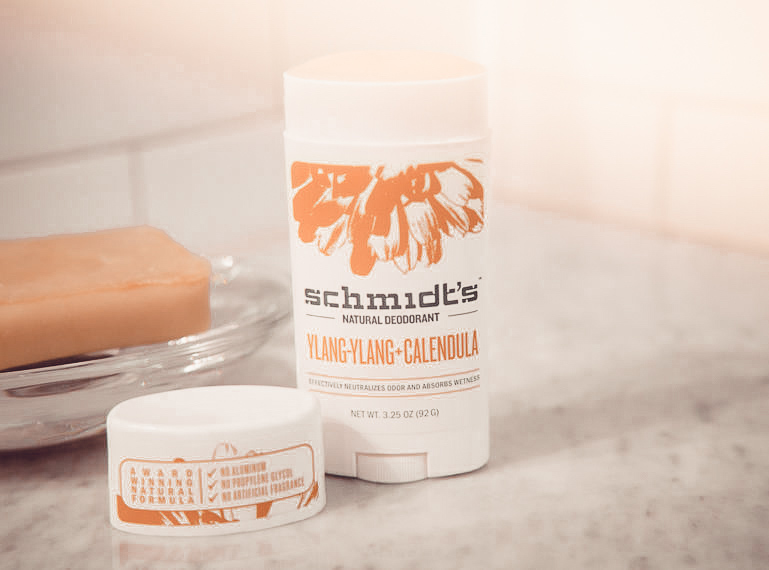 The Rundown
Product: Schmidt's Deodorant Stick (Ylang-Ylang + Calendula)
Retail Price: $8.99
Where to buy: Buy on Amazon here!
Perks: 100% Satisfaction Guaranteed | Vegan | Cruelty-Free | Gluten-Free | No Aluminum | No Propylene Glycol | No Parabens | No Phthalates | No Artificial Fragrance
How I Used Schmidt's Natural Deodorant
In case you missed it, when I used Native, I was sweaty all the time. My skin was irritated. My pits were NOT happy. Apparently, this isn't abnormal…
When making the switch from toxic to natural deodorant your body goes through a bit of a detox. Since your underarms are no longer being clogged with aluminum (…thank goodness…), you slowly start to release all the built up toxicity. In hindsight, this is great, but I should've been more prepared. I should have done a Crunchy Mama Bear Armpit Detox!
After a few weeks of letting nature run its course with Native, I knew my issues were more than just the big move to natural deodorant…it had to do with the deodorant itself.
Introducing Schmidt's Natural Deodorant
As I was getting frustrated with irritated skin that didn't want to quit, I knew something in Native's deodorant just wasn't working for me. So on my next Whole Foods run, I grabbed Schmidt's Ylang-Ylang and Calendula (I chose this because of Calendula's anti-inflammatory and healing qualities) deodorant with the hopes it would be my pits' saving grace!
Now for the [temporary] rainbows and unicorns:
I stopped applying deodorant multiple times per day.
My redness and irritation went away.
My sweat subsided.
I smell yummy!
After using this deodorant on a daily basis, I've learned that it helps if you warm up the deodorant before putting on your skin. No…I don't mean put it in the microwave… Just give it a few extra swipes on your underarms to get it nice and warm and you're good to go! Why? I'm no scientist, but when this solution is warm it spreads easier which makes it easier to get full coverage and complete effectiveness. #winning
Honesty hour! One thing I've noticed with Schmidt's is if I'm in the middle of a super sweaty workout, it's not as moisture-stopping as some as my old chemical-filled friends. Good news is…even though I sweat a tad more, it still emits a yummy scent of ylang-ylang and calendula!
The Negatives
After using Schmidt's consistently over a few months, unfortunately I started to experience some of the negative effects that I had with Native, such as:
Irritated skin
Reapplying multiple times per day
My clothes were getting stained!
UGH. Back to square one. What's a girl gotta do to get a natural deodorant that works?
The Results
While Schmidt's was the first natural deodorant to actually work for me, temporarily, it ended up letting me down in the end. While I like this one more than Native…
Native is $3 more than Schmidt's
Native has more ingredients than Schmidt's
It still isn't my saving grace deodorant. It'll kinda do the job, but it's not ideal.
Schmidt's will be receiving a 7 out of 10.

UPDATE: As of July 2019, my all time favorite natural deodorant for going on 5 months now has been Kopari Coconut Deodorant!