It's never too early (or too late) to incorporate anti-aging products into your skincare routine, friends! Even though we can't fight time, we can definitely try to delay any signs of aging by adding one or two great skincare products that can help rejuvenate and revitalize the skin. And it all starts with EXFOLIATION! (And lots of moisturizing masks of course!)
During my last facial at my favorite local spa, the esthetician told me that the best way to prevent and even get rid of fine lines was through the consistent use of a good scrub. Massaging troublesome areas (hello 11 lines!) in circular motions with a powerful scrub helps to remove dead skin cells, which in turn helps your skin soak up all the beautiful goodness of the skincare products you use following your scrub. 😉
As she was explaining this, I was laying there waiting for the moment when she would tell me that getting facials on a more regular basis was real answer to age-defying skin…but nope! It's as easy as exfoliating! Although a few facials here and there can't hurt
So of course, I took her advice to heart and experimented with the highly reviewed Dr. Brandt Microdermabrasion exfoliator that I got in my fall FabFitFun box.
Because who doesn't want to prevent fine lines and wrinkles?! And who doesn't love a good skincare experiment?
---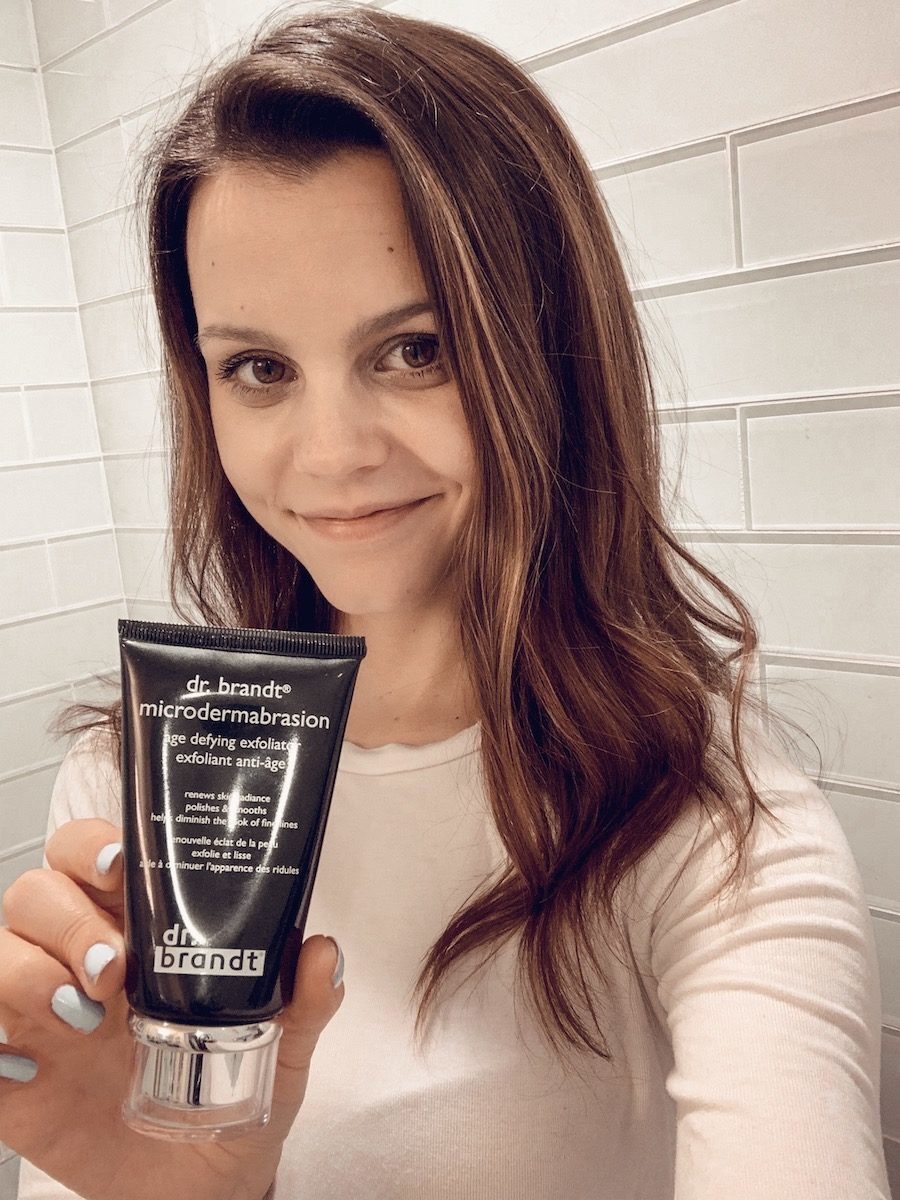 ---
First Impressions of Dr. Brandt Microdermabrasion
To be quite honest, I was kind of intimidated by this exfoliator at first. An at-home microdermabrasion? Sounds a little scary! Was it going to irritate my skin? Would I break out? What if it dried my skin out too much? You know…the typical questions we tend to ask ourselves when we're trying a new skincare product.
But after reading endless glowing reviews about this stuff, I knew I just had to give it a go!
Initial thoughts about the Dr. Brandt Microdermabrasion:
It has a light, fresh scent to it. I noticed on their website they claim this product is "fragrance free", but it definitely has a scent to it. Think fresh lemons! Personally, I love the way it smells.
It's super creamy. I love when cleansers are creamy because creamy = moisturizing! This exfoliator is very rich and non-foaming.
The texture is perfectly scrubby. The tiny little crystals feel so good on your face. It feels kinda sandy, which is nice because it's not too abrasive on the skin.
My skin was incredibly soft after. Like a baby's butt type of soft. As soon as you rinse the exfoliator off, you notice that your skin is 100x smoother and softer than when you started. A+ for instant results!
How I Use It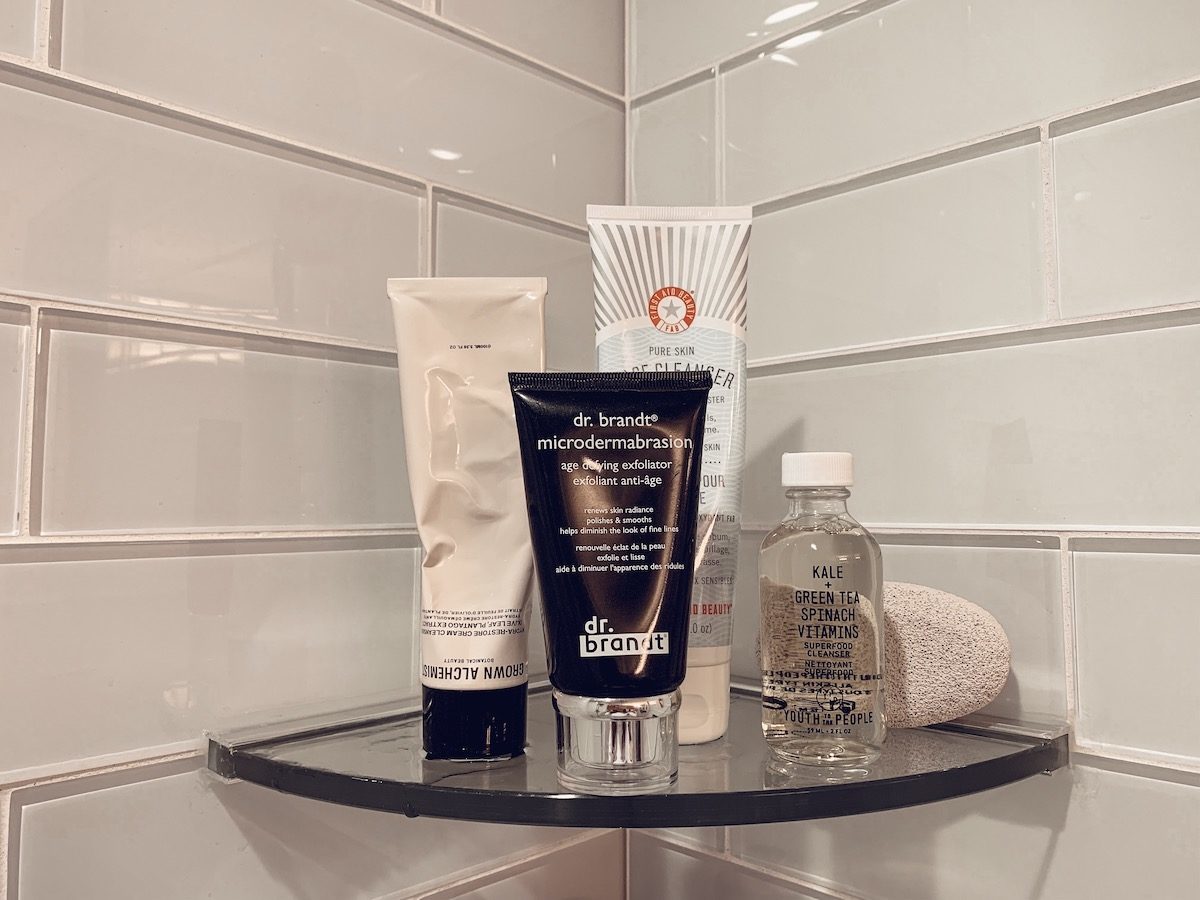 Being that I'm a total rule follower, I make sure to use this scrub as instructed – only twice a week allowing for 2-3 days in between uses. It's one powerful little scrub, let me tell ya! Even though the crystals feel gentle on the skin, you do notice they exfoliate away a good amount of dead skin. So giving your skin a little break in between is key.
With that in mind, every Sunday and Thursday night I…
Get in the shower and let the steam and warm water open up my pores
Squeeze a dime size amount of the Dr. Brandt Microdermabrasion onto my finger tips
Gently massage the scrub all over my face and neck in circular motions for about 1-2 minutes (more on this below!)
Rinse off with warm water and pat my face dry after the shower
Moisturize with a facial oil and my FAB Ultra Repair Cream
Yes, rubbing this product on for 1-2 minutes is quite a long time. But it's actually kind of nice because it forces you to just stop and focus solely on your skin. It's meditative in a way! Not to mention, when you cleanse your face for a full 60 seconds, you allow the ingredients in the cleanser to actually activate and work! I've been applying this rule to all my cleansing rituals lately and have noticed a HUGE difference.
The Results
I've been using this exfoliator now for about three months, and I'm not quite sure I can live without it. UGH! Why does this always happen to us??
Ever since I started using it, my skin has felt softer and looked brighter. Even though I don't have any super deep wrinkles just yet, I do see more of an overall suppleness to my skin. Not to mention, this has helped immensely with some of my hormonal breakouts! Those pesky little pimples don't stand a chance when I use this stuff. It cleans my skin, gets rid of dead skin cells and leaves me feeling all sorts of fresh.
Even though it's a little pricey, a little bit does go a LONG way. I've had my bottle for 3 months and still have quite a bit left. IMO, it's totally worth the money!