Does alcohol-free, fluoride-free mouthwash really work?
Not sure how many of you use mouthwash every day, but if you're anything like me you know there's nothing better than minty fresh breath and sparkly clean teeth. I'm a twice-a-day mouthwasher myself! I'm a true believer in the power of mouthwash, especially now that I switched to Tom's of Maine Mouthwash. It clears out debris, removes plaque and keeps your gums extra healthy. But I have to admit, I wasn't always this obsessed…
About a year ago, I went in for my regular dentist cleaning and walked out with 3 nasty cavities. I had NEVER had cavities before in my life! So being the type-A that I am, I became extra diligent about my dental hygiene routine. And that called for a new electric toothbrush, upgraded toothpaste and ACT Restoring Mouthwash (as recommended by my dentist).
The ACT mouthwash worked well – I had no cavities at my next check-up. However, I hated how sweet it tasted. I literally felt like I was swishing around liquid candy in my mouth!
I took a quick look at the ingredients in the back panel and immediately found the culprits: sodium saccharin and sucralose (a.k.a. artificial sweeteners). There's no way this stuff was actually good for my teeth!
So I threw that sugary shiz away and decided to give Tom's of Maine Mouthwash a try. It was alcohol-free, derived from natural ingredients and did not contain artificial sweeteners, preservatives, colors or flavors. Best of all, they list out the purpose of each ingredient and where it was sourced from!
But was this natural mouthwash #dentistapproved?
---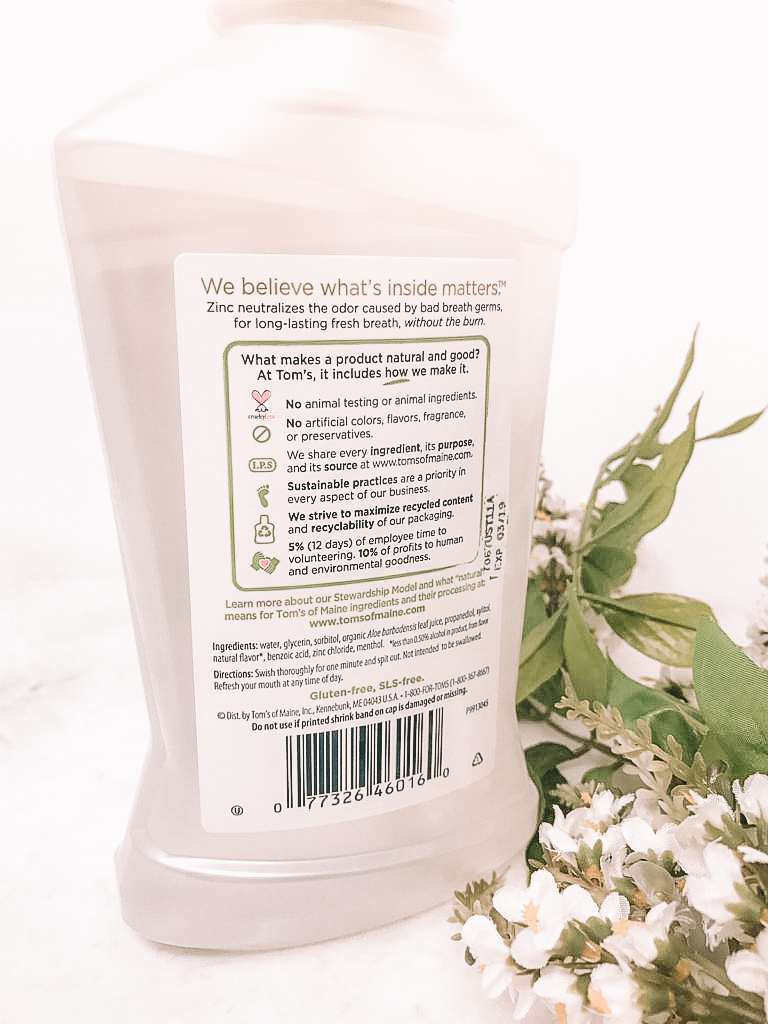 The Rundown
Product: Tom's of Maine Wicked Fresh!™ Mouthwash in Cool Mountain Mint
Price: $3.99
Where to buy: Target , Walmart, Vitacost or Lucky Vitamin
Perks: Vegan | Cruelty Free | No Artificial Colors | No Artificial Flavors or Fragrance | No Artificial Sweeteners | SLS Free | Fluoride Free | Formaldehyde Free | Parabens Free | Phthalates Free | Petrochemicals Free | Gluten Free | Recyclable
---
Switching to Tom's of Maine Mouthwash
As I mentioned above, I switched over to Tom's of Maine Mouthwash after realizing how much crap was in my ACT Restoring mouthwash. How are all the extra sugary "inactive ingredients" supposed to enhance my oral health?! I didn't really want to find out, so I quickly made the switch.
For the past 6 months, I've been using the Tom's of Maine Mouthwash every morning and night after I floss and brush my teeth. The Cool Mountain Mint flavor is light but still minty enough to give you that fresh, clean feeling. I swish it around for 30 to 60 seconds and spit it out. I don't even feel the need to rinse after because my mouth feels so clean!
Alcohol-Free, SLS-Free and Fluoride-Free
One thing you'll notice when using Tom's of Maine is that there is no after-burn because this mouthwash is alcohol-free. It's very gentle on your gums!
Not So Fun Fact #1: Did you know that alcohol-based mouthwash may increase your risk of developing oral cancer? #Nastayyy
This mouthwash is also SLS-free. SLS (Sodium Lauryl Sulfate) is found in lots of shampoos and soaps due to its ability to allow better interaction between cleaning products and your body.
Not So Fun Fact #2: SLS is known to cause skin irritation which can translate to mouth sores, lesions and maybe even gum disease. #Thanksbutnothanks
Now let's talk fluoride. You may have noticed a lot of debate over this little ingredient in the past few years. So what's the deal with this stuff anyways? There's two schools of thought when it comes to fluoride.
Not So Fun Fact #3: Some people say it's necessary to prevent tooth decay while others think the exposure to it is toxic for your bones, brain, blood sugar and thyroid. At the end of the day, you do you. But I'm choosing stay away from this stuff as much as I can. #Byeeeee
Sometimes people think these chemical-free products aren't as effective as their chemical-full counterparts. But I have to say, Tom's of Maine Mouthwash does a great job of getting rid of bad breath and lingering debris. In my opinion, it works just as well or even BETTER than the ACT's and Listerine's of the world.
Negatives of Using Natural Mouthwash
TBH, there are no negatives to switching to natural mouthwash.
You may not love the taste at first since it's not artificial, but I assure you that after a week, you'll be totally used to it.
I really love this mouthwash and feel that my gums and teeth are cleaner than ever. I don't even have to think about using a whitening treatment anymore because my teeth have gotten whiter and brighter on their own. Not to mention, my mouth is no longer being exposed to nasty cleaning chemicals. Thanks Tom's!
So was it worth it?
Even though I knew a few weeks into the experiment that I loved Tom's of Maine Mouthwash, my love was further solidified a couple of weeks ago when I went in for my 6-month teeth cleaning.
My dentist said my teeth looked cleaner than ever with barely any build up and no signs of stains or cavities. She couldn't even believe I drank coffee every day because my teeth were so white. Talk about a MAJOR win!