A bestie of mine clued me in on where I should be getting my athletic attire. No, she didn't suggest Bandier, Nike, or Lululemon like everyone else (Thank goodness! My wallet can't handle those pricey places!). She introduced me to a super cute, super affordable brand called Senita Athletics and I'm forever grateful. Here's why.
Senita Athletics was founded by two sisters in Arizona that were discouraged and turned off by the excessive prices fitness apparel stores find acceptable. They knew there had to be a better way. So they became entrepreneurs, sourced the perfect manufacturer, cut out the middle-man and founded the greatest fitness apparel brand I've ever worn!
The greatest thing about Senita Athletics is all products are under $50!
Yes, you read that correctly. Affordable, durable and cute? It seemed to good to be true!
The Rundown
Products: Senita Athletics Rio Shorts (cactus flower pink) | Fierce Capris (black) | Sarah Sports Bra (pine green) | Easy Pull Over (Cobalt) | Boyfriend Tank (black) | Denali Leggings (Rosa Blanc)
Price: Rio Shorts $22 | Fierce Capris $35 | Sarah Sports Bra $26 | Easy Pull Over $28 | Boyfriend Tank $19 | Denali Leggings (bought them on sale) $19
Where to buy: Senita Athletics website
Perks: Wallet Friendly | Machine Washable | Free Shipping Over $50 in U.S.
My Thoughts on Senita Athletics
I have an obsession with workout clothes. It's hard not to these days! You're bound to see TONS of cute athletic outfits on your Insta feed (especially when you're a Tone It Up fan). It's hard to not be jelly! The worst is when you go to shop for that cute bra and realize its $80…haha byeeee!!
For those of you that also hate spending your paycheck on clothes you sweat in, you're going to love Senita Athletics just as much as I do.
Let's take a journey to the land of affordable athletic wear…outfit by outfit!
Outfit #1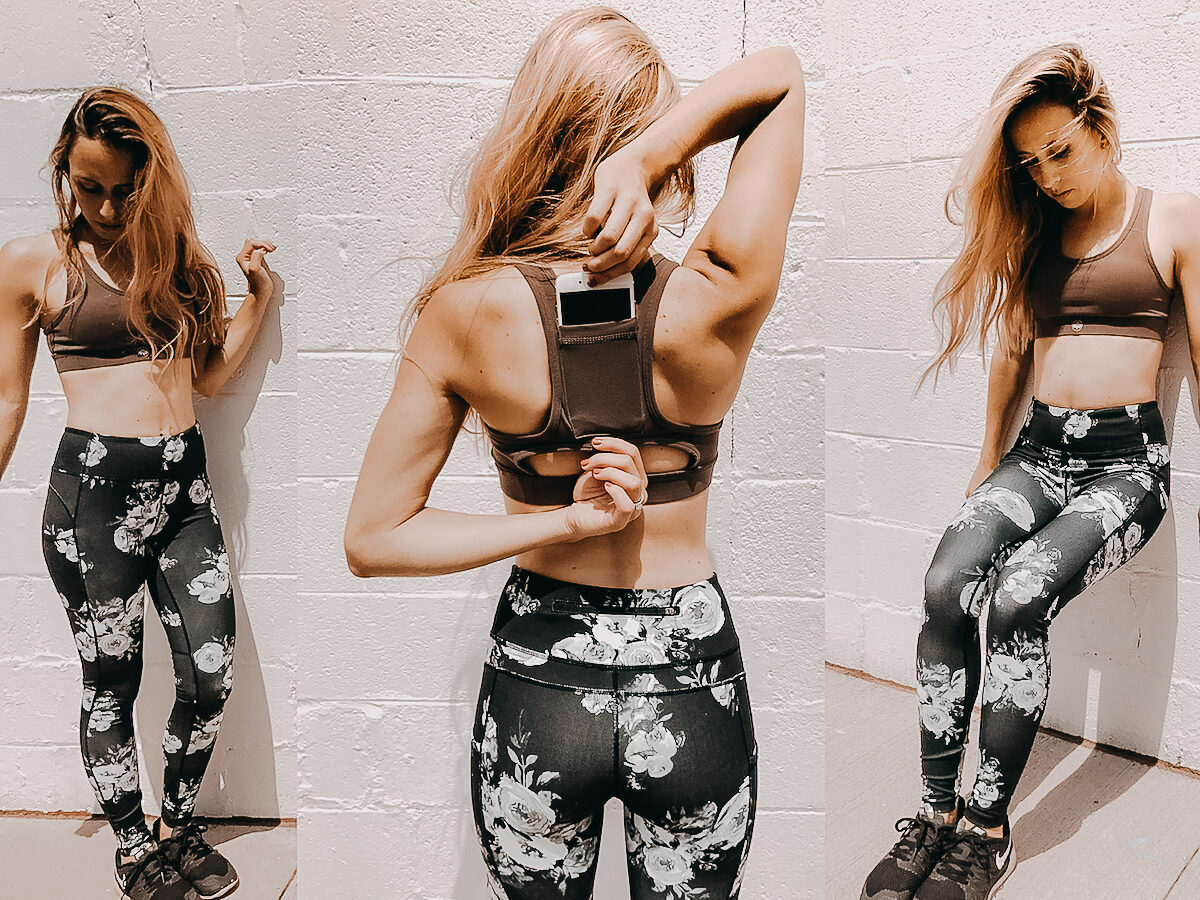 Get ready for the greatest sports bra of your life. I'm so serious, ladies! I'M OBSESSED. It's everything I've ever wanted in a sports bra…coverage, support, style, and quality. When I put this bra on, I just feel good. Simple as that.
Ready for the surprise? There's a pocket for your phone in the back!! Gone are the days of stuffing my phone into the seam of my pants only for it to fall onto the concrete. It even fits my iPhone 7+. This is ideal, my friends.
I need this in every color. And to clarify, it's a need, not a want…obviously!
Senita Athletics Denali Leggings (Rosa Blanc)
Sadly, these specific leggings are no longer available, but I still wanted to share with you guys since they're still similar to a lot of the leggings that are currently available! These leggings are the definition of cute and comfy! With no uncomfortable bunching and plenty of stretch…you honestly can't go wrong with a pair of Senita Athletics leggings!
I've also washed these PLENTY of times and the design has held up extremely well! Just another way you get a quality product for a very, very low price with Senita Athletics!
Outfit #2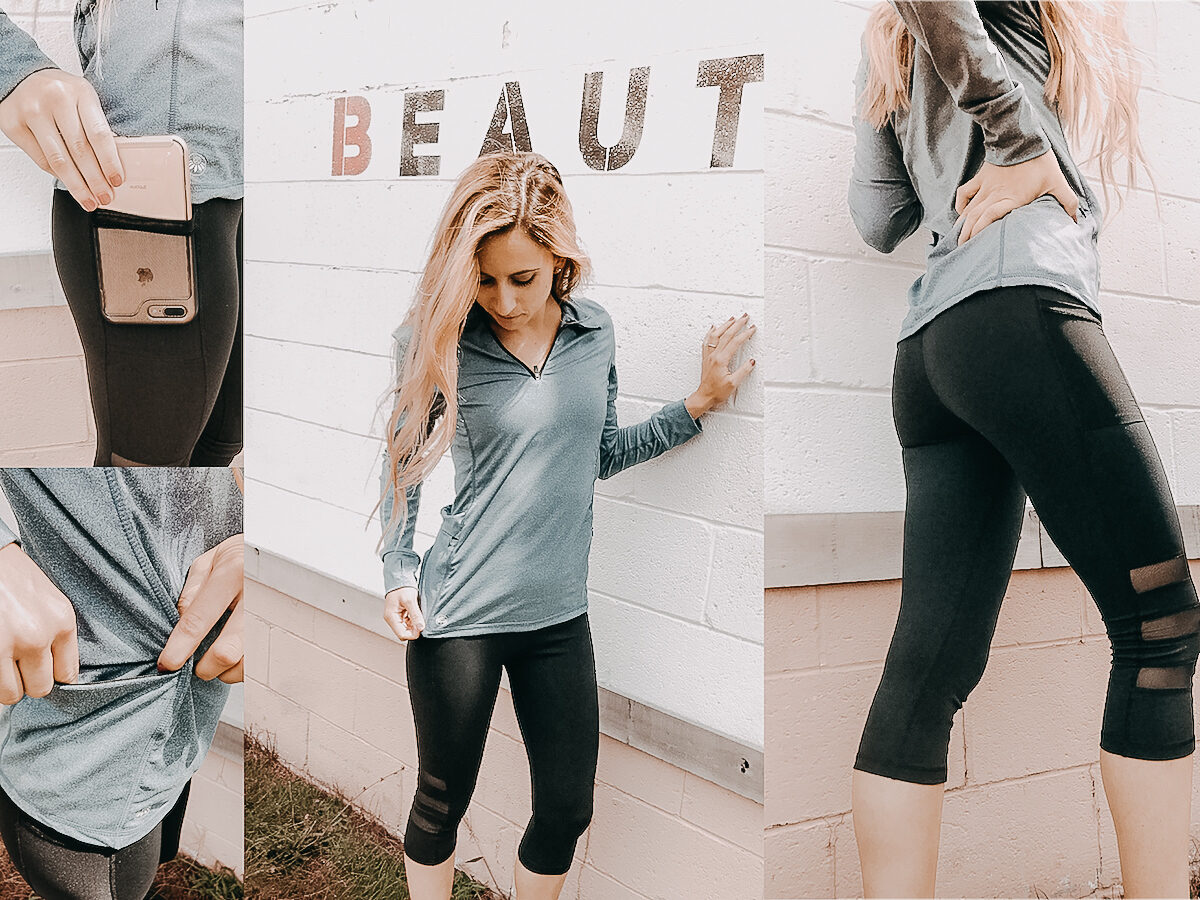 If you're looking for a cute, fierce pair of capris to get you through the warm weather…these are for you! These are moisture-wicking and sure to stay in place through any type of workout! Not only that, but they're 100% squat-proof! No undies or booties to be seen!
My only complaint with these is they collect lint (and dog hair). Thankfully, I always have a lint roller on hand (#dogmomlife).
I'm a sucker for a good pullover. Only problem is they usually cost an arm and a leg. Then, Senita Athletics came into my life and introduced me to a pullover that's just as good as those pricey players but is a fraction of the cost!
This pullover is the perfect weight for spring and summer mornings/evenings. It's not too heavy, but definitely protects from chilly breezes. With a zipper pocket on each side, it's both cute and functional! It's also not too tight so you can layer it with your favorite tank. Winning!
Outfit #3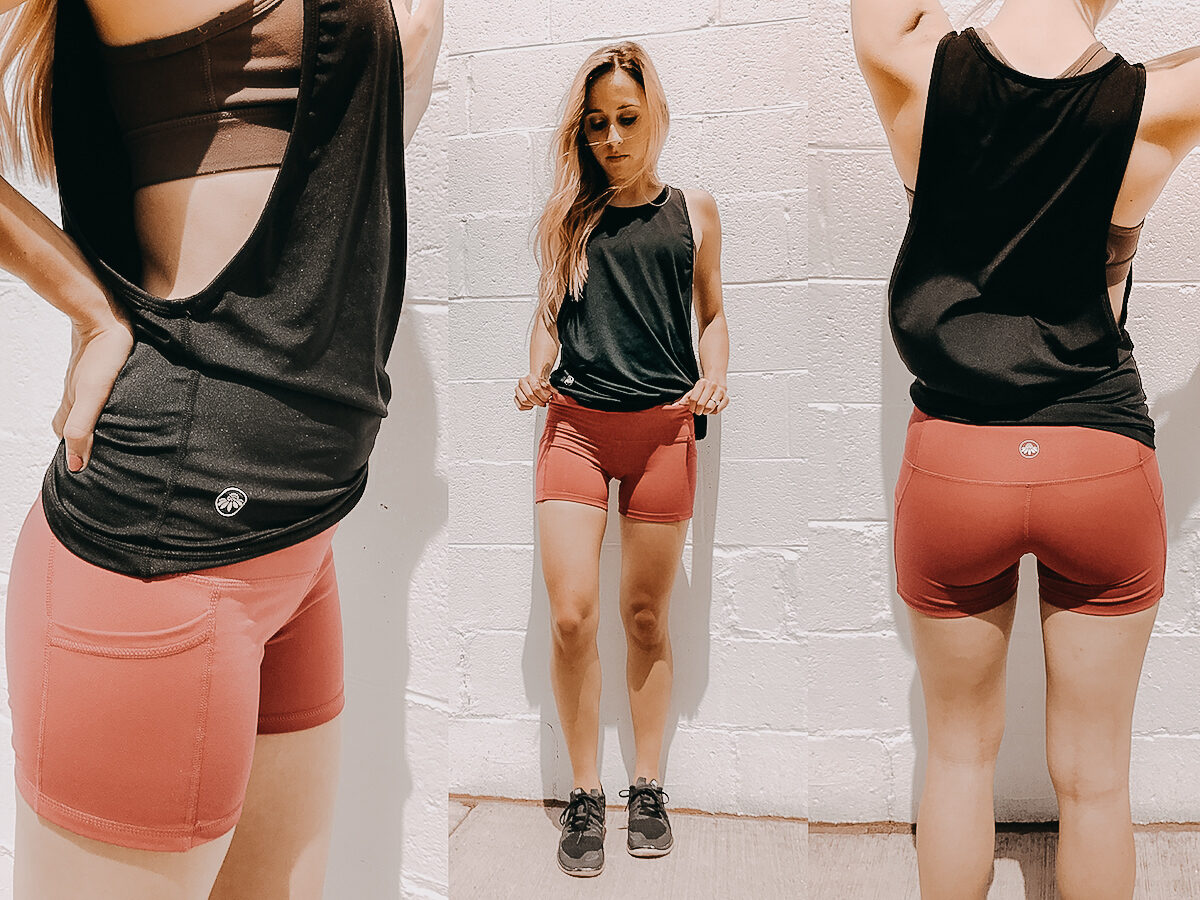 Speaking of favorite tanks, let me introduce you to my new fav. This tank is simple and goes with everything! It's moisture-wicking and airy…perfect for a toasty summer day!
Since I don't have much of a booty…this tank just hangs on me. At first, I was super discouraged and considered returning it. Then, it hit me: I can tie up! Now, everytime I wear it, I pull together the extra fabric and tie a knot on the side by my hip. It's even cuter than it was before!
If you have a super cute sports bra that you love to show off, but don't want to go without a top, this tank is for you!
Senita Athletics Rio Shorts (Cactus Flower Pink)
Honestly, when I'm looking to feel confident I don't usually go running toward a tight pair of spandex shorts. But here's the thing…sometimes life calls for tight shorts! I bought these because I despise loose shorts while doing hot yoga or stretching…just another one of my pet peeves, I suppose!
Anyway, there are two things I look for when buying tight shorts. One, they must stay put! No adjustments necessary, please. Two, they absolutely cannot be see-through! I'm happy to say that the Senita Athletics Rio Shorts check off both of my #musthaves! This thick fabric is flash-proof AND stays in place! I even have the shorter 3.75 inch inseam version. These babies aren't going anywhere no matter how I bend or twist!
If you want some extra fabric for that extra secure feeling, they have a 7 inch inseam version that I'm sure would keep you feeling snug and safe!
The Results
Honestly, this one is simple. I now have a way to buy cute, quality athletic apparel without spending my whole paycheck. I've worn all of these pieces numerous times and wasn't shy about sweating it out. After all the wear and washes, these pieces haven't changed a bit. They're still in the perfect condition I bought them in!

Affordable, quality and trendy athletic wear is hard to come by so Senita Athletics definitely deserves a 10/10!