We're about to seriously upgrade your bathroom.
And no, we're not talking renovations. We're talking 5 things you need in your bathroom.
We may always be testing different beauty products, but there are five things that ALWAYS stay consistent in my bathroom. Come hell or high water, I will never give these things up!
Quip Toothbrush
Dry Brush
Skincare Fridge
Aquis Hair Towel
Why these things? Why are they so great?
Let's chat, shall we?
1 – Quip Toothbrush
Claudia and I first released our inital Quip review over two years ago (omg, that's crazy!). Meaning, we've been loyal Quip fans for over two years. If that doesn't tell you how much we love Quip, then I don't know what will. Here's what we love: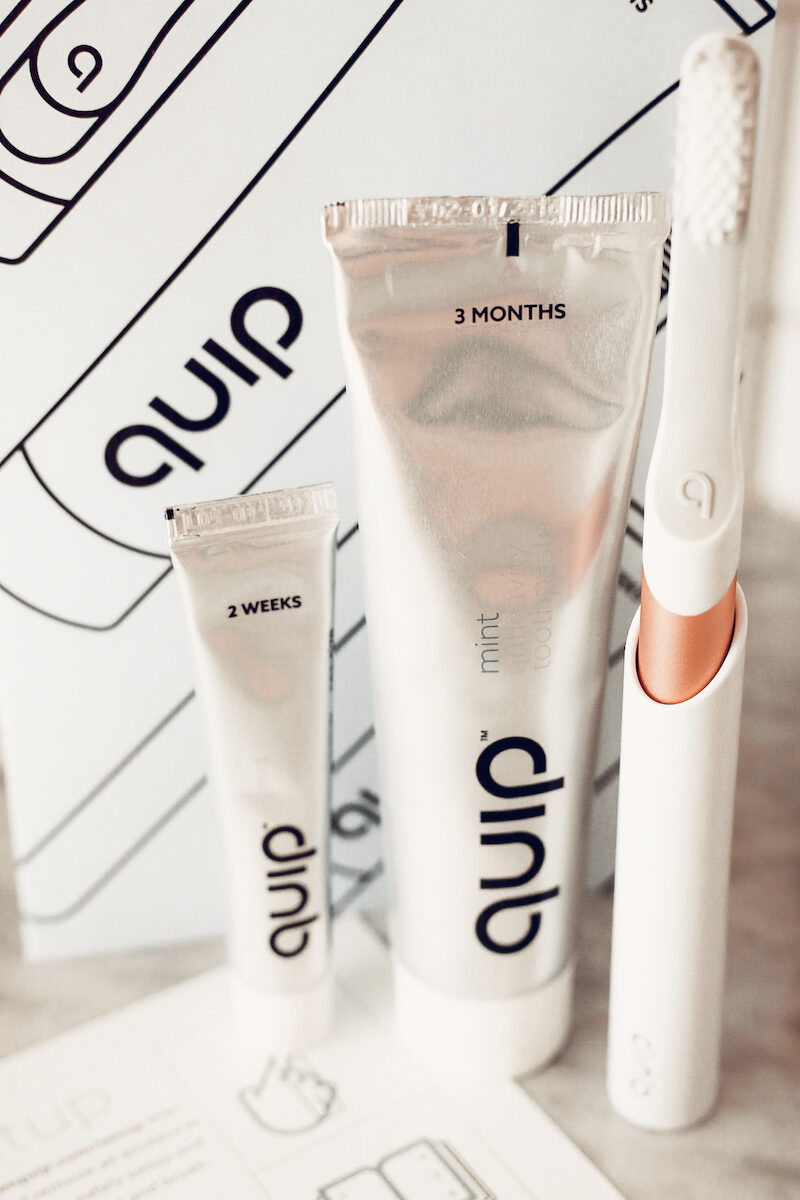 One less errand to run.

Having the replacement heads (and toothpaste, if you choose to) delivered to your door every 3 months without having to think about it is AMAZING!

Sleek and efficient.

Seriously, a lot of electric toothbrushes are bulky, requiring charging, and are just ugly TBH. Quip is sleek, beautiful, battery-powered and so simple to use!

Dentist-approved teeth.

This toothbrush stays on for the full 2 minutes required to brush and pulses every 30 seconds to remind you to switch to a different area of your mouth. The result? Pearly whites that your dentist will have heart eyes for!
Since we (and our husbands, I might add) have been using these pretty toothbrushes for over two years, you know these are some pretty special toothbrushes!
If you want to try Quip and want $5 off your first order, click here!
2 – A Great Razor
TBH shaving isn't ideal. None of us love to do it, right? (If you do, teach me your ways!) That said, it's important to have an amazing razor to make the experience better. Claudia and I have two favorite razors and they're our faves for different reasons! Let us introduce you to OUI and Billie.
Pros and cons about OUI: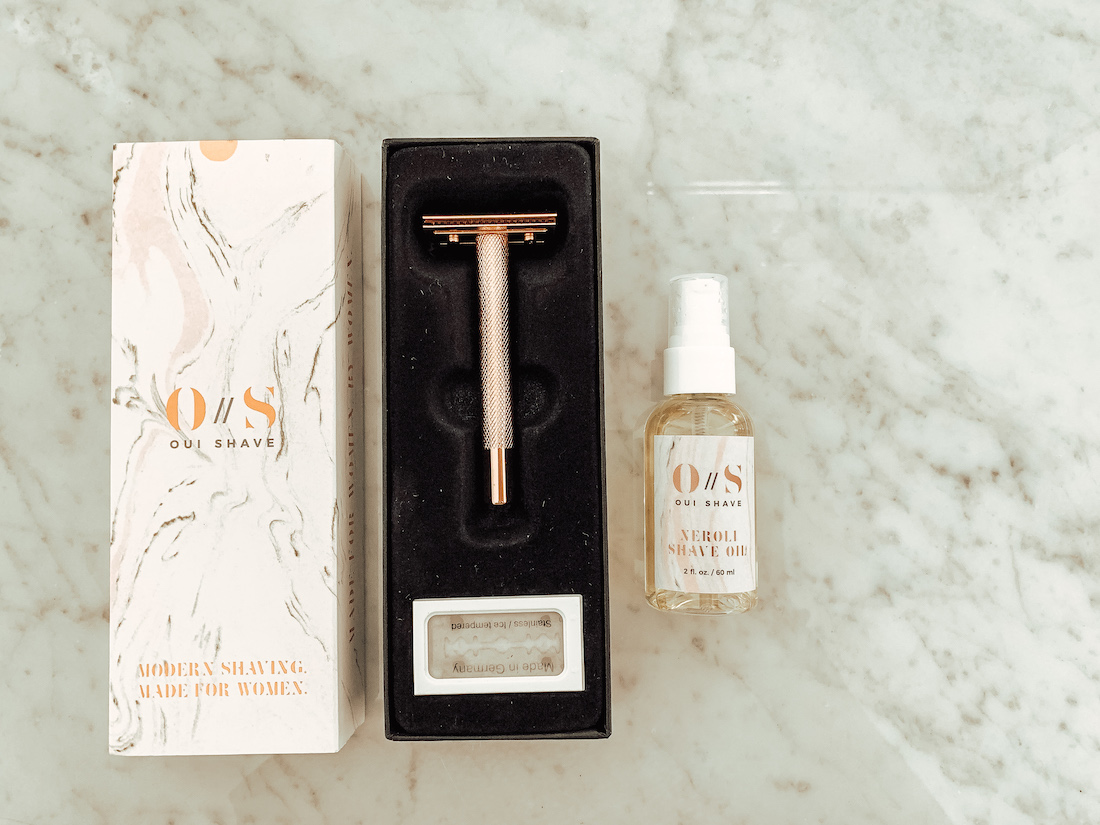 Pros:
No waste! With a beautiful metal handle and head, the blade is the only thing that needs to be replaced (and the old ones are recyclable).
Less irritation! The single-blade makes your skin baby soft with no bumps and redness.
Easier to travel with! There's no sticky residue or mess with this.
Cons:
Learning curve! Quite literally you have to learn how to shave those curves. It's tricky and for this reason, we don't use it to shave absolutely everywhere.
The upfront cost! The razor itself costs $75 to start. Once you have it though, the blades are pretty cheap at $11 for 10. (Or you can subscribe and the cost is $9.90)
If you want to give OUI a try use this link for 10% off your first purchase!
Pros and cons about Billie: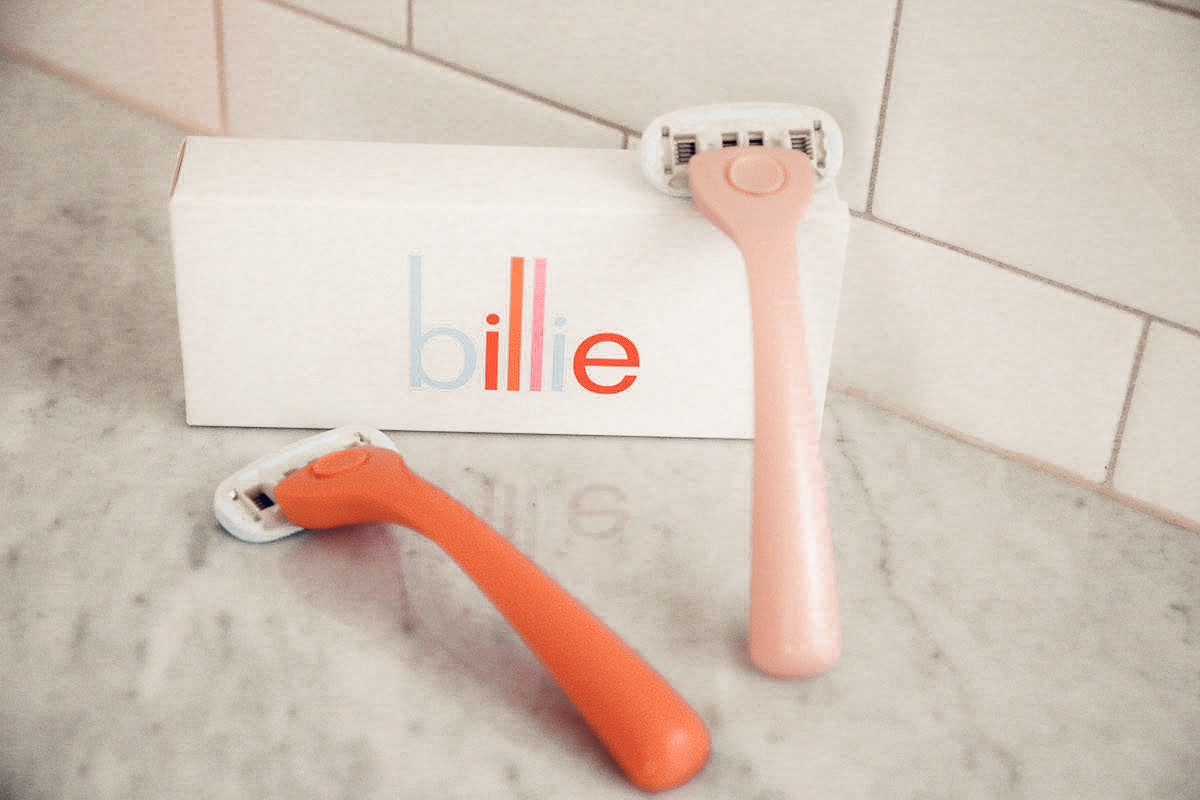 Pros:
Easy peasy! This is a normal razor, but significantly better. It flows with your curves, without you needing to adjust.
Moisture strip! The moisture is unbeatable – no shaving cream required.
Wallet-friendly! The starter kit costs $9 and includes the razor, two replacement cartridges, and a magnetic holder. The ongoing subscription is $9 for 4 blade cartridges.
Cons:
Not travel-friendly! Since the razor doesn't come with a cover, the moisture strip can get a little messy when on-the-go.
Magnetic holder isn't great! Overtime, the magnetic holder seems to lose grip of your shower.
If you want to give Billie a try, use this link for $20 off!
Regardless of which razor you choose to go with, having a great razor in your bathroom is an absolute MUST. You can't go wrong with OUI or Billie!
3 – Dry Brush
TBH, at first I was hesitant to try dry brushing. I mean can brushing your skin really be all that beneficial? Well, the answer is yes! I've been dry brushing my entire body every 1-2 days for about a year now and WOWZA! If you haven't tried it, you need to. Here's why dry brushing is amazing: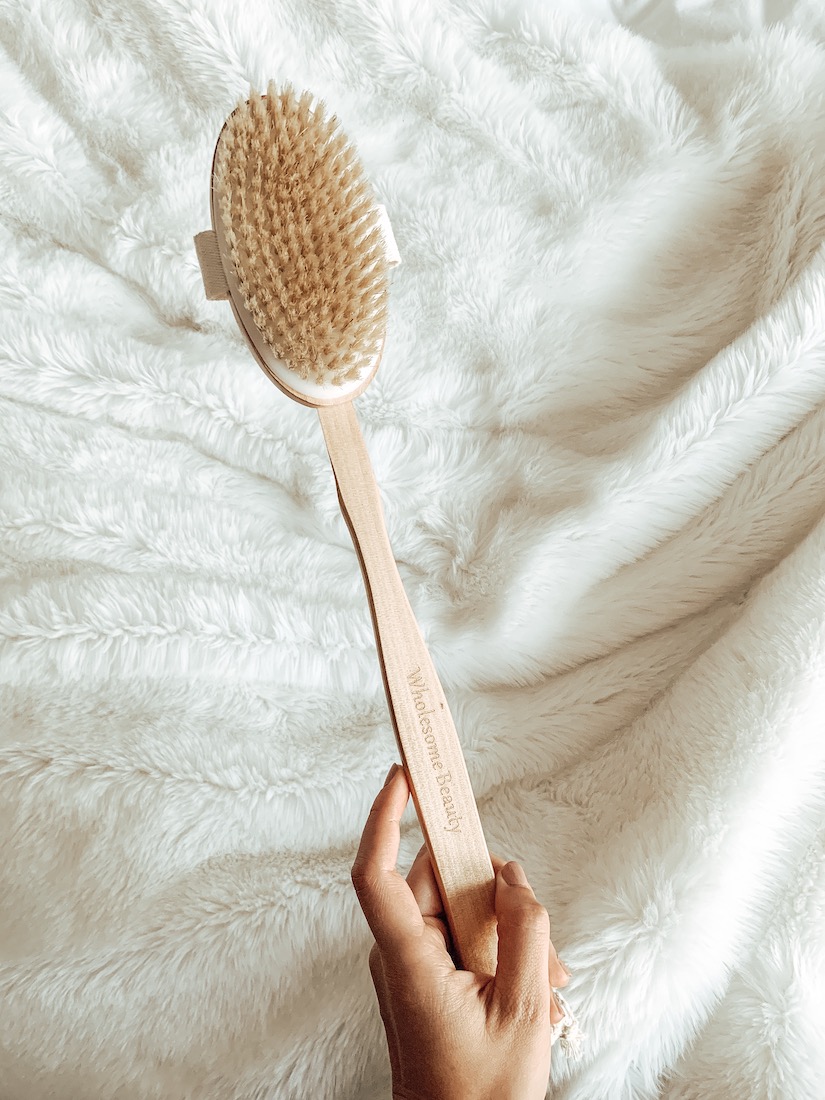 Promotes lymphatic system drainage!

Brushing the skin regularly helps stimulate the normal lymph flow within the body and helps the body detoxify naturally.

Removes dead skin cells!

Kinda obvious, but the brushing helps loosen and remove dead skin cells, revealing brighter and healthier skin.

Unclogs pores!

The process also helps clear dirt, oil and debris from your pores which helps your pores to appear smaller. If you decide to dry brush your face, make sure you use a softer brush than what you would use on your body.

Energy boost!

Since dry brushing increases circulation, it makes sense that it results in a natural energy boost. That said, maybe don't dry brush right before you go to bed.

May reduce cellulite!

TBH, there's no true evidence that this works, but just like with a massage, the increased blood flow and stimulation has allowed some people to see a complete reduction in cellulite. (Worth a shot, right?!)
Another great thing about dry brushing? It's not expensive! I found my favorite dry brush on Amazon for $11.
It's great because it's not too rough (I tried one from EcoTools that was way too rough for me), but it has a removable long handle to help you get all the places! Happy dry brushing!
4 – Skincare Fridge
This, my friends, is the holy grail of beauty products, in my humble opinion. A year ago, if you told me I would have a fridge dedicated to skincare in my bathroom, I would've told you you're crazy. Now, I'm a proud owner of a skincare fridge and to be honest, I want a bigger one! If you've followed us for a while, you may have read my full blog post on what I keep in my skincare fridge, but here's the spark notes version.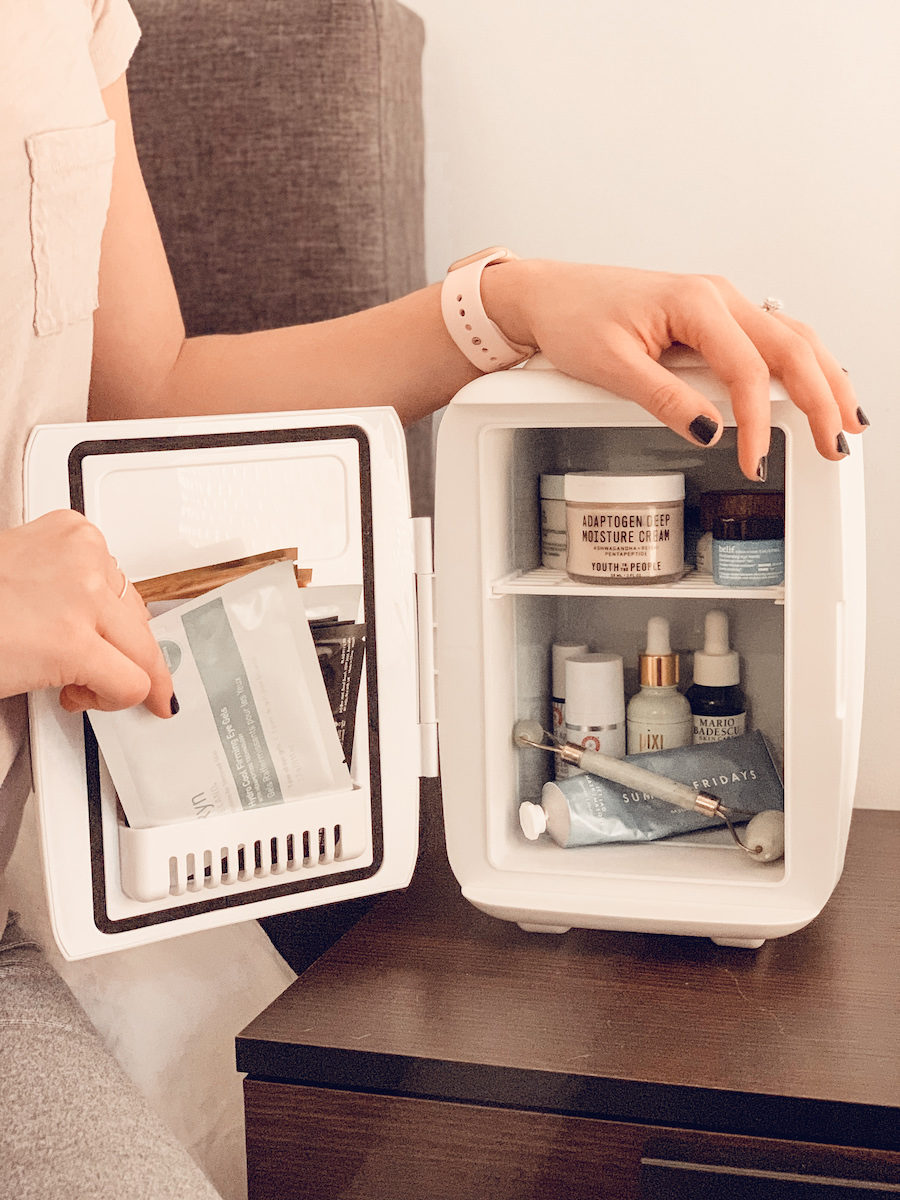 There are two main reasons why everyone needs a skincare fridge:
Preserving finicky products!

All those pricey products usually come with some unstable ingredients. Unstable meaning if they're exposed to too much heat or light, those important active ingredients can become INNEFECTIVE! What a waste right?! With a little fridge that keeps the environment cool and dark, it has never been easier to keep your precious products in the perfect state.

Depuffing galore!

Everyone knows the cure to puffy anything is a cold compress. Tired eyes? Use cold spoons (or eye gels) to bring that swelling right down. With a skincare fridge, all of my products help reduce my morning puffiness! I keep my moisturizers, serums, creams, etc. all in the fridge. Plus, my jade roller lives in my fridge so it becomes the ultimate depuffing tool!
Convinced you need to get a skincare fridge? You do! I got mine on Amazon for $44 and it's the best!
5 – Aquis Hair Towel
Again, if you would've told me a year ago that I would've ditched my Turbie Twist for an even better hair towel, I wouldn't have believed you. Yet, here we are. I was fortunate enough to win a big Instagram giveaway a while back (yes people win those things!) and I received a ton of OUAI products, First Aid Beauty products, and yes, an Aquis Hair Towel.
Did you know your hair is at its most vulnerable when its wet? As you may imagine, what you immediately do to your hair following your shower is super important! Plus, if you're like us, you stay far away from hair dryers and let that hair air dry! (But if we must heat style our hair, we have a few favorite products there too!) The Aquis Rapid Dry Hair Towel has been a life saver for Claudia and I! This hair towel cuts drying time IN HALF compared to other towels. That's amazing!!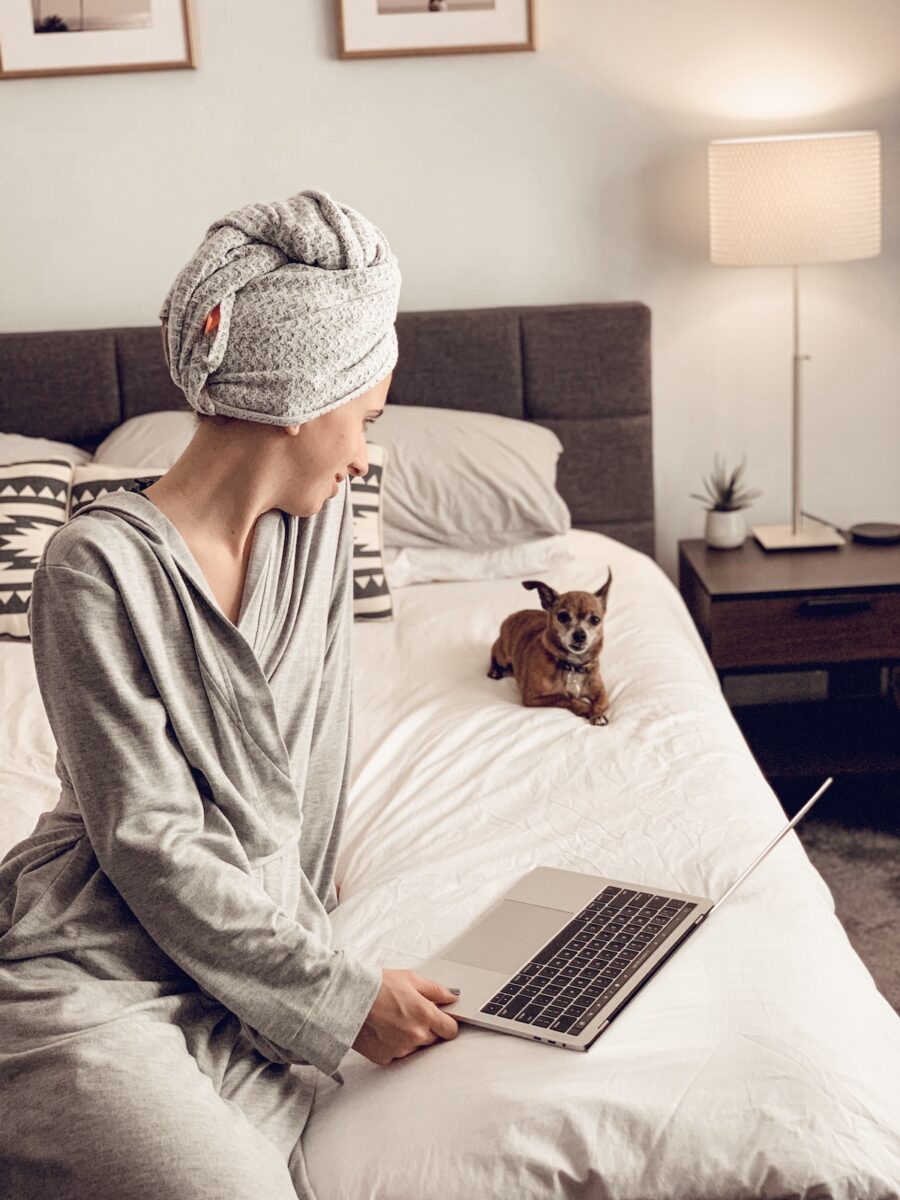 The towel is made from their proprietary fabric called Aquitex. So, it totally prevents Hygral Fatigue—the stretching and swelling of wet hair that makes it vulnerable to frizz, split-ends and damage.
We're obsessed with this hair towel! Plus it makes our hair super soft and strong. What's not to love?
Are you convinced?
Seriously, these five things are game-changers for your beauty routines. Now that I have these things, I can't imagine life without them. Sure, I could survive without them…but where's the fun in that?
What are some bathroom beauty essentials on your list? Are any of them the same as mine?! Comment below!