Am I the only one who prioritizes skincare over body care?
Disclaimer: This post contains affiliate links. At no additional cost to you, I will earn a commission if you use these links to make a purchase.
For the longest time, my definition of body care consisted of a quick, weekly shave followed up by an even quicker lather of whatever basic lotion I had on hand. No luxurious baths, no salt scrubs, no yummy-smelling oils.
Now, if you've been here a while, you know I'm not a bath person. And that hasn't changed.
But what has changed is my emerging love for body care.
I've been experimenting with various exfoliating gloves, body washes, shaving creams, lotions, and oils – and I'm here to share all the goodies I've found under $50 that I think are worth adding to your body care routine.
Because it's time to show our bodies the same amount of love we show our faces, right?
Exfoliating towels vs. scrubs
I'm going to come right out and say, exfoliating towels are the way to go.
I have yet to find a scrub I really, really like that doesn't make a complete mess out of our shower. Some scrubs stain your tub, others leave little granules everywhere, and the worst is when they leave film of slippery oil all over your shower floor.
I'm not about to end up like the grandma on the Life Alert commercials.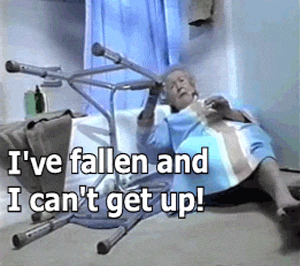 By the way, I haven't completely sworn off scrubs, so if you have any recommendations, comment below or DM me on Insta!
Now, let's talk about my love for exfoliating towels.
I find exfolitating towels or gloves to be a much better (and more sustainable) option. And they seriously leave your skin baby soft, without the need for creams or oils.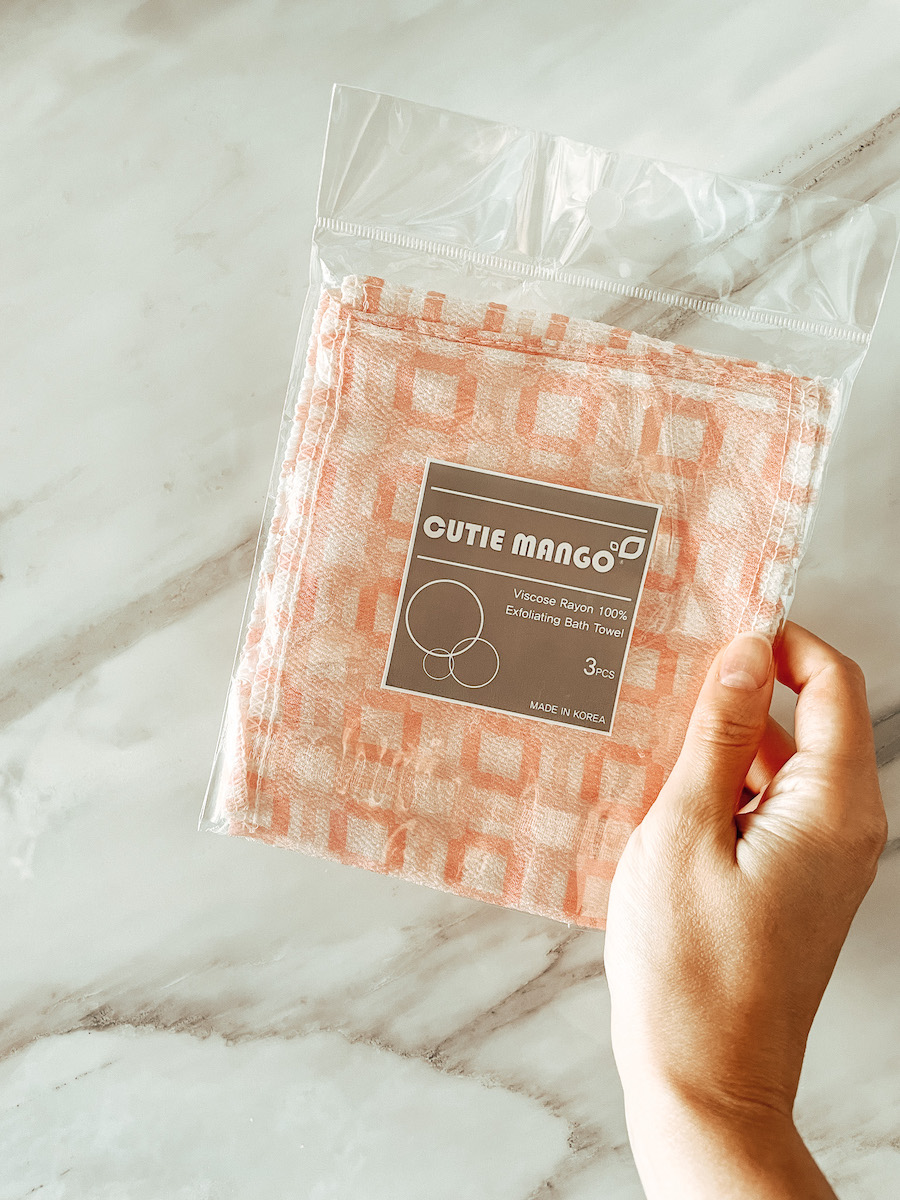 A good friend of mine gifted me these Cutie Mango Korean Exfoliating Towels, and I'm never looking back. I mean the name, the price (!!!), and the fact that I can get them on Amazon is just *chef's kiss*.
But most importantly, they exfoliate your skin in the most gentle, but effective, way possible. I love using these 1-2x a week, especially before I shave. After soaking in the shower for a bit, I whip one of these out and massage it all over my skin in circular motions. No need for body wash. Just this little towel (which has an opening one one side to use as a glove) and water.
It feels incredible and leaves your skin so smooth, you won't even believe it. Plus, you can re-use these for months. No joke, they last forever.
I also tried the Instagram-famous Wildpier Glove, but I found it was way too harsh on my skin and didn't remove "dead skin" as advertised all over social media. That stuff you see flaking off in the pictures? Yeah, that didn't happen to me.
Cutie Mango is definitely the way to go! Stock up on these. I promise, you won't be dissapointed.
Razors and shaving creams
My love for Athena Club shaving products is unmatched. I've been using their razor for over a year and am still as obsessed as I was on day one. To add to the obsession, I now also love their shaving cream.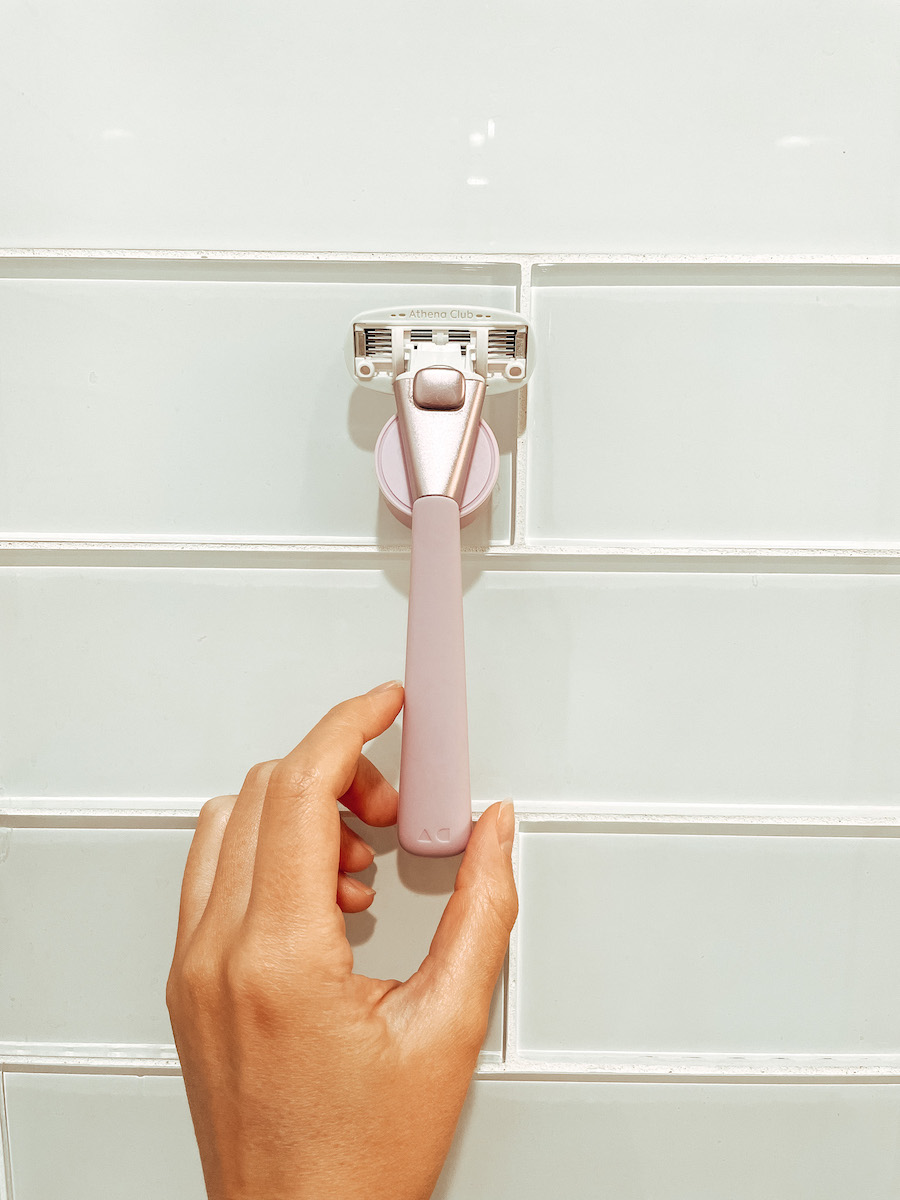 I freaking love this razor so much. The shave is super close, smooth, and non-irritating. It comes with the perfect magnetic wall mount that doesn't fall off your shower walls. And, to top it all off, you can subscribe to get blade refills so you literally never run out!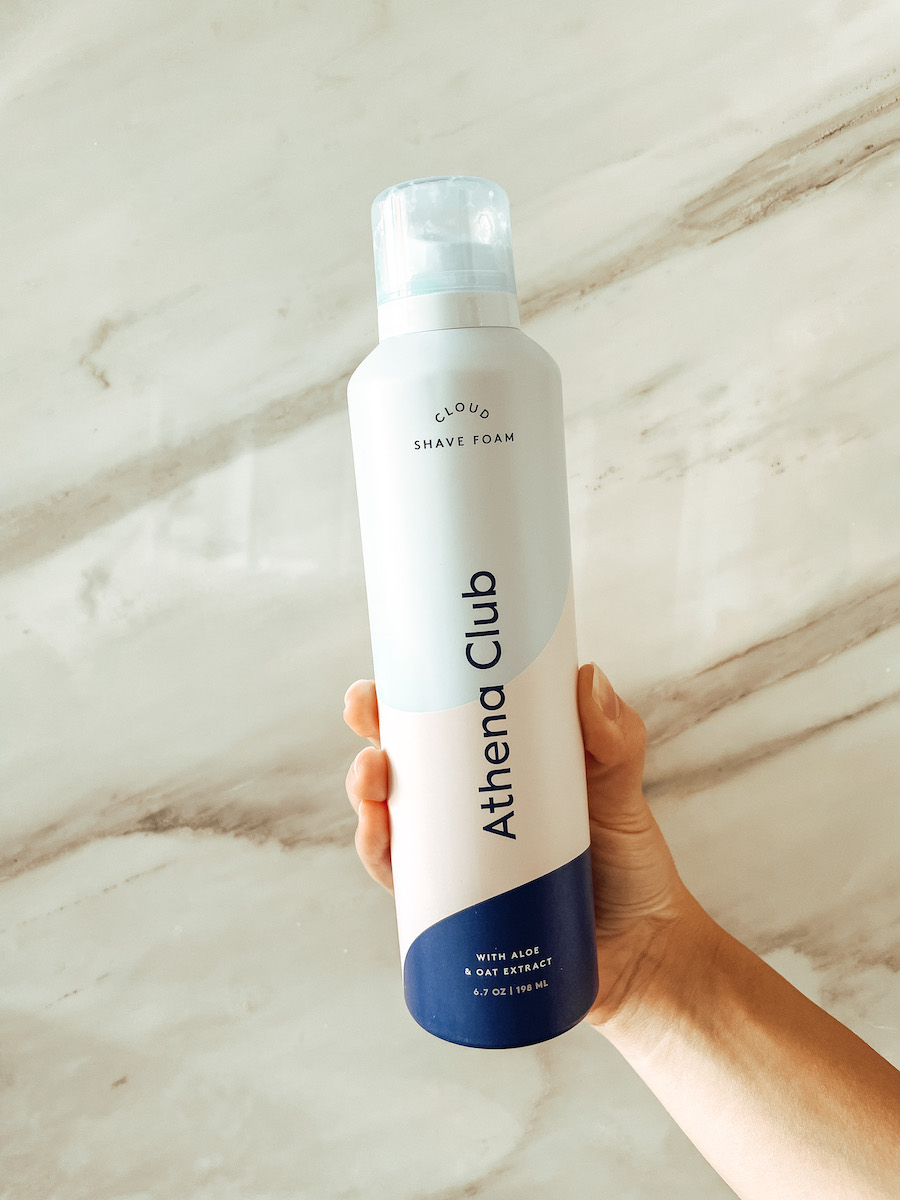 I was never a shaving cream girlie until I tried this Cloud Shave Foam from Athena Club. It's pillowy soft, smells light and feminine, and makes my shaving experience a literal breeze. You only need the tiniest bit for a buttery, smooth shave. Trust me, I used to hate shaving cream and felt like it was completely unecessary. But now, I reach for this every single time I shave.
Body wash
I consider myself to be somewhat of a body wash whore. I've almost never bought the same one twice! Partially because I haven't found "the one" yet, but also because I love to mix it up. Which, lucky for you, means I've tried my fair share of body washes and can honestly tell you which ones are worth it and not.
Clean body wash brands I've tried:
Naturium
Everyone
Dr. Bronner's
Public Goods
Athena Club
Necessaire
Malin + Goetz
Bliss
Out of all of these, the Naturium Glow Getter body wash was my favorite. Naturium is one of those brands I just can't get enough of. It's affordable, super clean, and available at Target. What could be better?
But as much as I loved how luxurious and moisturizing it felt on my skin (and smells divine), it ended up being so oily that it clogged our shower drain.
*Cue the tears*
I would still say it's worth trying because it's honestly one of the best body washes around, but beware of the drain.
P.S. don't get me started on Necessaire. It's just not worth the hype, my friends!
So which body wash am I loving now?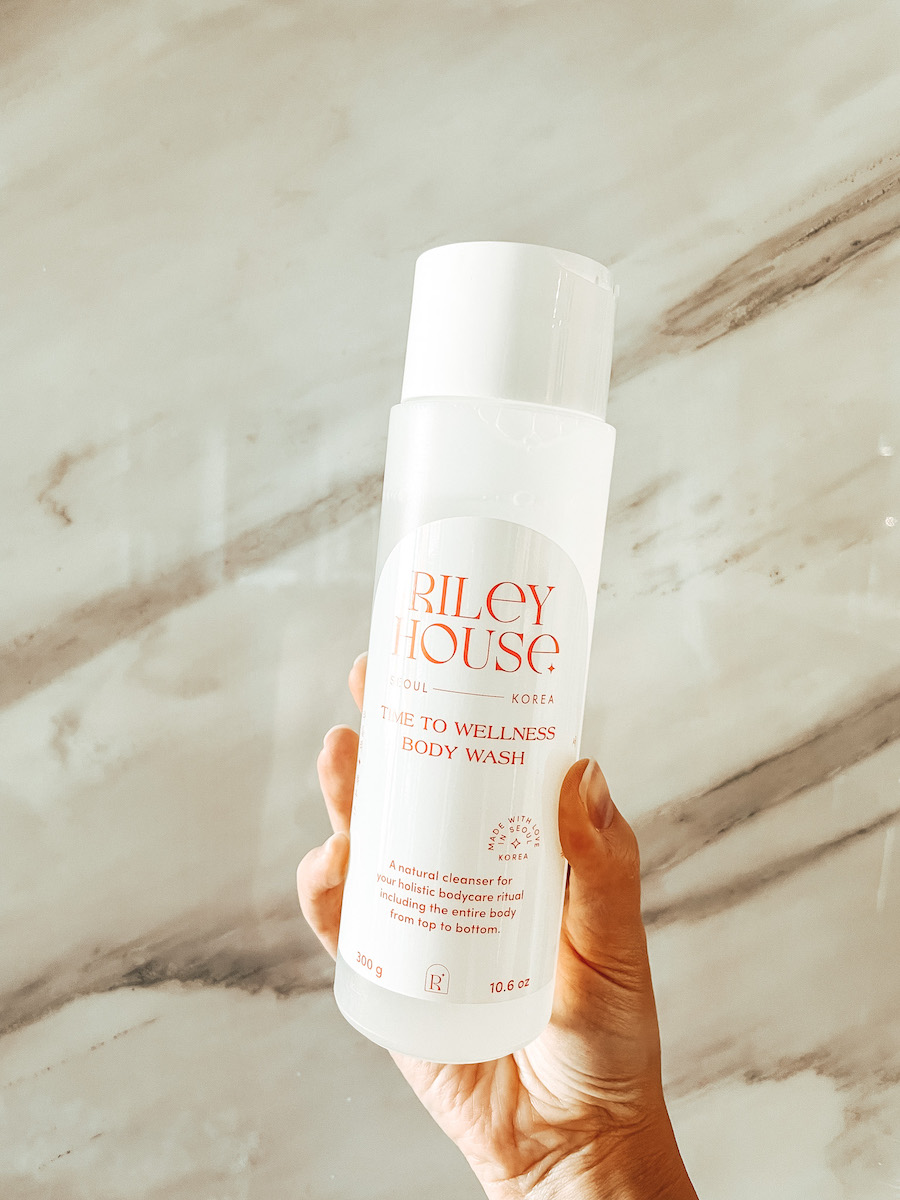 It's time to add Riley House to your K-beauty vocab because this body care line is a must-try. I was introduced to Riley House by my Newness fam and, so far, I'm really loving their body wash.
It has a neutral pH, which means it's very safe to use around our lady parts. And the scent is very mild, sweet, and earthy. I also love that it comes out as a gel but lathers into a nice foam. I would give it a 9/10.
Body care also includes self-tanners!
There's nothing like a good tan to boost your confidence, am I right? I'm not huge on self-tanning and really only apply self-tanners before a beach trip (or when I'm ghostly white in the winter), but I will say, I'm still loving the Beauty By Earth products.
Both the Beauty by Earth face and body lotion are perfection. They give me the best, most natural tan with zero streaking. They're also super easy to apply, go on clear, and smell relatively good (definitely still get the typical tanning smell after it dries overnight but that seems to be inevitable.)
Plus these self-tanners are dye free, organic, vegan, cruelty free, and are made with nourishing ingredients like aloe, shea butter, coconut oil, and green tea extract. Oh and the DHA is derived from sugar beets!
I recommend you get the Medium to Dark shade, even if you're really pale.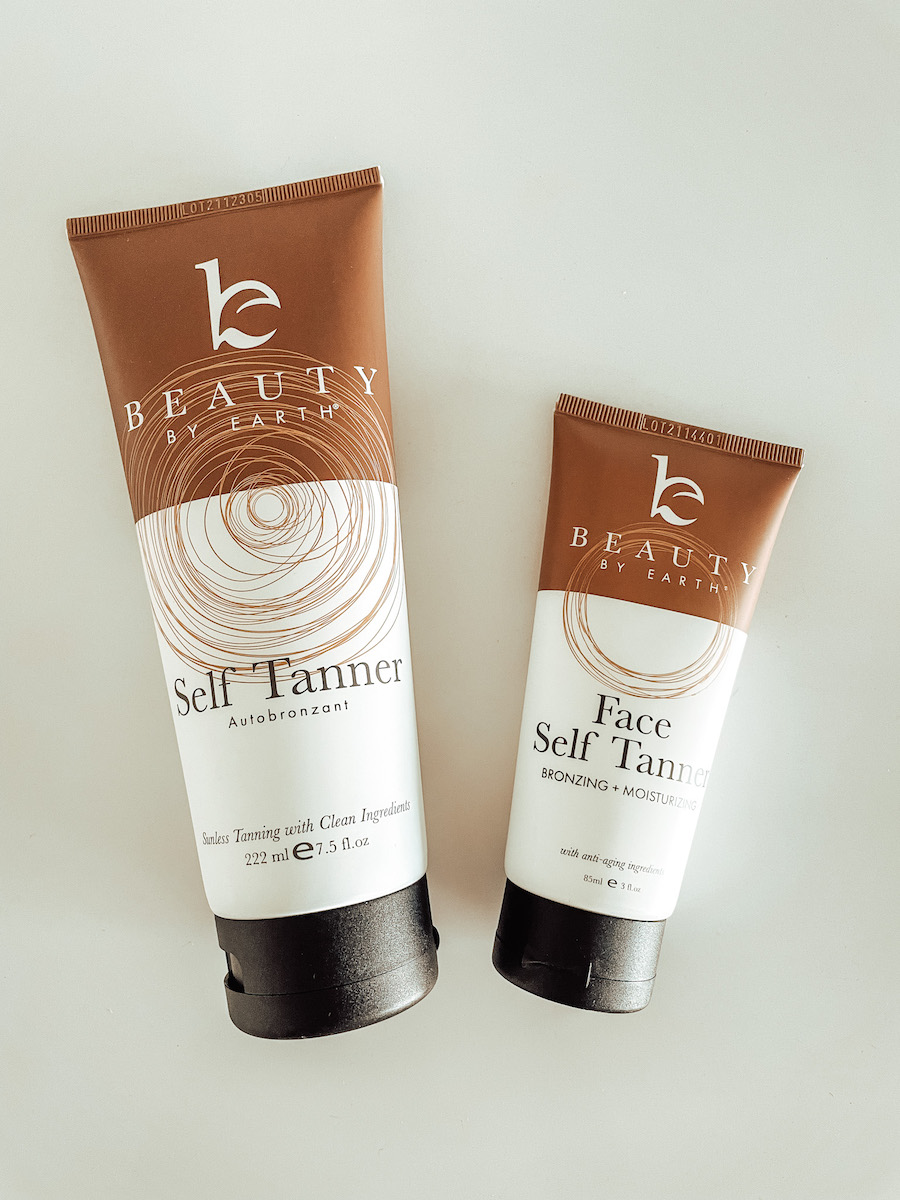 Check out my full breakdown of clean self-tanners with before and after pics!
Lotions and oils
My favorite part! Moisturizers.
I think I've found my holy grail body lotion and oil combo. I love to mix a couple pumps of oil into my moisturizer for deeper hydration and to give my body a nice glow.
Here are my two favs under $50: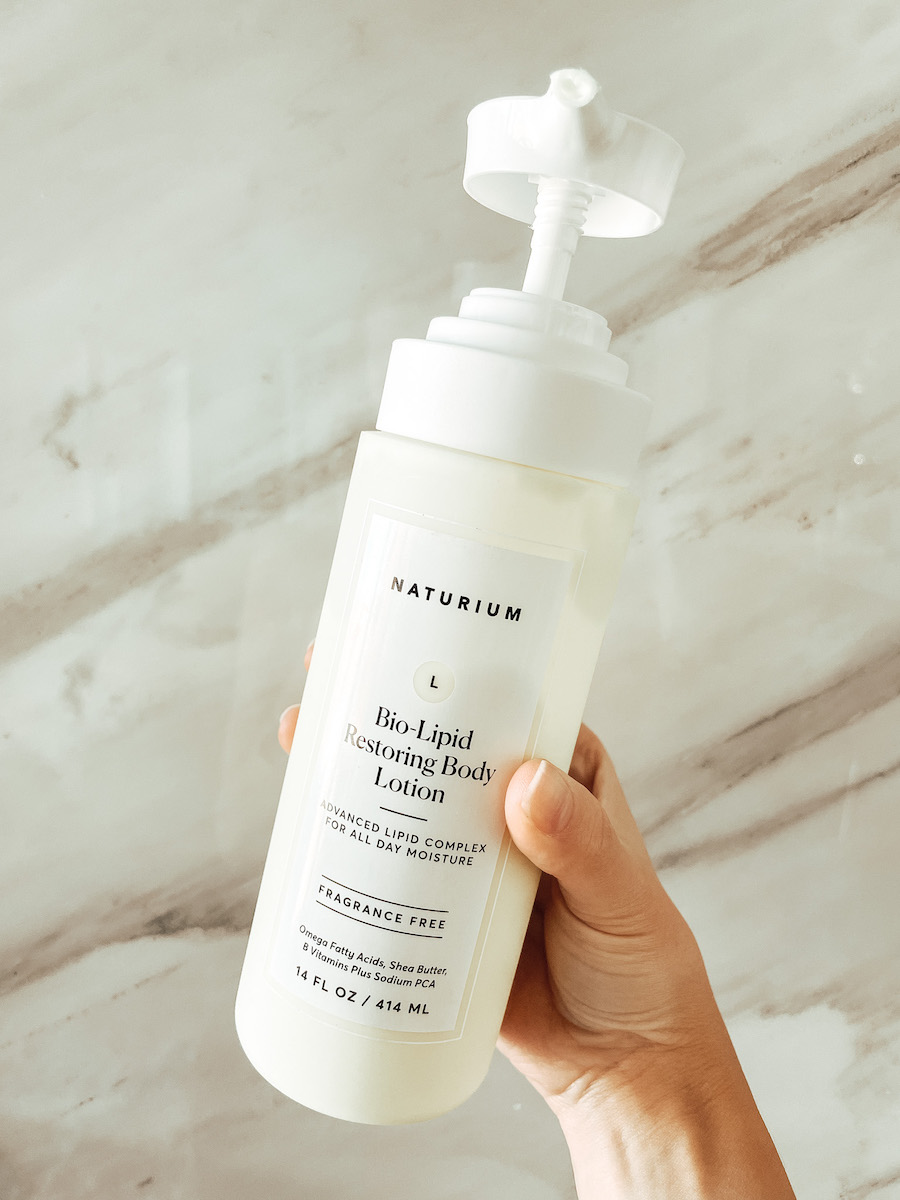 This Naturium Bio-Lipid lotion is a must. I didn't think I would like the fragrance-free option because part of the allure is how great body lotions smells, but I promise you this one is worth it. It does a great job at moisturizing and doesn't leave me feeling sticky or oily. A solid go-to for every day.
Pro tip: layer this with your daily perfume to help it last longer!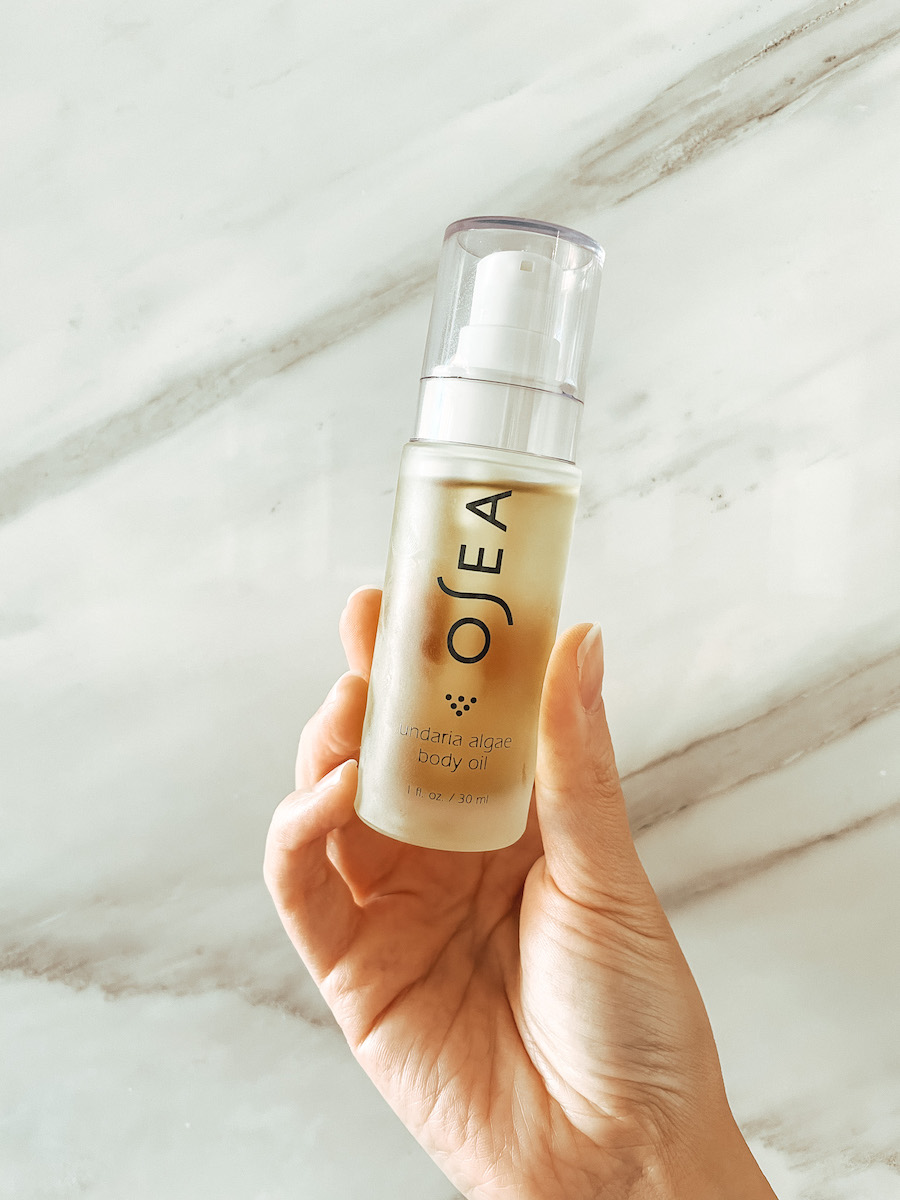 Wow, wow, wow. Guys, I can't say enough good things about this OSEA Undaria Algae body oil. It is so luxe. It leaves your skin feeling moisturized but not slippery, and it smells sooo good. Plus the undaria algae helps protects your collagen and prevents the breakdown of hyaluronic acid in your body. Yes please and thank you!
Use my code UNCOVERTHEGLOW for 10% off.
And those are my body care must-haves under $50!
What did you think? Am I missing out on one of your favorites? If so, pretty please comment or DM me on Insta (@uncovertheglow) to chat more.
Also, if you prefer to watch this post in video form, check out my body care stream on Newness! It's a streaming platform for beauty lovers and is quickly becoming one of my favorite places on the Internet. Everyone on there is so sweet, it's like chatting with all your best, beauty-loving girlfriends. I highly recommend you join if you haven't already!
Alrighty, that's it for me on body care my loves. Chat soon!