This post contains sponsored content for Oars + Alps. Please note that I only work with companies I truly love and that align with the Uncover the Glow brand. While I'm compensated for the work I do, my opinions are always 100% my own.
If it's hard for you to get the men in your life to apply sunscreen, keep reading.
Alex and I have spent the majority of our summer on my in-laws' boat, and it's been totally amazing, to say the least. They're taking it up the east coast, all the way from Florida to Cape Cod, so we've been flying into different ports to meet them on this incredible adventure.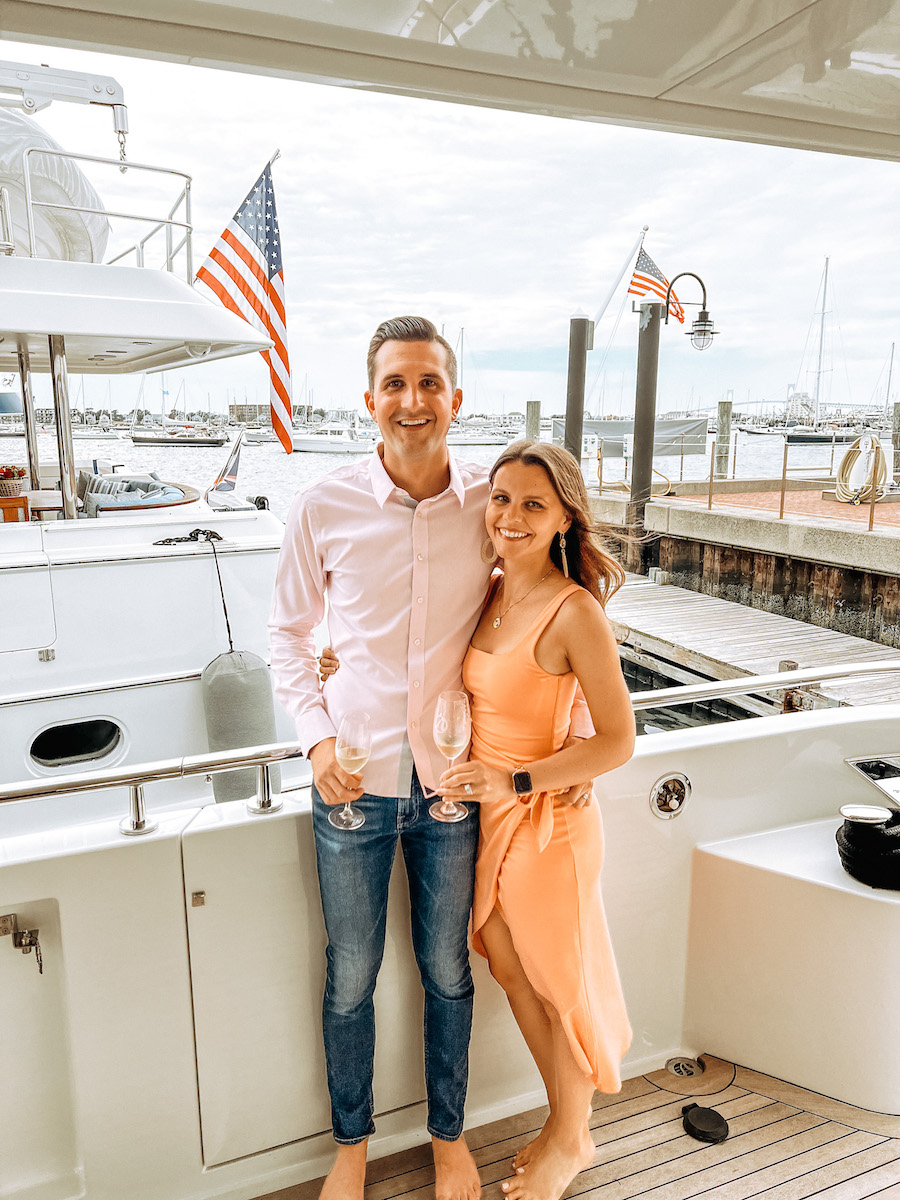 Naturally, we were in desperate need of high-quality sunscreen for this trip. So when Oars + Alps reached out about their new clean sunscreen line for men, I was ecstatic.
Why was I so happy about a men's SPF line, you ask?
Because (and I know I'm generalizing here) it's so freakin' difficult to get the men in our lives to wear sunscreen.
"Sunscreen? I don't need it. I'll be fine!" Next thing you know they're burnt to a crisp wishing they had listened to us in the first place, am I right?
I know for Alex, the fact that sunscreen leaves him feeling oily and sticky makes him dread having to put it on. That's why when Oars + Alps reached out, I was really excited by the fact that this line was specifically for men, and I was positive Alex would be more willing to use these products if he knew they were for him.
A little backstory on our experience with Oars + Alps so far:
Alex used their aluminum-free deodorant for at least a year prior to this and loved it! He did reach a point earlier this summer where the deodorant wasn't working as well for him, so he switched to a different brand. This is pretty typical of any natural deodorant. Sometimes you just have to switch it up! But he was definitely a big fan of their brand prior to trying their sunscreen.
Highly recommend if you want the men in your life to switch to a clean deodorant.
Clean SPF for men
Oars + Alps recently came out with new SPF products specifically for men that are light, non-greasy, sweat and water-resistant, and easy to apply. They have everything from chemical to mineral SPF options, and all their products are free of oxybenzone, octinoxate, parabens, phthalates, and sulfates, and are Hawaii reef compliant.
Why should you avoid oxybenzone and octinoxate?
Several studies show that both of these ingredients, commonly found in chemical sunscreens, are linked to hormone disruptions in men, women, and children. They can increase testosterone in women while lowering testosterone in men. The reason is that these chemicals are easily absorbed by the skin and can be detected in your blood for weeks after application (Matta 2020).
If you want to be extra safe, you should stick to mineral sunscreen. Rather than being absorbed into your skin, active ingredients in mineral sunscreens sit on top of your skin and help to reflect the sun's rays. But you have to keep in mind that because it's not absorbed, you need to reapply often!
Alex's favorite Oars + Alps sunscreen products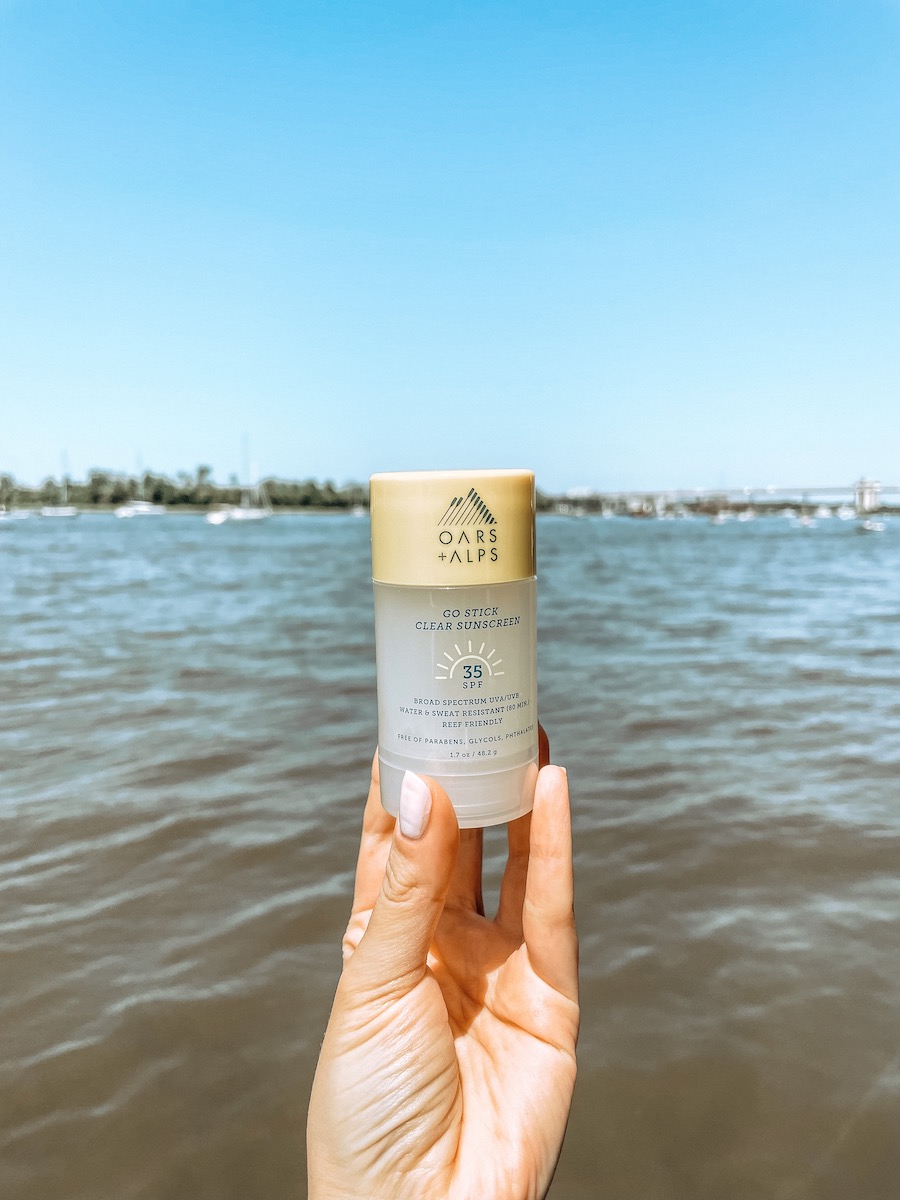 Go Stick Clear Sunscreen
When I say run, don't walk to get this sunscreen stick, I mean it. Alex and I both loved it! It's super easy to apply and kept us from getting burnt for hours. It applies clear and because it's a stick, you don't get it all over your hands. Major plus for Alex. Oh, and it's fragrance-free!
It also contains jojoba and sunflower oil to help keep your skin hydrated and has vitamin E to boost the power of the SPF.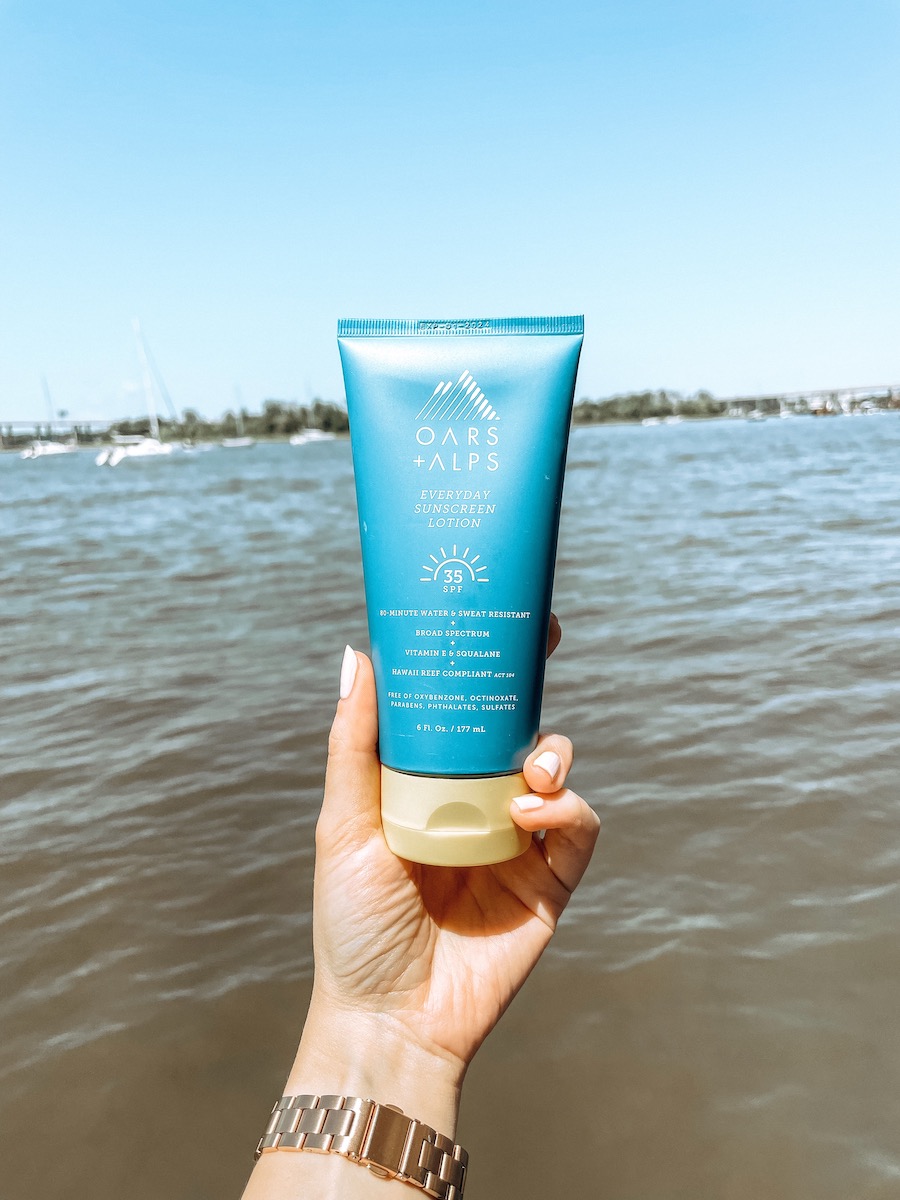 Everyday Sunscreen Lotion
This sunscreen is awesome. It doesn't leave you greasy whatsoever, lathers on very easily, and is sweat and water-resistant for up to 80 minutes. Alex and I have both been using this daily on our boat trips and love it.
It also contains squalane which is great for hydration and calming inflammation (if you do get a sunburn.)
What other Oas + Alps products should you try?
Their entire clean SPF line is awesome. And while we haven't tried every product, if they're even half as good as what I mentioned above, then you're in good hands.
These are some of the other sunscreen products Alex has his eyes on: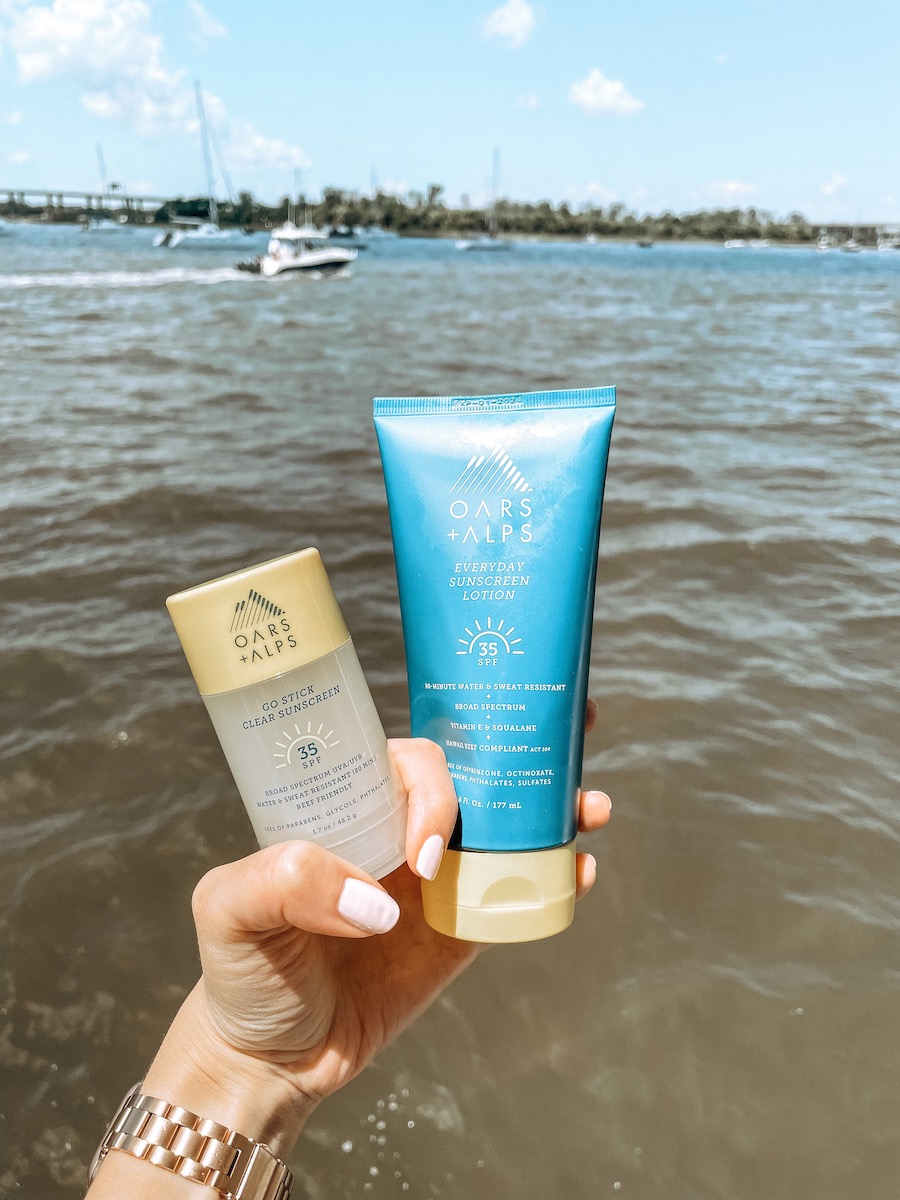 Happy protecting, everyone!