Ever take a peek at the ingredients in your self-tanner?
You'll likely find the usual suspects…parabens, harsh chemicals, fragrance, alcohol, animal derivatives, petrochemicals, sulphates and silicones. SIGH. Our battle to find clean skincare products is literally never ending. And the sunless tanner category is no different.
But being that we're residents of lovely, wintery Michigan, you can imagine how pasty white our skin gets. Suns out, buns out? Yeah, not so much. Our honey buns are NOT coming out without somewhat of a fake glow treatment beforehand. Trust us, our paleness is blinding.
The Organic Self-Tanning Brand We're Obsessing Over
We set out on a mission to find a clean self-tanner that didn't stink or streak. Mission impossible? That's what we thought until we discovered Vita Liberata tanning products.
Vita is the first completely non-toxic tanning brand that is free from parabens, perfume, alcohol and all chemicals of concern. They are also the self tanner of choice for top spas like George V Paris, Viceroy and Ritz-Carlton.
Cue Fergie Ferg: G-L-A-M-O-R-O-U-S.
Did the Vital Liberata tanning products pass the CO approval test? Or were we blinded by the bronzy glitz and glam?
---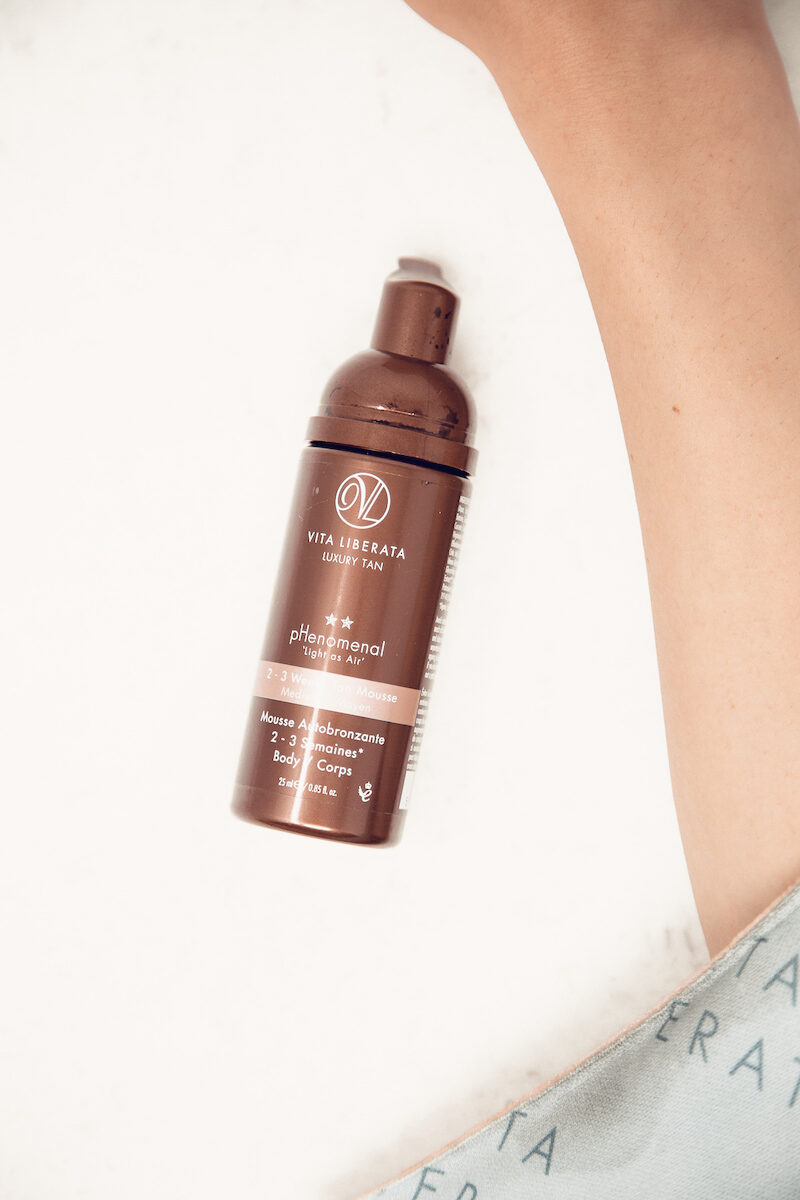 The Rundown
Products: Phenomenal 2-3 Week Tan Mousse | Fabulous Self Tanning Gradual Lotion
Price: Phenomenal 2-3 Week Tan Mousse: $54.00 | Fabulous Self Tanning Gradual Lotion: $30.00
Where to buy: Vita Liberata, Ulta or Sephora
Perks: Organic | Paraben-Free | Sulfate-Free | Phthalates-Free |Alcohol-Free | Fragrance-Free | Non GMO | In-Store & Online
---
Claudia's Favorite Vita Liberata Tanning Product
I decided to try the Fabulous Self Tanning Gradual Lotion because I didn't want to deal with tanning mitts or stained palms.
This self-tanning lotion is definitely worth obsessing over! I used it in place of my regular body lotion for 3 days in a row to achieve the healthy glow I was looking for.
It is completely odorless when you put it on thanks to their Odour Remove™ technology. You do eventually notice the faint scent of DHA (the key ingredient in all self-tanning products), but it immediately goes away after you shower.
The color of the tan is very gradual, which I like because it doesn't ever streak or stain my skin. It also fades very nicely. Perfection? I think so!
The Best Tanning Lotion Out There!
What I love most about this product is that it is actually a GREAT lotion. The certified organic botanicals they use make my skin extremely soft and moisturized. No itchy, irritated skin in sight!
This is a definite #COmusthave for me.
---
Sam's Favorite Vita Liberata Tanning Product
Nothing like trying to get tan at the last minute. When I raided Ulta's self-tanning display, I bought a small trial combo pack of the Fabulous Self Tanning Gradual Lotion and the Phenomenal 2-3 Week Tan Mousse. This was my first time trying any Vita Liberata tanning products so I didn't want to put all my eggs in one basket!
Vital Liberata Tanning Mousse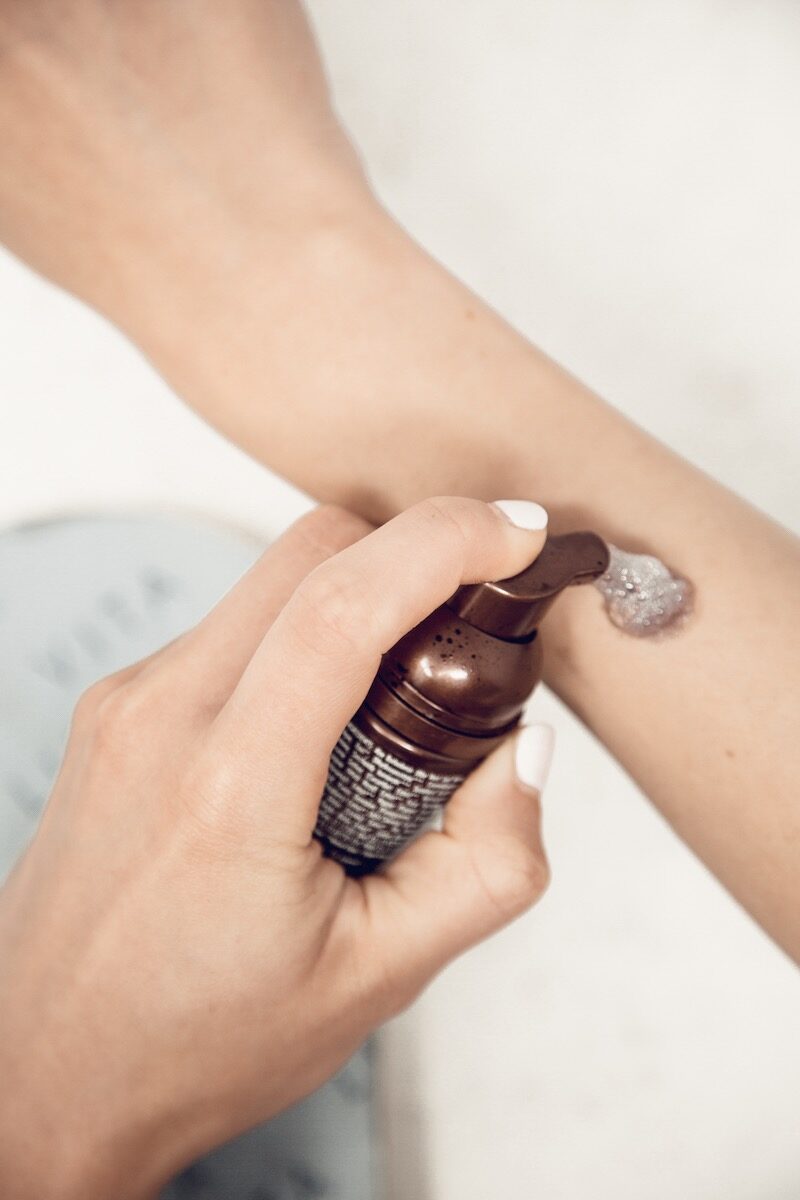 First up was the tanning mousse.
Before applying, I jumped into the shower and exfoliated to get rid of anything that would stand in the way of my tan.
After drying off, it was tan time! The pack came with the applicator mitt so my palms wouldn't resemble those of an oompa loompa the next day…yay!
I put some of the mousse onto the mitt and then did my best to evenly spread it over my entire body.
I noticed a slight glow right after putting it on, but it took a few hours for the tan to develop. My full tan developed pretty evenly after 2-3 days of use. There were only a few user-error spots around my feet (oopsie!).
Hydrating with Vita Liberata Self-Tanning Gradual Lotion
Since I had to put it on immediately after my shower, I wasn't able to moisturize properly, which was a big bummer for me! The next morning I applied the Fabulous Self Tanning Gradual Lotion to get a little moisture on my skin.
Just like Claudia said, it is a GREAT lotion so I was satisfied! It was nourishing and also worked magic for my tan. This actually became my favorite of all the Vita Liberata tanning products.
After a long weekend of California beaches, I'm happy to say my tan withstood the elements! My tan started to fade about a week and a half later. All good things have to come to an end, right? Good news is that my tan faded evenly!
Not only are these self tanners made up of clean ingredients that nourish your skin, but they truly do give you a long-lasting natural tan. Looks like our mission impossible was actually accomplished!
Vita Liberata is our new favorite sunless tanning company!