Raise your hand if you're guilty of not using enough sunscreen.
My hand is raising a million times right now. It wasn't until way too recently that I started paying attention to my suncare routine. I never wanted to use sunscreen. Why would I do that when my goal was to get rid of my ghostly winter skin? #Michiganprobs
Ahhh, the ignorance.
Even though achieving a healthy glow is still a goal of mine, protecting my skin from the sun's harmful rays is taking priority. With new goals in mind, I went on the hunt for the perfect suncare products. I discovered Coola Organic Suncare through Tone It Up…shocker! I saw Karena and Katrina using these products on their Instagram story during a photoshoot. Just like that, I was sold.
Organically Delicious Ingredients
Once I did further research, I learned that most Coola products are at least 70% organic and full of ingredients that are actually good for your skin. Sold again! I started my Coola Organic suncare obsession with a body sunscreen spray, face sunscreen and a sunless-tan face serum. I had to cover all the bases, okay?!
The Rundown
Products: Coola SPF 30 Piña Colada Body Sunscreen Spray | Coola SPF 30 Cucumber Mineral Sunscreen Face | Coola Sunless Tan Anti-Aging Face Serum
Price: Body Sunscreen Spray: $36 | Mineral Face Sunscreen: $36 | Sunless Tan Face Serum: $54
Perks: Certified Organic (Sunless Tan) | 70% Certified Organic (Body Sunscreen Spray) | Natural Fragrances | Water Resistant (40 minutes) | No Nano-Sized Particles | Cruelty-Free
Experimenting with Coola Organic Suncare
Patrick and I recently took a trip to his hometown in California, and I knew this was my chance to put Coola to the test. Is there really a better place to test Coola Organic Suncare products than Southern California? Probably not. After all, Coola was founded in sunny San Diego!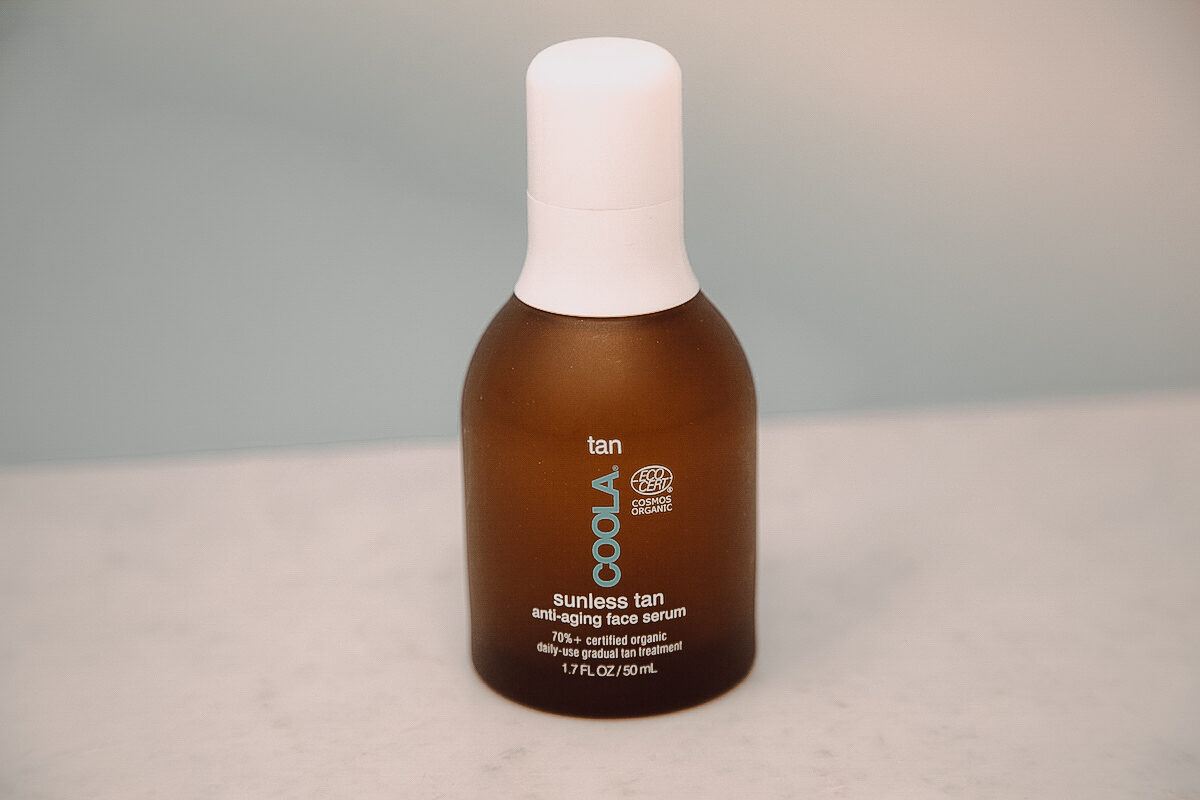 My experimentation started with the sunless tan face serum. I was not going to show up to California looking like a pale Michigander. Not happening. So I started using the serum a few weeks before we left. All I have to say is…LOVE.
This serum is a clear, jelly-like texture that goes on so smoothly. Not only that, but it smells like a beach vacay in a bottle. I put this serum on every other morning after I washed my face. It gave me an immediate glow! The full tan-effect does takes a few hours to set in, but that initial glow is a nice perk.
After a week of consistent use, my skin tint fully darkened and I was in perfect condition for my trip! #success
Coola Organic Body Spray & Mineral Face Sunscreens
Within hours of landing in California, Patrick and I were at the beach. (Priorities, am I right?) Both of us put on a layer of the body spray sunscreen, and we immediately fell in love. We got the piña colada scent…yum. Beyond the scent, the spray went on nice and light with no excess grease like other sunscreens. Major perk. Plus, most of the ingredients are organic!
I used the mineral face sunscreen on my freshly washed face. And once again, immediately fell in love. (Are you noticing a theme yet?) My prior experiences with face sunscreens have never been great. They're always sticky, heavy, and sometimes lead to pesky breakouts. The last thing I want when I'm soaking up the hot sun is to feel constricted by heavy creams. But, when I put Coola's mineral sunscreen on my face my world changed. It is SO soft, smooth and light. Not only that, but it has a matte finish, so no grease in sight. I would even consider using this as my daily daytime moisturizer!
Worry-Free Beach Days
After many hours at the beach, and even falling asleep laying in the sun, Coola Organic Suncare products withstood the test. I've never been able to lay in the sun with my pale winter skin and not get burnt, and I only reapplied once after a couple hours. But mostly because I wanted to smell it again…
The Results
Real talk. Coola Organic Suncare took literally everything I hate about sunscreen and fixed it. Literally everything, you guys.
Boom. Mic drop.
If you hate sunburns, greasy sunscreen, and nasty chemical ingredients, you should ditch that old sunscreen and add Coola to your beach bag!
These Coola products are 100% receiving a 10/10.