If you deal with acne on a regular basis…listen up! I've dealt with cystic acne that not only ruins your day, week, outfit, night out, work day, etc. because you hate how it looks, but is honestly just downright painful and uncomfortable!
For many years, I've woken up, looked in the mirror and thought, "How is this happening to me?"
The Breaking Point
The frustration was almost unbearable! I'm generally a healthy person. I eat well (everything in moderation!), work out regularly, always wash my face at least twice per day, take my vitamins…etc., etc. No matter what I tried, the acne never went away. In fact, it seemed to get significantly worse as I got older. (Anyone else?!) I was adamant that I would figure this out in a natural way. From all natural skincare products to cutting out gluten, I had tried it all.
As you may imagine, knowing I'm getting married soon…the pressure was on. The desperation and frustration wreaked havoc on not only my mental health, but my bank account too. I tried SO many products that promised to heal my acne…and all of them ended up in the trash with no improvement to my skin.
That is until I met my skin savior: Curology.
Quick Disclaimer
Before we get into the nitty gritty of this…please know that your skincare journey is 100% unique to you. If you deal with chronic acne, just one zit here and there, or never deal with any breakouts, what you decide to do with your skin and your body is totally your decision. Whether you choose to go an au-natural route or use man-made ingredients…you do you girl!!
I'm so excited to have an outlet to share my in-depth acne journey with you, but know that just because I'm doing something one way…doesn't mean you have to nor does it mean it will definitely work for you.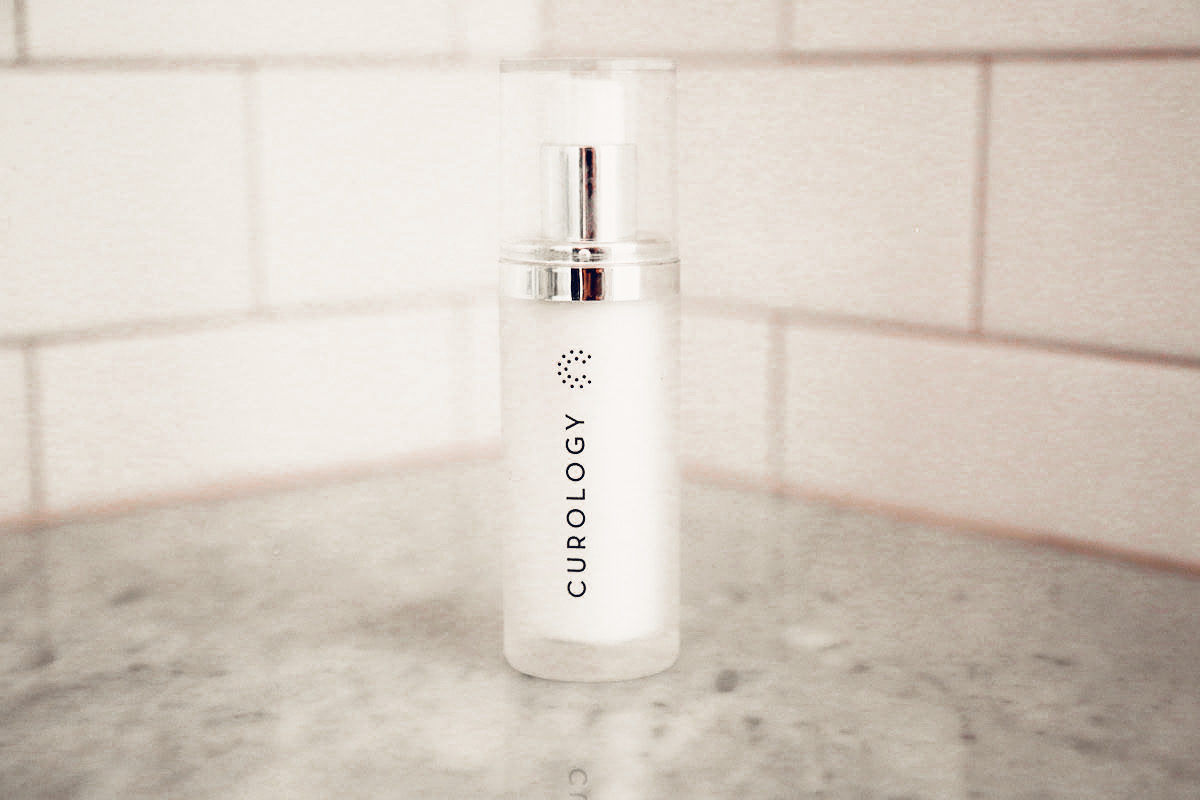 The Rundown
Product: Curology
Price: $19.95/month
Where to buy: Start your FREE trial using this link!
Perks: Cruelty Free | pH around 4.5 | No Added Fragrances
Getting Started With Curology
Anyone else guilty of falling for a Facebook/Instagram ad? They are my weakness. Curology targeted me for months on social media, but it took me a while to finally cave. In my head, I was convinced I was going to cure my acne naturally. I had come to the point where I had tried just about everything and the only thing left was to try oral medications or birth control, but that's where my train stopped. Neither of those were the solution for me!
I had been researching dermatologists in my area when I remembered Curology.
When I started researching the brand, I knew I was going to have to compromise some of my earlier must-haves (like staying the au natural route), but I also realized the brand had a team of real dermatology professionals ready to solve my major skincare woes. A whole team of real pros and no co-pays?! Sign me up.
But First, Let Me Take a Selfie
Getting your free trial with Curology requires you to take selfies. These aren't necessarily the kind of selfies you're probably used to taking (if they are, then you are my spirit animal!). These selfies require the best lighting possible, absolutely zero makeup, and plenty of angles! The goal here is to give the dermatologists all the information they need without having to see you in person. I sent in three selfies to show both sides of my face and the front.
After submitting my selfies and answering a quick quiz, my information was sent off to my assigned dermatology nurse practitioner (Lindsay Swan, NP-C) for her to analyze to create my custom Curology formula. Within a day, I had my results and my Curology bottle was on its way!
Let's Talk Active Ingredients
This is where our Curology stories will differ…or maybe be the same! Here's a breakdown of my Curology bottle's active ingredients: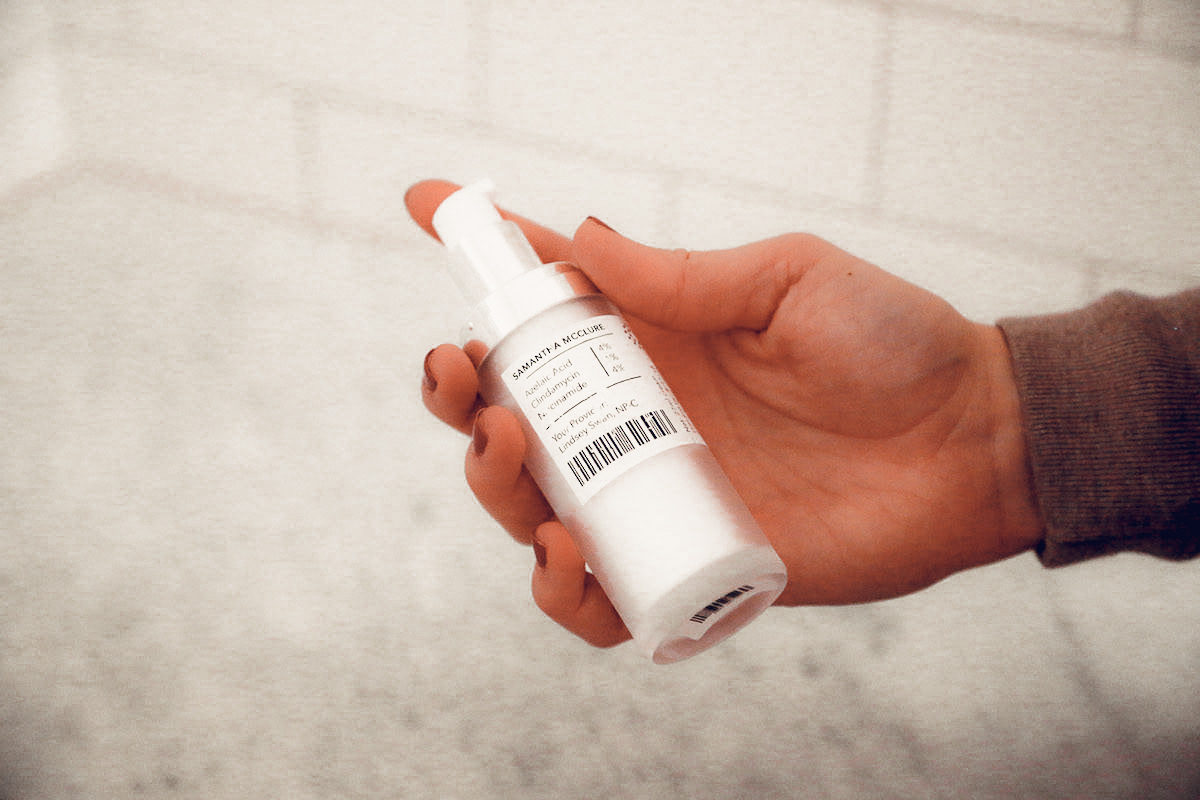 4% Azelaic Acid: Azelaic acid occurs naturally in several whole grains, and when applied to the skin, effectively battles acne, clogged pores, dark spots, and inflammation. (It's even safe to use topically for those with celiac disease or gluten sensitivity!)
1% Clindamycin: Clindamycin is a powerful antibiotic, perfect for battling Propionibacterium acnes (P. acnes), an acne-causing bacterium that camps out in your pores. Simply put, bacteria are a major cause of acne. Antibiotics kill bacteria.
4% Niacinamide: When UV rays and free radicals damage the structure of skin, this handy antioxidant does a top-notch repair job. One of the most thoroughly researched anti-aging ingredients out there, niacinamide has been shown to fight fine wrinkles, redness, and especially dark spots.
Incorporating Into My Routine
One of the greatest things about Curology is that it's SUPER easy to incorporate into your routine! In fact, not much has to change. Curology is a night cream that fits seamlessly into what you're already doing. Have a favorite face wash you don't want to give up? No worries! Have a favorite day time serum you just can't separate from? Perfect!
I would bet that after using Curology regularly, the rest of your products are actually going to start to work better than they ever did before!
After drying and washing my face, I just apply 1-2 pumps of the Curology cream all over my face and neck before bed. That's it! The cream is light, goes on easy and really doesn't smell like anything!
Words to the Wise
You should know, some of the active ingredients in Curology can cause your skin to be a little more sensitive than others…which in the grand scheme of things can be okay! For example, Claudia was loving ExfoliKate, but it was making my face SO red and irritated. Now, I don't know if it still would've made my face irritated if I wasn't using Curology, but the great thing is I don't feel like I really need a strong exfoliant since Curology does some serious work to my skin every night!
Another word to the wise? You absolutely must incorporate SPF into your daily routine. (Newsflash: you should be using a daily SPF even if you're not using a medicated cream!) Me? I stick to our favorite Coola products. Stay tuned on this, I've been experimenting with the Coola Sun Silk Drops and so far so good! More to come on this.
My favorite thing about Curology? IT ACTUALLY WORKS.
You guys, I can't even tell you how many acne treatment products I've tried that NEVER work. In fact, I even did a CO review on one. Within a month of using Curology I had seen visible results. Within 4 months? NO ACNE. Don't want to take my word for it? Check out my timeline with befores and afters.

The Results
I think it's pretty obvious how I feel overall about Curology. My self-confidence has skyrocketed and I'm more wedding-ready than ever thanks to Curology!
It may have not been my dream all natural route, but I couldn't be happier with my decision to dive into Curology. This company and this cream have completely changed my life. For that, Curology most definitely deserves a big 10/10.

I've already convinced two of my friends to start using Curology and both have seen serious results in just 2 months! Convinced you need Curology? Click here to start your free trial.