Everybody Say Cheese!
Likely one of the phrases we'll hear the most on our wedding day, right? So with that in mind, Sam and I were on the hunt to find a teeth whitening product that would get our pearly whites in tip-top shape for the big day…without all the nasty chemicals.
After our failed attempt with the oh-so-trendy (but oh-so-messy) charcoal toothpaste, we hoped to find something that would easily fit into our routine and give us sparkly results without having to resort to the typical, chemical-filled drugstore whitening strips. They are just NASTAY!
Oral Essentials Teeth Whitening Strips
We ended up finding Oral Essentials on one of our many insta binges (yes, that's a thing here at CO…it's pretty much where we find all our obsession-worthy brands!) And it was love at first sight.
This brand is all about getting rid of the junk and just keeping the essentials…get it?! Ha! Check out why below!
It was started by an award-winning cosmetic dentist and periodontist. (a.k.a. LEGIT)
They realized that most of us don't even know what sort of chemicals we're putting in our mouths. (p.s. Did you know that your oral tissues are the most absorbent tissues in your body? Thanks for the tip, Oral!)
And so they took it upon themselves to create clinically-tested products that clean your mouth and whiten your teeth without all the nasty chemicals. Hooray!
Awesome, right?! So we reached out to them to see if they would send some of our wedding-bound Certifiers their very own whitening strips to experiment with. And lucky for us, they did! We gathered some brides, grooms, bridesmaids and groomsmen and all got to WERK.
Check out our experiments below!
---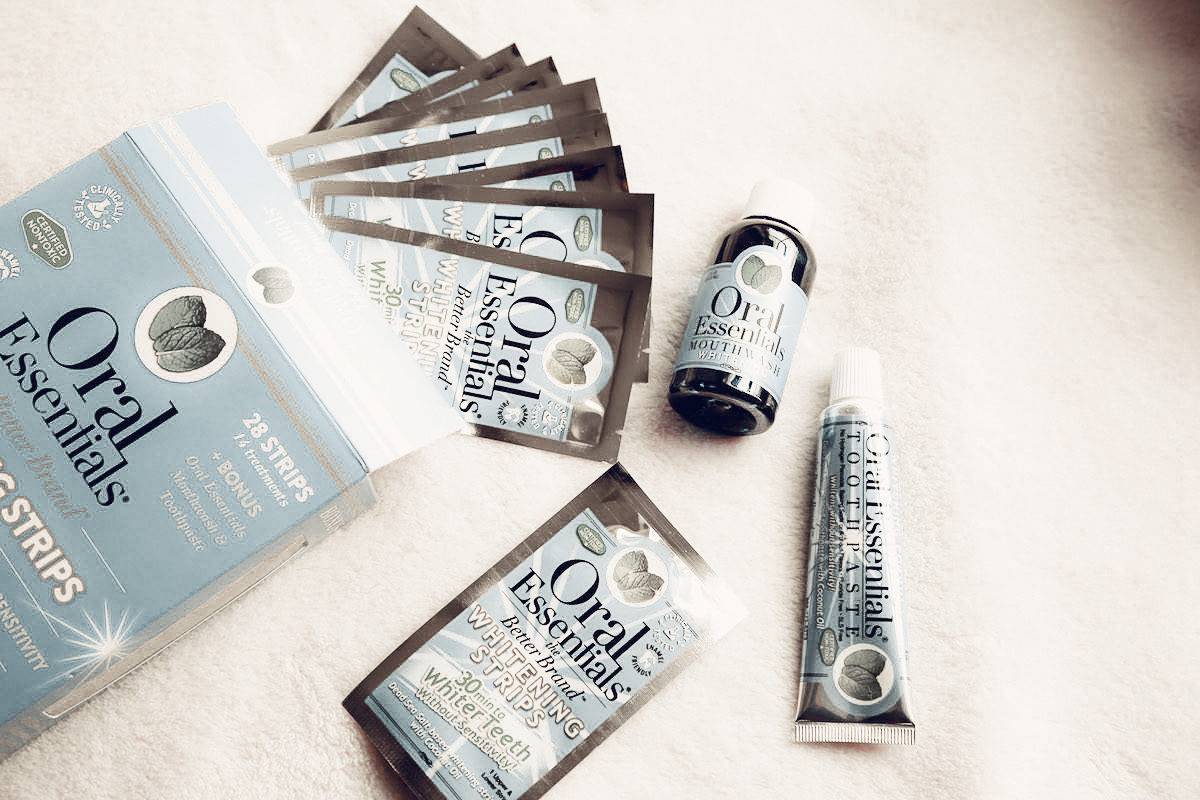 The Rundown
Product: Oral Essentials Teeth Whitening Strips
Price: $39.99
Where to buy: Oral Essentials website
Perks: Naturally Derived Ingredients | No SLS | Cruelty Free | Clinically Tested | Dentist Approved | Certified Non Toxic | 30 Day Money Back Guarantee
---
14 Days to Brighter Teeth
Just like other whitening strips, the Oral Essentials Whitening Kits come with 14 treatments, meaning you're pearly whites will be in prime picture-taking status in just two weeks! But unlike other kits, this one also comes with their Whitening Toothpaste and Mouthwash. #winning
Also unlike your typical drugstore whitening strips, these are made with only naturally-derived ingredients. Dead sea salt, coconut oil, lemon peel oil, sage oil…talk about YUMMY.
And they're really easy to use! All you have to do is place the strips (there's a top and a bottom strip in each pack) on your teeth, let them sit and do their thang for 30 minutes and clean it off! Super easy if you ask me. TBH, the easier the application the more likely I am to use a product. Especially if I'm doing this two weeks before my wedding!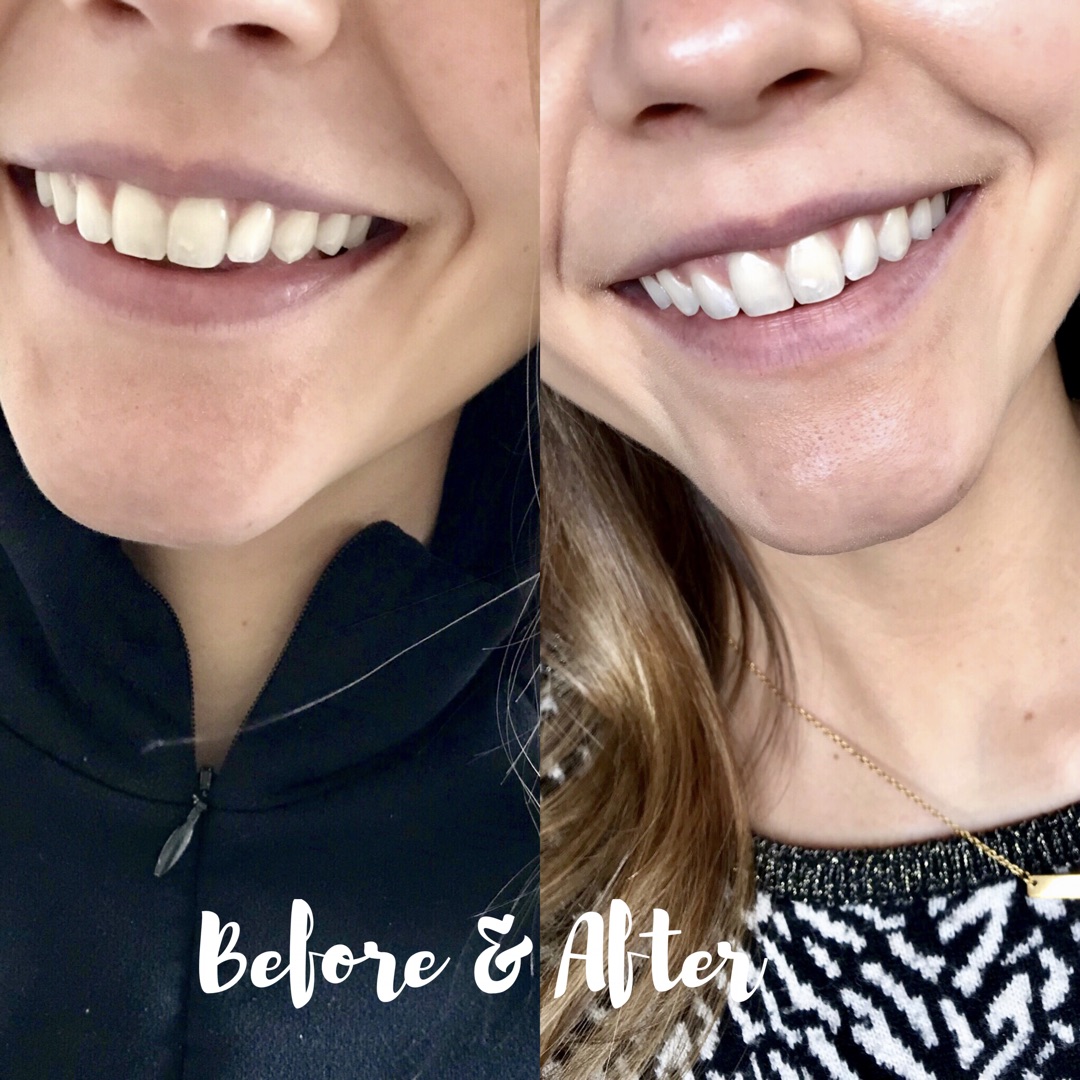 For Better…
Let's get down to the deets people! What were the two best qualities about these Oral Essentials whitening strips, you ask? Well, they like to go on long walks on the beach, they love dogs…jk.
They're totally delicious. Seriously though. These strips actually taste good! So you don't have to worry about swallowing any yuck chemicals when you have these in.
They would never hurt you. There was almost no sensitivity! After the first day, my teeth felt a tiny bit tingly but after the second experiment, I felt no sensitivity whatsoever.
And our Certifiers agree! Check out what they had to say…
I liked the taste of the strips, they stayed on really well, and they didn't make my teeth too sensitive!



I think they really did help get my teeth a little whiter. My teeth are usually really sensitive but the strips worked really well and there was no pain.
They definitely made my teeth whiter without the harmful chemicals! Total win!!
I felt like they didn't truly whiten my teeth like other brands do. However since they don't harm your teeth I would use them regularly.
Our Certifiers rated the change in the color of their teeth a 5 out of 7. Those are some pretty stellar results! Check out one of our Certifier's before and after pics!
Or For Worse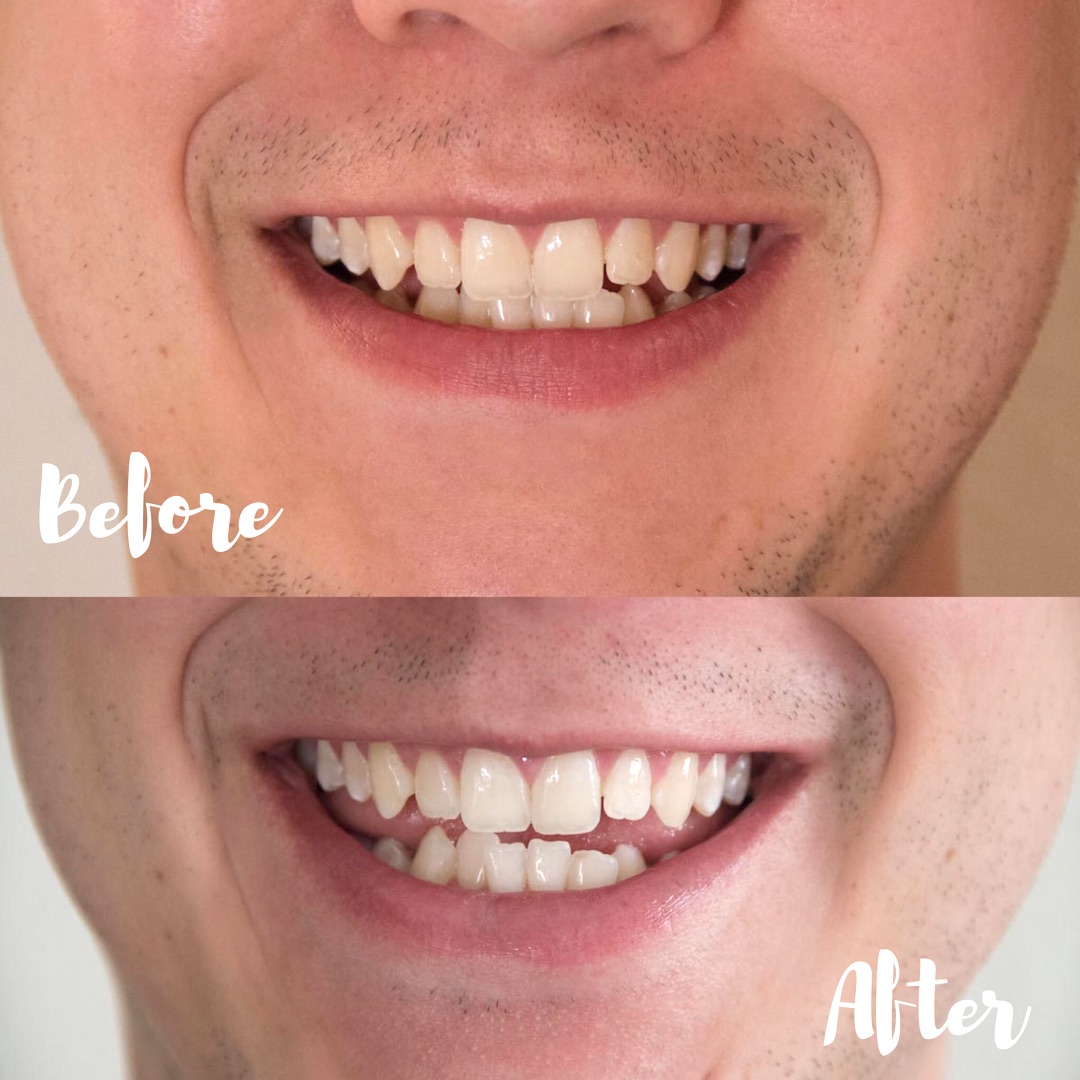 But of course, there's always SOMETHING we don't necessarily love about our significant other a product. In this case, there two little things.
They're a bit sensitive. The strips are a little fragile so you have to be really careful when taking them out of their packets. You don't want to waste a single one, trust me!
They really leave a mess behind. After you take the strips off, there's a layer of pretty gunky residue left on your teeth. But all you have to do is rinse your mouth a few times and follow up with a quick toothbrushing sesh using their Whitening Toothpaste!
And here's what our Certifiers had to say about this…
They were a bit tough to get on at first but once you got the hang of it you were golden.
I didn't mind them at all. 30 minutes is pretty quick. It was taking them off and getting the film of was a little gross but not terrible.
It definitely took some brushing to get it all off!
As they say, pictures are worth a thousand words.
Which is why having pretty white teeth on your wedding day is KEY! I didn't really notice how much whiter my teeth were until I saw my before and after pics. But then I was like, omg! These really work!
What I loved about these strips is that the whitening treatment is gradual and doesn't hurt your teeth one bit. You end up with a sparkly white smile and feel really good about the ingredients you're putting into your body. It's a win-win!
Not to mention, this is the first time that ALL of our Certifiers gave a product their stamp of approval! That's right.