Claudia and I were venturing through Sephora one day (a place we often find ourselves…for better or for worse!) and we stumbled upon the NUDESTIX display. Don't forget, this wasn't our first run-in with this ambitious all stick brand. We both fell in love with the brand when we first reviewed the Magnetic Matte Lip. Kissable color that lasts all day?! Yes, please! After falling in love, Claudia started using the NUDESTIX Eyebrow Stylus Pencil & Gel and it quickly became a staple in her daily routine. (P.S. If you haven't tried either of these products…what are you waiting for?!)
Third Time's A Charm?
As you can imagine, after two successful NUDESTIX experimentations, we had high hopes for a third! So on our Sephora trip, we convinced each other to test out the NUDESTIX Concealer Pencil. A few minutes later, we were at the register. Just a few minutes more, we were in the car making Instagram stories telling all of you about our purchases!
Thus, the experimentation began…
How We Used It
Have you ever had a friend (that you love dearly) do something wrong? Have you ever then tried to make excuses for them or cover up what they did mostly just because you couldn't believe they would ever do such a thing?! That feeling right there is how I would describe our entire relationship with the NUDESTIX Concealer Pencil.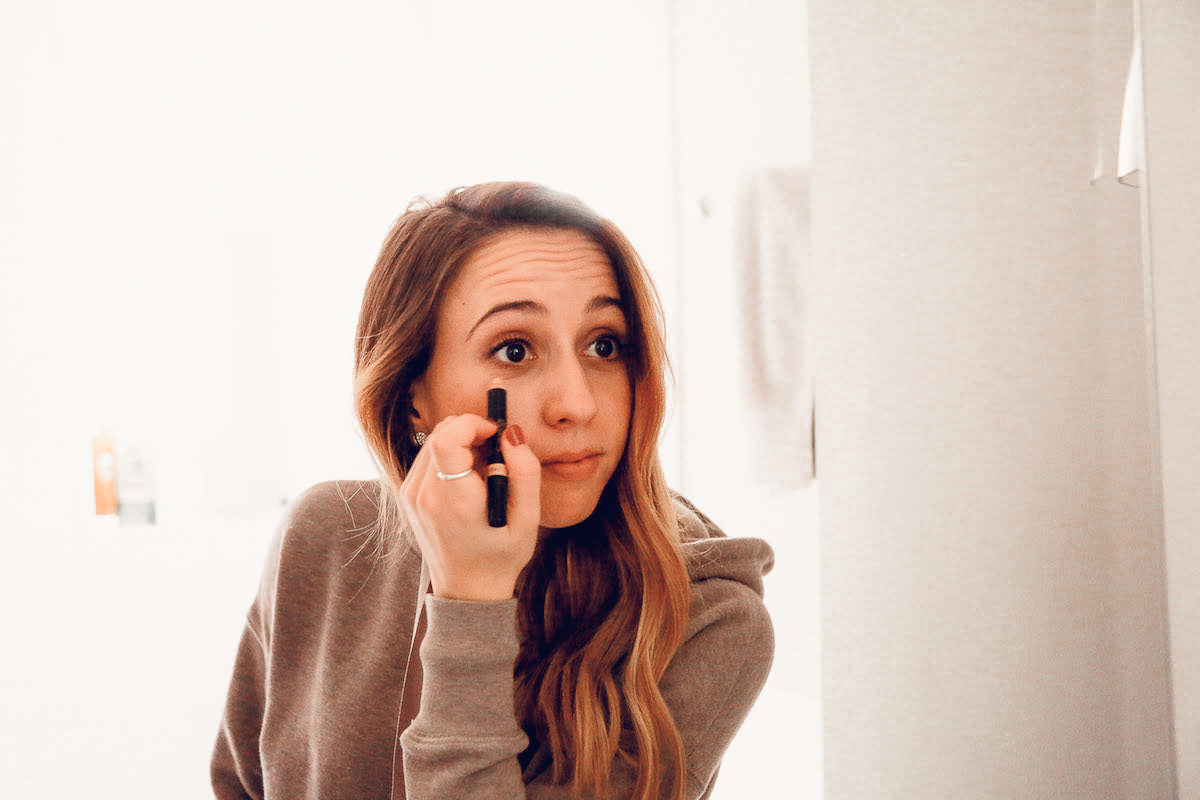 During the beginning days of our experimentation with NUDESTIX Concealer Pencil, we just assumed everything would be unicorns and rainbows since our last two experiments were just that! It was almost as if we didn't see the flaws…we were totally blinded by our love for NUDESTIX!
When Reality Set In…
We may have been blinded in the beginning, but it didn't take long for our heart eyes to turn to tears. Claudia and I both used the concealer in the "light 3" shade, which seemed to be great! The lighter shade blended right in, but seemed to brighten the areas we needed a little extra love in. So it seemed…
In the end, the coverage and tint just wasn't enough! It didn't take long for Claudia to start reaching for her Maybelline Instant Age Rewind Eraser Treatment to put over her NUDESTIX Concealer Pencil…which obviously made the NUDESTIX concealer #pointless.
Creases, and Lines, and Smudging…Oh My!
For me, the tint and coverage was truly all fine and dandy!
My low point happened in the bathroom at work. After being a busy bee all day, the absolute last thing I need is to walk into the bathroom before lunch (only a couple hours into my day) and see creases under my eyes! NOT cute.
I could even see some smudging and fading. Definitely NOT cute.
It wasn't long until I started reaching for my Glossier Stretch Concealer again. Once you go Glossier…you never go back!
The Results
Reality set in the second we started reaching for our old trusty favorites! As soon as we were ready to put our NUDESTIX Concealer Pencil to the side (a.k.a. The trash #sorrybuttrue), we knew it was time to move on!
Sadly, the NUDESTIX Concealer Pencil will be earning a 1/10 on our rating scale!

What's your go-to concealer?! We know you have one…so dish the deets please!