Skincare is the new makeup.
You'll quickly learn through this blog that I am OBSESSED with Glossier overall. My Glossier obsession is similar to Claudia's Tone It Up obsession…maybe not quite on that level, but I'm pretty close. If you haven't heard of this company, you're truly missing out.
One of the things I love most about Glossier is their belief in skincare first and makeup second…
"We're laying the foundation for a beauty movement that celebrates real girls, in real life. Glossier is a new way of thinking about (and shopping for) beauty products. Because "beauty" should be fun, easy, imperfect, and personal. Above all, we believe that you give life to products-products don't breathe life into you."
As someone who's struggled, for what seems like forever, to find the perfect balance between skincare and makeup, I finally feel I've found the perfect blend with Glossier.
I ordered the Milky Jelly Cleanser and Priming Moisturizer as part of the Phase 1 Kit (PSA: They just dropped the price on this kit!!). These two have found permanent homes in my bathroom cabinet. And the Priming Moisturizer has now made its way into Claudia's cabinet too!
Will you be next to join our Glossier fan club?
---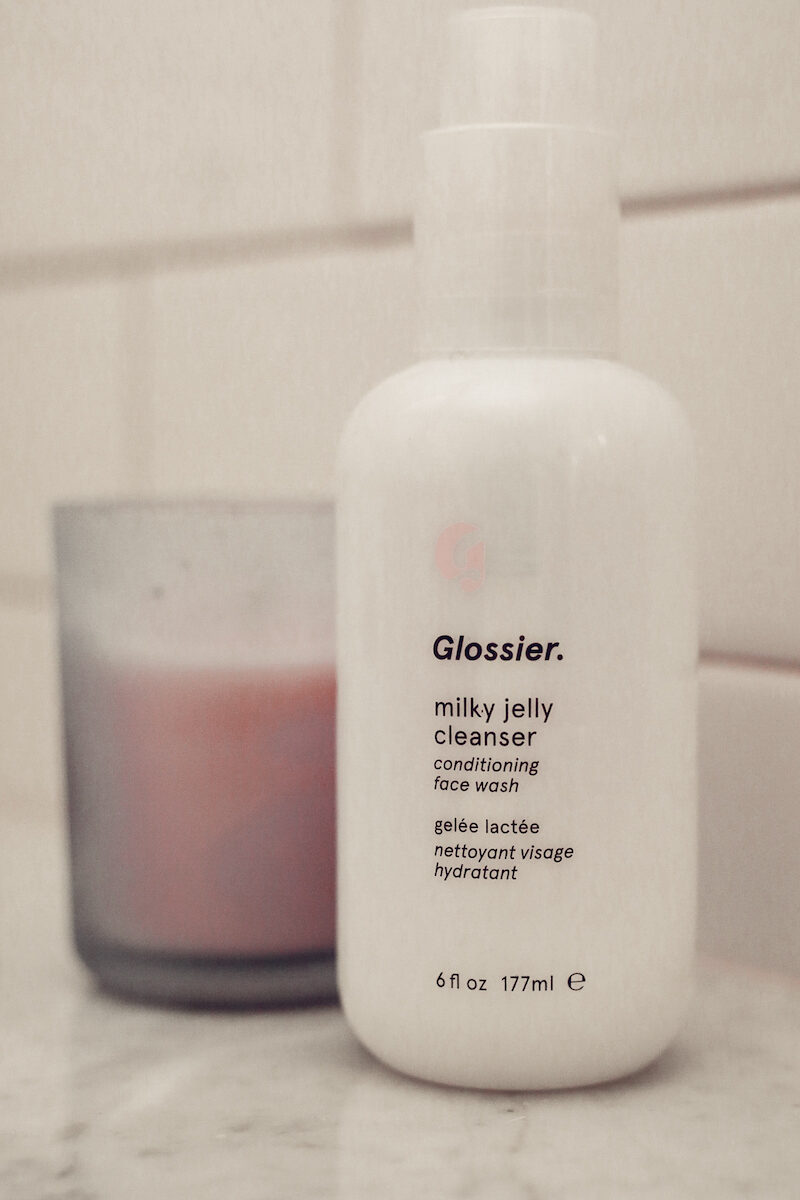 The Rundown
Products: Glossier Milky Jelly Cleanser | Glossier Priming Moisturizer
Price: Cleanser $18 | Moisturizer $25
Where to buy: On Glossier's website! Click for Milky Jelly Cleanser and Priming Moisturizer. For 10% off your first Glossier purchase, click here.
Perks: Hypoallergenic | Dermatologist Tested | Safe for the Eye Area | Ophthalmologist Tested | Appropriate for all Skin Types | Soap Free | Paraben Free | Sulfate Free | Fragrance Free | Cruelty Free | Non-Comedogenic
---
Why Sam Loves the Milky Jelly + Priming Moisturizer
Both the Glossier Milky Jelly Cleanser and Priming Moisturizer are a staple in my morning routine. Why? Here are a few reasons:
The cleanser smells so light and refreshing (it's fragrance-free, but they replaced ¼ of the h20 content with rose water… YUM).
The cleanser truly is milky and jelly, so it gently wakes me up and restores my face.
Most primers leave my face red for 10 minutes or so, but this priming moisturizer doesn't! This is due to the tea and honey extracts found in their formula – both anti-redness ingredients.
Glossier suggests you use the Milky Jelly Cleanser on a dry face if you're trying to remove dirt and makeup, but use it on a wet face if you're doing a simple morning cleanse. This is why I only use this cleanser in the morning. I pull out the big guns at night.
If you do decide to use it as a makeup remover, know that it is so gentle that it won't hurt your eyes if a little slips in there. The product has Poloxamer, which is a strong yet mild cleansing agent used in contact lens solution, so it won't hurt your eyes!
Quick Tip: Do not use the Priming Moisturizer as your sole moisturizer. I only use this in the morning because, while it primes my face SO well, it doesn't give extreme hydration. They do have Priming Moisturizer Rich (that I have yet to try) that should solve this problem, though. The moisture does last throughout the day and keeps me from getting too oily, but I still need that deep hydration at night.* There was a 2 week span where I only used this moisturizer day and night, but I ended up with thirsty, oily skin.
While these products prep my face perfectly for makeup, I do use the Glossier Perfecting Skin Tint and Glossier Stretch Concealer as my only face makeup products, so they should all work perfectly together, but Claudia has used these products without Glossier makeup and she also approves!
*Side note: for nighttime moisture I rotate between my Biossance sample and Hello Aglow Flawless Nourishment Cream…stay tuned for reviews!!
---
Did Claudia think the same?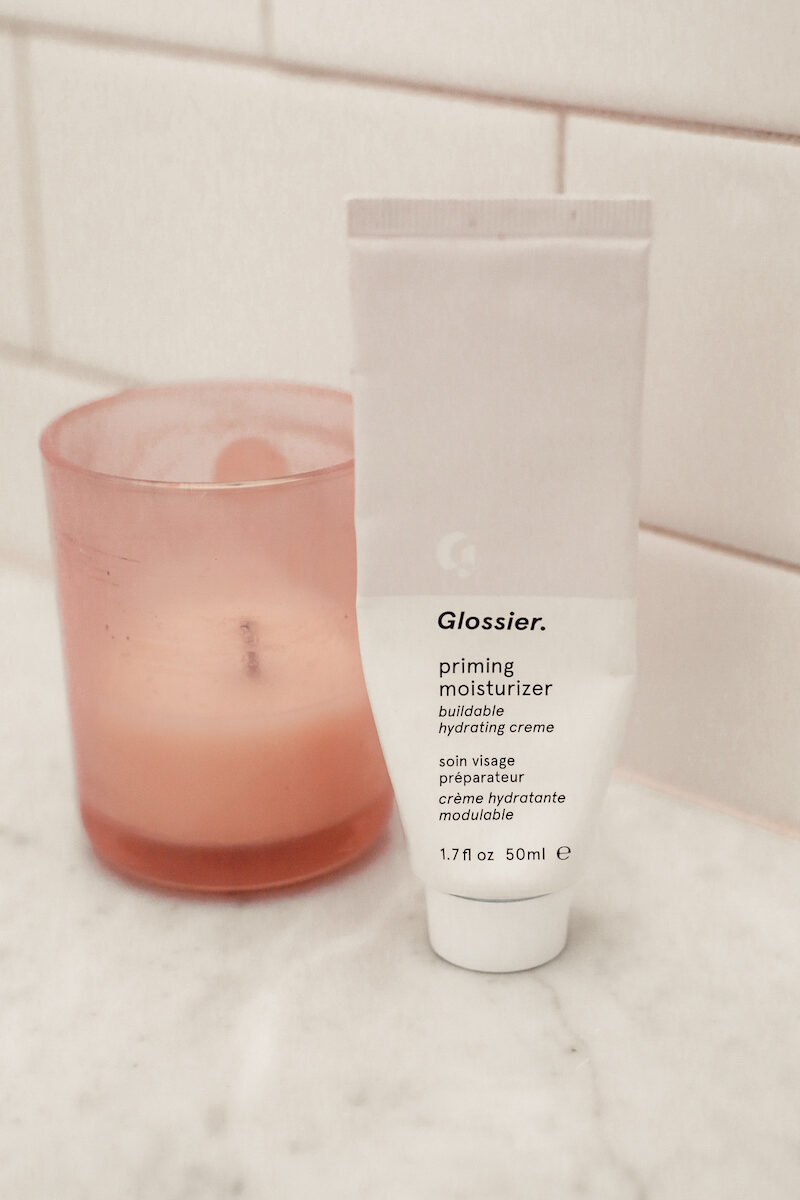 Like Sam, I pretty much have my nightly cleansing and moisturizing routine down to a T. But my mornings were lacking in structure, and I'm ALL about structure. The clearer my routine, the better I function! Do I sound crazy? Probs, but it works.
When I told Sam about my morning beauty routine woes, she instantly recommended I try the Glossier Milky Jelly Cleanser and Priming Moisturizer.
At the time, I was using a Burt's Bees cream face wash and was not moisturizing my face prior to makeup application. Bad Claudia! Since I wasn't crazy about the Burt's Bees, I decided to give Sam's Glossier kit a try while she tested out her new Hello Aglow treatments.
Of course, I fell in love. Sam, stop convincing me to buy things!
The Cleanser is very gentle, but still does a great job at removing my post-gym grittiness. The smell is light and refreshing, and my skin felt moisturized even before using the Priming Moisturizer. All in all, this one got the thumbs up!
My favorite of the two, however, was the Priming Moisturizer.
It gives my skin the perfect amount of moisture in the morning, and best of all, it smells VERY clean. No weird fragrance and no irritation. It helps my makeup go on smoothly, and I even noticed I use less makeup because of it!
The end result? Glowy, healthy, moisturized skin all day long.
You can probably guess by now, these two Glossier products receive our CO stamp of approval!