With all the talk of how bad the sun is for your skin, it seems impossible to get that perfect summer glow without all the damage.
If you're like me, you turn to at-home sunless tanner because who has the time or money to consistently get spray tans?! With summer in full swing, I've turned my sunless tan routine back into motion, but it had me thinking…how the heck does this stuff work anyway?
Cue: Dihydroxacetone (DHA)
DHA is what makes sunless tanner work! It's the primary active ingredient that gives you that sought-after glow. DHA is a colorless sugar that interacts with the dead cells located in the upper layer of the epidermis. As the sugar interacts with the dead skin cells, a color change occurs.
Now you know!
Is DHA Safe?
The answer: who freakin' knows.
Just like with a lot of things in beauty, there is a lack of research surrounding this ingredient. While most will argue that it's safe in low concentrations, others say it's not. At this point, there is no research saying DHA is unsafe when applied in low concentrations (such as in sunless-tanner) and it is approved by the FDA when applied topically. It is considered safe because DHA cannot penetrate the outer layers of the skin…it only rests on it.
That said, when used in high concentrations, DHA could produce free radicals which would obviously cause concern. Here are some tips to avoid bad run-ins with DHA: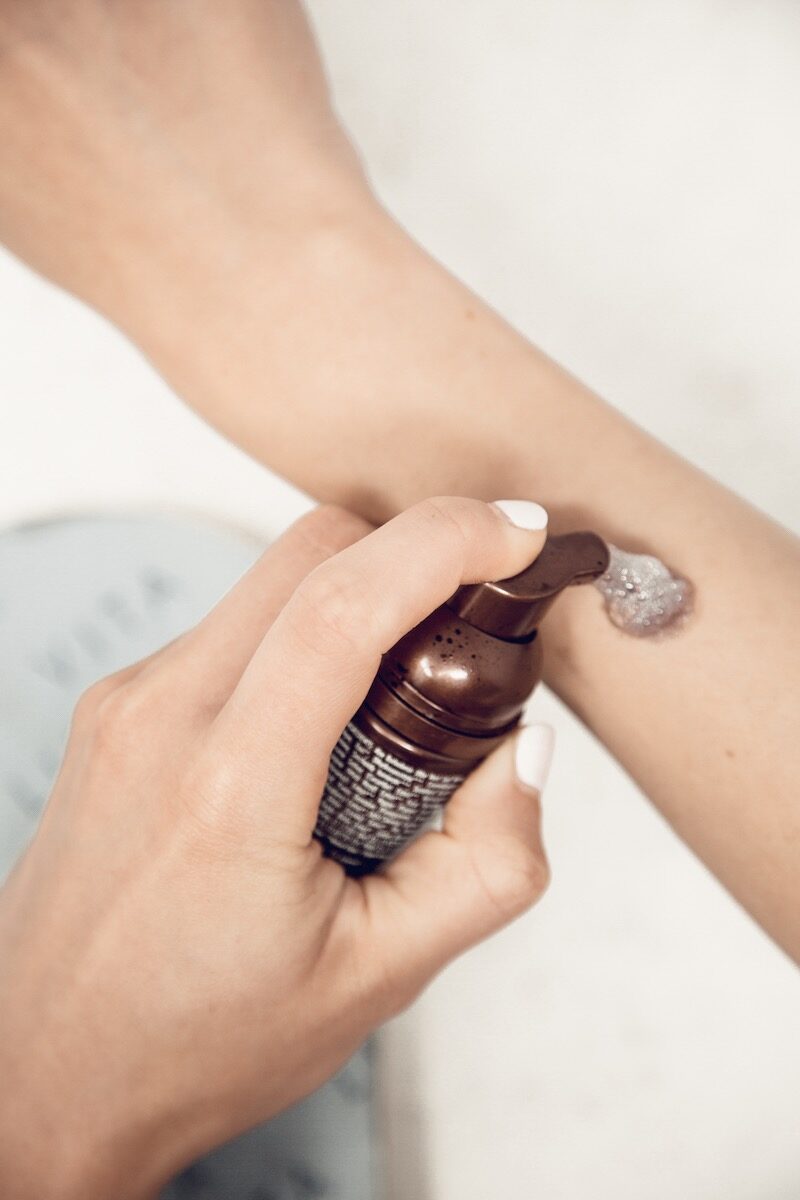 Don't apply sunless tanner to any cuts or abrasions.
Avoid applying to sensitive areas such as around your eyes and lips since the skin is significantly thinner there.
Avoid DHA in spray form…as inhaling it could lead to risk of asthma, COPD, or cancer. If you must use it in spray form, cover your mouth, eyes, and nose to prevent inhalation or ingestion.
All that said, while it may not be the safest ingredient out there, it's a better alternative than frying my skin in the sun. I'll be upkeeping my summertime sunless tanner routine for now!
Favorite Sunless Tanners
Since DHA is a questionable ingredient, when I look for sunless tanners I try to find a product that is as clean as possible! There are two brands that are my absolute go-tos: Vita Liberata and Coola. Both brands deliver a majority of organic ingredients which is AMAZING! While we've done full reviews on both brands in the past, here are some of our fav products:
PRO TIP: Whenever you're using a sunless tanner, you should always exfoliate deeply beforehand (we love a good dry brush!) and then make sure you moisturize the heck out of your skin in the following days! By exfoliating before and moisturizing after, you'll prolong your tan and avoid fading for as long as possible!
Speaking of…why do tans fade?
Whether we tan with or without the sun, our tans will always fade away…it's just the sad reality. Why? Our skin is constantly changing and regenerating itself! In fact…
Every 35-45 days the outer layer of the skin (epidermis) is completely replaced.
Since our skin is pigmented in the outer layer, any natural or added pigment will be gone in about a month! This is why natural tans fade and why many self-tanning products recommend you re-apply the product every few days to maintain your tan. UGH it takes work to have that perfect glow!
Get Your Glow On Girl
If you're a sunless tan lover like me, you can now get your glow on knowing what in the world is happening on your skin! Although you'll be getting that fake glow on, make sure you're always wearing your SPF even if you'll just be in the sun for even a little!
Happy summer glowing!