This post contains sponsored content for By Valenti™ Organics. Please note that I only work with companies I truly love and align with the Uncover the Glow brand. While I'm compensated for the work I do, my opinions are always 100% my own.
My newest discovery in natural skincare
I'm so excited to tell you guys about my latest clean beauty discovery! By Valenti™ Organics is an all-natural skincare brand by Manuela Valenti, an Italian-Venezuelan skincare lover who suffered from a lifetime of skin allergies, irritation, and even infections.
Manuela realized both commercial and "natural" skincare products harmed her skin due to high levels of irritants, low-grade ingredients, and harmful chemicals.
So she took it upon herself to formulate new skincare products using her centuries-old family recipes.
P.S. She's also a Michigan local and Venezeulan like me! The stars really aligned with this collab.
What I love about By Valenti™ Organics
The ingredients:
Their products are made in small batches using highly-researched organic ingredients that have a low impact on the planet.
Everything is free of:
petroleum-based ingredients
artificial colors
synthetic fragrances
sulfates
phthalates
parabens
EDTA
diazolidinyl urea
iodopropynyl butylcarbamate
and so many other harmful ingredients!
I also love that they're a Leaping Bunny-certified cruelty-free company.
The sustainability:
Their products are packaged in responsible containers made with reusable, recyclable or biodegradable materials whenever possible.
And they even have a Return for Cash program where you can return your empty By Valenti products, and they reward you with a credit to your account. So great!
Which products are worth buying?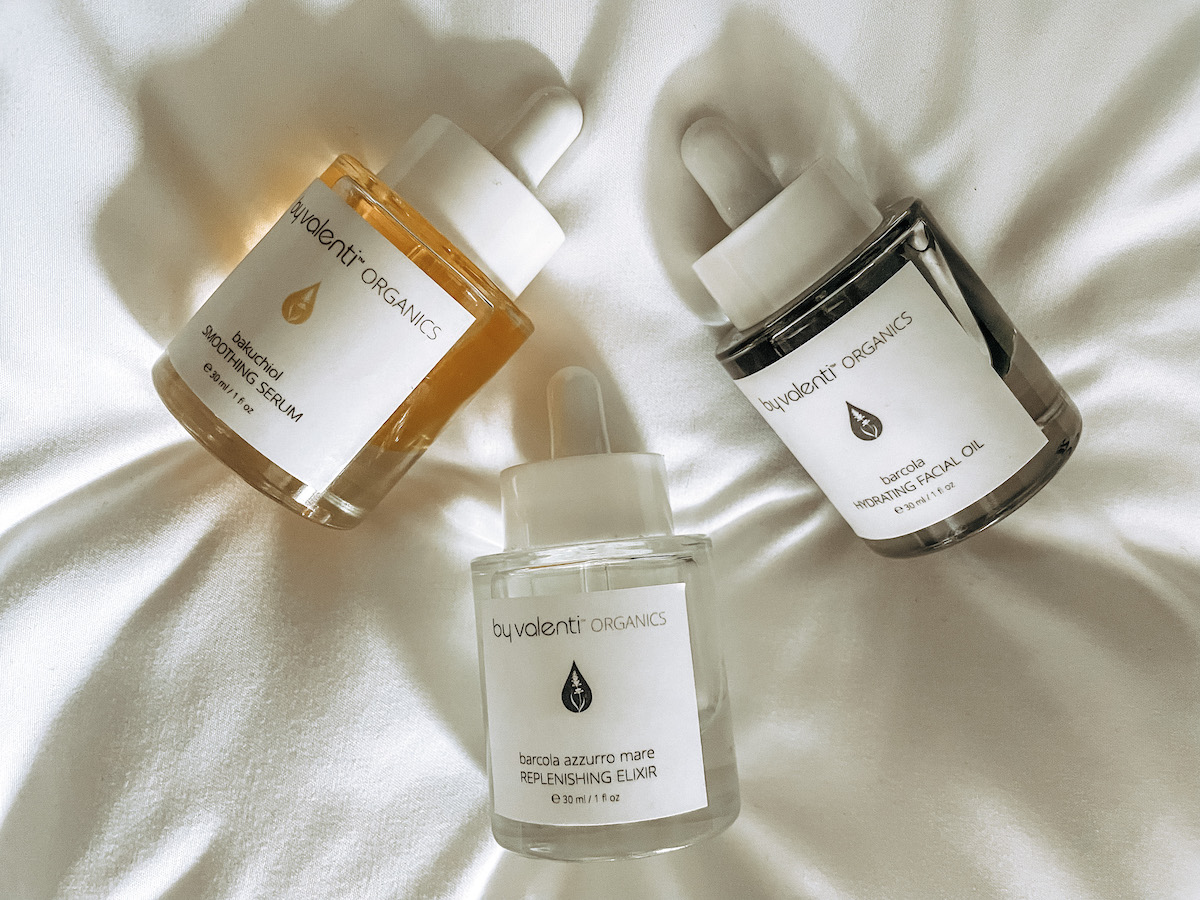 First, let's talk about price! Because these products are not cheap. I never thought I would recommend a $140 serum, but oh my gosh, these By Valenti™ Organics serums are in-cred-ible. When I tell you they're luxe, I mean it!
They remind me a lot of Herbivore products, so if you're a fan, I highly recommend you try these.
These are the 3 products I was gifted:
Barcola Azzuro Mare Replenishing Elixir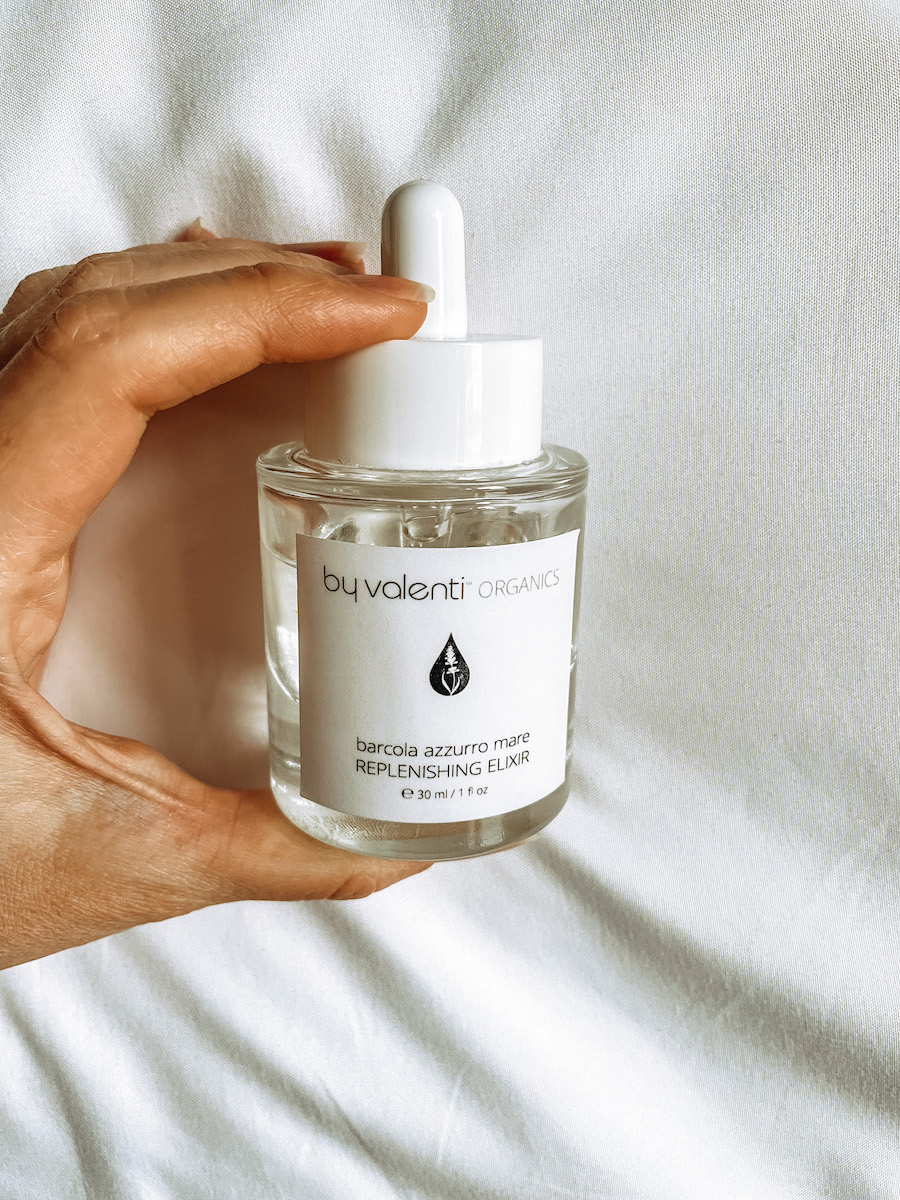 Featured ingredients:
Seaweed extract
Low and high molecular hyaluronic acid
Sea kelp bioferment
Cucumber and rose hydrosols
Niacinamide (my fav!)
Witch hazel extract
Guys, I'm obsessed with this elixir serum. I use it every single night after I wash my face, and my skin is loving it. It's ultra-hydrating but doesn't feel sticky whatsoever! Plus, I love that it has so many amazing ingredients. Hyaluronic acid, seaweed, cucumber, rose, niacinamide, and witch hazel all in one product?! The perfect combination for hydrated, even-toned, bouncy skin.
I also love the way it smells. The scent is very light and reminds me of a rosy ocean. Totally dreamy!
Bakuchiol Smoothing Serum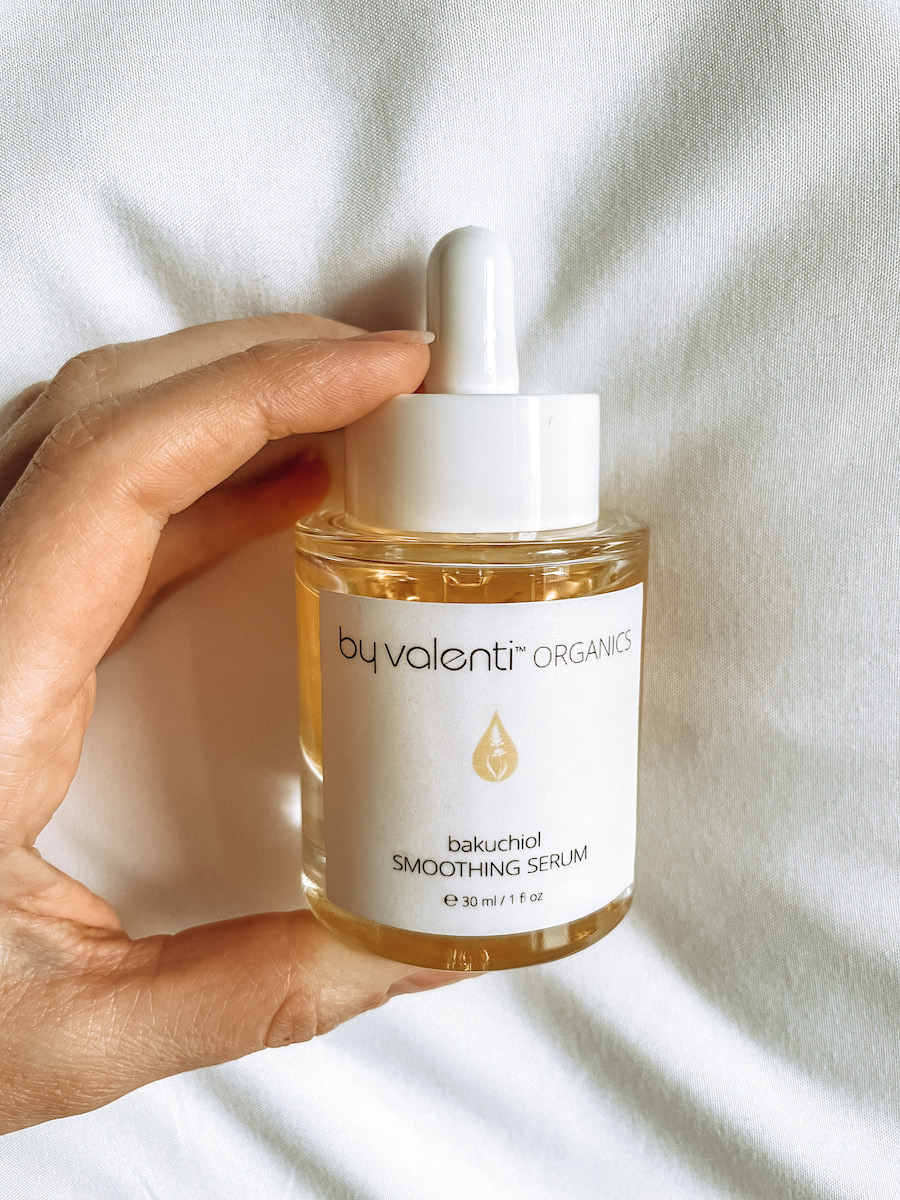 Benefits of bakuchiol:
Natural alternative to retinol
Reduces blemishes
Regulates sebum production
Great for anti-aging and fine lines
Reduces hyperpigmentation
Stimulates collagen production
Helps retain skin elasticity
I keep telling everyone this serum is literal gold in a bottle. I think if you're going to buy anything from By Valenti Organics, this is it. (With the Replenishing Elixir being a close second!) I layer a few drops of all over my face and neck after I moisturize, and sometimes even skip moisturizer and layer it on top of the Replenishing Elixir. It's super hydrating and has a very oily texture, so a little goes a long way.
When I wake up the next morning, my skin is glowing! No joke. It has the same, if not better, effect as retinol without the harmful side effects. The best part is you can use this every night (and even during the day) because it's so gentle on the skin!
Barcola Hydrating Facial Oil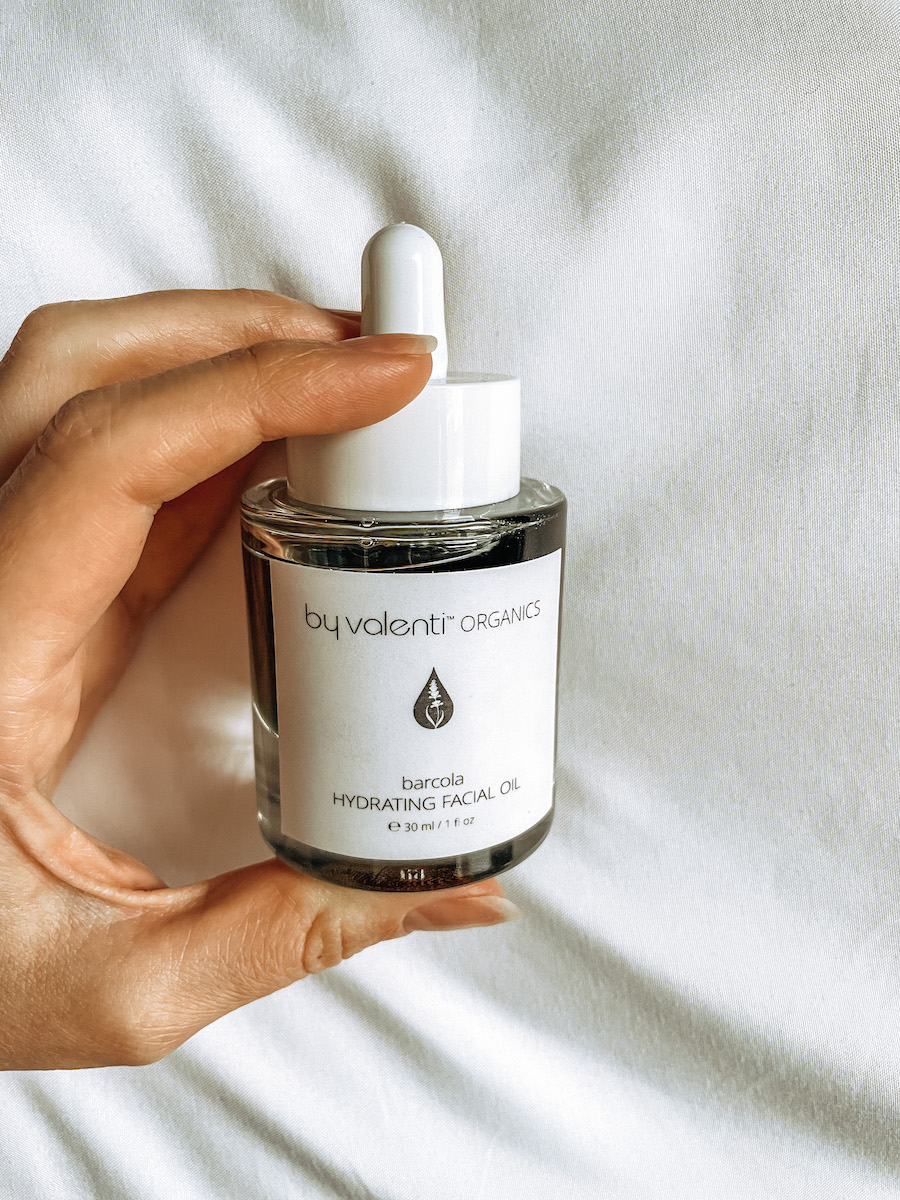 Featured Ingredients:
Blue tansy oil
Lavender oil
Baobab oil
Marula oil
Prickly pear oil
Ranvintsara oil
Helichrysum oil
In case you couldn't tell by the ingredient list, this is powerhouse facial oil! The formula is made with organic plant-derived oils to help hydrate and balance the skin without clogging your pores.
But to be honest, it was a bit too heavy for my skin. After talking with Manuela about it, she said this oil is better for mature, dry skin and is best used as a spot treatment vs. an all-over face oil. So if you have combo skin or dry skin and suffer from dryer patches, I would definitely recommend you get this! It was just a teensy bit too much for my skin, especially going into the warmer spring/summer months.
But the quality is top-notch!
Mother's Day Sale
Good news is they have a Mother's Day sale through May 8th where you get 15% off all their products using the code MOTHERSDAY22! I think both the Replinishing Elixir and the Bakuchiol Serum would make for perfect gifts for the moms in your life.
Support small beauty brands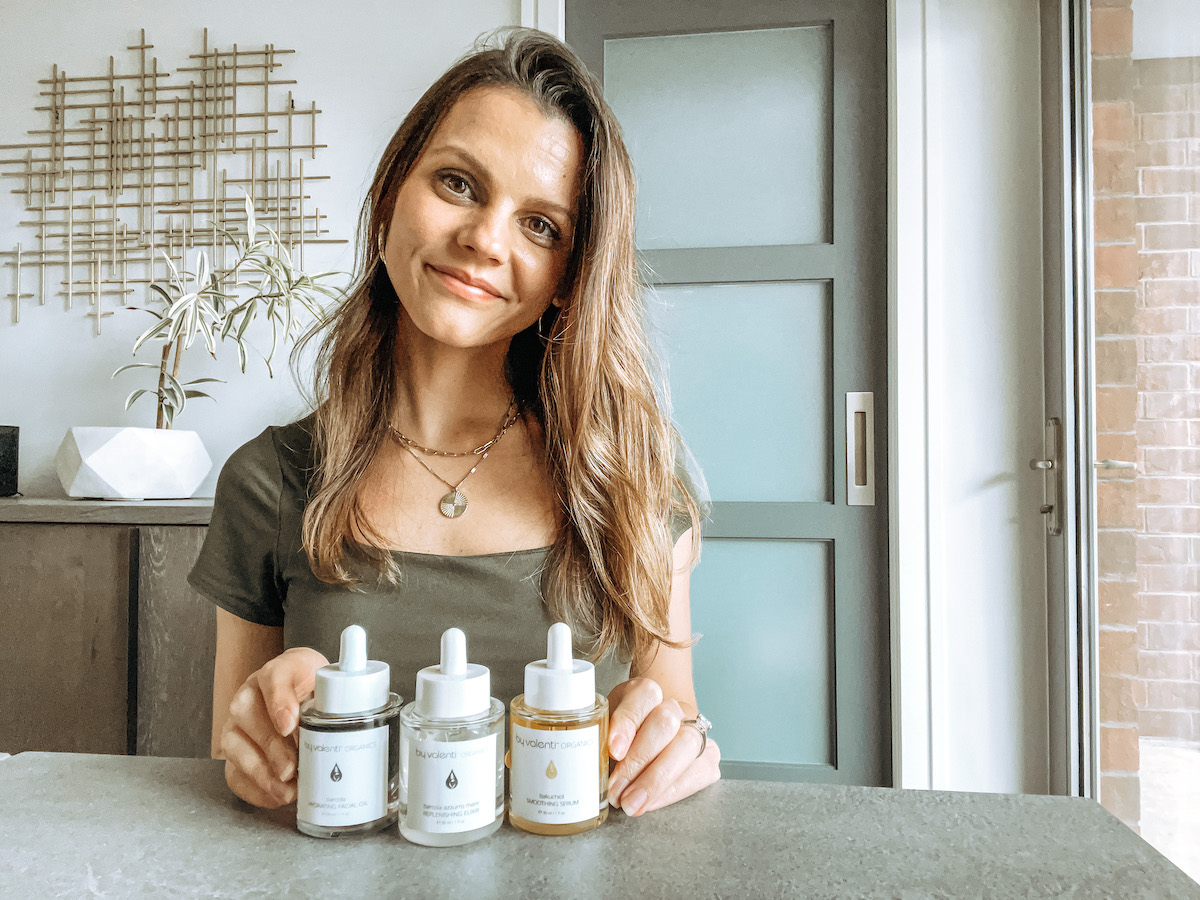 I think my favorite part about this entire collaboration with By Valenti™ Organics is being able to support a small, Latina woman-owned business. Manuela really puts her heart and soul into these products and is extremely meticulous about the ingredients she uses. Nothing is mass produced, and she's thoughtful about her impact on the environment. It's no wonder so many of her products are award-winning!
Plus, I love that I can message her and her team with any questions and always get a prompt, very personal response.
While you guys know I love experimenting with all the big-name brands, I love supporting small beauty brands even more. And I hope you'll join me in my mission to find more incredible brands like By Valenti™ Organics!
As always, if you have any questions at all about these products, feel free to comment below or DM me on Instagram (@uncovertheglow). Always happy to help my clean skincare girlies!