NYC in the Spring is incredible.
Alex and I went to NYC last week for a little 4-day getaway and had the best time. I highly recommend visiting the city in the Spring! The weather was perfect every day – high 50s and 60s with sun. All you needed was a light jacket. Seriously great weather.
Where to stay in NYC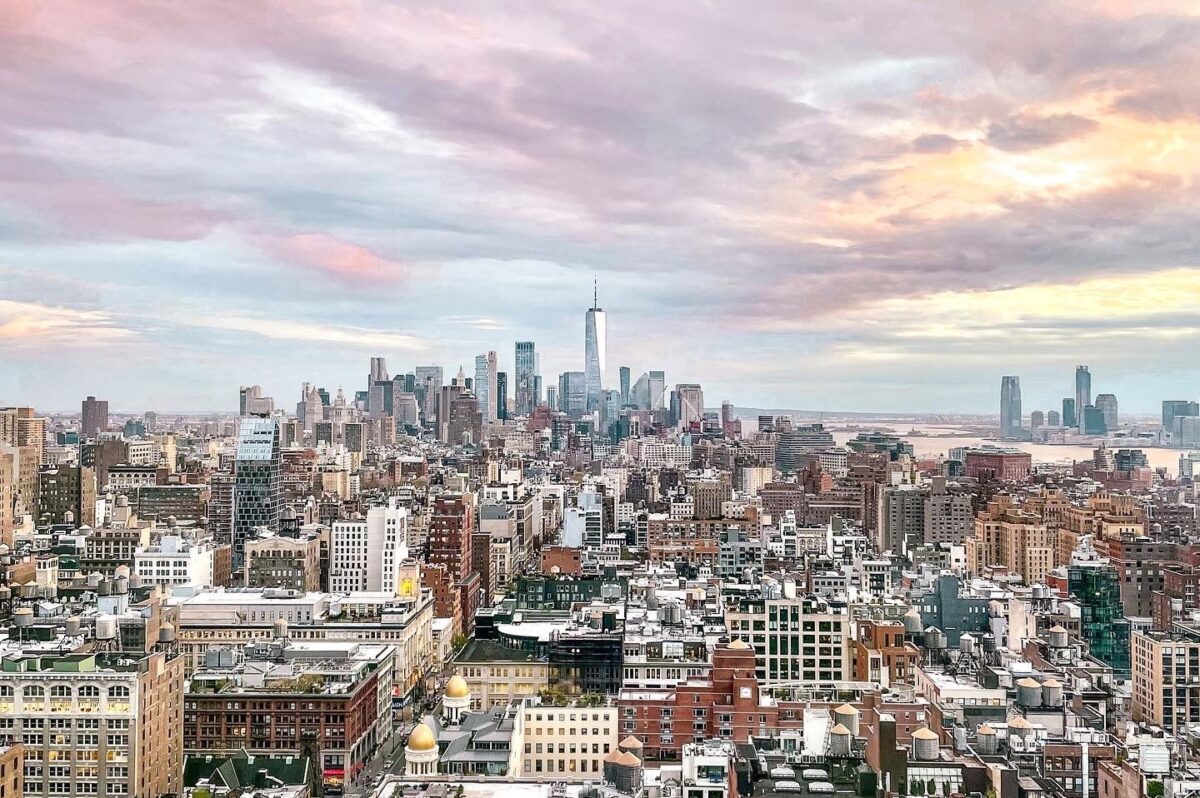 We decided to stay in the Chelsea area because we felt it was still pretty central without being in the bustle of Midtown. It was perfect because we could walk an hour south to get to downtown and about 45 minutes north to get to Central Park/Upper East Side. So it really felt like we were in the middle of the city but still could get a sense of local life.
We stayed at the Motto by Hilton hotel and definitely recommend it for a short weekend!
What we liked about it:
The view from the room is incredible. You get floor-to-ceiling windows facing downtown. Highly recommend you get a room with a city view because it's seriously breathtaking.
The lobby/bar/restaurant area is super nice. We enjoyed a nice breakfast and a couple of happy hours there throughout our trip. It's convenient to have a nice spot to relax after a long day of walking!
The rooms have hardwood floors and very nice, clean skincare products (all from Basd!)
The bed and pillows are comfy – more on the firm side.
If you're part of the Hilton Honors program, you can use their app to check in and check out virtually without having to go to the front desk. It also gives you a virtual room key on your phone!
What we didn't like about it:
The rooms are hot so the air conditioning runs nonstop (and is a little loud). It took some getting used to the first night!
It's a small space, which is pretty standard for New York. Pack light and bring small suitcases.
There are no closets. They have hooks everywhere to hang coats, blazers, shirts, etc. but no actual closets with hangers.
Overall, it's a great hotel for a weekend! I think 4 days is the max you'd want to stay there if you're traveling with someone else.
Where would we stay next?
After walking the entire city (no joke, we did 25K steps a day), we decided we would prefer to stay further south in either SoHo, West Village, or Tribeca. This is where you really get the local vibes, there are tons of amazing restaurants, and great shopping. Since we covered a lot of the touristy spots this trip, we would want something more low-key and quaint for our next NYC visit.
What to do in NYC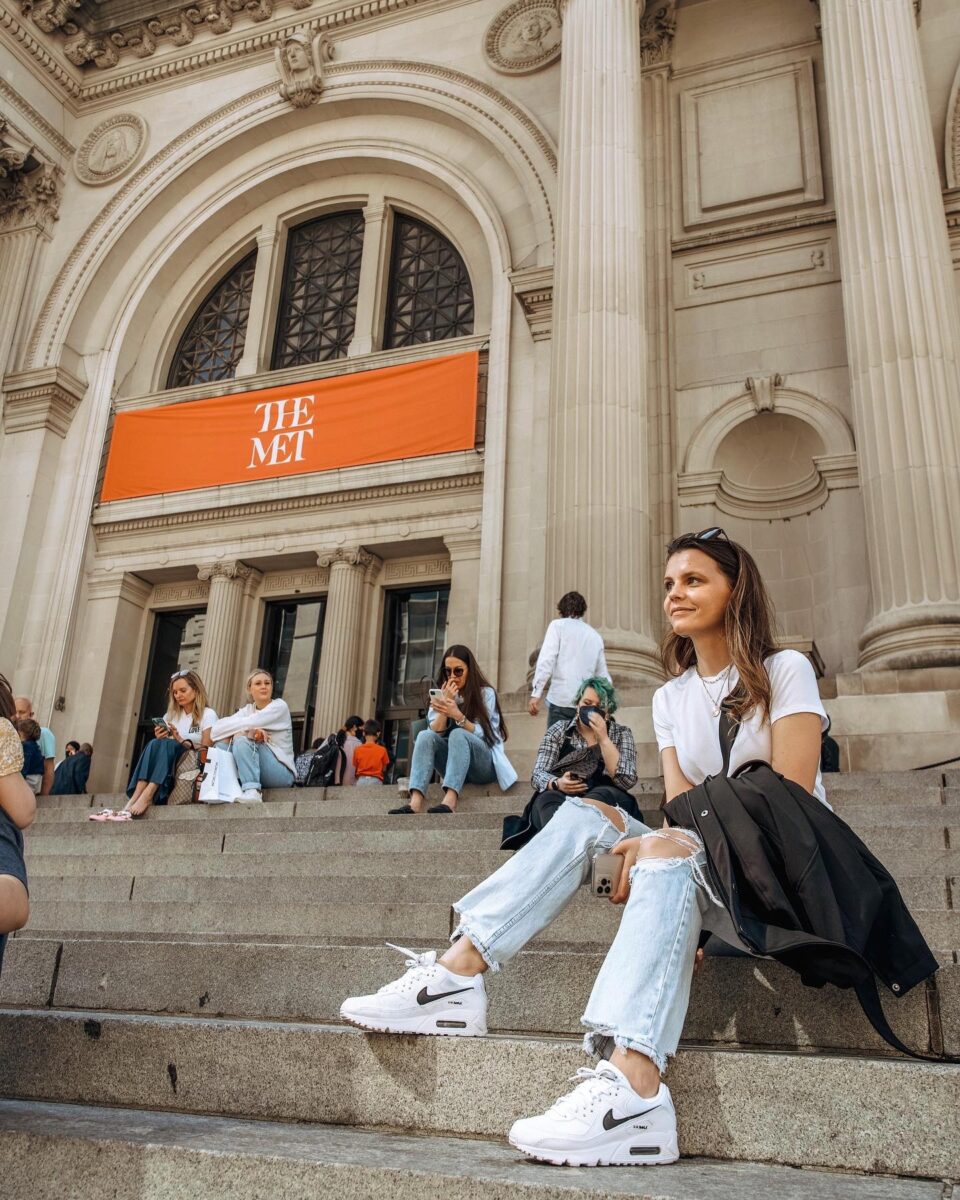 The number of things to do in New York is endless.
I highly recommend you make a list of your must-dos but go into it knowing you likely won't get to it all. There are landmarks, museums, parks, little neighborhoods, shopping, bars, speakeasies, restaurants. The list goes on and on! Here's a peek into our itinerary along with the list of things we wish we would've done.
Our 4-day NYC itinerary:
We got in on a Wednesday at around 5pm, headed to our hotel, got ready for dinner, and walked down to West Village to an Italian restaurant called Rosemary's. It was delish! The pasta dishes were great, the wine was good, and the service was excellent.
We called in an early night so we could be ready for a jam-packed weekend ahead.
Day 1: Downtown
We walked all the way from Chelsea down to the World Trade Center with a pit stop in SoHo for some shopping. (I *conveniently* forgot my cleansing balm at home and had to stop at Credo Beauty to buy something new.) I also got to see my beloved P.volve studios from the outside! Ugh, I sooo wish I would've taken a class while I was there.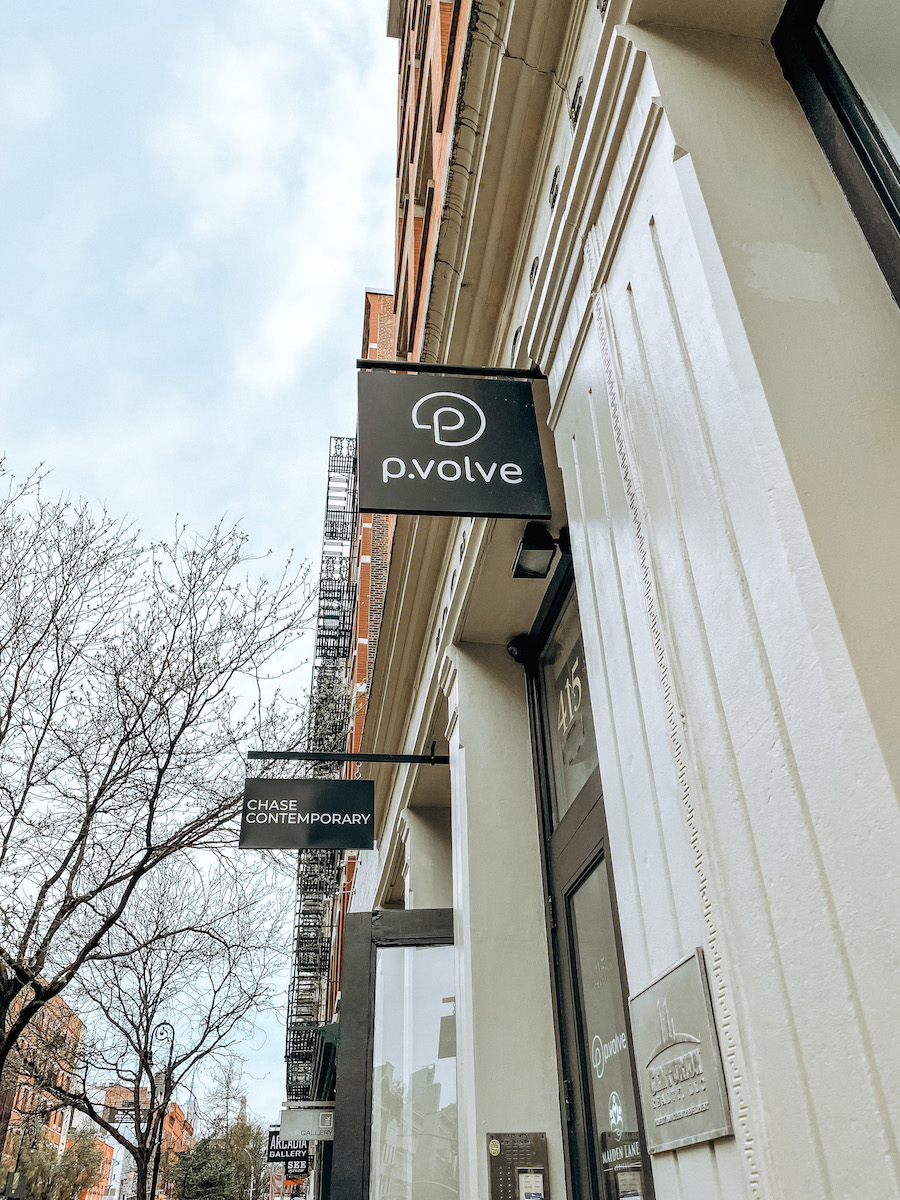 Once we got to the WTC, we walked around, took pictures of the memorial, and planned to get tickets to the 9/11 museum but it was sold out. So we grabbed a quick lunch at Sweetgreen and headed down to Battery Park and Wallstreet.
Buy your tickets to the 9/11 museum in advance! We planned to go Thursday but couldn't get in until Saturday afternoon.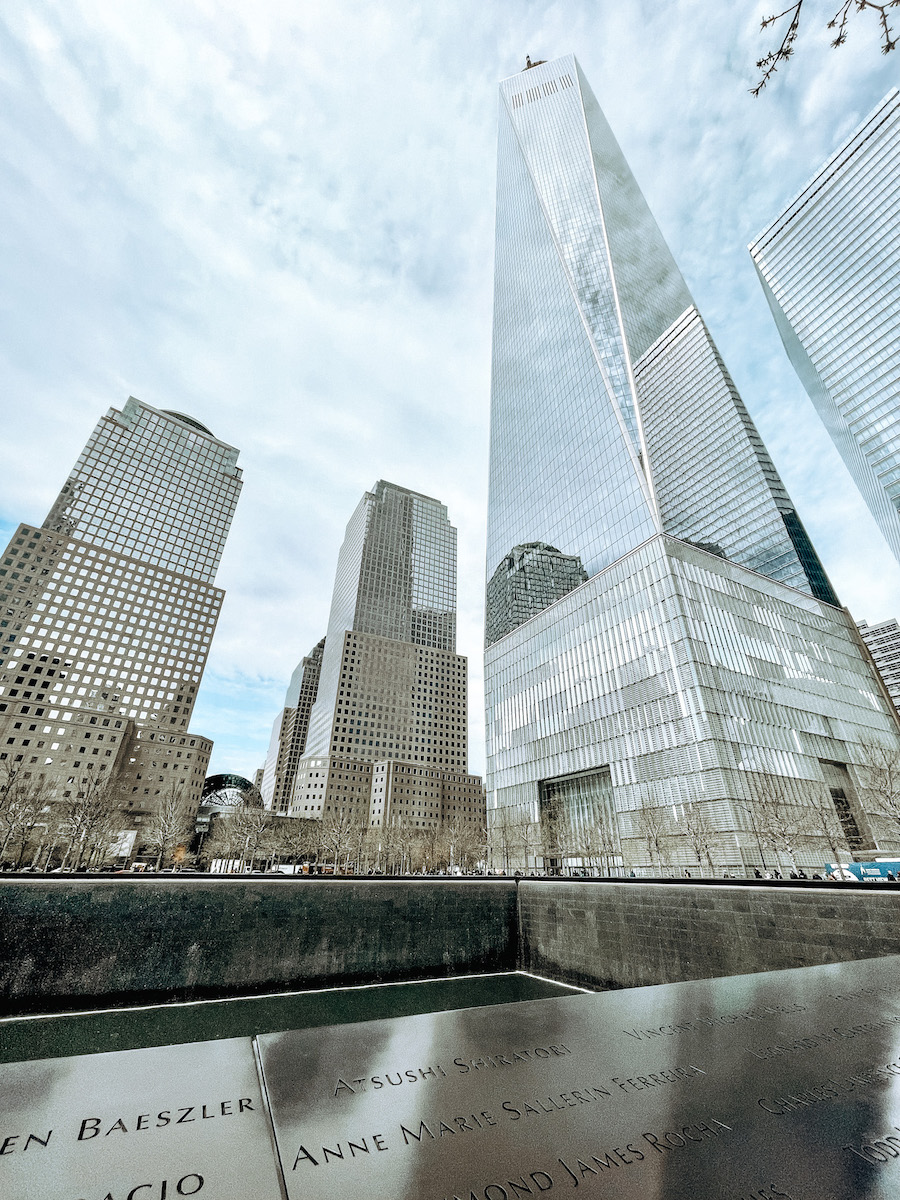 We then walked all the way back up to Chelsea (ambitious, I know!) and relaxed in the room before dinner.
Day 1: Dinner & Drinks
That night, we walked over to a French restaurant in Chelsea called Loulou for dinner. It has a really cool vibe! Very speakeasy style and the cocktails were so yummy. Food was 7/10. But I guess we're spoiled after having the best French food in Paris!
We then walked next door to a fun bar called Jungle Bird. They played great music and the drinks were fab. Highly recommend you stop by if you're in Chelsea!
Day 2: 5th Ave, Central Park, Upper East Side
The second day was so fun! We had great weather (high 60s and sunny), so we took advantage and planned to spend a good chunk of our day in Central Park. We walked uptown through 5th Ave, did some window shopping, and stopped at the New York Public Library, Rockefeller Plaza, and St. Patrick's Cathedral along the way.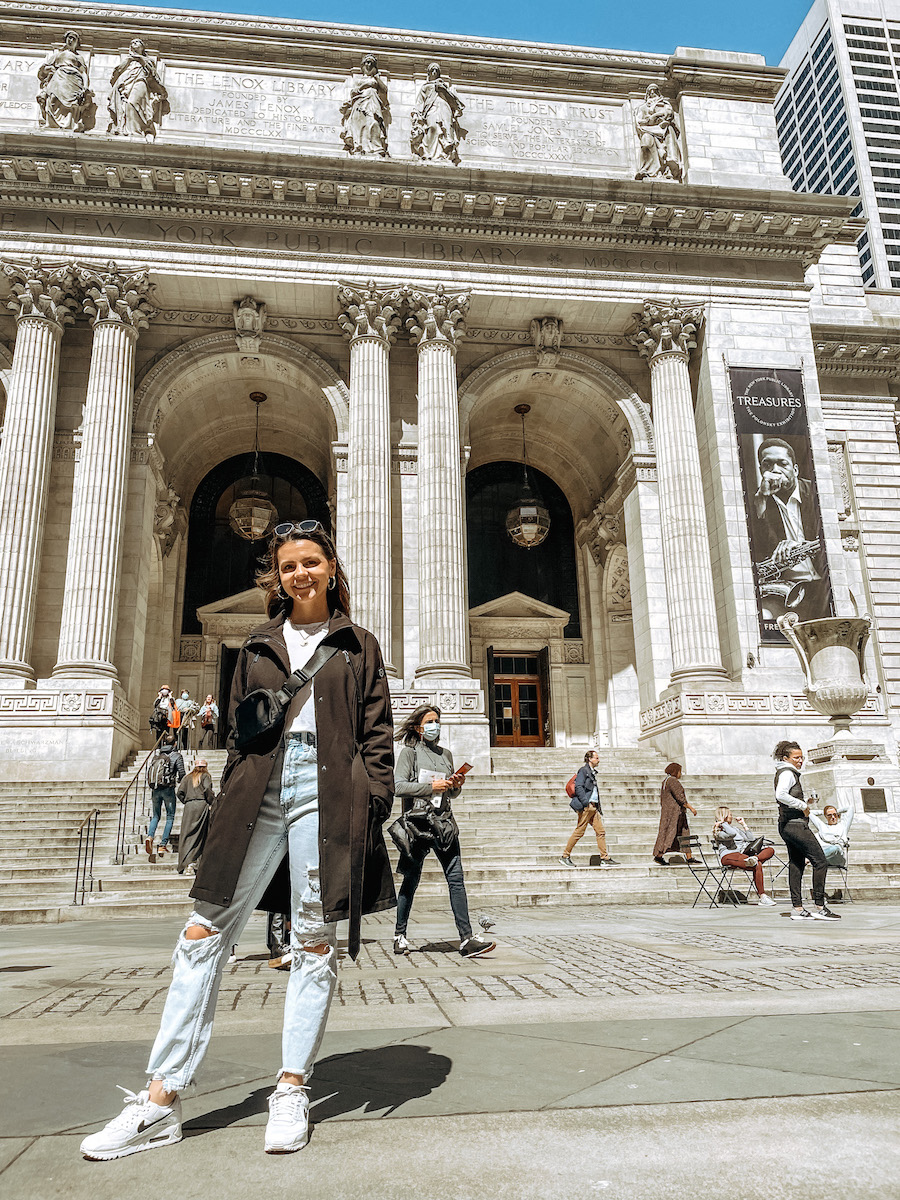 Central Park was great but insanely busy. Of course, it was a super nice day and also a Friday so everyone was out enjoying the sunshine. Alex and I both agreed the crowds kind of took away from the charm. But it's NYC! Expect crowds everywhere.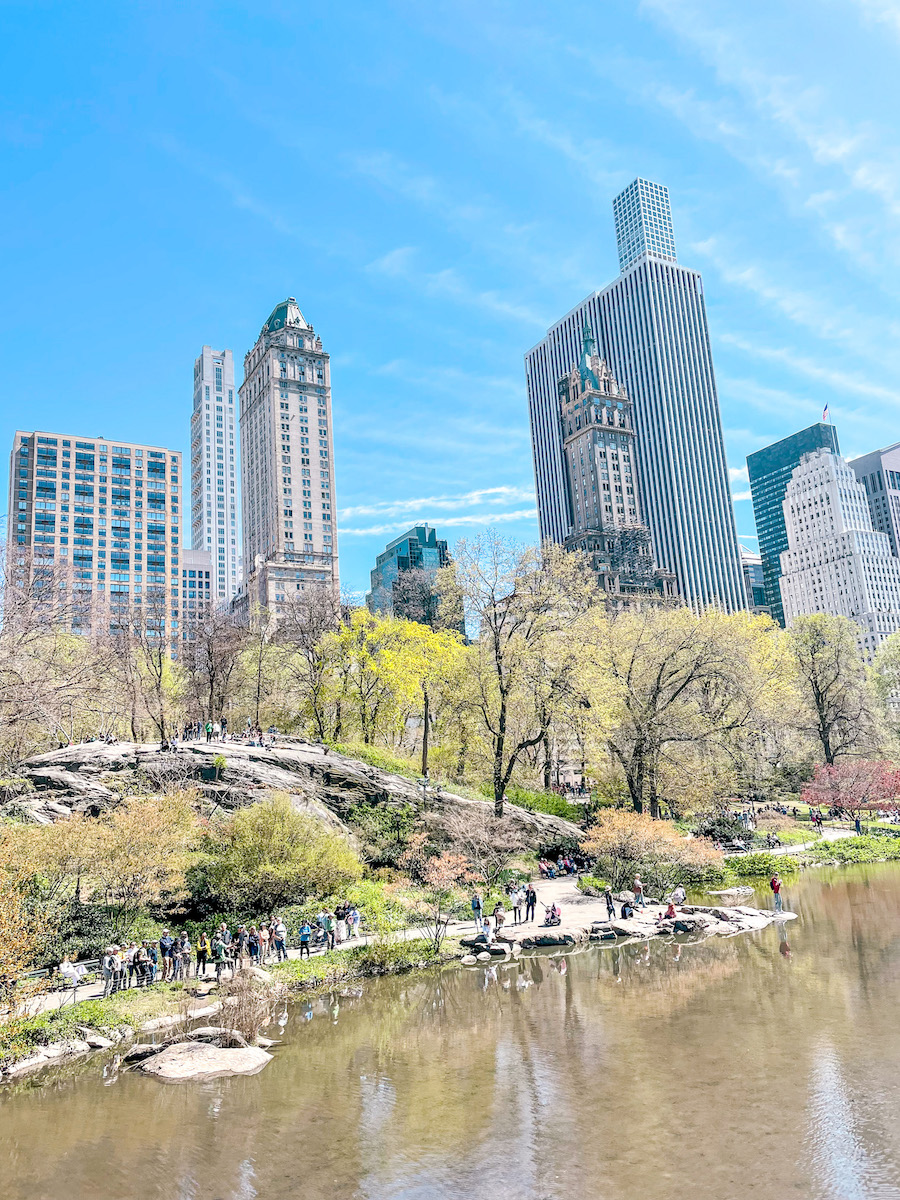 We then walked through the Upper East Side, stopped at The Met for an iconic pic on the steps (a la Gossip Girl), and walked back to our hotel through 7th ave to see Times Square. We will never, ever, ever go to Times Square again! haha it was miserably crowded and there's just not much to see aside from the big screens. 10/10 do not recommend.
Day 2: Dinner & Drinks
We grabbed a little happy hour cocktail and appetizer at our hotel bar (much needed after another 25K-step day!), and then headed to our room to chill and get ready for dinner.
This night, we went to a popular Asian restaurant called Buddakan. The restaurant in itself was stunning! They have this main dining area with large candelabras, chandeliers, and high ceilings. But we didn't get to sit there! It's a smaller room than what you see in pictures, so don't get your hopes up if you're going specifically for that vibe. Either way, the restaurant was cool.
The food was 8/10 but the service was 6/10. Not horrible but definitely felt rushed and not personable.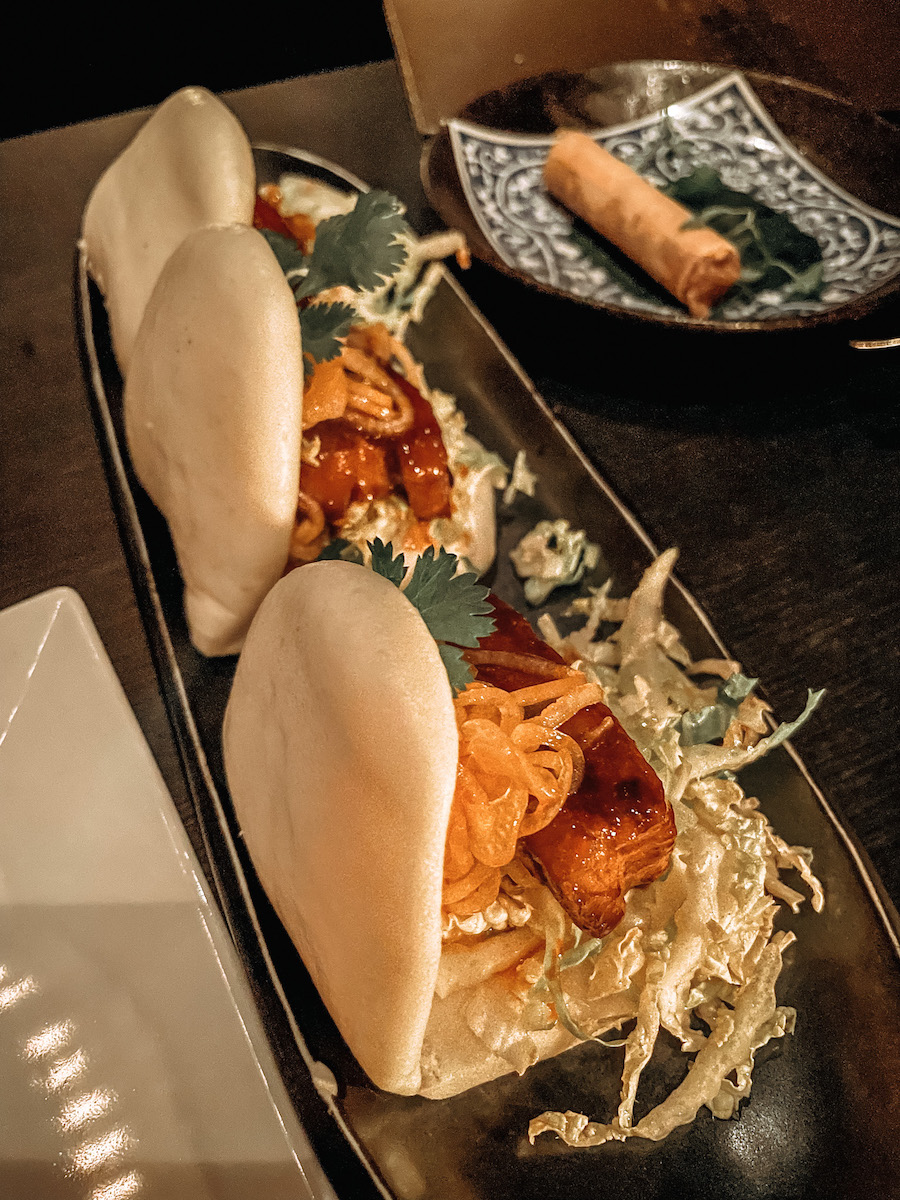 Then, we walked over to West Village to grab a drink with a friend at a little Swiss wine bar called The Lavaux Wine Bar. It was so adorable in there and the wine was great! I will say, the restaurant smells like cheese because they serve fondue. But you get used to it after a while.
Day 3: High Line, Hudson Yards, Meatpacking District, and 9/11 Museum
This was our last full day in the city, so we decided to check out more of Chelsea and the Meatpacking District. We walked over to the High Line (an elevated outdoor walking path/park along an old train track) and took the path to Hudson Yards to see The Vessel. We then took the path back over to Chelsea Market in the Meatpacking District.
It was crazy busy along the High Line and in Chelsea Market. I wouldn't recommend on a Saturday! We walked into the market and walked right out after seeing the crowds. It was insanity lol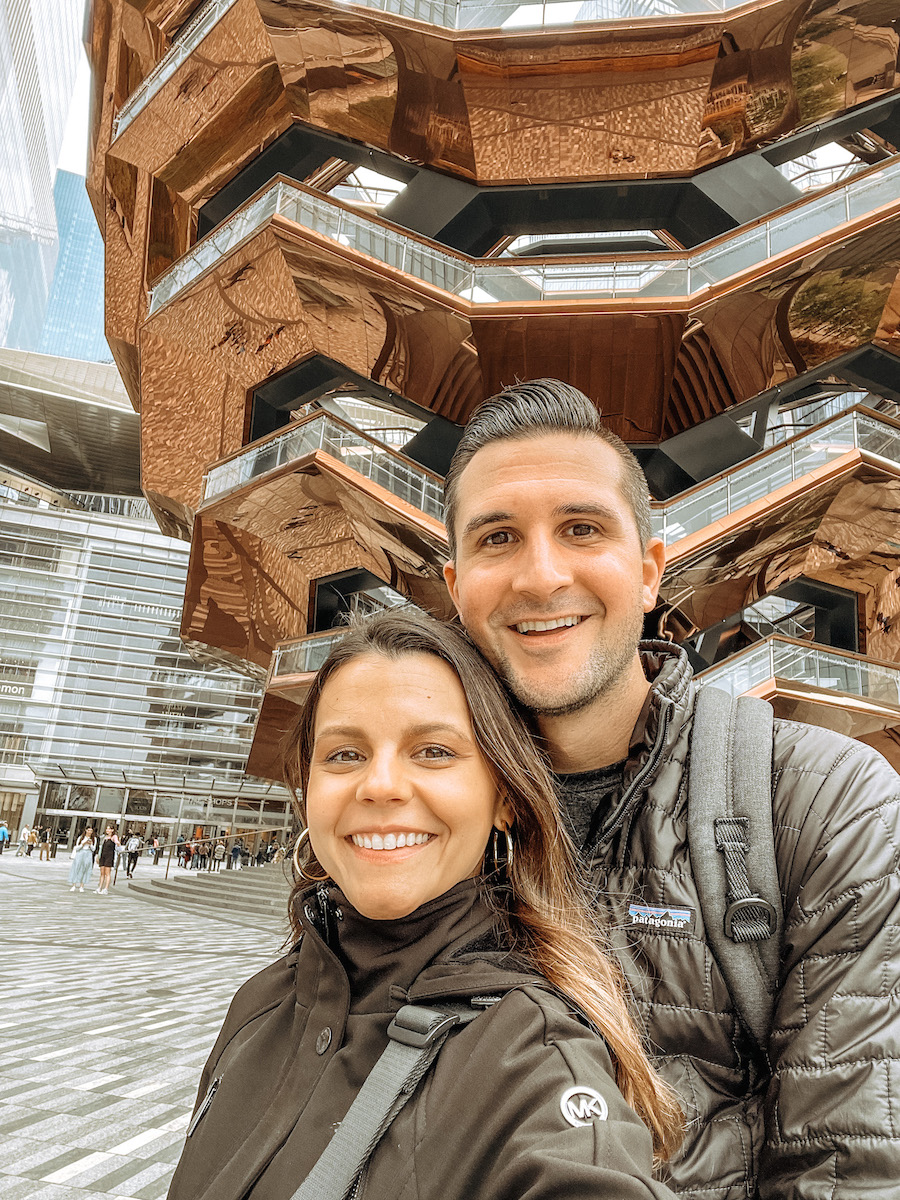 I will say, the Meatpacking District is super cute! They have some higher-end boutiques and hotels, lots of cute restaurants, and just an overall great vibe.
After lunch, we headed down to the 9/11 museum for our 3:00 pm entrance time.
Wow, guys. This is such a moving and emotional museum. It's very well done. Prepare to shed some tears. And give yourself some time after the museum to reset. It's a lot, but it's a definite must-see.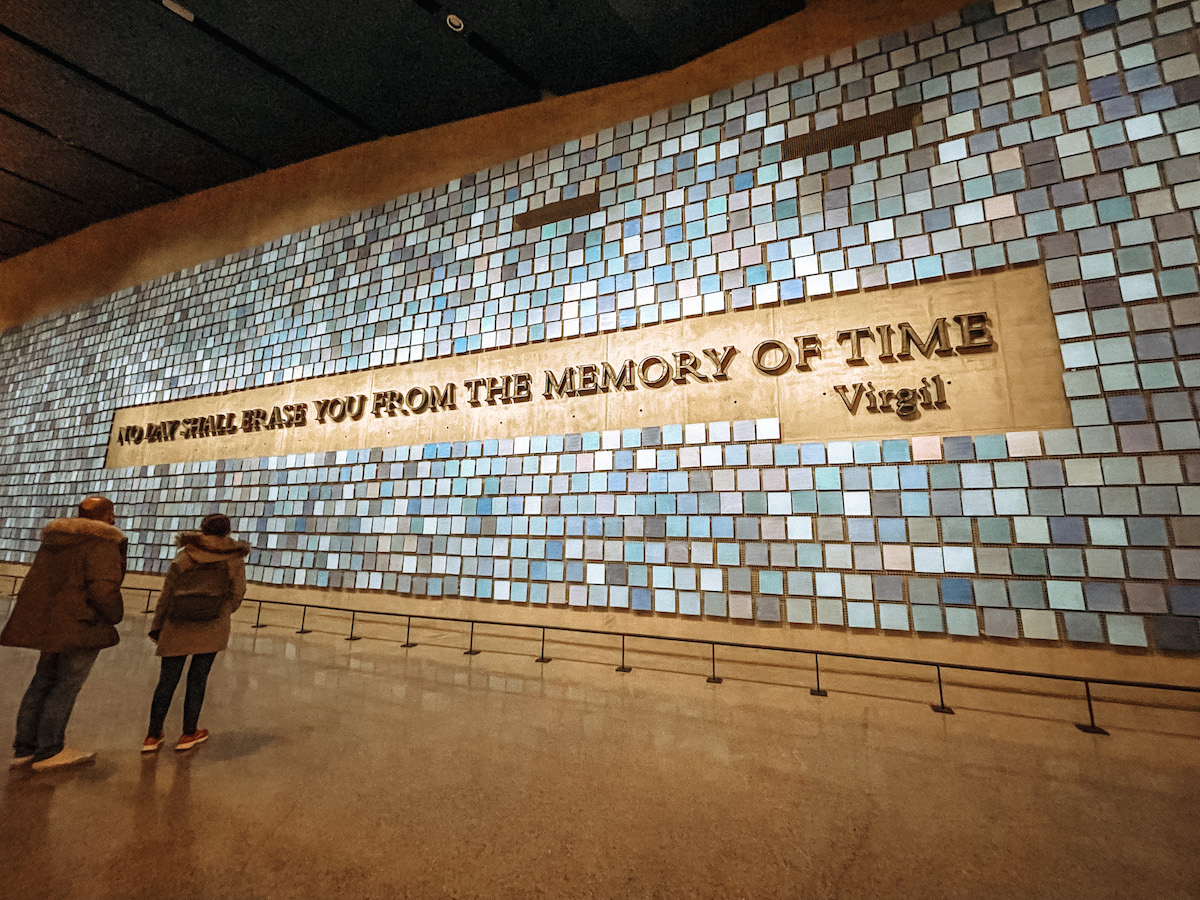 Day 3: Dinner & Drinks
On our last night, we met up with our friends Danielle and John at a cute Italian place in Chelsea called Da Andrea. The whole vibe of the restaurant was great! The drinks were good, the service was okay, and the food was about a 7/10. The mussels to start were fantastic! But the pasta dishes and steak were underwhelming. Not the best, not the worst.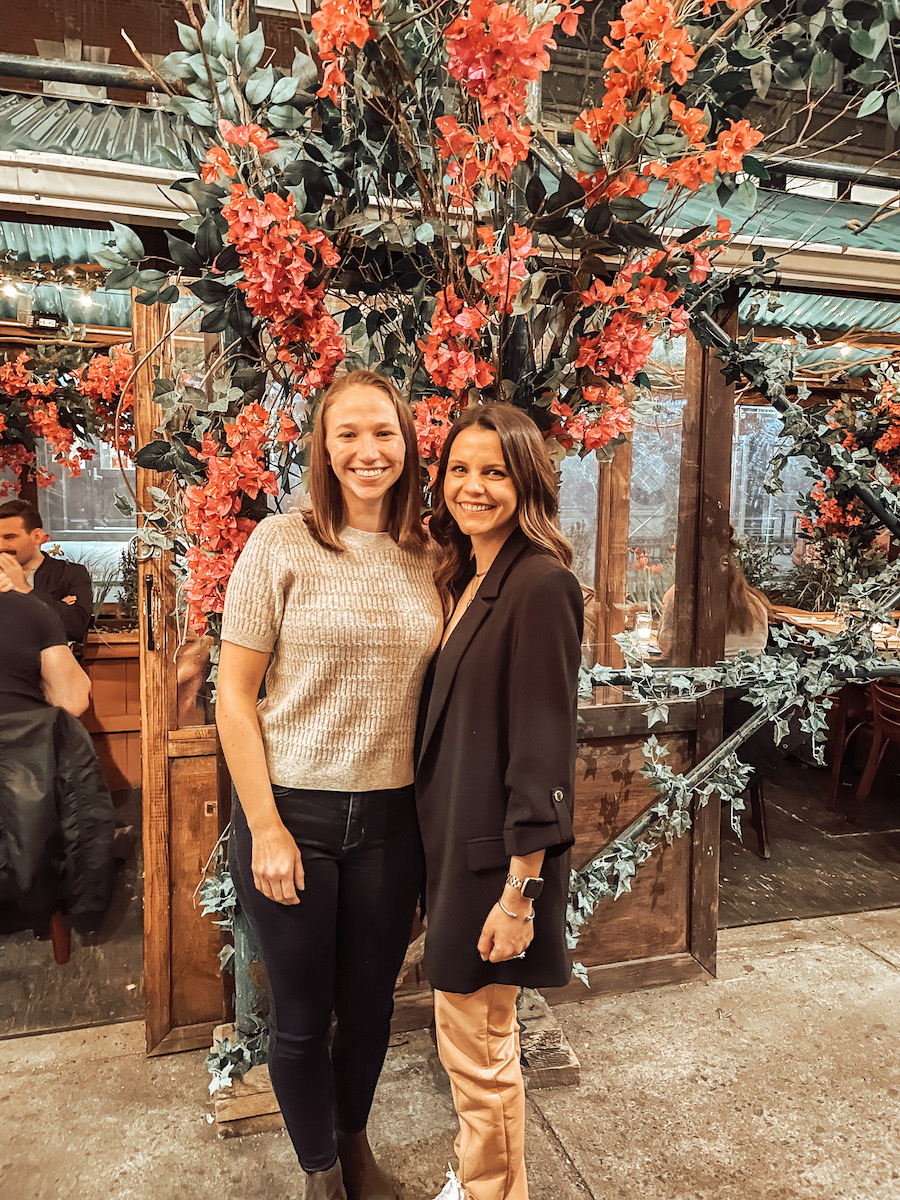 We then tried to get into a bunch of different cocktail bars and speakeasies but everything was packed. So we ended up at our hotel bar for a round of drinks before ending the night!
Final thoughts & things we wish we did
Overall, we had a really great time! Now that the weather is nicer, I would recommend you go to the city during the week vs. the weekend. It was just so busy that we really felt like we couldn't take full advantage of everything. But either way, we had a ton of fun and can't wait to go back!
Things we plan to do next time:
I have to take a P.volve class!
Visit the Summit One Vanderbilt
Go up to the One World Observatory
Find more hole-in-the-wall restaurants vs. super trendy spots
Go to The Met museum
Visit a rooftop bar
Walk the Brooklyn Bridge
Hoped you liked this NYC 4-day trip vlog and guide!
As always, if you have any questions at all, feel free to comment below or DM me on Instagram (@uncovertheglow). I'm always happy to help!