Get Ready, Jet Set, Go
Whether it's a big overseas getaway or just a quick weekend trip, traveling widens our eyes to a new part of the world! There are few things better than exploring a new place…at least, that's what Claudia and I think!
Though Claudia and I LOVE to travel, and we're always beyond grateful for every opportunity we have to take off, we both agree traveling can totally take a toll on us. We've found there are a few products that make those long travel days even the slightest bit easier…
#1 Comrad Companion Compression Socks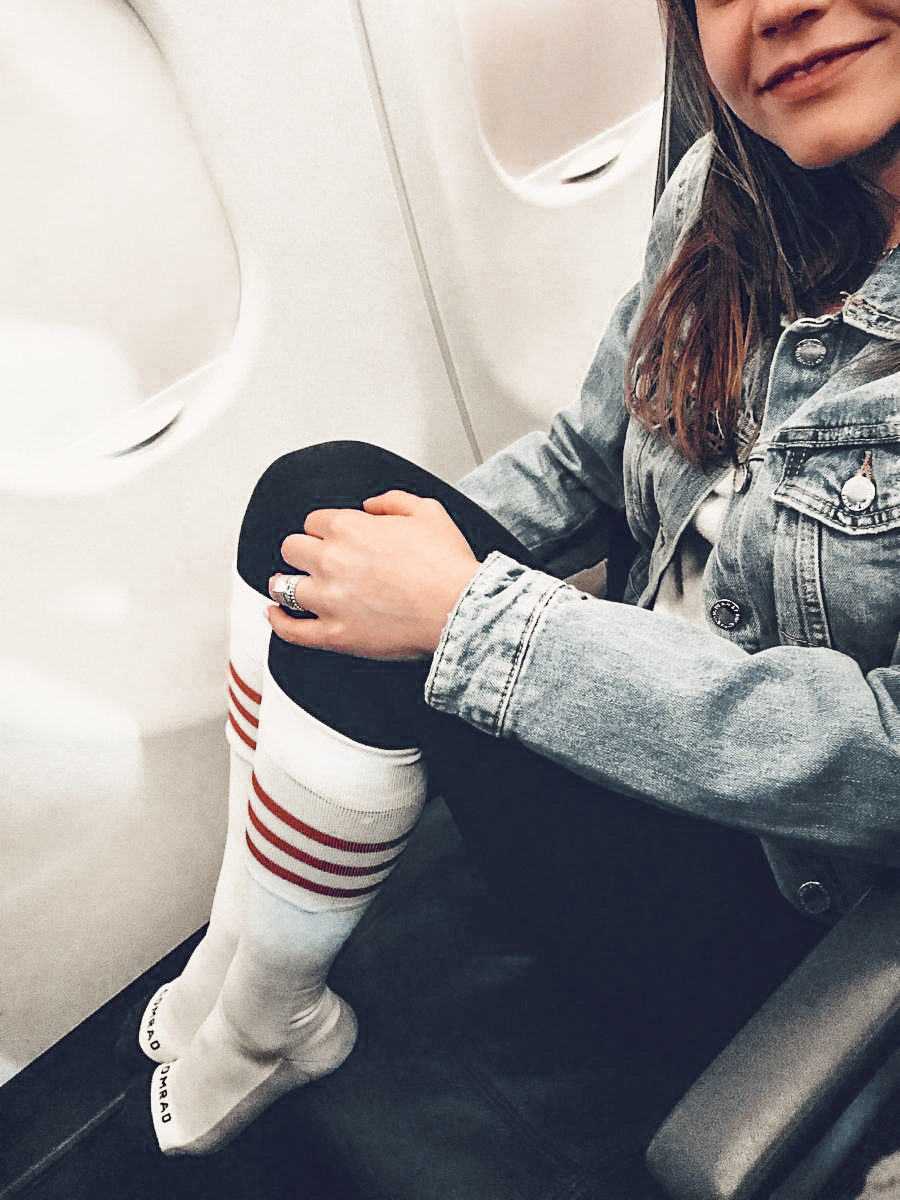 Have you ever taken your shoes off on a long flight and upon arrival realize that your feet don't fit in your shoes anymore? Maybe it even hurts to walk on those swollen feet and ankles? Yep, been there. Done that. No matter how hydrated you are and how many stretches you do, it can feel like there's no way to stop the swelling. Cue: compression socks.
Compression socks have become a total travel must-have for us! Specifically, the Comrad Companion Compression Socks. Not only are these socks cute, but they basically give our calves, ankles, and feet a tight hug throughout the flight to keep blood flowing. How? Well that steady squeeze gives your veins and muscles that extra oomph to move blood more efficiently. It's a safe and easy way to prevent blood from stagnating. Easy peasy!
#2 Summer Fridays Jet Lag Mask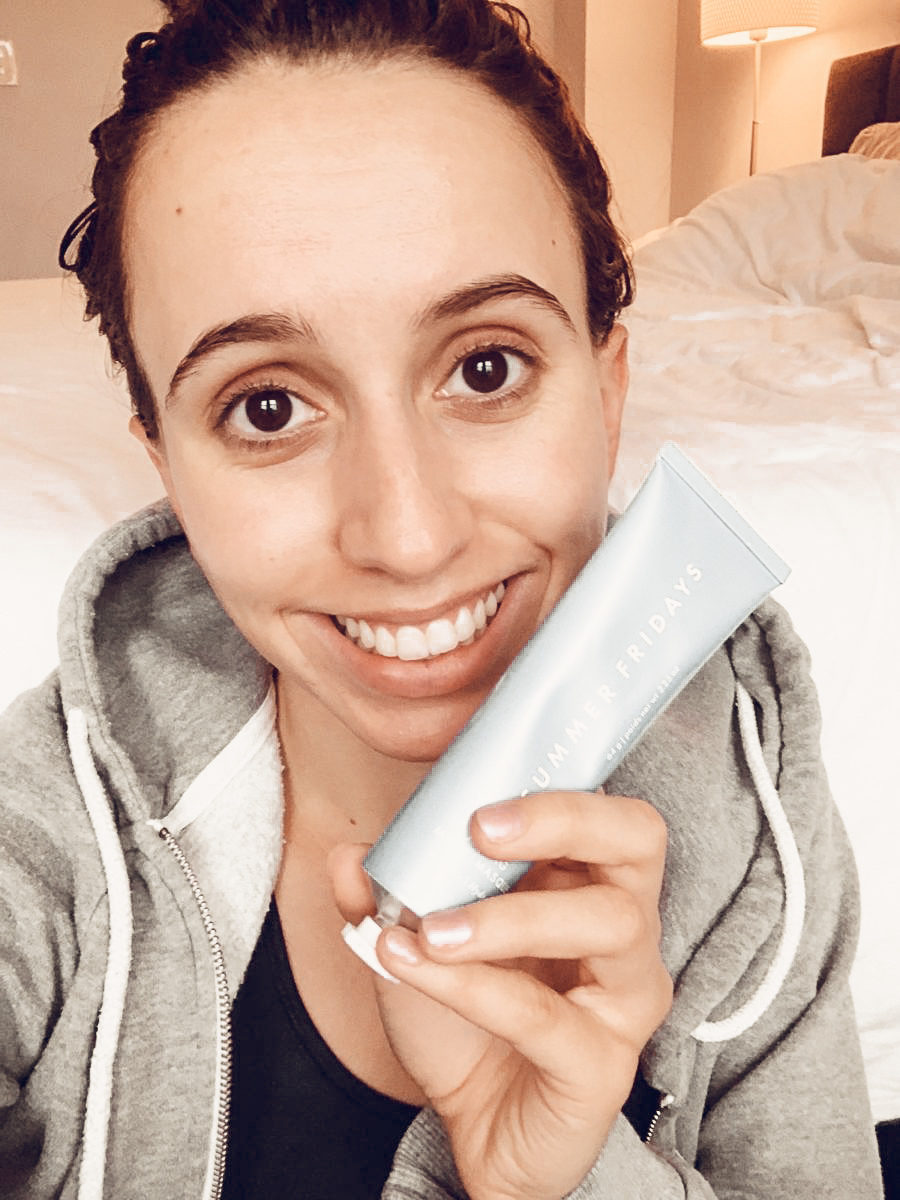 Long flights can cause serious skincare woes for most of us. For me, that dry cabin air makes my skin overproduce oil to make up for the dryness and then BAM…breakouts. Ain't nobody got time for breakouts on vacation, am I right?
The ultimate cure for dry skin? The Summer Fridays Jet Lag Mask.
You can put it on during your flight or use it as an overnight mask after a day of traveling. Let this mask sit on your skin for as long as you have time for and I promise your skin will be glowy and bright! For full details on this mask, and my other fav Summer Fridays mask, Overtime, click here to read my full review!
#3 KOR Water Bottle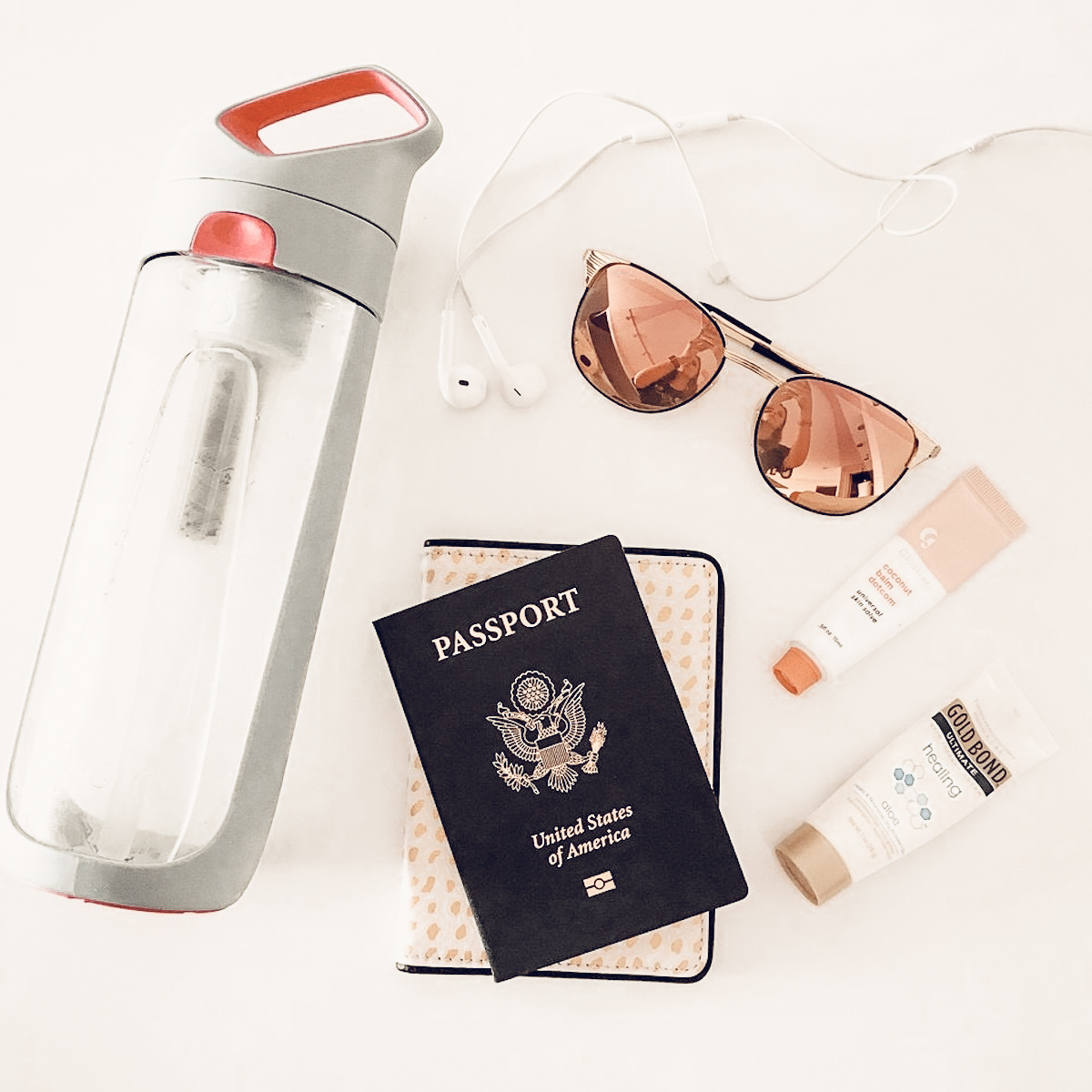 You know what I hate? Spending close to $5 on a bottle of water at the airport. Especially if I JUST had to dump out my water before going through security. #TheWorst. And then the whole rest of the trip I'm stuck buying water bottles because I don't have my filtered water from home. UGH.Claudia has found the most perfect solution to my miseries: the KOR Nava filter water bottle.
This bottle has a built in filter made from coconuts that provides up to 40 gallons of delicious filtered water!
So not only can you fill up pre-flight and not spend an arm and a leg, but you can save the earth throughout your entire trip! Winning! One of the best parts of this water bottle is the functionality – it's easy to drink out of and you never have to worry about it spilling in your bag. Easy peasy, lemon squeezy (always opt for a squeeze of lemon in your water for hydration boosting, skin glowing benefits!).
#4 Nuun Tablets
I hate to say it, but one of the first things I think of when I think of traveling is germs. I hate to be a debbie downer, but the amount of germs encountered during a day of traveling is GROSS. And with my luck, I'm always next to the sick kid that doesn't know how to cover his mouth on the plane.
When I was getting ready for my wedding and honeymoon, Patrick and I knew we were going to need to stock up on all the immunity-boosters to get us through the crazy time. We were wandering through the supplement aisle at Whole Foods and stumbled upon the Nuun Immunity Tablets. The key ingredients in these tablets are: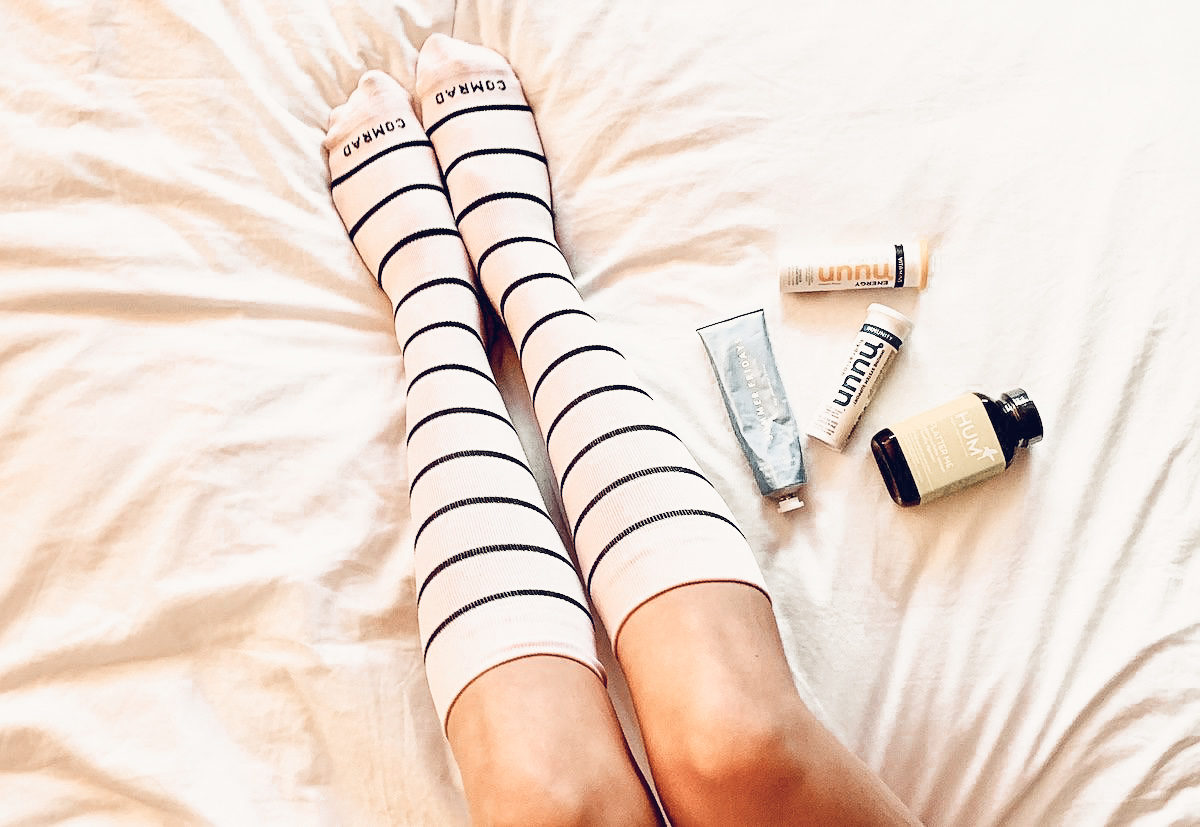 Elderberry extract
Organic turmeric
Ecninacea purpurea
Organic ginger powder
Zinc/selenium
Vitamins A, C, D and E
Electrolytes
We started drinking Nuun Immunity about every other day for a week leading up to the big day, a few times during our week-long honeymoon, and every other day or so ever since we got home a few weeks ago and we BOTH have managed to stay healthy! (I really hope I didn't just jinx us right now…). So, if you need an immunity booster that's easy on-the-go, these are highly recommended!
#5 Hum Nutrition Flatter Me (Digestive Enzymes)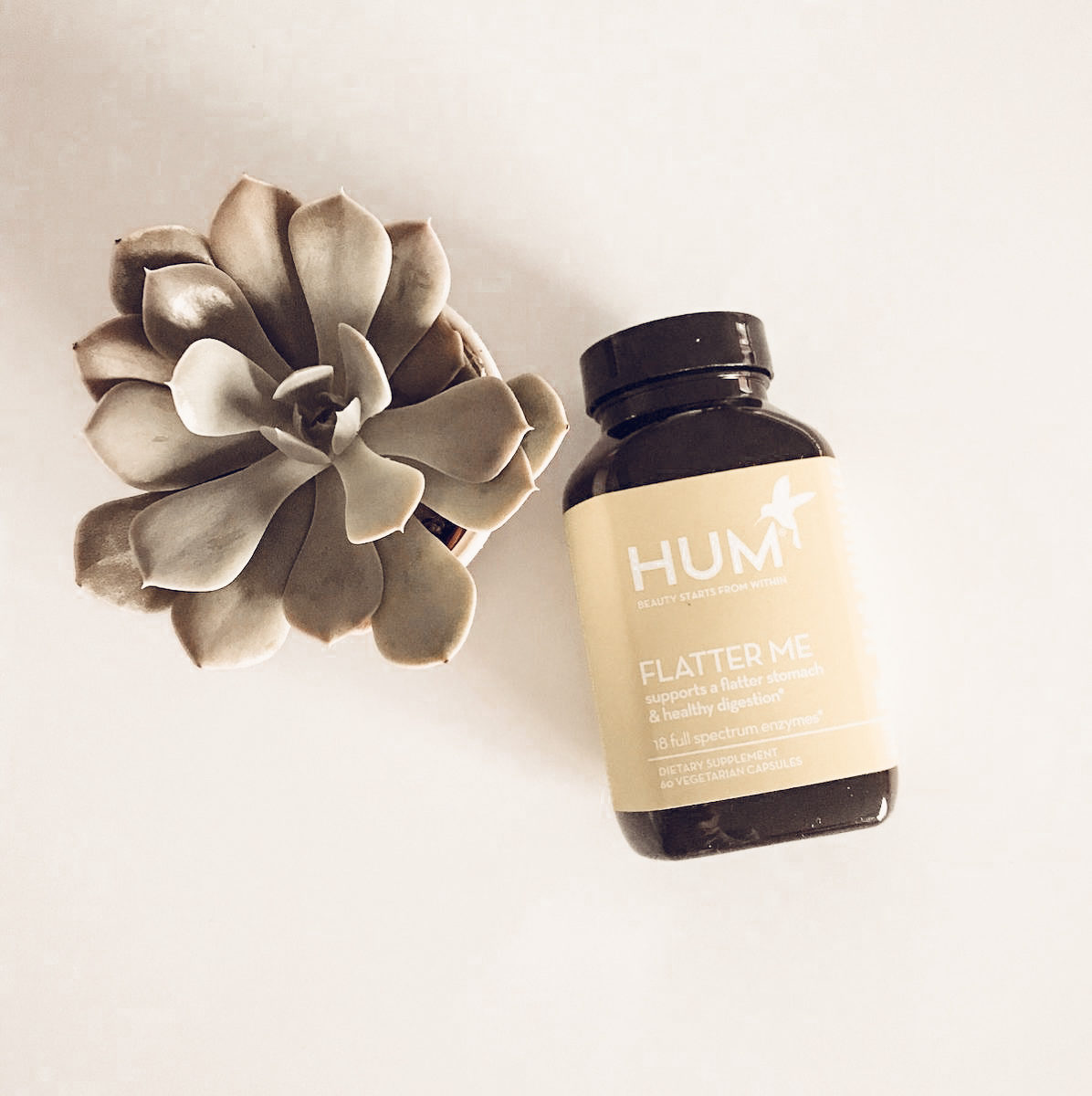 One of the best parts about traveling? Trying all the FOOD! Seriously though, you can't travel and fully experience a new place without eating the local grub. Of course, if you're like Claudia and I, breaking our normal at-home eating habits can lead to serious bloat and discomfort. There's no room for bloat on vacay…especially if it's a beach vacay.
If you haven't learned by know, we're big Hum Nutrition fans! We have both experimented with a lot of their supplements…with positive results! Though a few of them have become staples in our daily routines, the Hum Nutrition Flatter Me has become a staple in our on-the-go bags. This powerful little pill, taken just before a meal, has the power to ban bloat and keep your digestive system feeling happy all trip long!
Taking a trip?
Do you have other travel must-haves that we didn't mention here? Great! Share below, friend!
If not, take some of these suggestions on your next trip and let us know how they work out! Wishing you safe, happy travels.