Traveling during COVID is something else.
Alex and I went on a mountainous getaway to Colorado last week to disconnect, recharge and get our fill of nature in. It was absolute perfection! But of course, it was a different experience traveling during COVID times. The masks, the wipes, the hand sanitizer, the hand washing, the distance…it's a lot to think about! Nevertheless, it's a small price to pay to be able to travel safely right now.
Being that times are different, my carryon backpack looked slightly different as well! Check out everything I brought with me on this trip below.
1. Away Backpack
Let's start with the actual bag! I bought the Away Backpack before my trip because I was in need of a bag with more organization, space and comfort than what I was using before. And this backpack did not disappoint! It fits EVERYTHING and more without being overly bulky. It has the perfect amount of compartments, a separate sleeve for my laptop, a water bottle holder and doesn't get dirty easily. This backpack was great for both travel and hiking!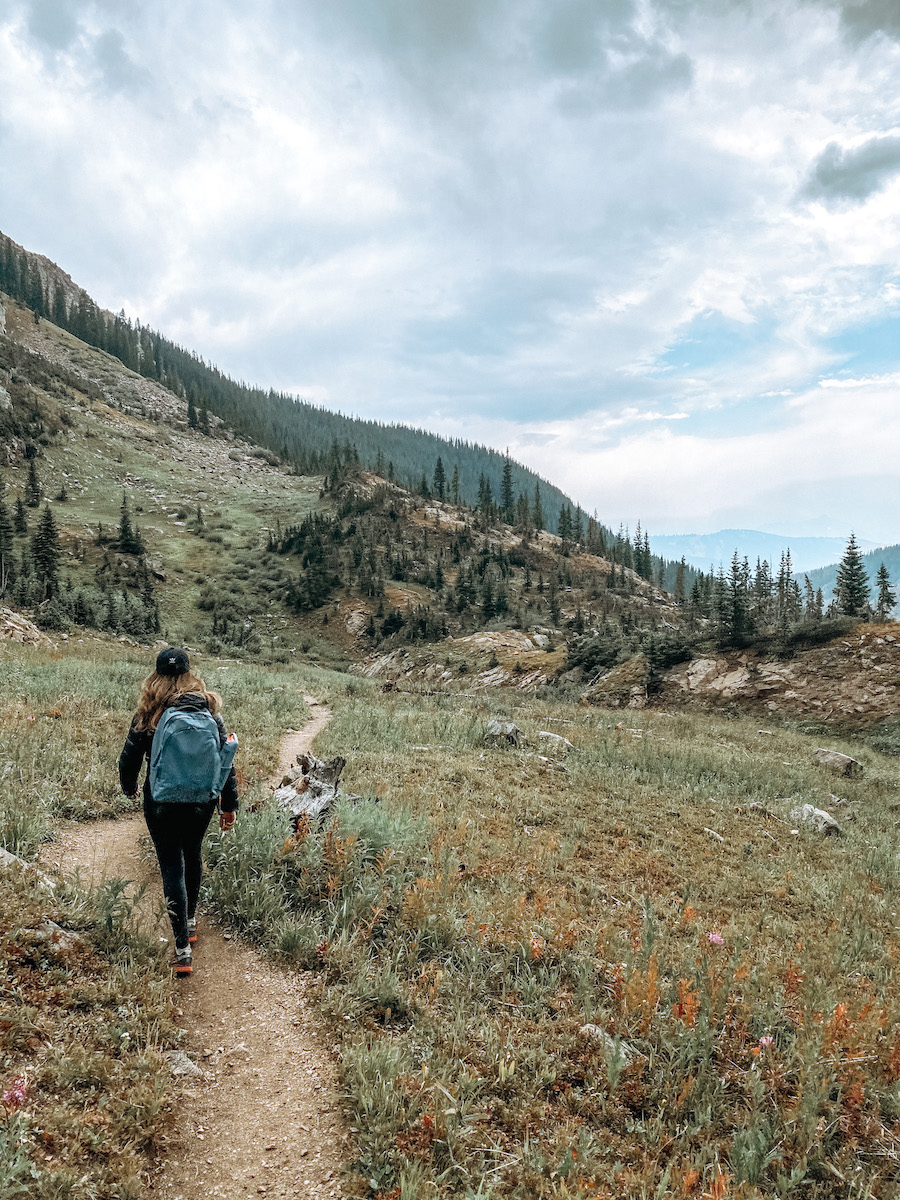 Use this link to get $20 off your first Away purchase!
2. Sanitation Essentials
I brought a slew of masks, hand sanitizers and wipes to make sure we kept ourselves and others around us safe during our trip.
Sam and I both LOVE these kids masks from Target! They are the perfect fit and come in a variety of cute colors and patterns.
My favorite hand sanitizer right now is actually one I got from the CLEAR line at the airport – which is SO worth it, by the way! You get through security so much faster. This sanitizer from NUDESTIX is great too. It has vitamin E in it to keep your skin moisturized!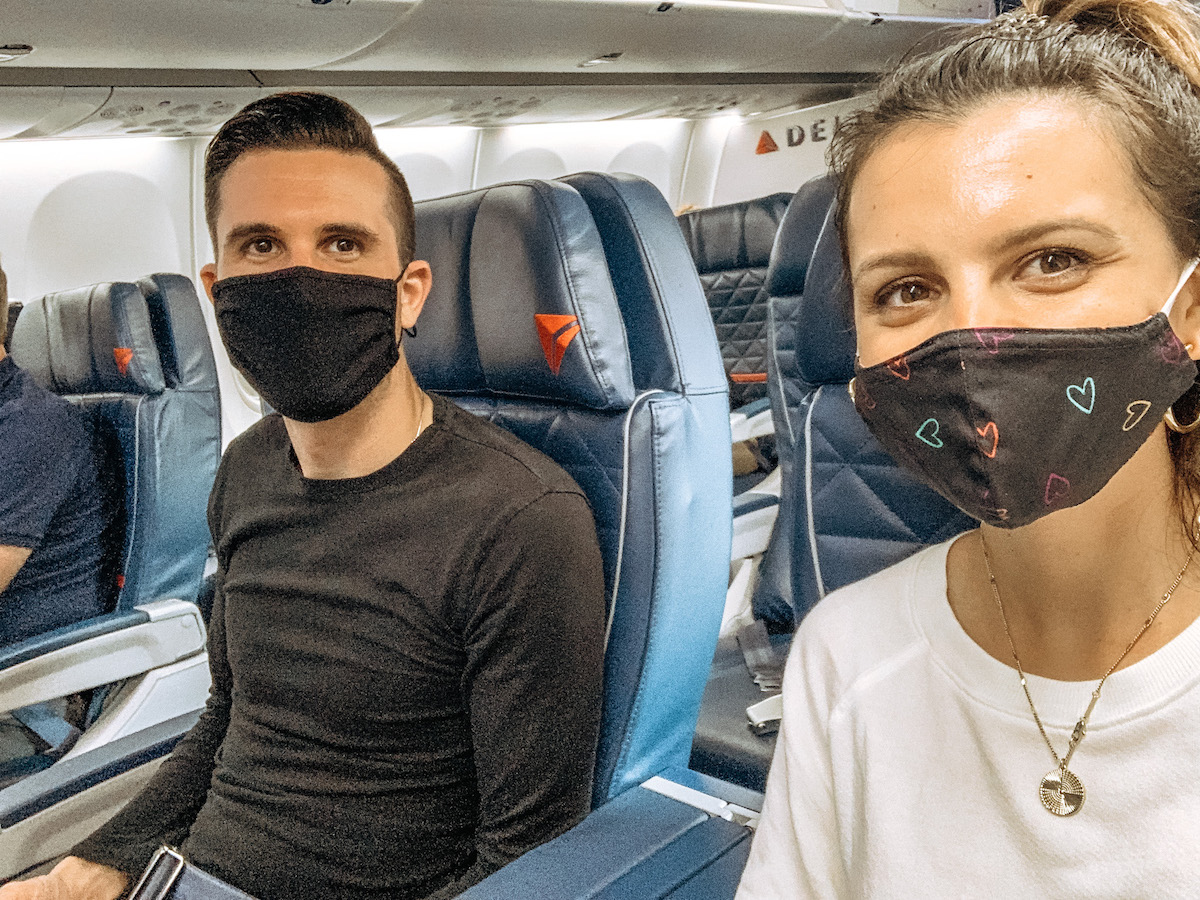 3. Filtered Water Bottle
If you've been around for a while, you know I don't travel without a filtered water bottle. Because paying for overpriced plastic water bottles at the airport is soooo 2016. Plus, it's wasteful! This filtered water bottle from KOR is my favorite. It has a built in filter made from coconuts that provides up to 40 gallons of filtered water. Makes staying hydrated while you travel so much easier!
4. Nuun Tablets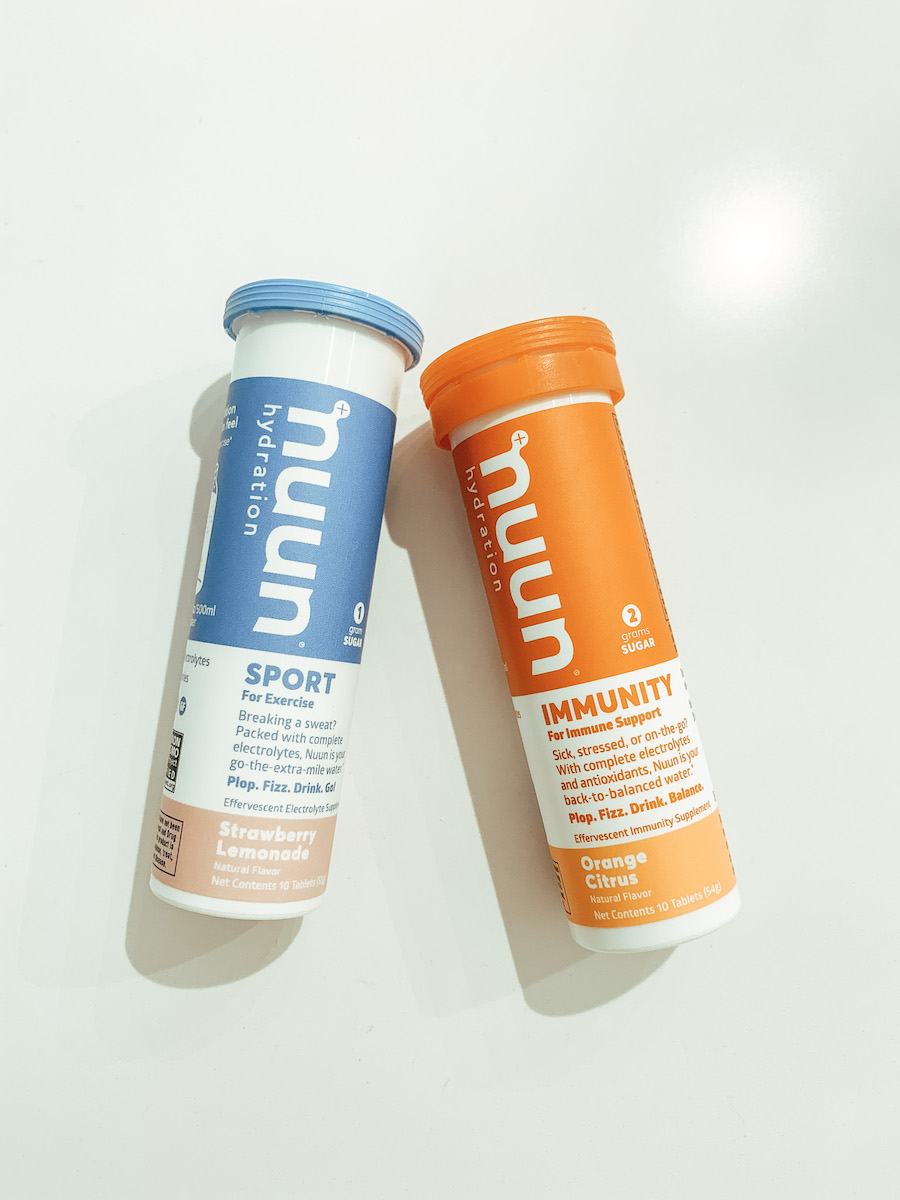 These tablets are life savers! (And they taste amazing.) The Sport version is great for hydration and the Immunity version is a must-have for keeping your defenses on high alert. They both have electrolytes and antioxidants to help keep your body healthy in changing environments. You can find Nuun at your local Whole Foods.
5. Probiotic & Advil
I always bring a handful of Advil Liquid Gels and a probiotic for every day I'll be away in this little pill case from Amazon. The Advil came in very handy when the altitude headache hit the first day we were in Frisco. And the Organic Olivia probiotic I'm taking definitely helps keep my gut healthy and my trips to the bathroom on track while I travel. It's a 3-in-1 probiotic meaning it has probiotics, prebiotics and digestive enzymes in it!
6. Beauty Products
Everything I bring with me in my backpack that is beauty related is all centered around MOISTURE. Your skin gets so dehydrated when you travel!
Of course, LOTS of other beauty products come with me but in my checked bag! These are just the few things I make sure I always have on hand.
7. Accessories
As far as "clothing/accessories" go, I usually bring an extra outfit in my carryon only if I'm traveling overseas. So for this trip, I kept it really simple and brought my Adidas hat, a Patagonia pullover and my Sunski sunglasses. As far as sustainability goes, these all pass the test!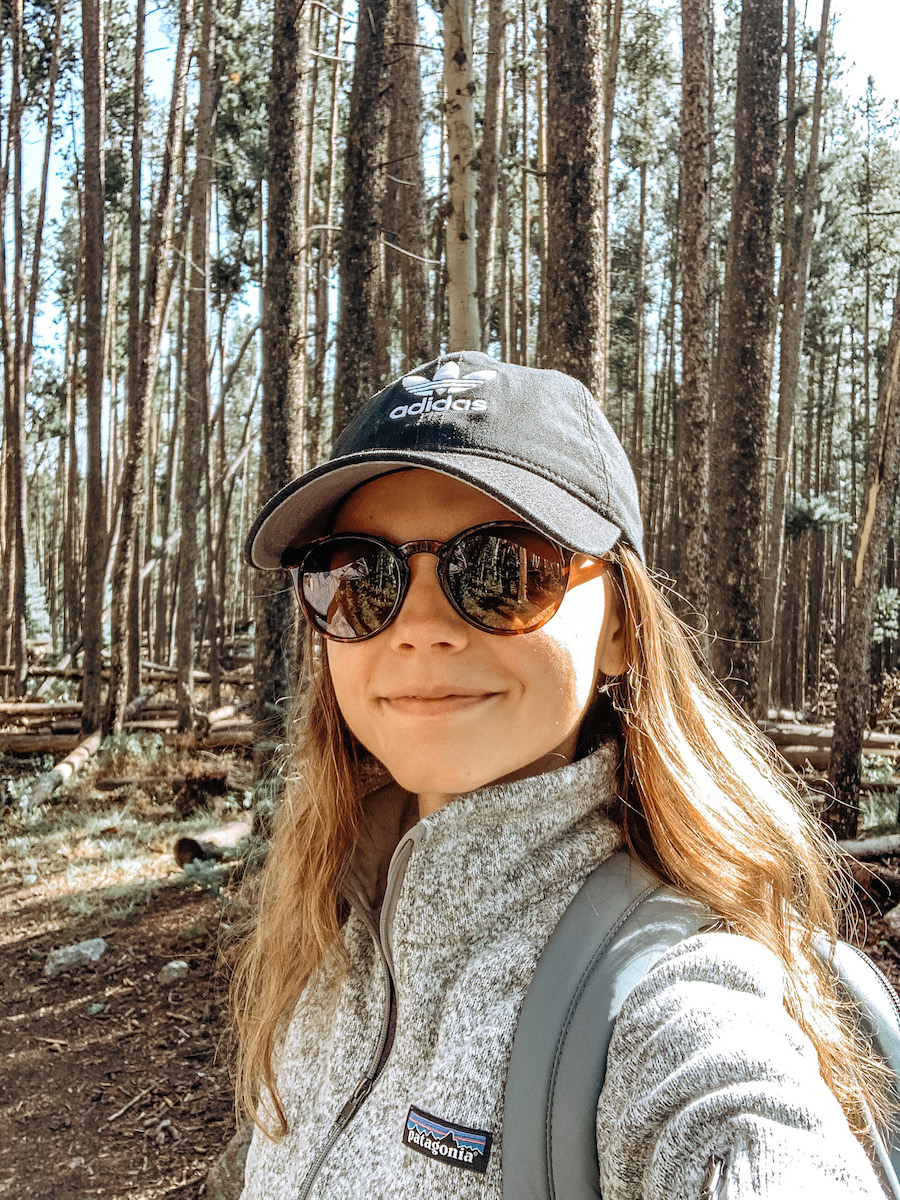 8. Tech & Other Essentials
I never ever travel without…
Passport – just in case I lose my wallet!
Pen – kind of old school but it comes in handy to have a pen in your bag.
Noise cancelling headphones – these are a game changer for the plane.
Laptop – for blogging, freelance work, etc.
Anker charging block – it has a bunch of USB ports so you can charge phones, tablets, watches, etc. all at once!
Cable carrying case – to keep things organized.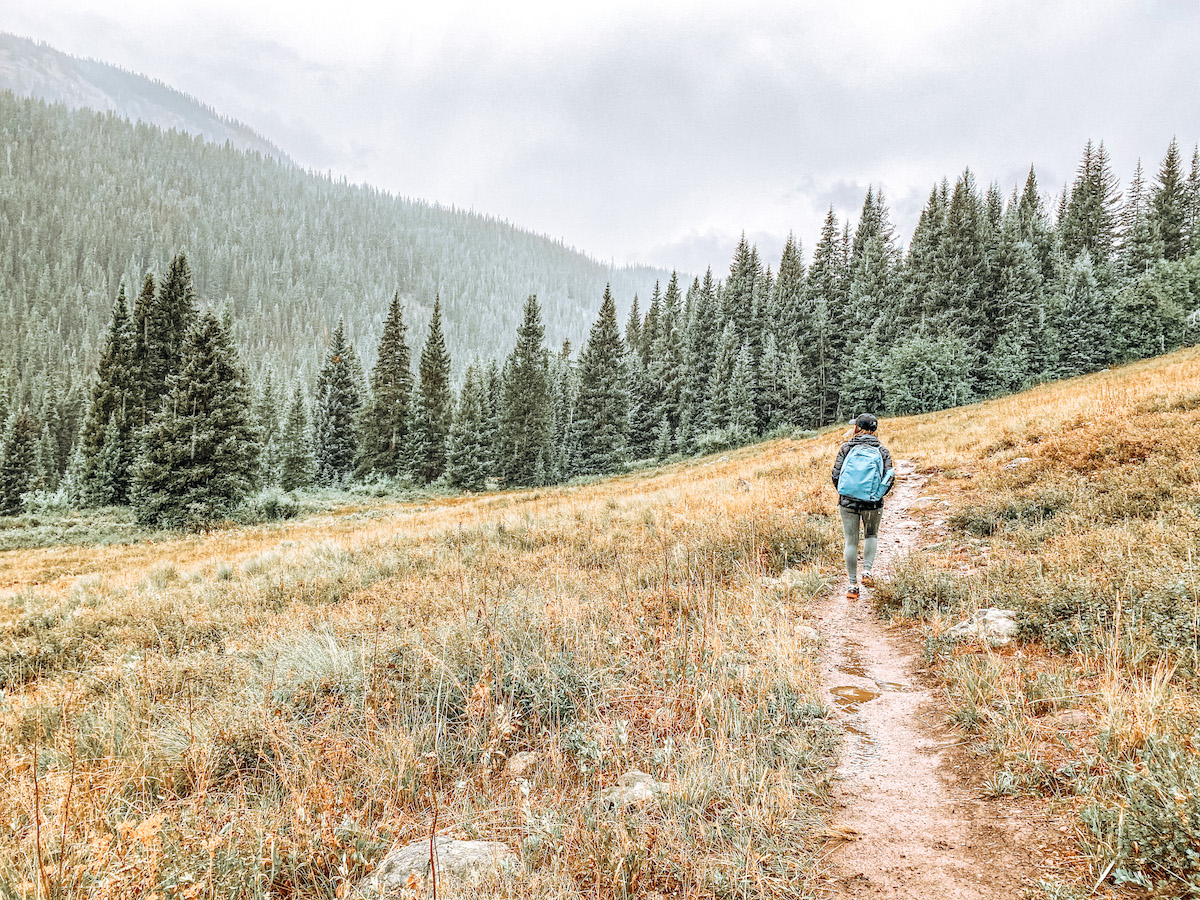 That's it! All my COVID (and non-COVID related) travel essentials.
I know things are tough right now, and travel might be out of the question for a lot of you. I truly, truly hope we can all go back to exploring and adventuring soon enough! In the meantime, it doesn't hurt to get your travel bag ready for that next trip. You never know what the future holds!
If you're looking to get away from the hustle and bustle, I could not recommend Frisco, Colorado enough. This little town was absolutely adorable and perfectly situated. It's about an hour and a half away from Denver, 25 minutes from Vail and only 10 minutes from Breckenridge. The hiking trails are STUNNING in this area! And if you go during low season, you won't have to deal with crowds one bit.
Check out the video Alex and I put together of our trip! And be sure to connect with me on Instagram if you have any questions or need any more travel tips.