Everything you need to know about traveling to Paris in 2022
This Paris Travel Guide was updated on Dec. 4th, 2021 to reflect new testing requirements for France and US.
You have no idea how excited I am to share this Paris Travel Guide with you guys!
I know it's a bit different from our usual "clean beauty" talk, but I have so much to tell you about my recent birthday trip and hope this guide helps those of you planning a trip to the city of love in the coming months.
A quick overview before we get into it:
We were in Paris for a total of 7 days the first week of November 2021. We broke it down to 2 travel days, 4 full days in the city, and 1 day trip to Epernay for champagne tasting.
We stayed in the 7th arrondissement near the Eiffel Tower in Hotel La Bourdonnais.
(More on all of this later!)
Disclaimer: This post contains affiliate links. At no additional cost to you, we will earn a commission if you use these links to make a purchase.
Traveling to France from the US During Covid-19
Let's get the nitty-gritty details out of the way first before we get into the fun stuff.
**Please note, this section is based on my personal experience traveling to Paris in November of 2021. I will do my best to keep this information updated as restrictions and rules change but be sure to do your own research ahead of time so you're prepared.**
France entry requirements for US travelers
Both vaccinated and unvaccinated travelers can fly to France from the US ("amber" country) if they meet these entry requirements:
Fully vaccinated travelers:
Proof of vaccination (from EU-approved vaccines: Pfizer, AstraZeneca, Moderna or Johnson & Johnson*)
Proof of a negative PCR or antigen COVID-19 test taken within 48 hours of arrival*
Sworn statement attesting you have no symptoms and are not aware of any contact with a confirmed case in the 14 days prior to travel
*As of Dec. 2, 2021, all travelers arriving in France outside of the EU must provide a negative Covid-19 test. As of Dec. 15, anyone with a one-shot Johnson & Johnson vaccine must prove they've received a booster shot.
Unvaccinated travelers:
Provide this certificate with a "compelling" reason for travel
Submit a negative PCR test within 72 hours of departure or a negative antigen test within 48 hours
Sworn statement attesting you have no symptoms and are not aware of any contact with a confirmed case in the 14 days prior to travel
Must quarantine for 7 days upon arrival
Note: We brought a few printed copies of the sworn statement with us, but Delta did provide these forms on the plane as well. They also made each family fill out a contact tracing form before landing. Make sure you have your hotel address handy and bring a pen!
What to expect when you get to Charles de Gaulle airport
First, it's important to note, you're required to wear surgical face masks at the CDG airport. (And really anywhere indoors in France!)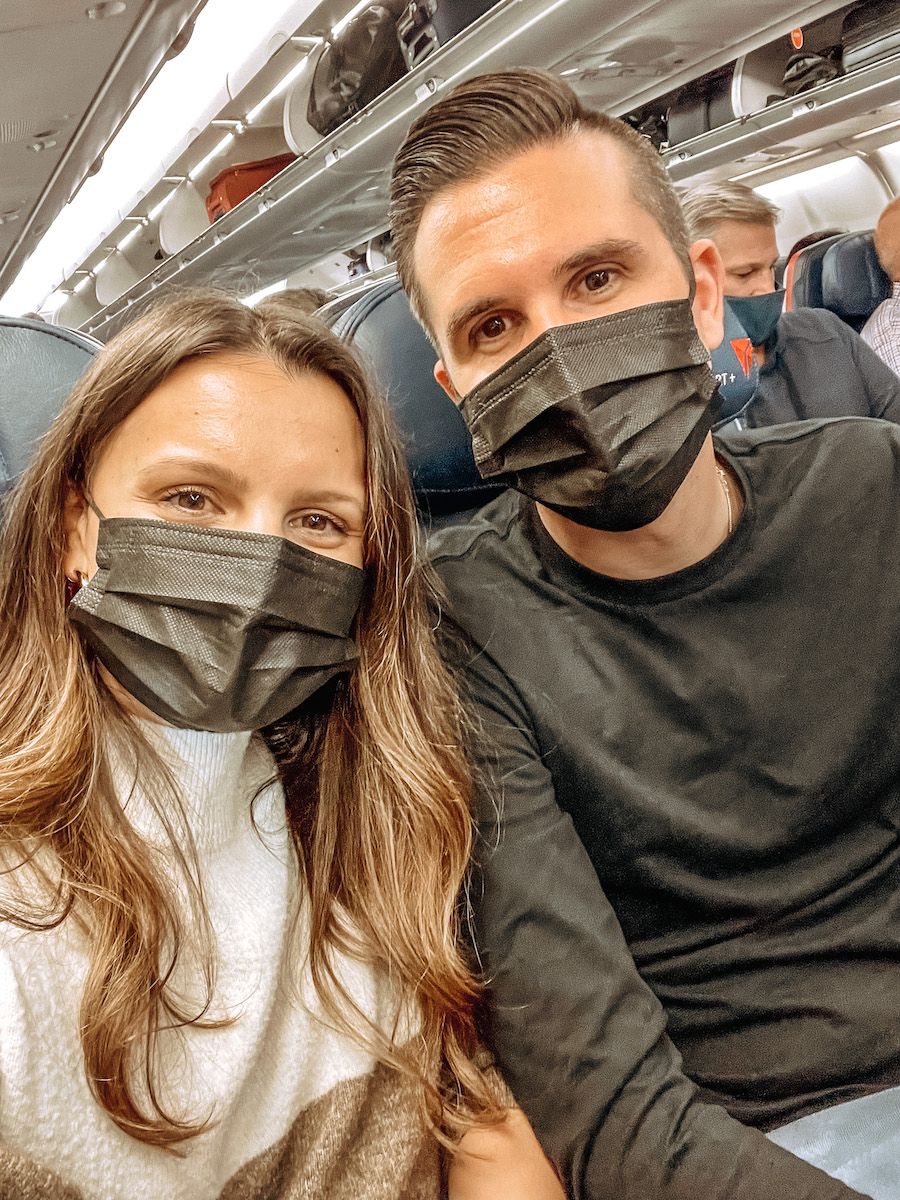 These are the masks we bought and loved! They're comfortable, breathable, and meet the standards. We brought 20 with us, which was more than enough.
Oh, and if you're wondering if the color of the mask matters, it doesn't. They can be black, they can be blue, they can be violet sky, they can be hurtful, they can be purple, they can be anything you like…(sorry couldn't help myself lol)
Delta was also kind enough to pass around masks before landing in Paris!
You're going to feel pretty yucky after that overnight flight, so make sure you bring a toothbrush, mini toothpaste, and deodorant to freshen up when you land.
These Colgate Wisps are also great to use in-flight! We always bring them with us because the thought of using airplane water to brush our teeth kinda creeps us out.
Customs process
Next, you meander your way over to border patrol. We waited in line for about 20 minutes and were only asked to show our passports and vaccine cards once we got to the customs officer.
If you're unvaccinated, I assume you'll need to show your travel certificate, proof of negative test, and your passport. But I'm not 100% sure!
I cover what to expect coming back to the US later on in this post. (My OCD is making me go in chronological order.)
Take out cash once you arrive
Once you get your stamp of approval, it's time to grab your luggage and take out some cash. You'll need it for taxis.
Pro tip: Don't worry about converting cash to Euros before your trip. The best way to do it is to find a bank ATM at your detination's airport and take money out when you arrive.
Make sure you check the foreign ATM withdrawal fees with your bank first! We use Chase, and they charge a $5 foreign ATM withdrawal fee along with a 3% transaction fee.
This is still cheaper than going to a currency exchange kiosk or free-standing exchange ATM (not linked to a bank) because they tend to charge service fees and give you worse exchange rates.
But again, do your own research here!
How to get from CDG to your hotel
You have three options: taxi, Uber, or metro.
We opted for a taxi because we had 3 pieces of luggage (2 large suitcases each and 1 carry-on) and didn't feel like lugging them around on the metro, which required a couple of transfers.
Ubers are also just as easy to get at CDG, so it's up to you which you prefer.
Taxi pros:
Gives you a chance to practice your French! They are honestly so nice about this and will help you pronounce things so don't be afraid to go for it.
No waiting – they have tons of cabs waiting outside baggage claim
It's typically faster than the metro (~40 min vs. 1 hour)
Taxi cons:
Must pay cash
More expensive than the metro (60 euros vs. 6-8 euros for the metro)
I'll go over how to use the metro in the "How to Get Around Paris" section!
How to Get the French Health Pass
I'm dedicating an entire section of this Paris Travel Guide to the Health Pass because this was the one thing that stressed me out the most before our trip.
But I'm here to reassure you, you have nothing to be stressed about!
Getting the pass is actually super easy, but first, a little backstory.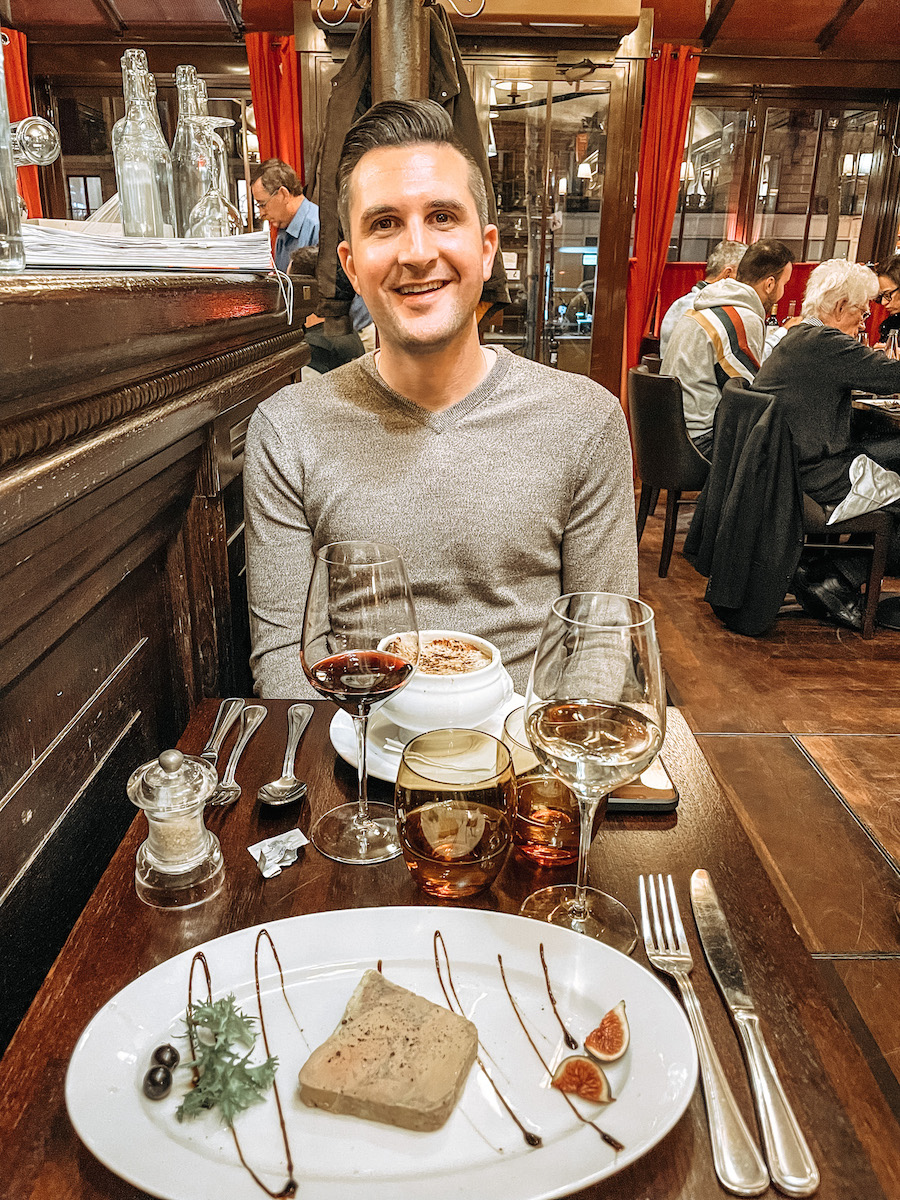 You need the Health Pass for pretty much any indoor activity, like eating at restaurants and going to museums.
Up until a week before our trip, vaccinated travelers from outside the EU were able to apply for the vaccine card conversion (a.k.a. Health Pass or Pass Sanitaire) through an online portal.
However, days before our departure, they changed the rules and closed the online portal to everyone except French nationals who were vaccinated in foreign countries.
You can imagine I was freaking out a bit because you really can't do much without this pass, and there wasn't a lot of updated information as to what to do next.
Go to a pharmacy in Paris to get your Health Pass
A couple of (stressful) days after the change, we received an email explaining we could just go to any pharmacy in Paris to get our Pass Sanitaire.
We could either show our vaccine cards and have them converted to QR codes, or we could take an antigen test and receive a code with our negative results.
If you opt for the antigen test route, you will need to get tested every 72 hours.
As soon as we got to our hotel, we dropped off our bags and went to 3 pharmacies before we found one that would convert our vaccine cards to QR codes.
I read beforehand many pharmacies were not offering this service, so Alex and I took our own at-home rapid tests the morning before we left for Paris just for peace of mind in case we had to rely on a getting negative test in Paris to get our pass.
Because it's been almost a month since the online health pass portal closed, I think more and more pharmacies are offering the conversion service now than when we went.
You might have to go to a couple, but the good news is there are pharmacies on literally every corner of the city.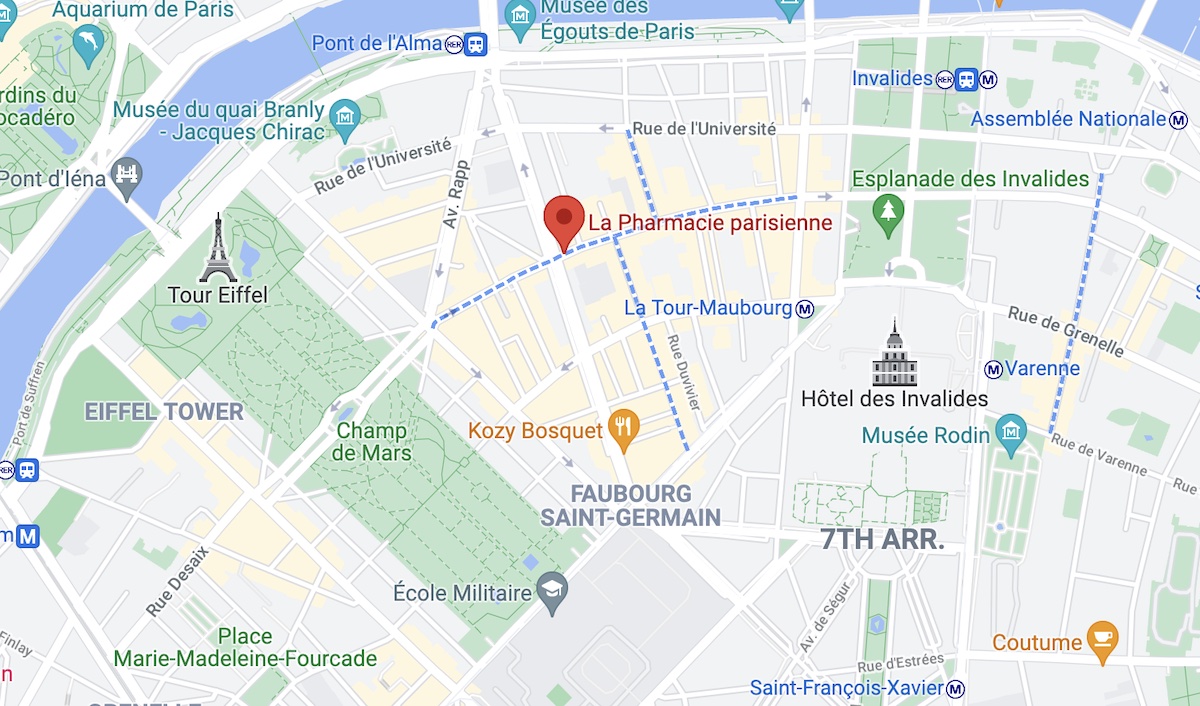 We went to La Pharmacie Parisienne, and they were so nice and helpful. This is also where we took our antigen test to come home, and the whole process was fast and easy.
All you have to do is go up to the counter, tell them you are vaccinated and need the Health Pass, and they will take your card and convert it for you.
It takes 5 minutes and costs 36 euros.
What to do once you have your Pass Sanitaire
The pharmacy will give you a printed piece of paper with your vaccine information and a QR code.
Download the TousAntiCovid app and follow the instructions to upload your pass to your phone.
90% of the restaurants we went to (and all museums and large shopping centers) scanned our passes before entering/being seated. So having the app handy makes it very easy!
I did see several Americans just show their regular CDC vaccine cards instead of the Pass Sanitaire and had no issues sitting at restaurants. But we didn't feel like worrying about it, so we paid the money to have ours converted.
How many days do you need in Paris?
Wooh! You made it to the fun part of this Paris Travel Guide.
I think 5 full days, not including travel, is the perfect amount of time for a trip to Paris.
Paris is a huge city with an enormous list of things to do. So I would say the minimum is 5 days, especially if you've never been and are traveling from afar.
Thinking back, we would have loved to stay one more day just so we could enjoy a more chill day and get lost in the city.
What's the best arrondissement to stay in?
When I was doing my own research on where to stay in Paris, I was annoyed that no one would spell out clearly which arrondissement (neighborhood) in Paris is the best.
Everyone kept saying, "Well, it depends on what you want your experience to be."
And unfortunately, I'm here to tell you the same thing!
It really does depend on the type of atmosphere and vibe you want for your trip.
I will say, even though this wasn't our first time in Paris, neither one of us had been in years. So staying in a slightly more touristy arrondissement, like the 7th (where the Eiffel Tower is), made sense for us. And I highly recommend it if this is your first time in the city.
Our hotel, Hotel La Bourdonnais, was amazing. The room was actually pretty big for Paris standards, the shower was great, the bed was comfortable, and most importantly, the service was impeccable. We loved that they stocked our mini fridge with fresh water bottles and soda every day for free!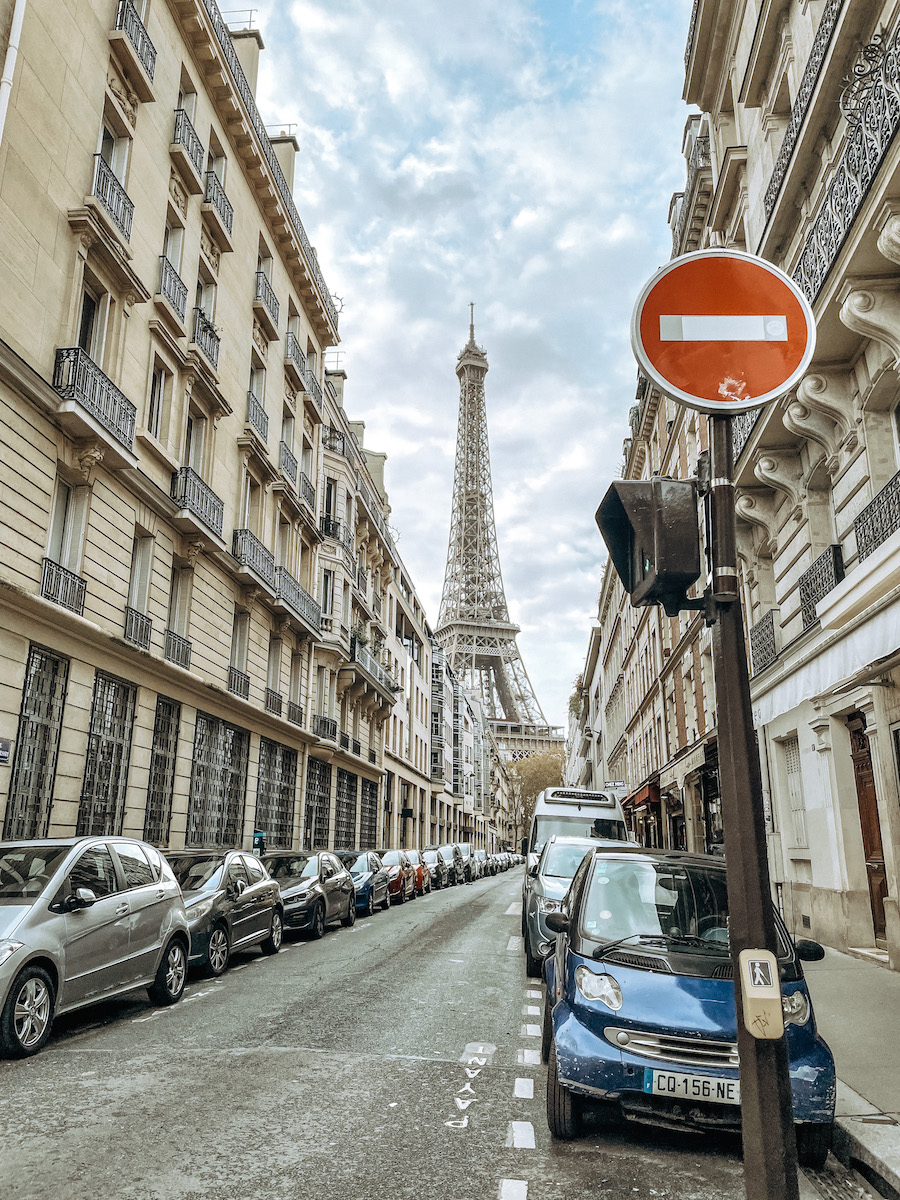 Why we liked the 7th:
5-10 minute walk to the Eiffel Tower
Many quintissential French bistros
20-30 minute walk to the Louvre and Musée D'Orsay
Iconic photo opportunities
Rue de Cler and Rue Saint Dominique are filled with great restaurants and boulangeries (bakeries)
Felt safe and calm*
*Be aware of pickpocketers in any large tourist areas (like the Eiffel Tower or Champs Elysée) and at train stations. And be extra aware at night! We felt very safe throughout our trip, but like in any city, you need to be smart.
Where we will stay next
When we go to Paris next, we will stay in either Le Marais (3rd/4th) or Saint Germain (6th).
Both of these feel a bit more intimate and "neighborhood-y", if that makes sense. Like you're really living the Parisian life. They have incredible food and shopping and are both close to many of the main attractions.
Where to stay for a high-end experience
If you're feeling extra bougie and want a luxe experience, I recommend staying in the 8th arrondissement.
Particularly on or near Avenue Montaigne where you'll find iconic 5-star hotels (like Hôtel Plaza Athénée) and stores like Chanel, Louis Vuitton, Dior, Versace, etc.
Keep in mind, you will spend a lot of time in your arrondissement. Even though you will explore other parts of the city during the day, you will most likely want to walk to dinner and/or drinks from your hotel at night. So make sure you pick an area you'll be happy hanging out in a lot.
For a more in-depth breakdown of each neighborhood, check out Travelletter's guide. I found it to be very helpful!
How to Get Around Paris
Aside from taking a cab to and from the airport, we spent the rest of our time either walking or taking the metro.
The best, best, best way to get around is to walk. This will allow you to see all the little nooks and crannies of this beautiful city. Getting lost in the streets of Paris is legit magical!
However, as I mentioned, the city is ginormous. So the metro will be your new best friend if you want to make the most of your time.
Use Google Maps for metro directions
Using the metro is super easy!
All you have to do is open Google maps, type in your destination, and then toggle over to the metro icon for directions. You can also download the Bonjour RATP app, but we found using Google Maps was just as easy.
Here's an example from our hotel to the Notre Dame cathedral:
We picked the recommended route, which requires you to take two metro lines, 8 and 1.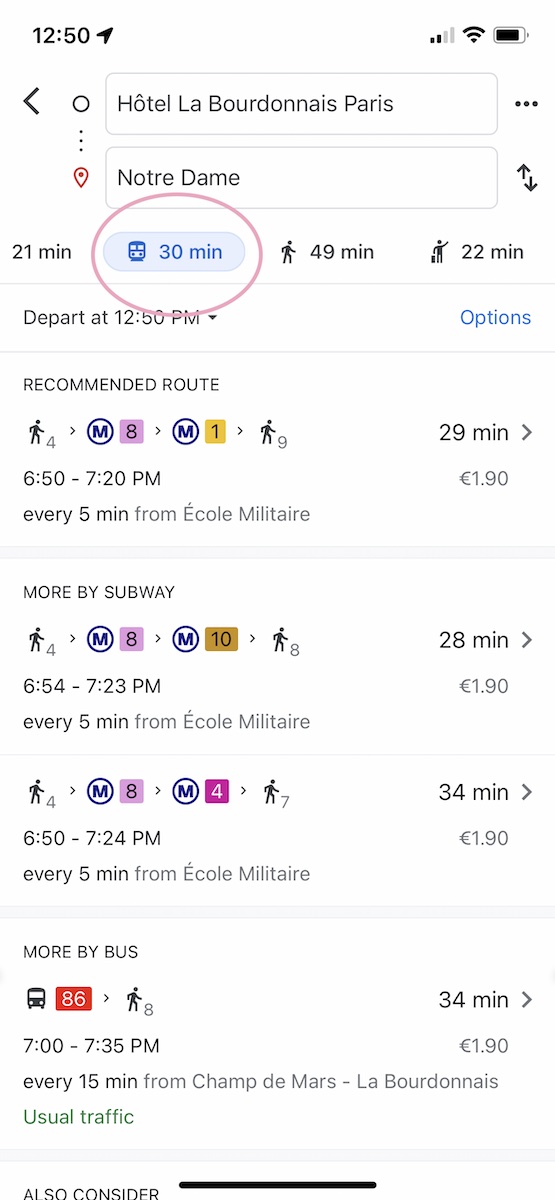 Google Maps will show you the metro station, line number, direction you need to head in, number of stops, and where you get off.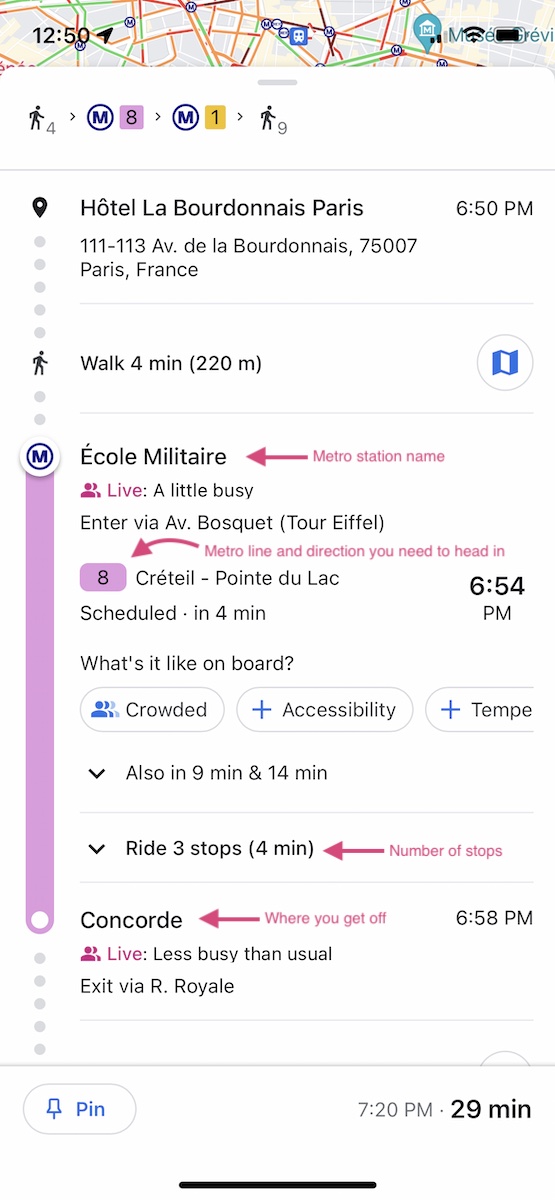 It shows you the same information for the second metro line in this route.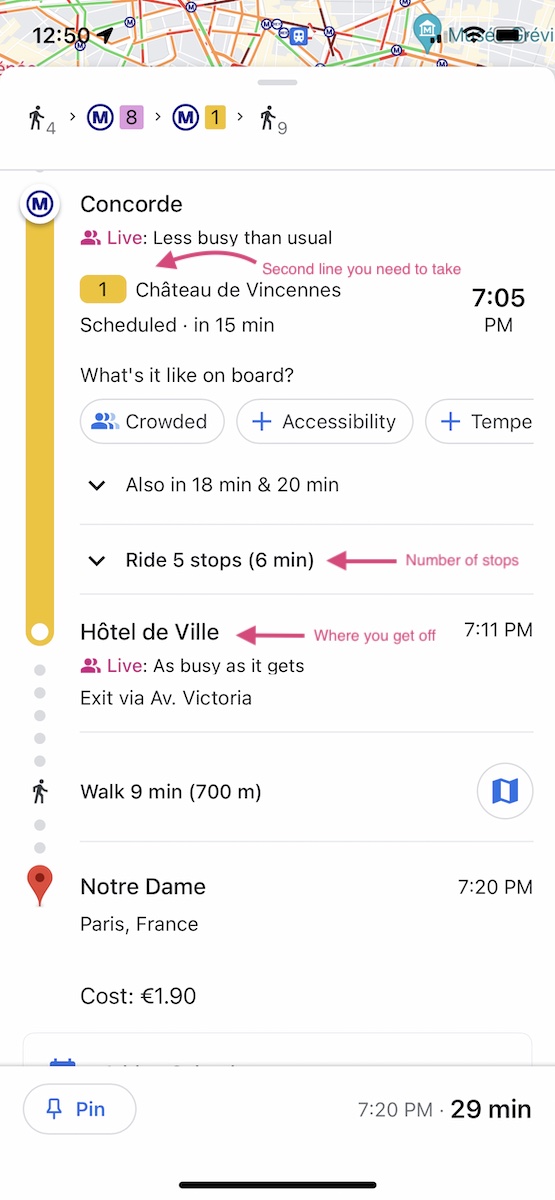 How to buy metro tickets
Because we only used the metro a handful of times (again opt for walking when you can!), we bought single tickets each time.
Every station has self-serve machines where you can buy your tickets. Each ticket is valid for 2 hours after you scan it, so you'll need one ticket for the way there and another one to come back.
A single ticket costs 1.90 euros. You can also buy a book of 10 tickets for 16 euros. These tickets are valid for zones 1 and 2, which is all of Paris!
Best Things to Do in Paris
There is sooo much to do! It'll be impossible to do it all in one trip, so it's important to pick your absolute musts.
To create your very own Paris Travel Guide, make a list of each place you want to visit and plan to see one or two places per day.
This was our list: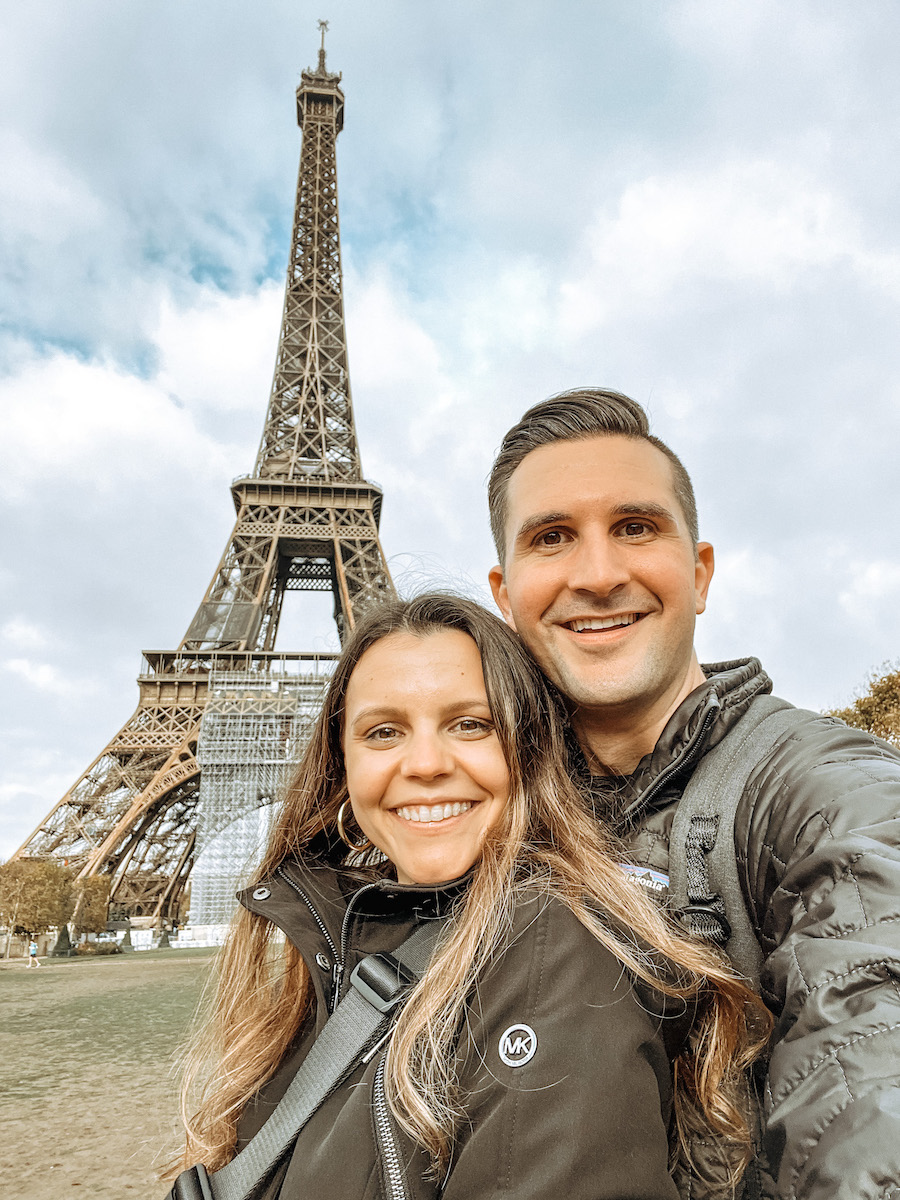 Must-Sees in Paris:
Eiffel Tower / Champs de Mar
Notre Dame
Musée D'Orsay
Champs Elysée / Arc de Triumph
Louvre
Sacré-Cœur
L'Opera Garnier
Gallerie Lafayette
St. Germain and Le Marais
We were able to see 7 of the 9 places on our list, which is pretty good! We missed out on L'Opera Garnier and Gallerie Lafayette, but instead spent some time in Le Bon Marche (the oldest and most luxe department store in Paris) and added modern art museum, Centre Pompidou, to our list.
Having a list is great, but be flexible and take it one day at a time. Don't force anything you don't feel like doing, and make sure you plan out at least 1 chill day with no agenda so you can really enjoy the day-to-day of Paris.
Unique things to do in Paris
If you're looking for unique experiences in Paris outside of the traditional tourist destinations, these were some of our favorites.
Dinner cruise on the Seine
There are several cruises you can take on the famous river Seine, separating the right and left banks of Paris. We chose a 2-hour dinner cruise with Bateaux Parisiens, and it was magical!
The food was great, the service was fantastic, and the sights were unmatched. It's a very romantic experience! Great for a special occassion.
Shop for perfume in Le Marais
Le Marais has a ton of cute boutiques and brand name stores to shop in (think Soho in NYC), but my favorite part was the number of perfumeries they have.
If you're a perfume aficionado, like moi, I highly recommend you go spend an afternoon strolling (and sniffing) your way through Le Marais. Specifically, Rue de Francs Bourgeois where you will literally find 5-6 perfume stores back to back.
Our favorite though was Parle Moi de Parfum on Rue de Sévigné. Alex and I both bought amazing scents for 95 euros a bottle – I got the Haute Provence and Alex the Papyrus Oud.
We enjoyed a one-on-one experience where they walked us through the creation of their scents and the story behind the brand. It was such a special treat to buy a French perfume that will forever remind me of this trip!
See the sunset from Sacré-Cœur
Watching the sunset from the Sacré-Cœur cathedral is a definite must-do.
With one caveat!
If you can, avoid going Friday through Sunday when the crowds are crazy. We went on a Friday and to say it was busy is an understatement. So if possible, try going on a random Tuesday!
Or better yet, if you're an early bird, try to catch the sunrise instead.
Regardless, the pictures you get are unforgettable. And the walk back down through the winding, old streets of Montmartre is just as (or even more) special.
Go to the "I Love You" wall
While you're in Montmartre, definitely make a stop at the "I Love You" wall to see the phrase in every language under the sun. It makes for a really cute photo opp!
Visit the 3rd floor of the Louvre at sunset for pictures
Going to the Louvre isn't exactly "unique", but I will say it's 100% worth it. Especially if you go on a random weekday in the late afternoon when the crowds are low. Alex and I went on a Monday at 3pm and had the best time!
You absolutely need multiple days to soak in all the beautiful art at the Louvre, but it's also fun to hop in on a whim and see specific pieces, particularly if this isn't your first time there. We were able to see the Mona Lisa with a much smaller crowd than usual.
Also, there are several windows on the 3rd floor (which is really floor 2) where you can snap some incredible photos. See the masterpiece Alex shot below! Plus, there's literally no one up there so you basically have the floor to yourself.
Other fun things to do in Paris
As I said, there is so much to do in this city, it'll be impossible to do it all in one trip! Here's a list of unique things we wanted to do but didn't get the chance to:
Moulin Rouge show (highly recommended by a couple we met on our trip!)
Ballet performance at L'Opera Garnier
Professional photoshoot around the city
Have brunch at the top of the Eiffel Tower
Take a macaron-making class
Go to the Catacombs
Take a tour of the sewer system (sounds weird but it's a thing!)
How to plan a day trip to Champagne
This Paris Travel Guide wouldn't be complete without a day trip! There are several places you can go to from Paris by train for a fun getaway: Château de Versailles, Bruges, Mont Saint-Michel, or even Disney Paris if that's your thing.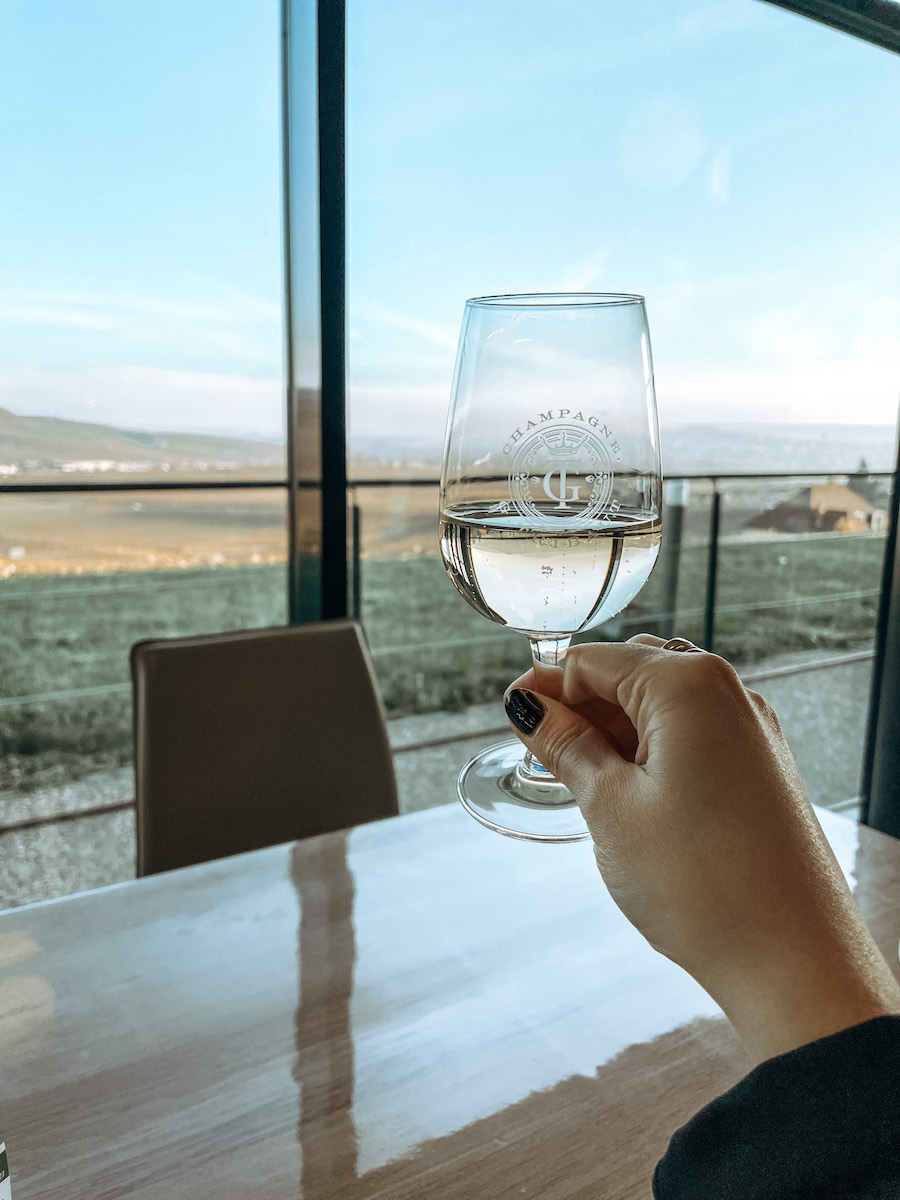 But being the champagne lovers we are, we couldn't resist a trip to the famous champagne region.
If we're talking unique things to do in Paris, this was by far one of our favorites!
Where to go in Champagne
There are two main cities in France's champagne region, Épernay and Reims, both of which you can reach by train from Paris in about 1-1.5 hours.
If you're planning just one day trip to this region, you will need to pick one of the two cities to go to because you won't have time for both. They are about 40 minutes away from each other by car (i.e. an expensive taxi ride!)
Why we chose Épernay
Even though Reims has great champagne houses to visit, like Veuve Clicquot and Champagne Pommery, it felt more like a "city" than a wine-making town.
We were really looking for those vineyard landscapes and a more small-town feel, which is exactly what Épernay (and nearby town Hautvillers) has to offer.
Not to mention, Épernay's Avenue de Champagne has some of the world's best champagne houses all within walking distance of one another. It's the most beautiful street lined with champagne house after champagne house. We're talking Moët & Chandon, Perrier Jouet, Champagne Boizel, and some smaller family names as well (which are even better than the big brands).
How to get to Épernay from Paris
There are several direct trains from Paris to Épernay! I suggest you take an early train so you can make the most of the day.
We woke up Wednesday morning at 6am, got ready, and took the metro to the Gare de L'Est train station at around 7:15am. It took us about 20 minutes to get to the train station from the 7th arrondissement.
Our train departed Gare de L'Est at 8:36am and took about 1 hour and 20 minutes to get there.
We returned on the 5:29pm train, which gave us more than enough time to enjoy a full day in Épernay and still have time for a nice dinner in Paris.
The train tickets cost $60 per person ($30 each way). You can buy your tickets here.
Note: They never checked our train tickets on the ride there, but they did check them on the way back to Paris. In other words, don't try to cheat the system! lol
Do you need to book champagne tours ahead of time?
The answer is…it depends on what time of year you go.
We definitely got lucky and were able to walk into Moët & Chandon and book a tour for 12pm that day. I would say if you're going to Épernay during high season (summer or early fall), book any tours in advance. It was pretty much a ghost town when we went!
Aside from the Moët tour, we just walked into other champagne houses and paid for tastings. Those, you don't have to worry about booking in advance.
I will say, though, the Moët & Chandon tour is 100% worth it!
It's super cool to learn about this historic champagne house (Napoleon's favorite!) as you walk through their many kilometers of underground caves. We learned so much about the champagne-making process and loved the guided tasting at the end.
We chose the Imperial Moment tour, which simply means you get to try an additional champagne (Imperial Rosé) during the tasting at the end. The tour cost 35 euros per person and lasted 1 hour and 15 minutes. The Iconic tour includes just one champagne tasting and costs 26 euros.
Which champagne houses are worth visiting in Épernay?
Our first tasting at Champagne de Venoge was spectacular! We pretty much had the entire place to ourselves, they played fun music, and the champagne was delicious.
We then did our Moët tour and tasting and took a break for lunch before we headed to Hautvillers (more on this below!)
Other champagne houses worth visiting are:
Pol Roger
Michel Gonet
Champagne de Castellane*
Paul-Etienne Saint Germain
*We totally regret not stopping at Champagne de Castellane! Not only is the champagne supposed to be great, but it also houses the Champagne Museum, which we heard from our local taxi driver was an absolute must-do in Épernay.
Make a stop in Hautvillers
Another reason why we chose Épernay is that it's a 10-minute taxi ride from Hautvillers, an even smaller town set within rolling vineyard hills. This is where you'll get your views!
This is also where you'll find Dom Perignon's tomb, which was a must-see for us. For those who don't know, Dom Perignon was a French monk who made important contributions to the production of champagne back in the 1600s. And of course, now has the famous Dom Perignon champagne named after him.
Hautvillers also has amazing little champagne houses you can visit for tastings.
We stopped at Champagne G. Tribaut, and it was by far the best champagne we tasted all day! Not to mention, we had the tasting room to ourselves with sprawling views of their vineyard, got to meet and talk to one of the owners, and tasted her special blend – the Grande Cuvée Spéciale 1er Cru, which was *chefs kiss*.
To say the experience was spectacular is an understatement!
Note: Once you're ready to head back to Épernay, you will need to call for a cab. They don't have taxis readily available (at least not when we went) so you can either visit the tourism office and ask them to call you a cab, or we asked the family at Champagne G. Tribaut to call one for us. They were happy to do so! It took about 15-20 minutes for the cab to arrive so plan accordingly.
Check out this 3-minute video of our trip!
Best Bistros & Cocktail Bars in Paris
You made it to the most delicious part of this Paris Travel Guide!
OMG the food in Paris is incroyable. We didn't have a single bad meal the entire time we were there.
Of course, the Paris food scene is just as big as the city itself, so we barely scratched the surface with this one.
Here's a list of our favorite bistros and cocktail bars. The majority are in the 7th arrondissement since this is where our hotel was. But I snuck some other gems in there as well!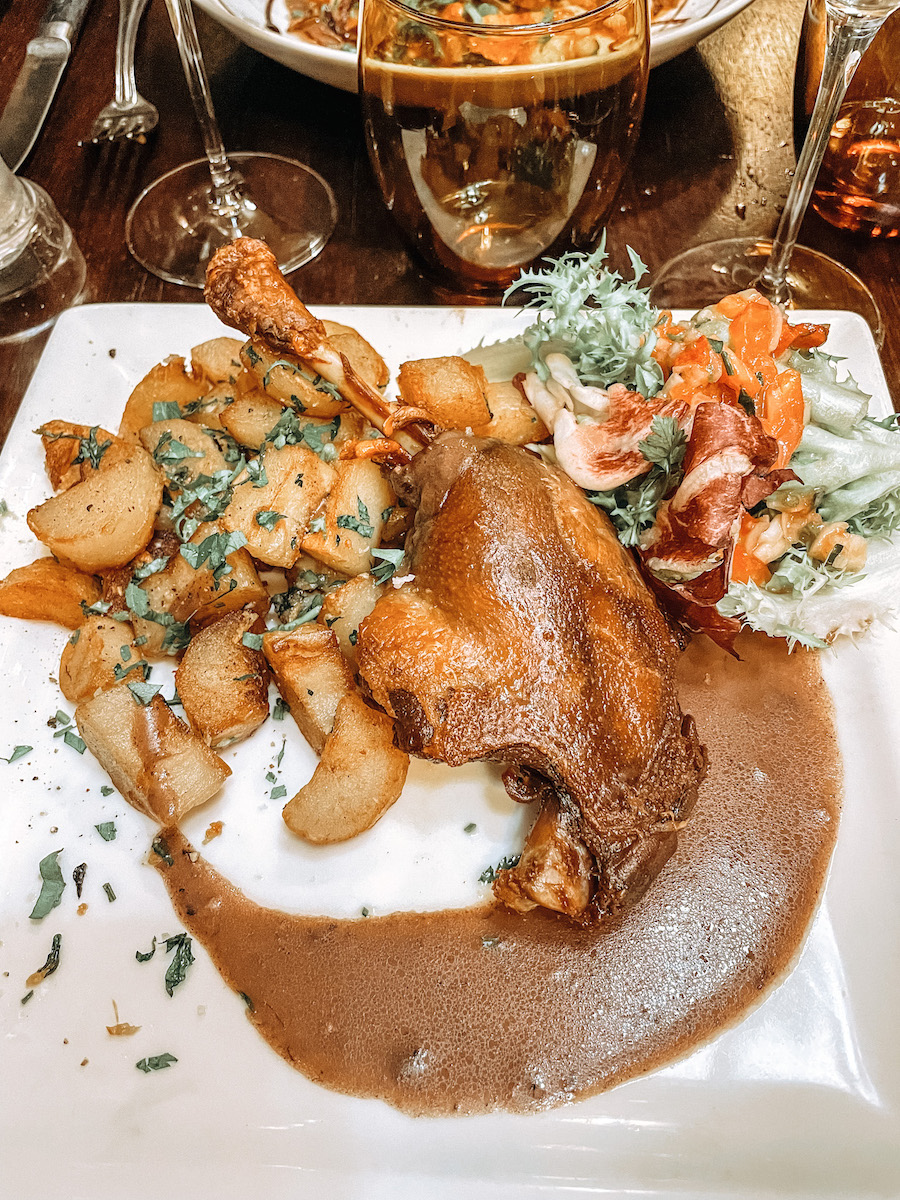 Kozy Cafe (brunch)
Zia (brunch)
Le Septième Vin (French)
Milagro (French Latin Fusion)
Bar du Central (French)
Ciel de Paris (French w/ views)
La Fontaine de Mars (French)
L'Avant Comptoir (French tapas)
Canard & Champagne (French)
Su Misura (Italian)
Gatsby (cocktails)
L'Éclair (cocktails)
Lavomatic (speakeasy)
Tip #1: Avoid tourist traps
My biggest piece of advice is to avoid cafes and bistros extremely close to main tourist destinations. Otherwise, you can walk in anywhere and have a fantastic meal!
We had a particularly bad experience at Le Champ de Mars right near the Eiffel Tower. (I should have looked at their Google reviews because it's a total tourist trap! lol) We went for "apero" (happy hour) and got totally ripped off. We paid 75 euros for 3 drinks and 3 waters, AND the waiter added a tip for himself without letting me decide how much to tip. It was partially my fault for not asking for a menu to start, but I still felt taken advantage of.
Either way, that was a one-and-done mistake! Learn from me and avoid tourist traps like this because there is a whole world of delicious food in Paris you won't want to miss. 🙂
Tip #2: Spend less money on breakfast and lunch so you can go all out for dinner
The food in Paris isn't exactly cheap. But man, oh man is it worth it!
I suggest you keep it low-key and simple with breakfast and lunch so you can go all out with nice dinners. There are millions of bakeries and sandwich shops you can stop in for a quick bite throughout the day.
Save your money for the delicious wine, duck confit, steak frites, foie gras, french onion soups, escargots, chocolate cakes, etc. Trust me, it's all worth it.
For more trendy restaurants, check out this guide by Julia's Days Off! It's amazing.
French Cultural Tips: Dos and Don'ts
First off, let me start by saying everyone in Paris (and Épernay) is soooo nice. Don't believe the rumors that Parisians are rude.
Sure, you might encounter one or two people who aren't particularly friendly, but isn't that true of anywhere you go in the world?
Alex and I didn't have a single bad experience. Everyone we met was extremely helpful, had no issues speaking to us in English, was happy to help us fumble through our French, and was just all-around funny and kind.
I think it just comes down to showing them respect!
These are the top cultural tips to keep in mind:
Always say "Bonjour!" and "Au revoir!" – Always be the first to say hello and goodbye when you enter and leave a restaurant, store, hotel, etc.
Don't automatically start your conversation in English – Instead say, "Je ne parle pas français. Parlez-vous anglais?" (I don't speak French, do you speak English?)
Use your inside voice – The French are particularly quiet, especially on the metro and in restaurants.
Dress up rather than down – Paris is a literal fashion show! Leave your athleisure at home.
Act quickly on the metro – Don't dilly dally. Walk fast, get on fast, get off fast. Allez, allez, allez! Everyone is in a rush to either get to work or get home, so be cognisant of that.
Tips are almost always included in final price – You can always leave an additional tip (a couple of euros) if you feel the service was extraordinary, but it's not customary to do so.
What to Pack & Wear in Paris (Fall / Winter)
When I say Paris is a walking fashion show, I'm not kidding.
Don't be discouraged though! Look at this more like an opportunity to let your inner fashionista (or fashionisto) shine. This is your time to play dress up, have fun with your outfits and accessories, and leave your athleisure at home.
Think beautiful coats, colorful sweaters, wide-leg leather pants, and combat boots.
Paris winter packing essentials
Berets are a must. You might think it's cheesy or touristy to wear one in Paris, but I promise you everyone has one. I had major FOMO.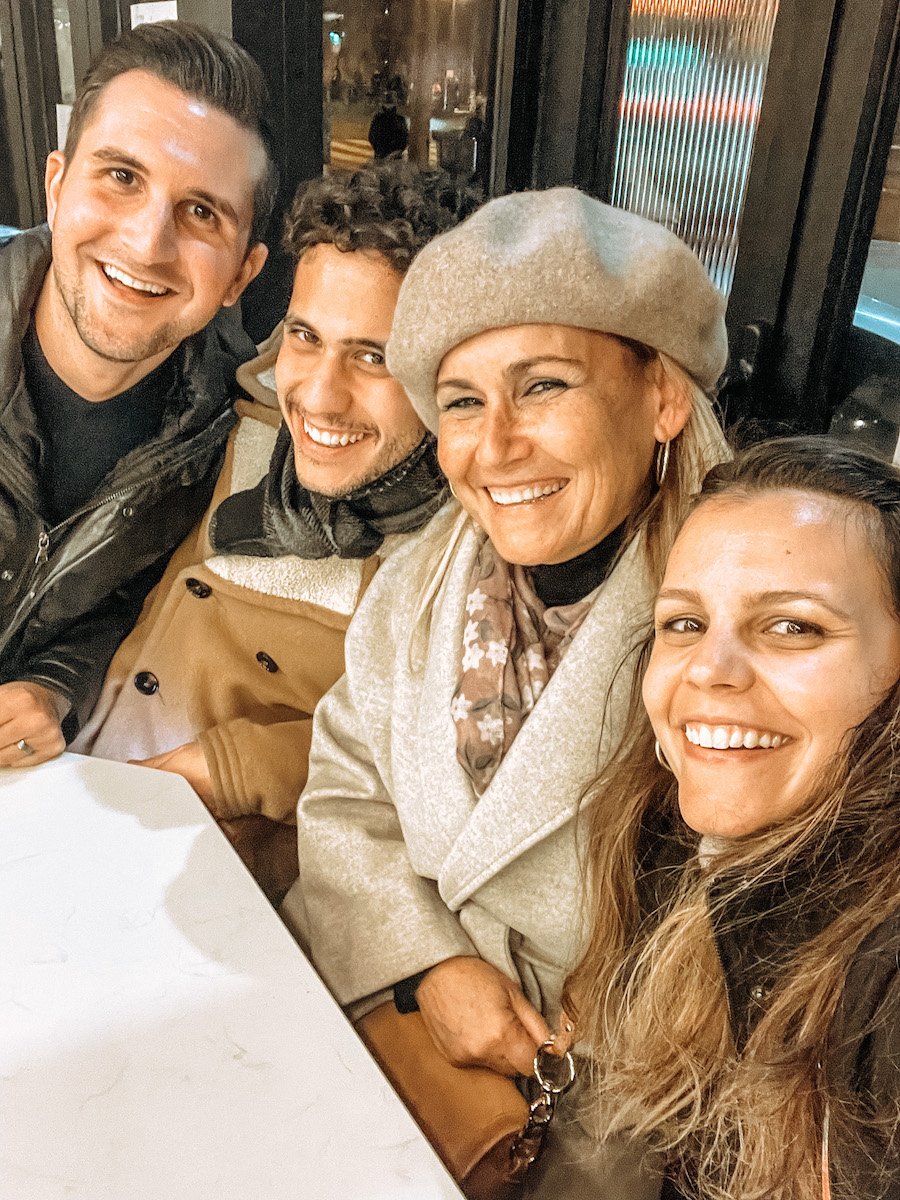 How cute is my mom in her beret??
Two neutral-colored coats. It was nice to have one coat for the day and a different one for the night. I opted for two black coats, but a tan coat would've been great too (and very on-trend). Just make sure your coats are warm!
Comfortable boots and sneakers. Don't mess around with uncomfortable shoes. You're going to walk a lot, so make sure you have good walking boots and a nice pair of sneakers. These are my favorite for trips because they look a bit dressier than your typical sneakers.
Accessories. This is the best way to differentiate your outfits in pictures! Hats, sunglasses, hair clips or headbands, earrings, scarves, belts, purses, etc. And it's also a fun way to look more stylish and put together.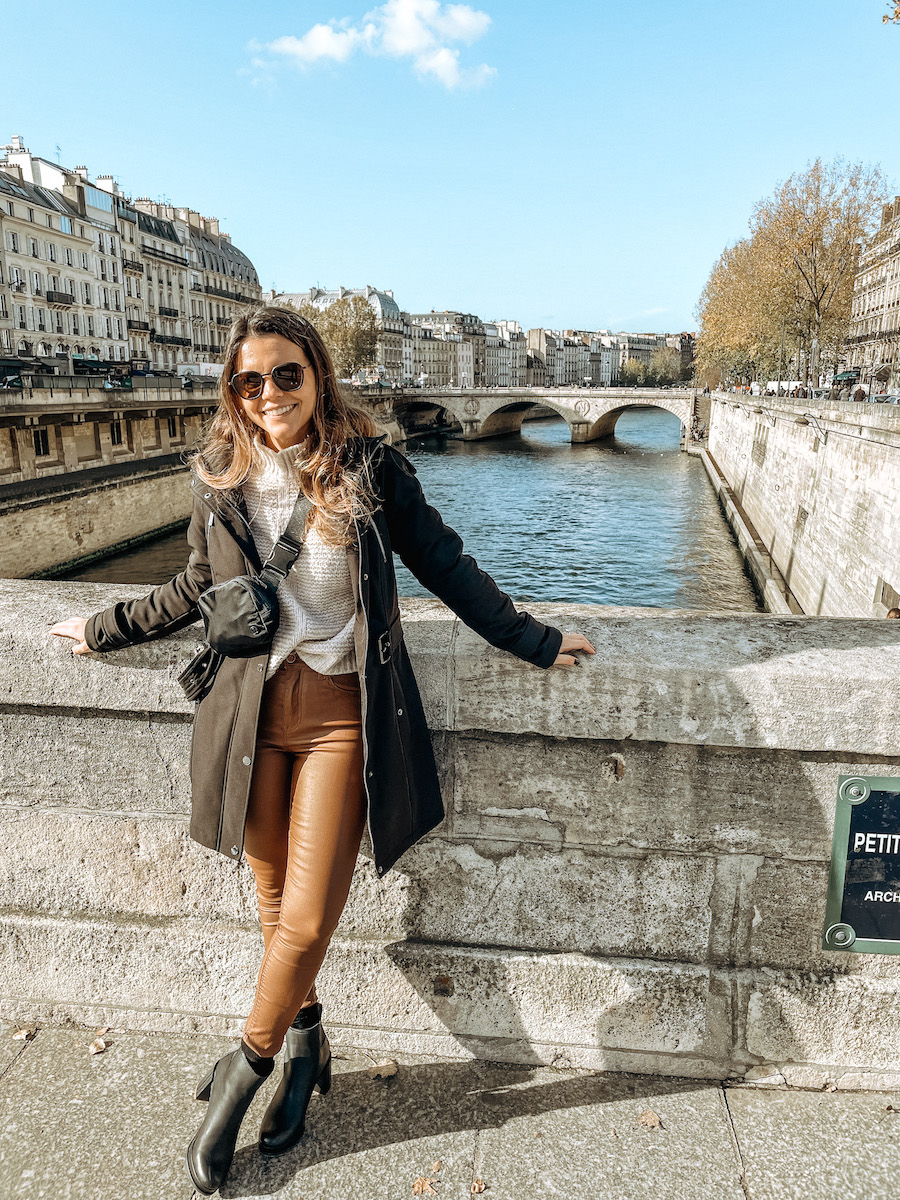 Crossbody purse
The Lululemon Everywhere Belt Bag ($38) was the best for this trip! It fit everything (passport, masks, credit cards, phone, sanitizer, and lip balms) and was very comfortable to wear all day. I also never had to worry about pickpocketers since it was always close to my body.
Warm layers. Again, Paris is cold (high in the low 50s) in the fall and winter. Bring warm sweaters, turtle necks, and cardigans you can use to layer with. I promise, there's nothing worse than being cold all day long. Brrrrr.
Tights. Everyone in Europe wears tights in the winter. Under dresses, skirts, leather shorts, you name it. If you want to elevate your outfit, this is the way to go.
For more outfit inspiration, check out my Fashion board on Pinterest!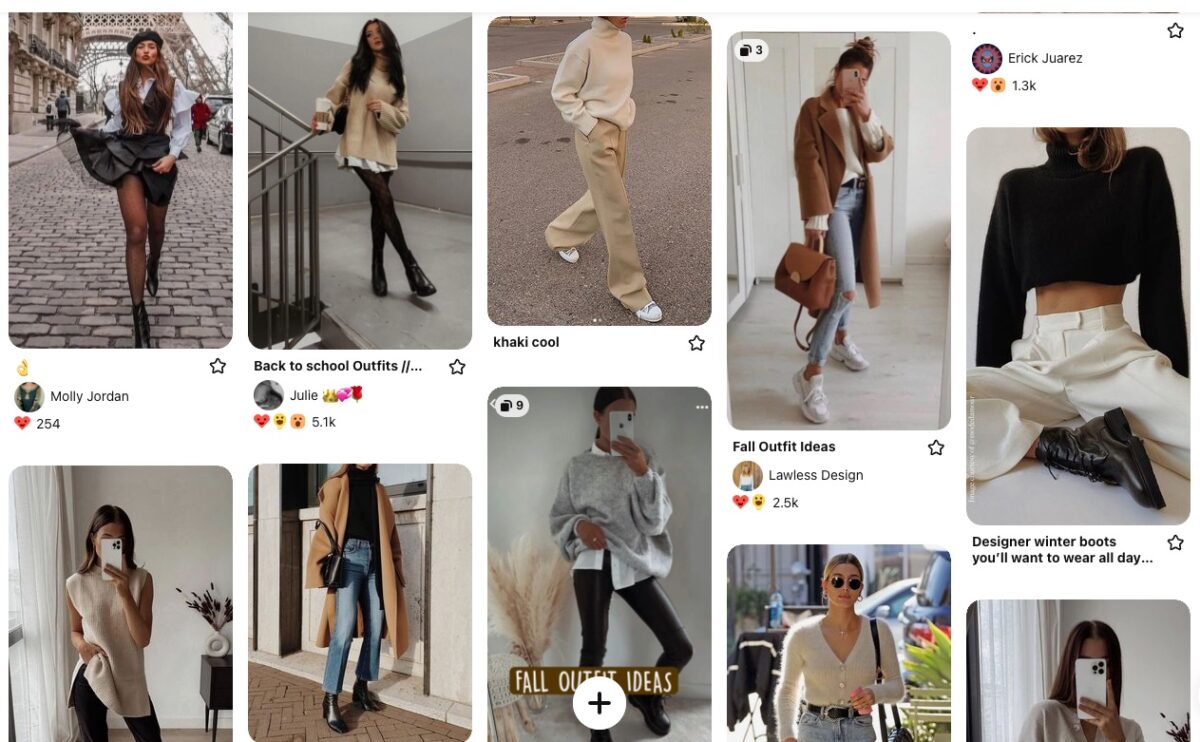 Other packing essentials
Type C plug adapters
Gua sha stone or jade roller (for depuffing in the mornings!)
Advil
Portable phone charger
Undereye masks / gels (again for depuffing in the mornings!)
Filtered water bottle
The one thing I wish I brought…
More room in my suitcase or an empty one to put stuff in!
Our bags were a bit too full to bring much back with us, and I totally regret that. We wish we had room for bottles of champagne, cute clothes, shoes, you name it.
So my biggest piece of advice is to not overpack. Leave room to bring back some of that Parisian magic!
What to bring back for friends and family
Because we were tight on space, we opted for boxes of macarons, and they were a hit! They have several macaron stores throughout the city making it an easy gift to buy for family and friends.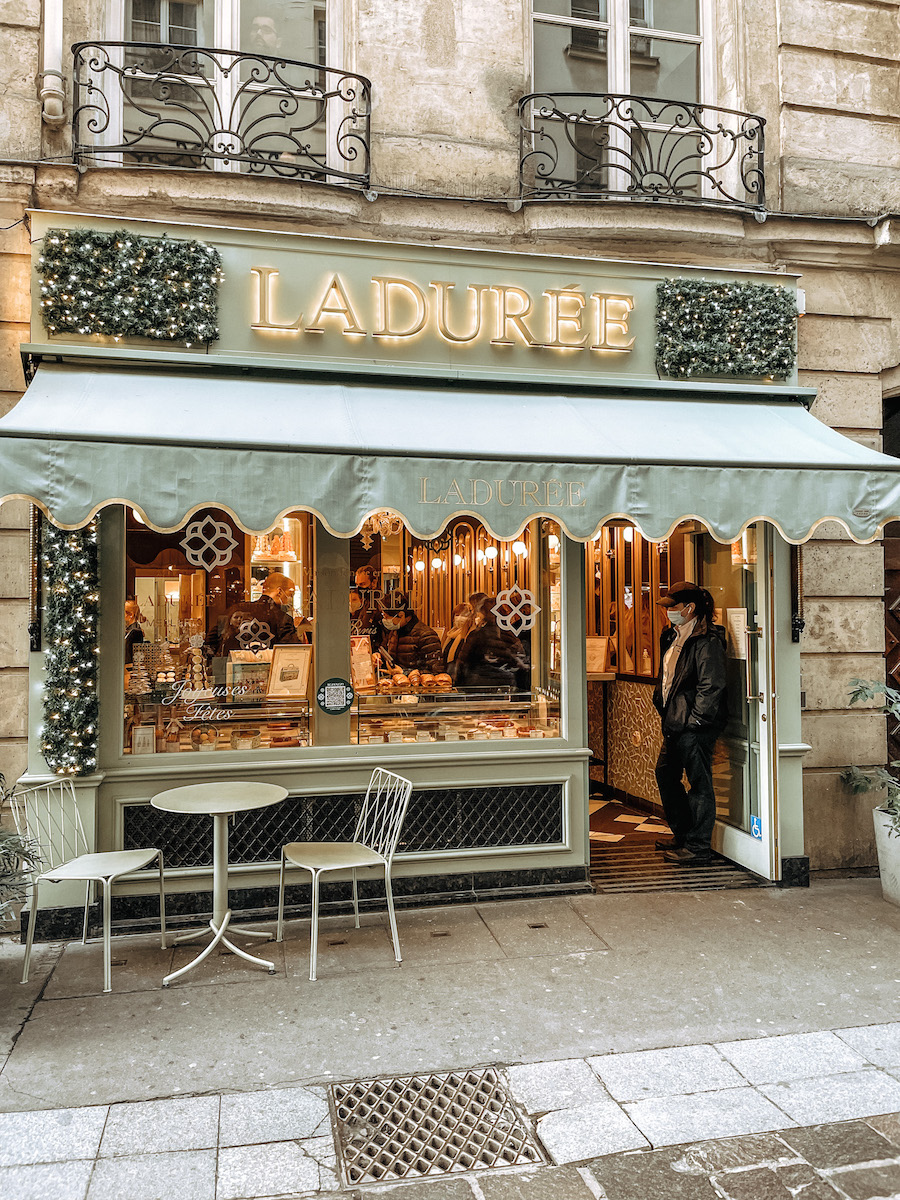 Ladurée macarons are by far the best! Everyone will be raving about these mouthwatering souvenirs.
Everything you need to know about getting back to US from Paris
As promised, I outline all the details about your flight back to the US from Paris in this final section of my Paris Travel Guide.
Before traveling to the US, you need to provide:
Proof of vaccination and a negative COVID-19 test result taken no more than 1 day* before travel
Sworn statement attesting you have no symptoms and are not aware of any contact with a confirmed case
*Rules changed as of Monday, Dec. 6, 2021.
We took our antigen test at the same pharmacy we got our health passes from the Thursday before we left. They were super nice and quick about it, and we got our results via text and email within 30 minutes.
You can also choose to take an at-home rapid test as long as it is virtually administered by a health professional. These are the best kits we've found!
As for the sworn statement, Delta provided the forms during check-in at the airport, which we were then asked to present during boarding. Be sure to check your airline's website for instructions.
Flying out of Charles de Gaulle?
Make sure you leave plenty of room for traffic and long security lines! This is a highly congested airport, so I would suggest you head to the airport ~3.5 hours before your departure time.
Other things to note:
You will go through border patrol before security (took about 30 minutes to get through)
Make sure your liquid toiletries are in zip lock bags
They made everyone take hand sanitizers out of their bags, which was so odd?
Want to chat more?
I hope you liked this 2021 / 2022 Paris Travel Guide! If you have any questions, be sure to comment below or connect with me on Instagram (@uncovertheglow).
Wishing you the most amazing trip to the city of love!