Yup. Just like your body, your skin needs its vitamins too!
So far, we've checked vitamin C and vitamin B3 (a.k.a. niacinamide) off our weekly Ingredient Breakdown checklist.
So this week, we're covering the benefits of vitamin E – a common ingredient found in MANY skincare products that you likely haven't paid too much attention to. (Don't worry, we hadn't either!)
In this post, we'll walk you through what it is, where it comes from, what it does, and how to incorporate it into your routine. Let's get into it!
What is vitamin E?
The term "vitamin E" actually refers to an entire family of fat-soluble (i.e. can dissolve in fats and oils), essential nutrients with amazing anti-inflammatory properties. This group of nutrients helps support our immune system, cell function and overall skin health. And best of all, it's already naturally occurring in our bodies!
There are eight basic types of vitamin E, and they can either be synthetically or naturally derived.
The most common are d-alpha-tocopherol, d-alpha-tocopherol acetate, dl-alpha tocopherol, and dl-alpha tocopherol acetate. If you see a "d" prefix, this means it was naturally derived from vegetable oils or wheat germ. The "dl" prefix means it was synthetically created!
Even though the natural version is said to be best for our bodies and skin, the synthetic is actually more potent and can generate results much faster.
Pro tip: If you want to know if a product contains vitamin E, simply look for "tocopheryl acetate" or "tocopherol" in the ingredient labels!
What does it do?
Being that it has so many antioxidant properties, vitamin E does A LOT of truly amazing things for our skin! This vitamin…
Protects our skin from

pollutants and environmental stressors.

Reduces

UV skin damage.

Supports the

healing of scars and burns.

Helps strengthen the

skin's barrier functions.
It's truly an all-around super star!
Unfortunately, as we get older, our bodies start to produce less and less of this vitamin. WOMP, WOMP! Getting old sucks, am I right? Therefore, we need to give our skin a little boost of love by applying vitamin E topically.
Is vitamin E good for all skin types?
Normally, yes! This vitamin is really beneficial for all skin types. However, there are a handful of unfortunate souls out there that might be allergic to vitamin E and could develop major irritations and rashes from applying it to the skin.
If you have EXTREMELY oily and sensitive skin (like super duper sensitive), we suggest you stay away from this one. As always, patch test on your hand or the back of your arm first!
For the majority of us, vitamin E is a great supplement to add to your skin care routine. Being that it's fat-soluble, the easiest way to incorporate it is through moisturizers or serums. You might already be using products that contain it!
Can you mix vitamin C and vitamin E?
Yes, yes and more yes! This week on our insta, we highlighted some ingredient combination you absolutely must avoid. But this pair right here is serious #relationshipgoals.
You know that couple that's better together than when they're apart? Yeah, that's E+C! Because E is oil-soluble, it can actually penetrate deeper into the skin while it's counterpart, C, plays well on the surface. Together, these two ingredients also work to strengthen the skin's defenses against environmental stressors. Talk about a well-rounded relationship!
Mix E and C together to get a more even and brighter complexion.
Our favorite product: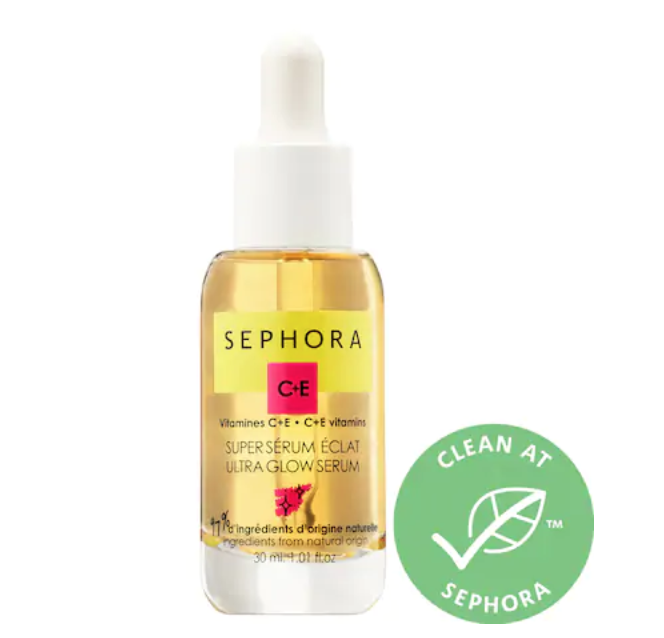 Sephora Collection Ultra Glow Serum
Price: $20
Shop: Sephora
Perks: This product contains natural forms of both vitamin C and E!
---
We hope you guys enjoyed this ingredient breakdown!
Now you know the benefits of vitamin E and when and how to use it!