Nothing can stop us, we're all the way up!
Alright, alright. Maybe not us, but our hair sure is! Our obsession with Virtue continues, ladies and gents. This time, we're all over their styling products. Want to know why??
BECAUSE THEY WORK!
Seriously. Virtue styling products are on another level. Just when you thought their shampoos were pretty great, they come at you with a perfect set of styling goodies that give your hair the right amount of volume and hold for that fun night out with friends. It was almost too good to be true!
Meet Our Go-To Virtue Styling Products
First, let us introduce you to the volume-inducing goddess of a product every woman (and man) should own…Virtue's Uplifted Volumizing Whip. It's dreamy, it's mousse-y, it's bouncy, it's perfection. We'll go into more details below, but for realz…add this to your wish list ASAP.
And second, its partner-in-crime, the magical spray that brings it all together and keeps you looking like a total BOSS all night long…Virtue's Finale Shaping Spray. This is, by far, the best hairspray we've ever experimented with.
(And no, we're not just saying that because we love our Virtue peeps who were gracious enough to sponsor this awesome post. Don't forget, we always stay true to our word!)
Keep reading below for more juicy styling details…
---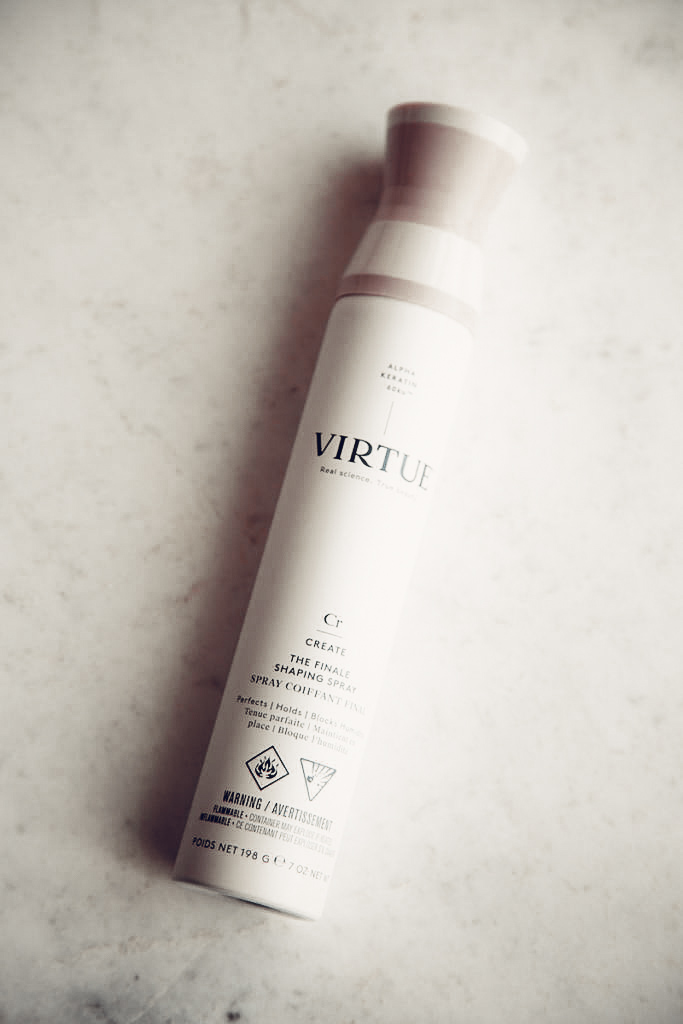 The Rundown
Products: Virtue Uplifted Volumizing Whip | Virtue Finale Shaping Spray
Price: Whip $36 (7 oz) | Spray $36 (5.5 oz)
Where to buy: Virtue website
Perks: Parabens Free | Sulfates Free | Phthalates Free | No Color & Dyes
---
Whip Your Hair Back and Forth!
We apologize in advance if we just got that song stuck in your heads…oops!
But in all seriousness, this Volumizing Whip is amazing. Sam and I have been experimenting with Virtue styling products for about four months now, and let's just say we're beyond happy with the results. We used them A LOT during the holiday season and got many compliments…so yeah, you can definitely say these babies work!
Volumizing Whip How-To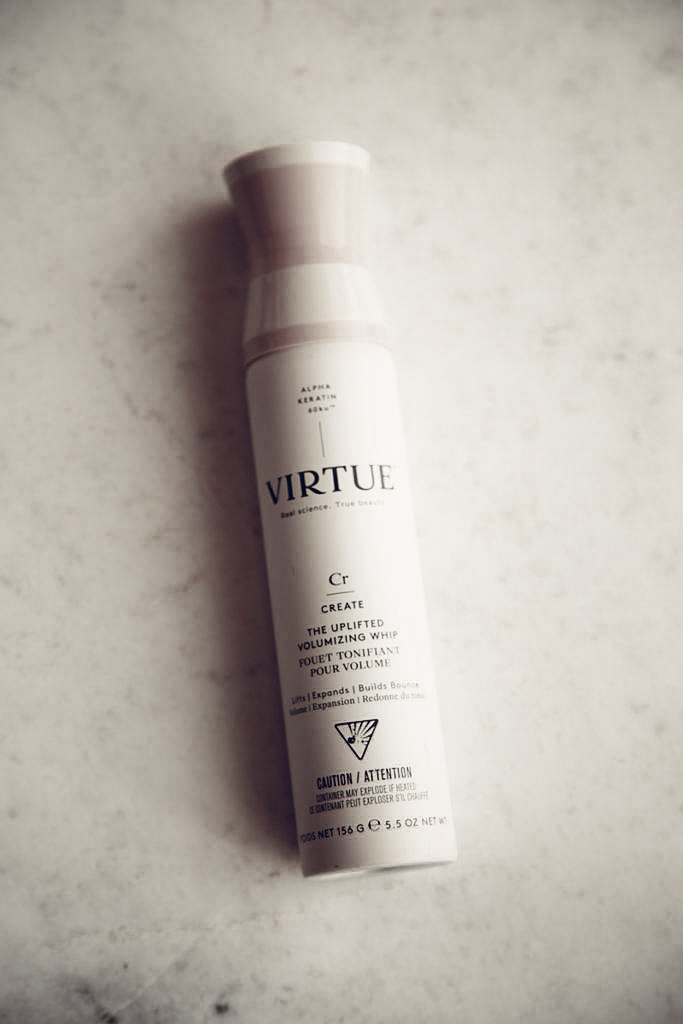 So how does this miracle whip (lolz) take our hair from blah to va-va-voom? Easy!
As soon as we get out of the shower, we towel-dry our hair and start shakin' that healthy butt Virtue Whip can. We dispense about a quarter-size amount on to our palms and then gently comb it through our hair using our fingertips. It has a mousse-like texture so it's really light and airy.
Warning: You will instantly see a lift in your hair! (Even when wet.)
We then apply another couple of amazing Virtue maintenance products (review to come soon!), blow dry our hair, style and DONE. One of the best things about the Volumizing Whip is that it blends perfectly into our hair and doesn't leave any sort of weird residue behind. Very important!
It makes it super easy to style our hair and add that extra oomph of volume we need for a more glam look. Not to mention, it smells sooo nice! People will comment on how nice your hair smells…we can pretty much guarantee it.
As first-time mousse users (our scrunchy hair mousse days from back in the early '00s don't exactly count), we must say, this Virtue Volumizing Whip knocked our socks off! The volume, the bounce, the smell, the longevity. It's perfection!
Hairsprays (Usually) Suck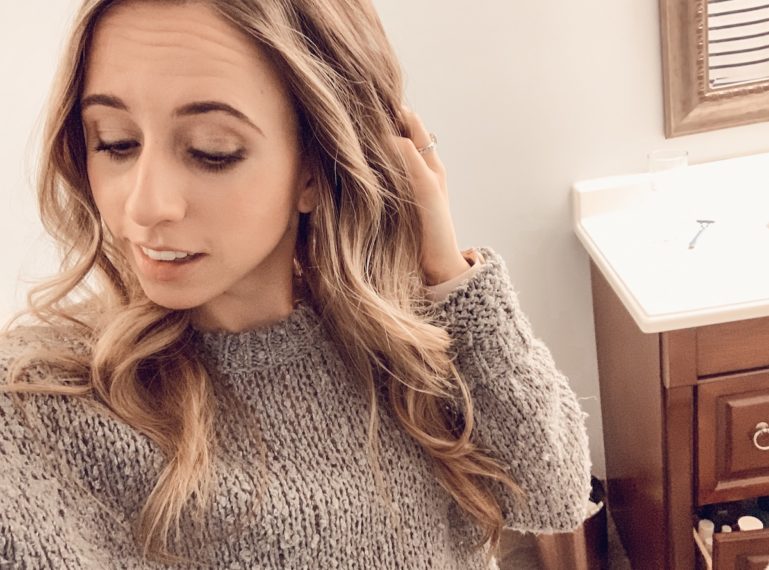 Oh hairsprays. Where do we begin?
Some leave your hair hard as a rock, others leave it looking like an odd bird's nest, and some just don't work at all. So you can understand why we didn't exactly have high hopes for Virtue's Finale Shaping Spray. (Although, we should've known better…it is Virtue after all!)
Even though we don't use hairspray on the reg, we did need something that could keep our bouncy curls in place during the holiday season. So we gave the Virtue Shaping Spray a try and, to no surprise, it blew every other hairspray we've ever tried out of the water. Get it Virtue!
Set It and Forget It
Yes, girl. Set that hair and forget it!
We found that with this Shaping Spray, we could actually show up (and leave) a party looking just as good as we before we left home. This hairspray gives your hair a nice, natural hold…no bird's nests and no crunchy hair in sight!
And just like the Whip, it also smells amaze. Every time you whip that hair back and forth (had to, sorry!), you'll get a glorious whiff of sweet orange, cypress and elemi essential oils. I mean, does it really get any better?
But really, the best part about this hairspray is that you can run your fingers through your hair and it won't lose its shape nor will you have nasty residue on your fingers. We call that a major win over here!
The Big Finale
If you're in need of a seriously GOOD hairspray…you know, one you can actually count on to hold your hair in place for hours on end…then, we highly recommend you give Virtue's Finale Shaping Spray a chance. You won't be disappointed!
And even though it's a bit of an investment for a hairspray, it works so well that a little bit goes a long way. So in our opinion, it is absolutely worth the money.
These Virtue styling products have quickly become #COMustHaves for special nights out. We don't really know how we got through styling our hair without them, tbh!