If you haven't tried these yet, add to your list asap.
It's been a hot minute since we've talked about clean beauty, and I have so many exciting products to share with you that I think you'll love for the fall/winter seasons. I've been experimenting with a ton of brands lately (some new and some OG favorites), and my skin and hair are pretty happy. Of course, no gate-keeping here so let's dive right into my very honest thoughts on some clean beauty products you might want to stock up on.
Common Heir Vitamin C Serum ($88)
Wow. This brand is everything. It's high-quality, clean, and sustainable! They have a no-plastic policy, which means not only is their packaging recyclable but their formulas come in these cool little capsules made from biodegradable seaweed.
Their vitamin C serum is one of my new favs. It feels super oily when you apply it but it dries beautifully and gives you a perfect amount of glow. Great for the fall season! I'm also experimenting with their retinol serum and am loving how smooth (and breakout-free) my skin is! Their serums are pricey, but the full-size options will last you a full 2 months if you apply daily.
Matter of Fact Minimalist Hydrating Cream ($50)
If you're looking for a truly no-fuss daytime cream, this is it. I already ran out of the smaller sample bottle I got from my Newness fam and am dying to order the full-size bottle. This cream is light, refreshing, has no scent (perfect for my sensitive skin girlies), and keeps my skin hydrated all day long without leaving me oily or weighed down. It has panthenol for deep hydration, cholesterol esters to protect your skin barrier, and licorice root for antioxidants. Seriously, don't think twice.
Fleur & Bee Rosewater Toner ($20)
Guys, this toner is so nice. It's refreshing, hydrating, soothing, and is made with only two ingredients!!! Distilled water and rose flower oil. That's it. I apply this morning and night after washing my face as the final step in my cleansing routine, and I love how soft and clean it leaves my skin. It's simple but does the trick.
Then I Met You Cleansing Balm ($38)
This cleansing balm blows every other cleansing balm out of the water. No joke. It's creamy, it's gentle, it smells refreshing, and most importantly…it gets all my makeup off without burning my eyes. I also love that it has nourishing ingredients (fatty acids and vitamin E) to keep your skin supple and moisturized post-cleanse.
Superegg Tonal Scenery Reparative Serum ($72)
I just started applying this serum about a month ago and am loving it! I use it at night before moisturizing, and it feels super refreshing on the skin. The formula has these cool little capsules that absorb right into your skin to form a protective barrier. Plus, it has niacinamide, licorice root, and 3 forms of vitamin C to give your skin that beautiful glow. Oh and!! It has bio desert oil, which is a strain of fermented yeast that survives in the driest deserts of the world – meaning it'll help your skin reach those #camelstatus goals.
SEEN Shampoo + Conditioner ($29)
I'm almost out of these and can confidently say I would buy them again. And that says a lot because we all know how hard it is to find clean shampoos and conditioners that really work. The SEEN products leave my hair clean and light, which I love. I will say, the conditioner doesn't feel super moisturizing, but I promise it works. I also love to apply their Blow-Out Creme for an extra layer of softness and protection. It helps to detangle your hair too!
OSEA Undaria Algae Body Butter ($48)
Definitely get this for fall/winter! This body butter is so rich and creamy. It'll leave your skin feeling hydrated for days. I'm not even kidding. My legs get crazy dry this season, and so far, this has cured much of my flakiness. Plus, it smells divine. You can use my code UNCOVERTHEGLOW for 10% off!
RMS Eyelights Cream Shadow ($26)
If you want an easy, shimmery shadow you can apply all over your lid and will last you from day to night…then look no further than this RMS cream shadow. I'm loooving it for fall! I have the shade Flare, but I'm honestly considering getting pretty much every color they offer. They're so pretty and last forever!
Rose Inc Satin Lipstick ($28)
This lipstick in the shade Persuasive is everything!!! It's creamy, hydrating, doesn't fade too quickly, and gives me a perfect amount of pop. (I'm also eyeing Poised…that deep brick color is stunning.) I think my favorite part of all is that these lipsticks are refillable. So you only have to buy the actual lipstick container once and can then purchase refills ($18 each) of all the different colors you like. Eco-chic!
Tower28 MakeWaves Mascara ($20)
I purposely saved the best for last because O.M.G. this mascara is a 20/10. The curved wand is perfection. The way it lengthens my lashes in just a few swipes is mind-blowing. The way it lasts all day without flaking is spectacular. And how easy it is to take off is the cherry on top. When I tell you to RUN, don't walk, I mean it. Tower28 has completely outdone itself with this one! I haven't liked a mascara this much since…idk when. Too long!
That's it, friends!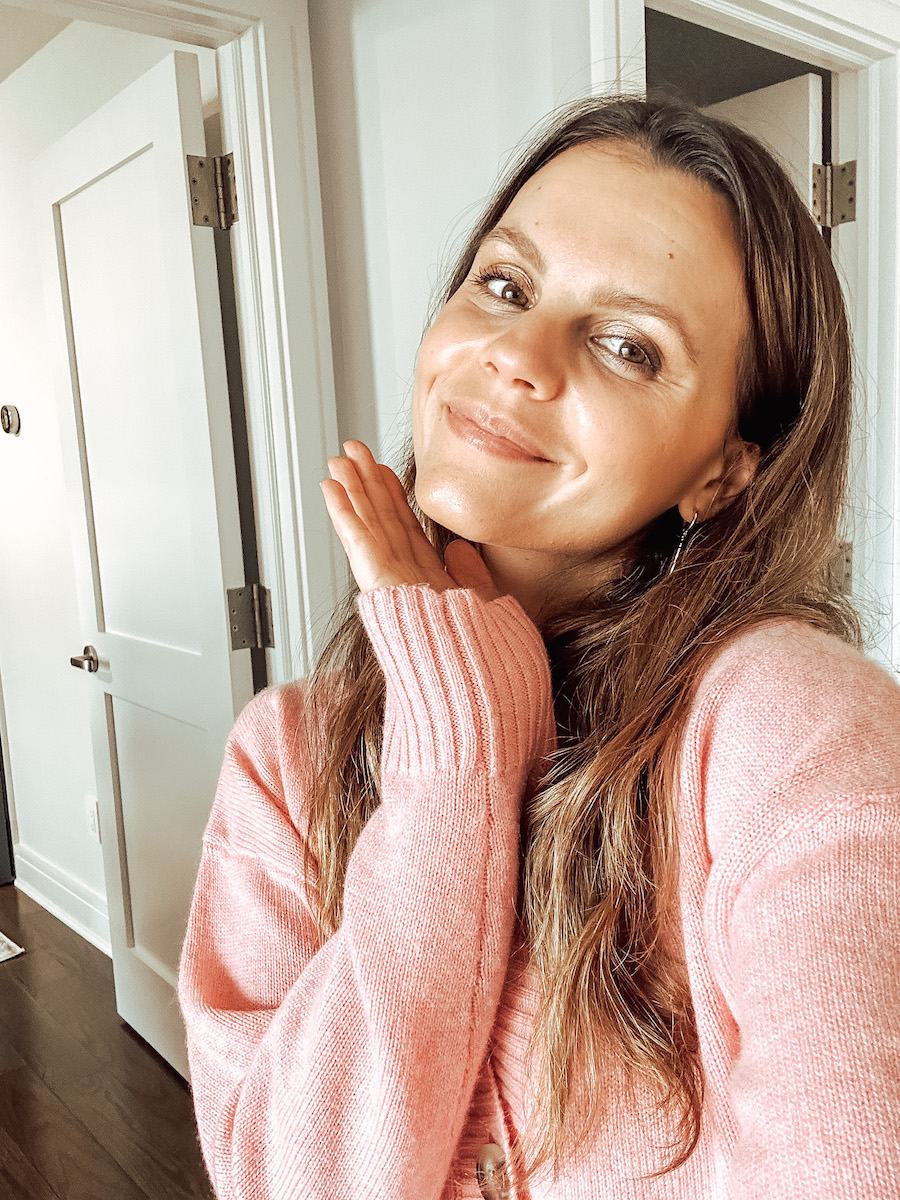 If you have any questions about these, make sure to DM me on IG!