The First of Many!
OMG guys. Our first #COGroupExperiment was a total success! We were so happy to finally kick this program off last month and can't wait to share the results with you today.
So, a little background…we randomly recruited 13 Certifiers who were interested in experimenting with our latest beauty obsession: the Mario Badescu Facial Sprays. These ladies, ranging from 19 to 54 years old, were from all over the country! We're talking New York, Texas, Florida, California, Georgia, Illinois, Michigan…the list goes on!
The Certifiers were sent a full size bottle of either the Cucumber or the Rose Mario Badescu Facial Spray and had 3 weeks to experiment with it. They were told to incorporate the product fully into their daily skincare routine and report back their findings to us.
Let's just say, these Certifiers were LEGIT. They took this group experiment seriously and gave us some major insight into their experience. You ladies rock!
Goodbye Winter Skin…Hello Mario Badescu Facial Sprays!
Before we get to the goods, let's talk more about how we found these sweet little sprays.
Sam and I were wandering through Anthropologie (a seriously dangerous place to be if you're a beauty lover) just after we came up with the idea for the Certifier Program and came across the Mario facial sprays. Sam had been experimenting with the Rose Spray for a few weeks and was raving about her experience. So naturally, I HAD to buy!
I was on the hunt for anything and everything that would give my winter skin a boost of moisture, and the Mario Cucumber Facial Spray claimed to do just that. So why not?
What can I say, we're suckers for new beauty goodies! Especially when it comes to defending our skin from the harsh winter weather.
---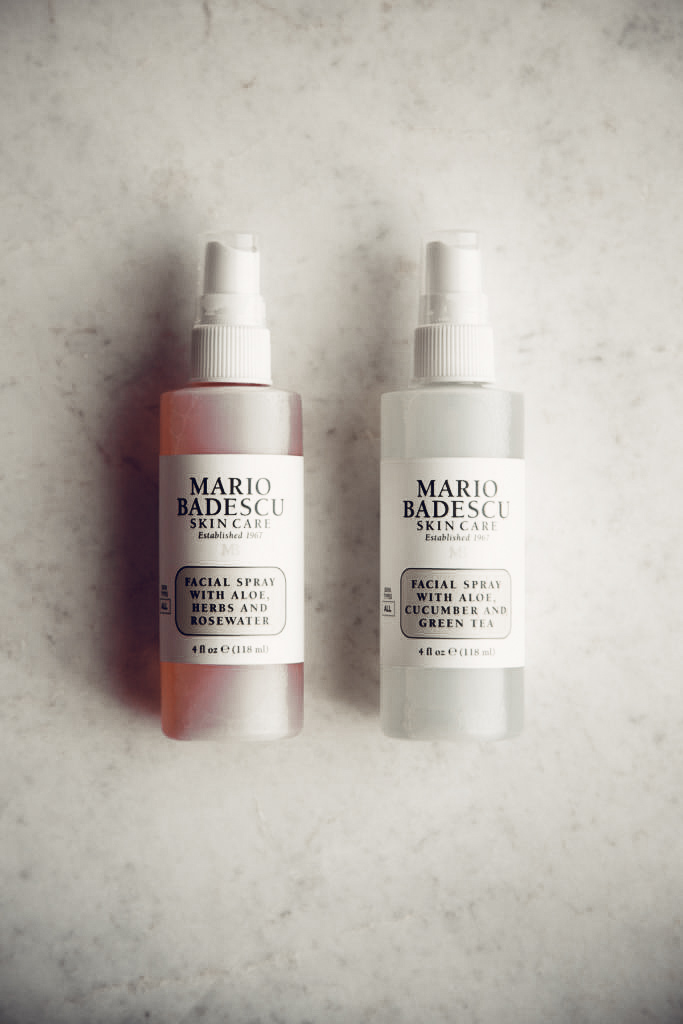 ---
Spritzing Our Way Through Winter
Spritz a little bit here. Spritz a little bit there. That's literally been us for the past few months! These Mario Badescu Facial Sprays are everything.
They're refreshing.
They smell amaze.
They give your skin that sought-after dewy glow.
They keep you nice and moist…urized. (Almost went there, but I'll be nice!)
Sam and I like to spray these all over our faces right before we moisturize both day and night, after we put on our makeup and even as a quick refresher after the gym or at 3pm when our skin is literally DYING for moisture. Basically, these Mario Badescu Facial Sprays are our new skin BFFs.
I loooove that the Cucumber Green Tea Spray has a little bit of mint in it. You can feel right away how cooling and calming this spray is. And Sam's Herb Rose Water Spray has powerful little extracts that are super soothing to the skin.
In other words, you just can't go wrong with these Mario Badescu Facial Sprays.
The Certifiers Love Them Some Mario
And it sounds like we weren't the only ones spritzing away! Our Certifiers found themselves spraying their Marios throughout the day to battle the pesky winter dryness just like us. Check out what they had to say about these sprays!
I would spritz my skin throughout the day because living in MI right now my skin feels like it is going to flake off. I really liked spritzing my hair throughout the day as well because the smell of roses is so refreshing.
I've been using this before face lotion in the morning and night and it's made my skin so clear and smooth!
I like that the scent isn't too strong or overpowering. I love that in the middle of the day if my skin was looking tired or dull, a quick spritz livened it up refreshed the look of my foundation.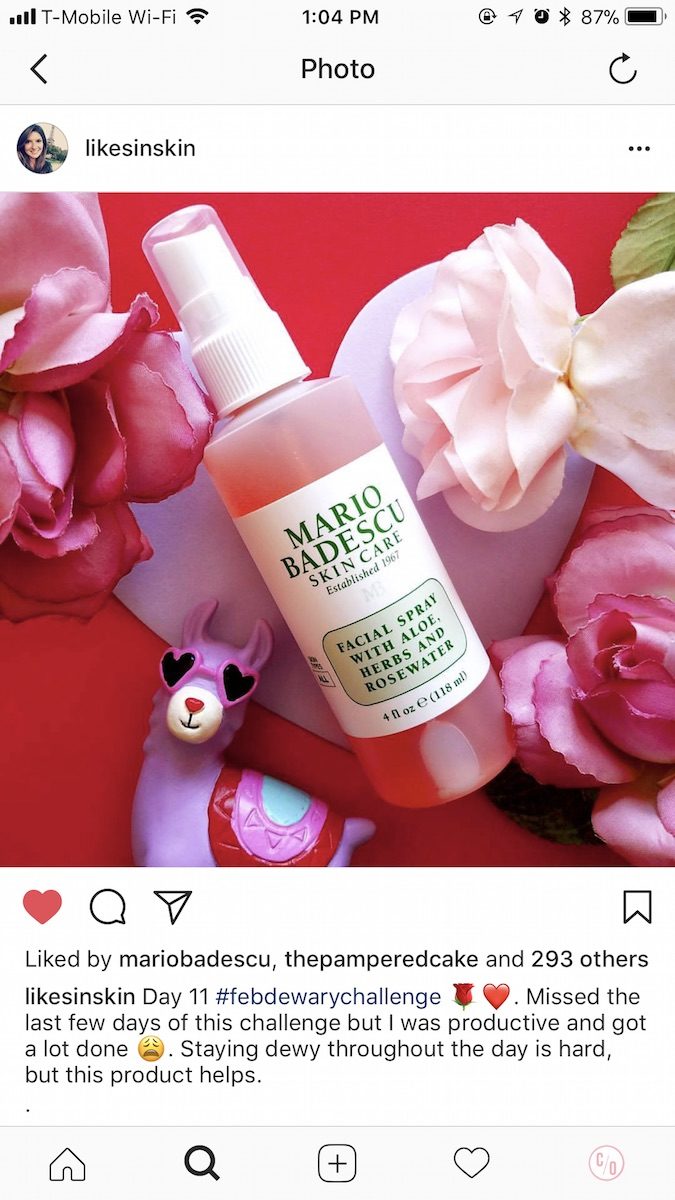 I really loved the smell!! I wasn't entirely sure what it was supposed to do to my skin. But it actually made me less oily and kept my make up on better!! People I see every day were asking if I did something different!
But Some Didn't Fall So Quite Hard
Even though most of our Certifiers had nothing but rave reviews, we did have a few that shared a some things they didn't exactly love about these sprays. We're so happy everyone was truthful with these experiments! Check it out!
The one thing that I didn't like about the spray was that it did break my skin out, I am guessing it's because of the aloe in it. I would recommend this product if you didn't have sensitive skin."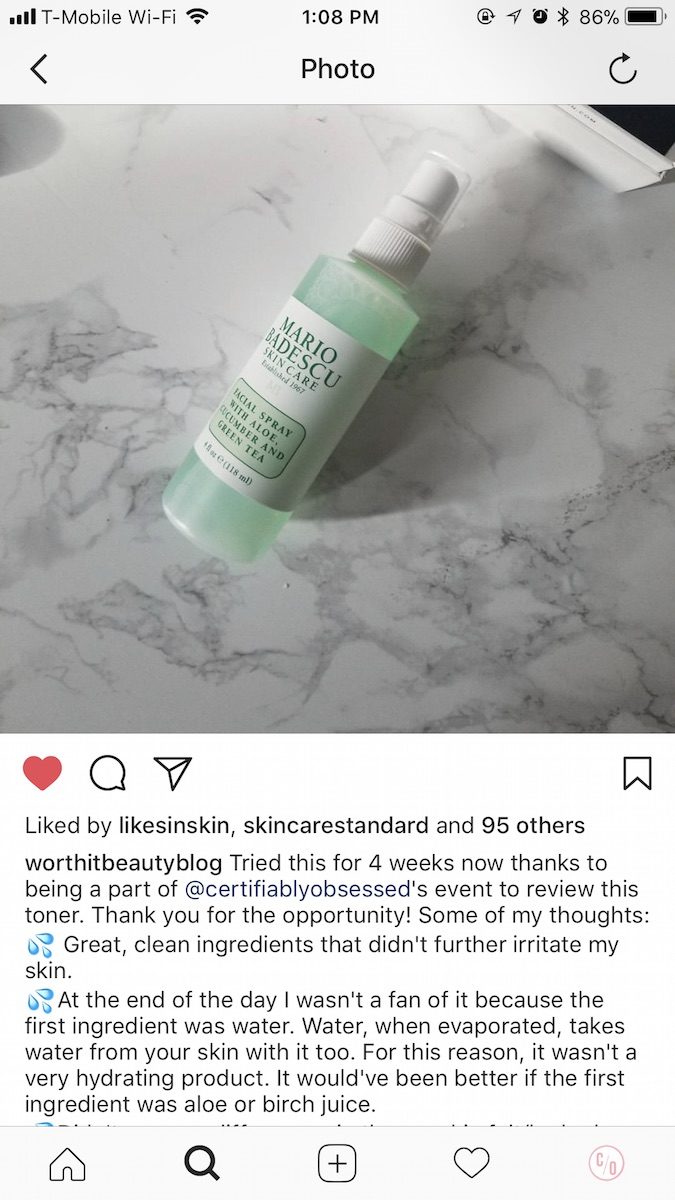 I wish the mister dispersed product more finely. I also didn't really like that water is the first ingredient because when it evaporates, it takes water from your skin. I did, however like that it was gentle and natural-smelling!
I have a love/hate thing with the spray; I love the convenience but I prefer actually spraying a cotton ball instead of directly on my face."
Did it get the official approval?
When we started reading through the Certifiers' feedback and saw they were experiencing similar results to us, we were like woah! Okay, these little sprays really do work! Clear, moisturized, glowy skin…every. single. day. Now, those are the types of results worth obsessing over.
But really, if we're being honest, the best part about these facial sprays is the price! Not only do they actually work and give you visible results, but they are totally budget friendly. Talk about a win-win.
ICYMI: In group experiments, we can only give away a high rating if 75% or more of the Certifiers approve.
And with that, we are happy to report that 83% of our Certifiers gave the Mario Badescu Facial Sprays a 10/10!