The battle between expensive salon products and cheap store-bought continues.
Moroccanoil came into my life through my salon. I was instantly hooked the second I got a whiff of literally any of their products. Claudia, the queen of scents, describes it as "glamorous salon scent." You seriously smell like you just got your hair done, all day every day.
Anyway. Not only was I addicted to the scent, but I'm addicted to the feeling of my hair when I leave the salon. If you're like me, you want it to last forever and never want to wash it again. If only that were possible.
Between the scent and the effects the Moroccan Oil Hydrating Shampoo and Conditioner had on my hair, I was sold.
---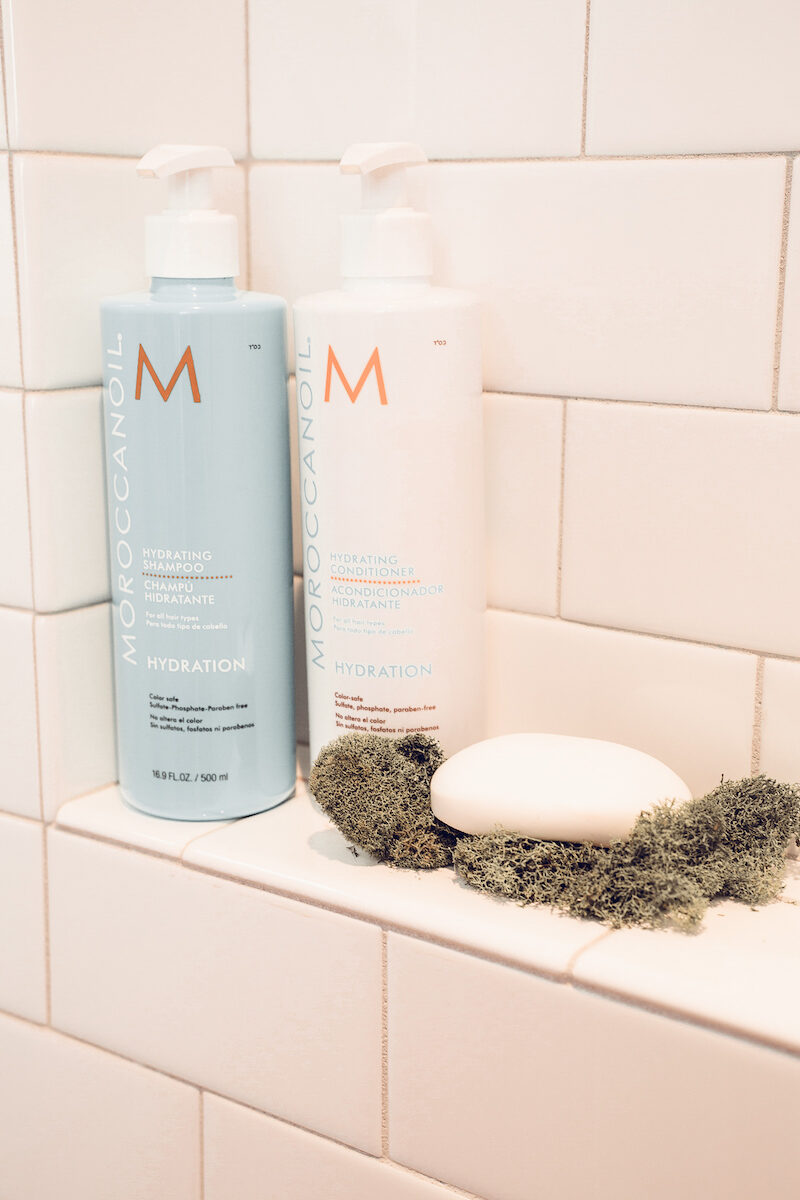 The Rundown
Product: Moroccan Oil Hydrating Shampoo & Conditioner
Price: $24 per 8.5 fl. oz. bottle
Where to buy: Local salon, Moroccan Oil website, or Amazon
Perks: Paraben-Free | Phthalates-Free | Silicone-Free | Color Safe | Sulfate Free
---
Sam's Experiment with Moroccanoil
I was on a mission. A mission to never allow my hair to revert back to its limp, lame state after a few weeks away from the salon.
With Moroccanoil, it was mission accomplished. Every time I wash my hair, I'm surrounded by the amazing scent and can tell the product is doing wonders to my hair.
Seriously, though, the scent alone is enough to make me throw my wallet at it.
My favorite of the two is the conditioner. It goes on clean, spreads throughout my hair well, and smells amazing. I use it from mid-length down to the ends and let it sit on my hair for a few minutes before rinsing. My hair is always soft and nourished after using it. It seriously works wonders. #HydrationNation
My only issue is that the shampoo is it's hard to spread throughout my hair.
Sometimes I feel like I have to use extra shampoo to really get it throughout my long hair. Other times, though, it doesn't bother me because I'm only aiming to use shampoo on my scalp and not a ton on my ends.
---
Claudia's Experiment with Moroccanoil
Prior to experimenting with Moroccan Oil, I was spending a whopping total of $12 on drugstore shampoo and conditioners. You could say my wallet cringed when Sam told me the price of these puppies. But luckily, I was able to steal her stash for a week to try before buying it myself.
The shampoo definitely doesn't lather up as nicely as other shampoos, but I've realized that that's actually a good thing (a.k.a. not as many chemicals!). After I washed it out, I felt like my hair was more tangled than ever.
Ensue mini panic: How could shampoo this expensive leave my hair feeling like a bird's nest? Boy am I glad I can try this for free!
As I start to formulate my list of cons in my head, I massage the conditioner into the ends of my hair and let it sit for a few minutes. This better be as good as Sam says! And it sure was.
I rinsed it off to discover lavishly silky smooth strands. Like the silky smooth you get from a salon!
I always know if I like or dislike a shampoo and conditioner as soon as I get out of the shower. If my hair feels light and bouncy (even when wet), it's an instant winner. And that's exactly how Moroccanoil left my hair. Like new! It even stayed clean for more than 24 hours without needing to use dry shampoo. And that "glamorous salon" scent never went away!
I'm still looking for my all-time favorite shampoo and conditioner, but this brand is currently leading the race.
Is it CO Approved?
You know what they say… you don't know what you have until it's gone. There have been numerous times that I've finished off my bottles and told myself it wasn't necessary to splurge on a $24 shampoo or conditioner. BAD IDEA.
Every time I've switched back to a cheaper shampoo or conditioner to cut costs, my hair suffers. It's dry. I lose my color. Life is sad.
Claudia even admitted that she instantly noticed a change in her hair when she switched back to her drugstore brand. Itchy scalp, dry ends…she was NOT happy.
That being said, I have only tried a few other salon quality brands in my house like Neuma, which was great because it's all natural and free of literally every toxin under the sun, but I still always go back to Moroccanoil for it's incredible scent. I think I'm #addicted.