Note: Tone It Up Protein used to be called Perfect Fit Protein…hence why our pictures say different!
As you guys know, I'm obsessed with all things Tone It Up. And their Tone It Up Proteinpowder is no exception!
Tone It Up Protein is organic, non-GMO, vegan, dairy and gluten-free and is made with just 7 simple ingredients. But most importantly, it's absolutely delicious! It mixes well in smoothies and is a GREAT replacement for flour. Sam and I have made some finger-lickin-good Perfect Fit pancakes, waffles, overnight oats and muffins with this stuff. It's seriously the best.
At $49 a tub (with 25 servings per tub), it's not the most wallet-friendly protein out there. But the quality, taste and clean ingredients make it worth it…in my mind at least!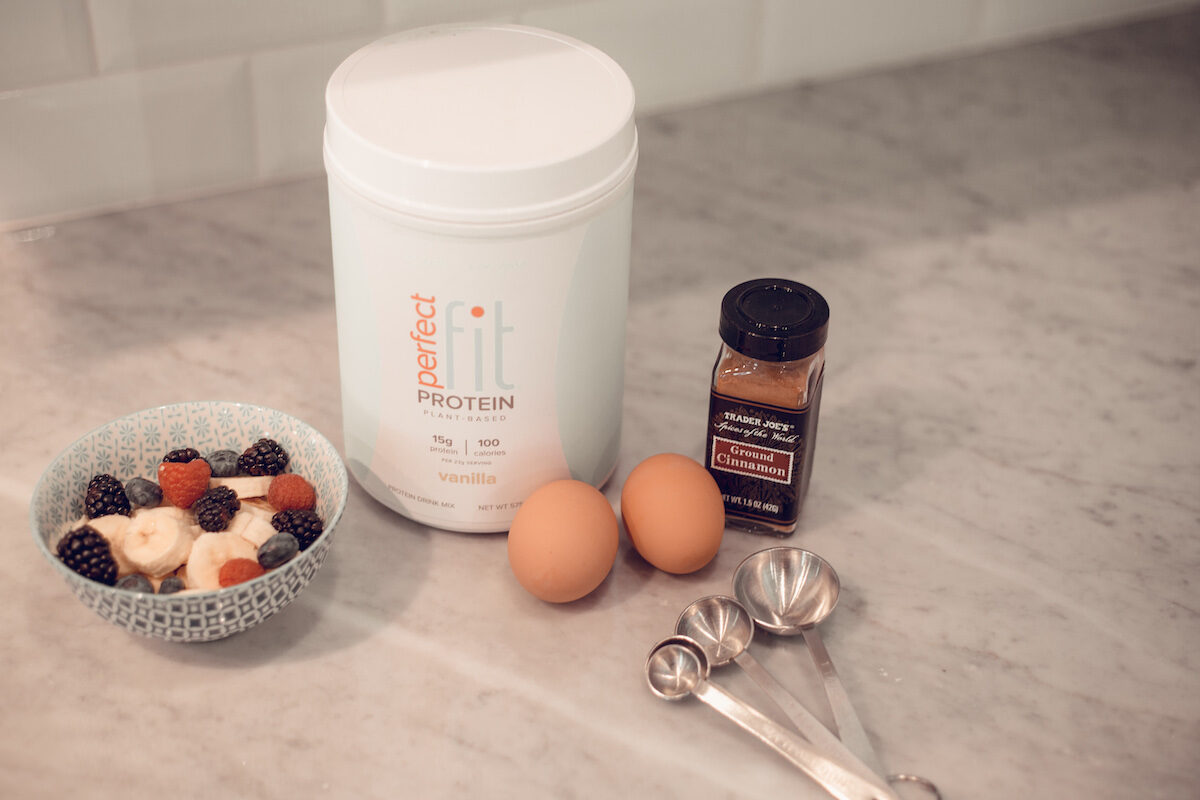 The Rundown
Product: Tone It Up Protein Powder (Used to be called Perfect Fit Protein)
Price: $47.99
Where to buy: Tone It Up website
Perks: Vegan | Non-GMO | Organic | Kosher | Dairy-Free | Gluten-Free | Recyclable
Claudia's Thoughts on Tone It Up Protein Powder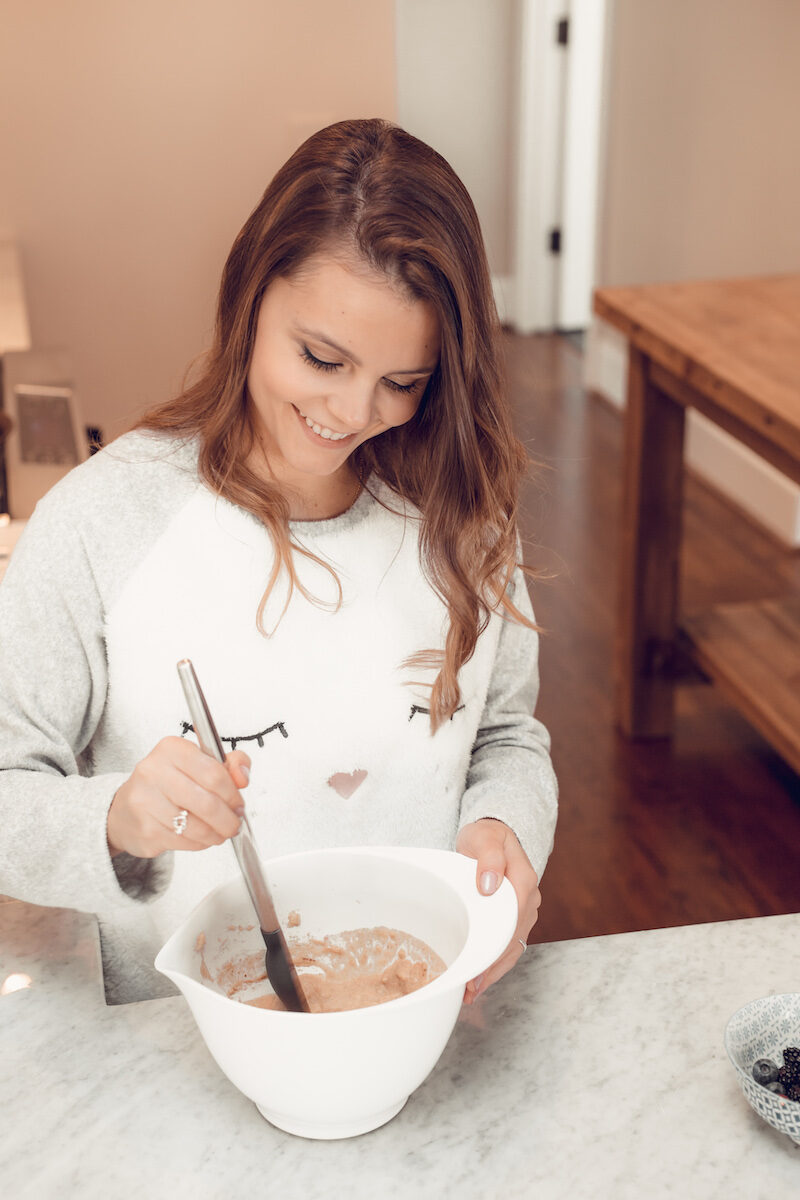 I first purchased the Vanilla Tone It Up Protein when I joined the Tone It Up Nutrition Plan. Many of the breakfast recipes and dessert treats on the plan used this protein as the base, so of course I had to have it! It doesn't take much to convince me to buy the latest and greatest TIU stuff.
As a protein powder newbie, I didn't really know what to expect. I had sampled a few other brands but never loved them enough to make the purchase. They all had a weird plastic-y taste or smelled strangely potent. Also, I'm lactose intolerant and did not like that most proteins contained whey.
So when I found Tone It Up Protein, I knew I had to try it.
How I use Tone It Up Protein
For the past year, I've regularly incorporate the protein powder in my post-workout smoothies and have experimented with it as a flour-replacement in my breakfast muffins and pancakes. I also add a scoop to my overnight oats for an extra dose of protein in the morning. With 15 grams of protein and only 100 calories per scoop, you can bet this has become a staple in our household.
Sam's Thoughts on Tone It Up Protein Powder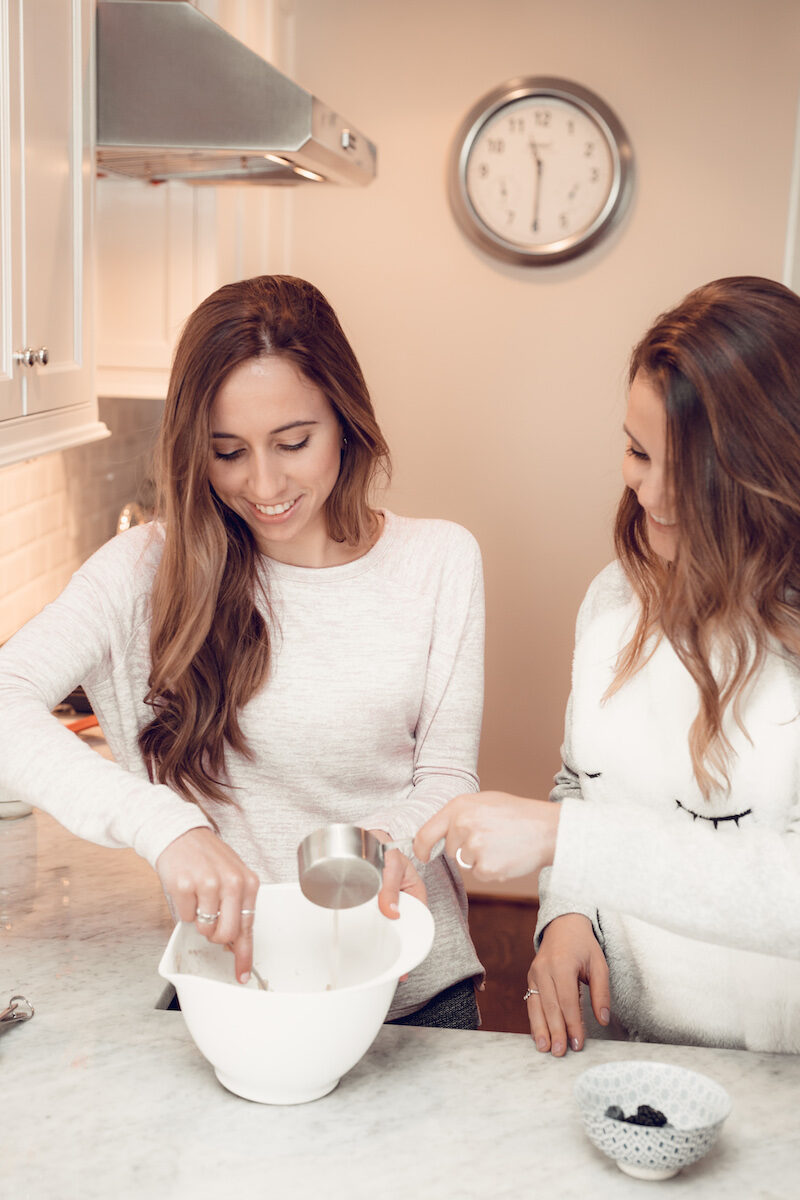 I assumed all protein powders were chalky and I was going to have to mask the taste with lots of frozen fruit. That was, until, Claudia convinced me to get Tone It Up Protein. This is unlike any other protein powder. It's delicious!
I used to only use protein powder to make smoothies, but with Tone It Up Protein I can now make pancakes, waffles, overnight oats, muffins, etc. with an extra dose of protein and I love it. The ingredients that lead to its yumminess are organic pea protein, organic pumpkin seed protein, organic guar gum, sea salt, organic vanilla, and monk fruit extract (and organic cacao if you get the chocolate flavor).
Claudia and I have joked that we'd hesitate to review a different protein powder because we just love this one so much! It's seriously worth every penny.
The Results
We knew we were in love with Tone It Up Protein when we realized how amazing it tasted in our baked goodies (and it's 100% boyfriend approved). Sam and I are total snackers and won't ever pass up a healthy, chocolate-y sweet. So we knew we had a winner when we found ourselves baking up batch after batch of totally satisfying, healthy afternoon snacks using our beloved Tone It Up Protein.
Check out our favorite recipes below!
Tone It Up Protein keeps our hunger at bay and gives us the nutrients we need to make it through our busy days. Seven tubs later and I'm still obsessed. Sam's already three tubs in so she's obviously obsessed.
For all of these reasons, Tone It Up Protein receives a 9/10!

And be sure to follow @PerfectFit on Instagram for daily recipe inspiration (mouth-watering will occur).