No toxins? Long-lasting color? Formulated with DIY in mind? Olive & June know's the way to my heart.
It's no secret that when it comes to nail polish, Claudia and I are all about finding less-toxic, long-lasting alternatives to the pricey trips to the nail salon. We're the types of gals that get our nails done professionally like 1-2x per year, but never want our nails to look bad.
If you're like us, you've experimented with clean nail polishes in the past and always ended up back with good ol' O.P.I. or Essie. At the end of the day, most of the clean polishes just don't hold up.
That is until I met Olive & June.
---
The Polish
Let's get right into it, friends! This polish is pretty much perfection. It goes on smoothly, layers well, and lasts FOREVER. On average, my DIY Olive & June manicures last 7 DAYS without a SINGLE CHIP. That's better than my toxic-filled alternatives!!
For the perfect Olive & June mani:
Apply your first coat of color. (There's no need for a base coat with Olive & June, it's all built into the color formulas! #efficient)
Wait two minutes.
Apply a second coat of color.
Wait two minutes.
Apply the top coat.
Wait two minutes.
Apply another layer of top coat.
Ready for more great news? It dries SO fast. Unbelievably fast, actually. Within 8-10 minutes, my nails are ready to go! Of course, I'm always gentle with them for the first couple of hours, but really they're pretty durable.
---
The Ingredients
Olive & June is a 7-free nail polish brand!
This means all of their products are free of: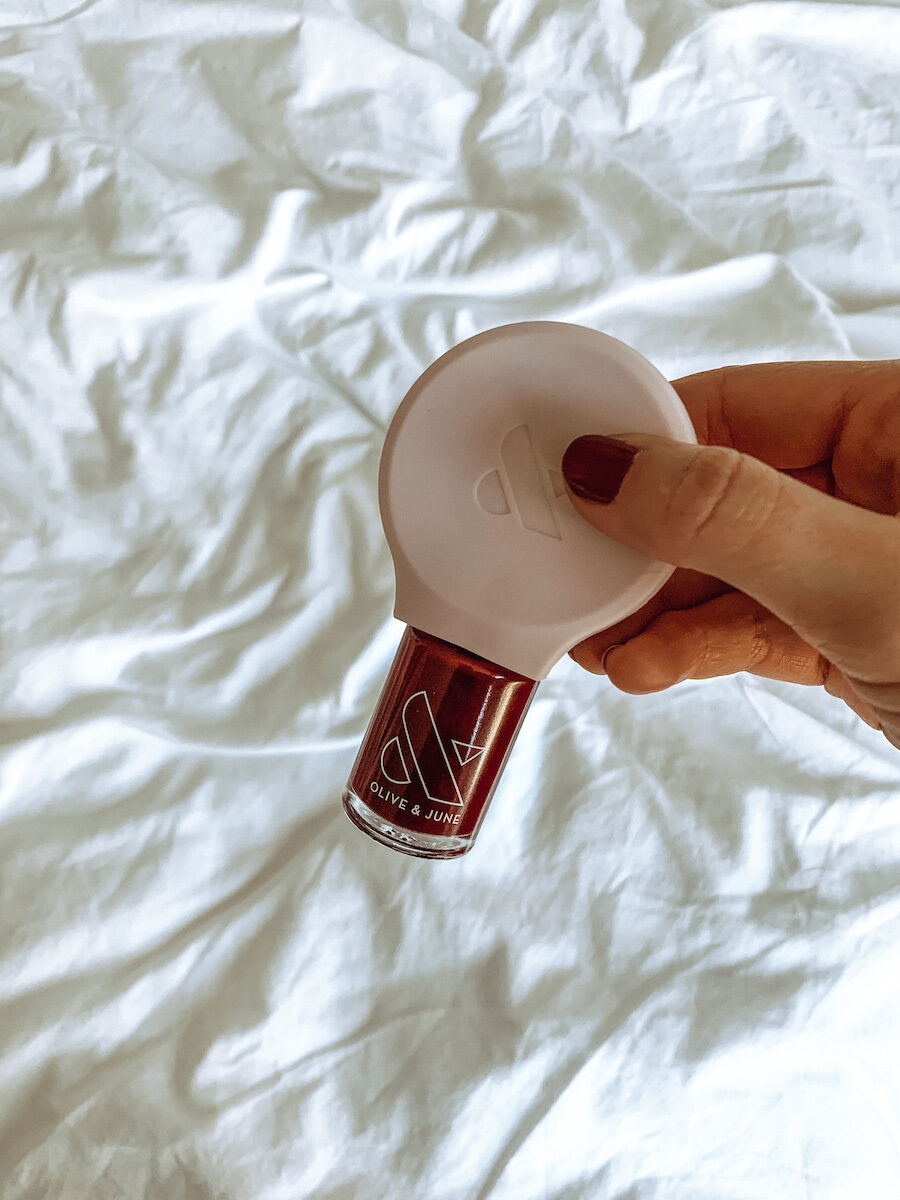 Dibutyl phthalate (DBP)
Toluene
Formaldehyde
Formaldehyde resin
Camphor
Ethyl tosylamide
Xylene.
That means it's safe for you to use all the time! Not only that, but with consistent use, I'm sure you'll notice improvements in your nail health. Those normal nasty chemicals can really take a toll on your nails.
---
The Accessories
Not only does Olive & June make some incredible polishes, but they have accessories that help you make your at-home manicure that much better. I love how they've thought above and beyond to make it as easy as possible to get that flawless look at home!
The Poppy
This thing is a GAME-CHANGER. I mean seriously, why has no one ever thought of this before?! The Poppy pops onto the polish in place of the normal cap (see video) and makes it a million times easier to hold that polish without messing up all your fingers!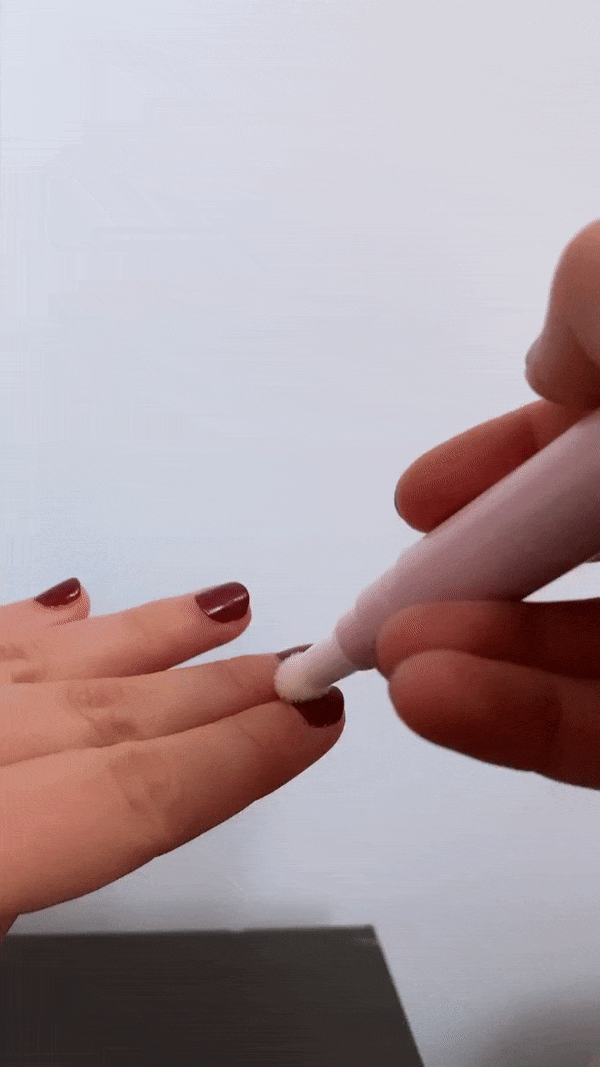 The Cuticle Serum
Confession: I've never been great at keeping my cuticles in tip-top shape. Mostly because the cuticle serums and oils of my past always left my hands too oily to function.
And yet again, Olive & June has nailed it. This cuticle serum is packed with nourishing ingredients and oils such as avocado oil, apricot oil, glycerin, jojoba oil and SO much more. But it goes on so smoothly and there's no residue left behind. Best of all, this serum changed my cuticles within hours. With regular use, my cuticles are in the best shape EVER.
The Dry Drops
Need your mani or pedi to dry in a flash? You'll need these Dry Drops in your life. After completing your polish, you just put a drop or two of this on each nail and within seconds, it's dry. The solution itself is a little oily so I don't love that I don't really want to touch anything after using it until I wash it off. Regardless, it gets the job done and it does it well!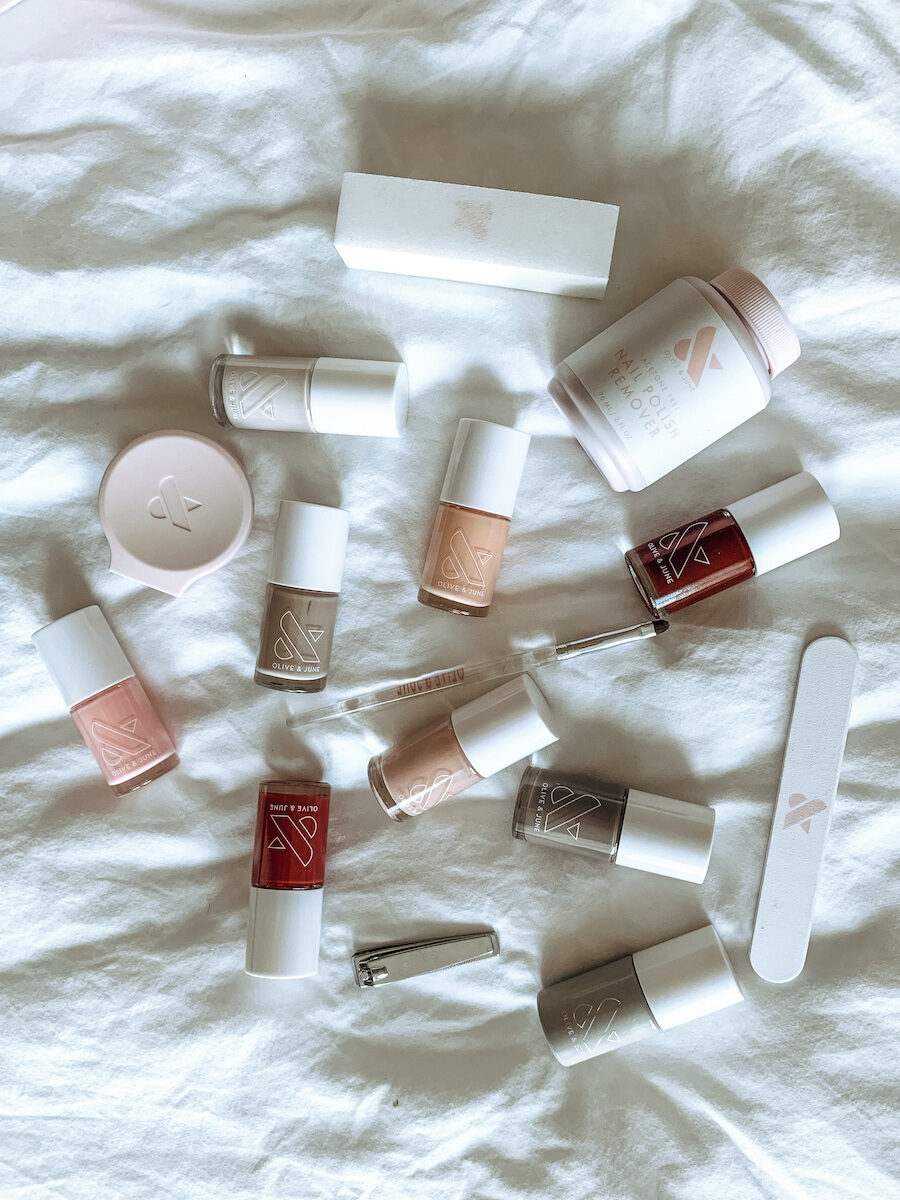 Clippers, Remover, Touch-Up Brush, and More!
I started my Olive & June collection with The Everything Box…and it was such a good deal! Along with six polishes (plus the top coat), I received all the necessities for an at-home mani. Included is:
Straight-edged nail clippers which makes for easy nail shape adjustments.
Great quality file and buffer.
Acetone-free nail polish remover.
Touch-up brush that makes for easy clean up around your nails!
The Everything Box is well worth the $80…IMO.
---
The Pedi System
After loving Olive and June for months on end, Claudia and I finally got our hands on their Pedi System at the end of 2020. Let us tell you, it does not disappoint! But first, here's what comes in the kit: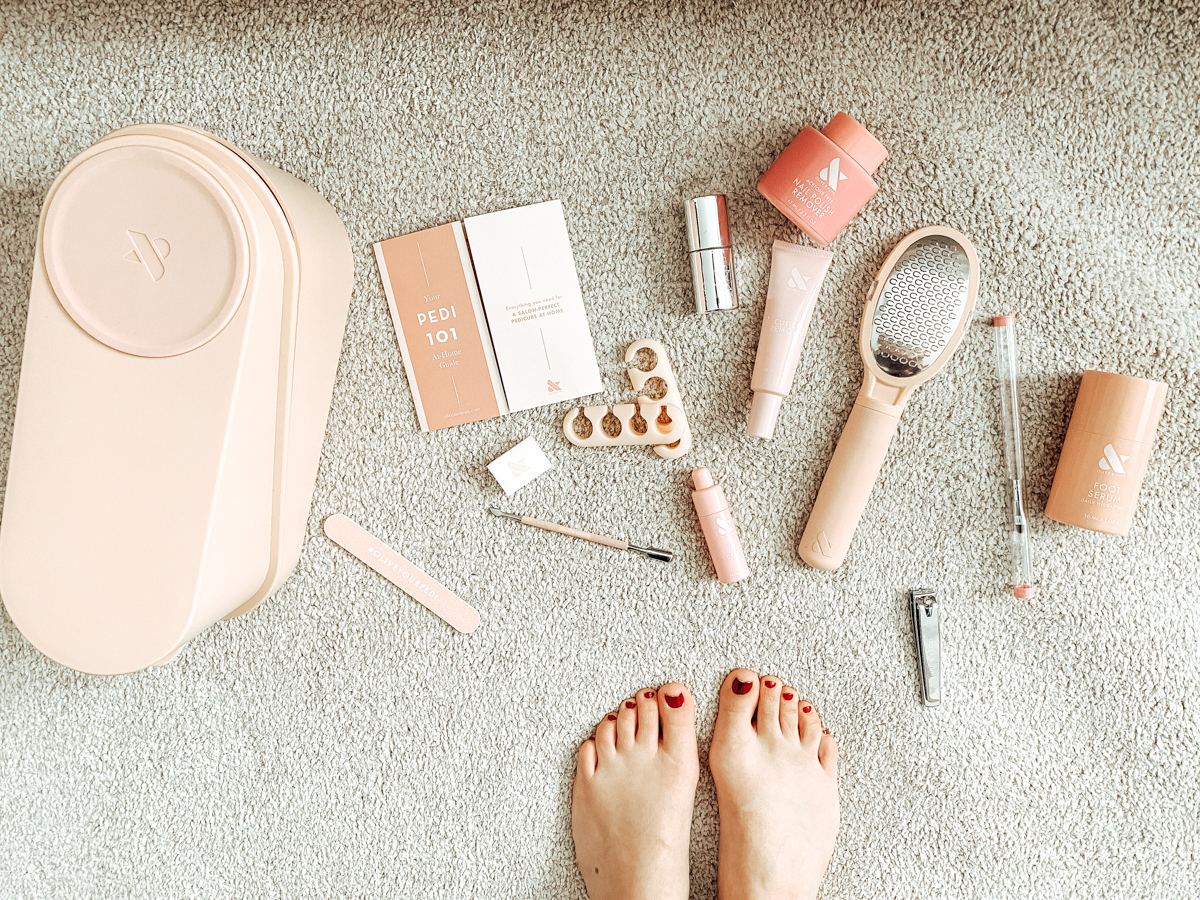 Foot file
Nail polish remover pot (with a sponge cap for toes!)
Large, flat-edge nail clippers
Nail file
Cuticle remover
Cuticle pusher
Mini buffer
Foot serum
Silicone toe separators
Clean up brush
Nail polish (color of your choice)
Super glossy top coat
That's a lot of goodies, right?! And not to mention, the container itself is a little pedestal to prop your foot up on to help with your painting. Although, of all the things in the system, the actual pedestal is the thing Claudia and I could do without. Maybe after years of at-home pedicures, we're just used to getting in uncomfy positions to achieve that perfect pedi!
Anway, besides the pedestal, we LOVE everything else in this kit. All of the tools are well-made, feel super high-end, and really get the job done! The foot file is a pro at getting off that dead skin and calluses, while the foot serum is the perfect way to seal the deal. Our two other favorites of this system are the cuticle remover and the cuticle pusher…such a game changer to achieving that professional look at home!
---
Never Going Back
Honestly, I've found my forever love for nail polishes. I may even start taking these polishes to the nail salon when I eventually go again. Why even bother with polishes that are toxic and don't last, when I can use healthier alternatives that last a heck of a lot longer?!
Olive & June, you have a place on my nails forever.