Anyone close to me knows that I have an undeniable obsession with everything Tone It Up. Karena and Katrina are my girls! (After Sam, of course.)
About 6 years ago, I decided to let go of my dream of becoming a professional ballerina. I went from living an overly active lifestyle (dancing over 25 hours a week) to sitting on my butt not knowing what to do with all this newfound freedom. Much like other ex-dancers, I had a very hard time finding a new activity that gave me as much pleasure as dance but wasn't as life-consuming. And going to the gym was not appealing to me one bit.
That is, until I found Tone It Up. Sometimes you just need a little extra push to get your booty back in shape! And Karena and Katrina are now my new favorite trainers.
How to Get Started on Tone It Up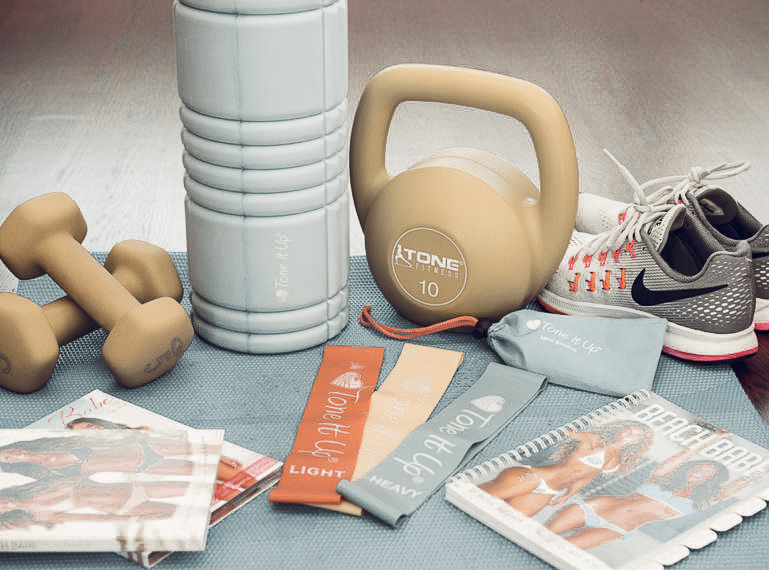 Jumping on the TIU bandwagon can be a little intimidating at first. Where do you begin? They have free workouts, premium workouts, nutrition plans, beauty products, supplements, workout gear…they literally do it all!
The first thing I focused on, and what I recommend to anyone interested in trying Tone It Up, was the Daily Workouts.
Every night before bed, I check the "Daily Workout" page to see what my workout will consist of the next morning. Their workouts include 30-45 minutes of cardio (every other day), a set of 5 daily toning moves and one of their follow-along workout videos.
They give you plenty of options so you can customize your workout to be as short or as long as you'd like. It really takes the guess work out of it!
Not to mention, they have a TON of free workouts that are 20 minutes or less on their YouTube channel. They range from HIIT to toning to yoga. Check out my favorites below!
Hitty Bitty
Kettle Toning
Total Body Tone Up
Why I'm Obsessed with Tone It Up
I knew I was obsessed with Tone It Up when I realized I was actually excited every single night to see what my workout was going to be that next morning.
Opening the Daily Workout page was strangely invigorating…like opening a gift Christmas morning! Mind you, I was NOT a morning person before TIU. But I'm now a full-on Bootycall lover (that's what they call morning workouts…cute right?)
Days I do miss my Bootycall, I am just not the same person. My energy level is low and I find it really hard to concentrate on anything. Funny how your body adjusts!
My second aha-moment was when I realized that I was part of something greater.
Karena and Katrina have managed to turn a virtual health and fitness empire into a living, breathing connected community of women. I've actually made great friends through local TIU meetups! We get together to try new workout classes and even enjoy healthy post-workout brunches or coffee dates. Tone It Up became a way for me to make friends who value a healthy, active lifestyle like me.