I think we can all agree that no matter how many eye creams or face serums or hair oils you use, true health and beauty starts from within. Everything from what you eat, to how much water you drink, to your quality of sleep, to the amount of sunlight you get…you name it…affects how glowy your skin is, how strong your hair feels, how stable (or unstable) your moods are and most importantly, how balanced your gut is.
Fun Fact: Did you know that about 80% of your mental state, well-being, and happiness is controlled by your gut?
That's right friends! Taking care of our insides is the key to a happy and healthy outside. And that's exactly what HUM Nutrition is all about! We heard about this magical company from some of our favorite podcasters and knew right away we had to give it a go.
HUM Nutrition…Probiotics, Vitamins, Herbs and MORE!
Warning: You will most definitely be tempted to buy all HUM Nutrition products as soon as you get on their website. I went on there looking for a probiotic and ended up with a probiotic and like five other products in my cart! Lol (and eventually in my pantry…hehe)
The colors, the product names, the ingredients…#LOVE! Everything about HUM is just great and oh-so tempting! They offer everything from probiotics to hair and skin supplements to stress relieving herbs to weight-loss products. It's like a one-stop-shop for all things beauty and health!
With so many options to choose from, it can be a little overwhelming to know exactly what you should spend your precious mulah on. But lucky for all of us, HUM offers a quick 3-minute quiz that helps their registered dietitians provide personalized recommendations for each and everyone of their customers. It's amazing!
So with all these fun supplements to choose from, Sam and I decided to each try a few different ones so we could give you a pretty good idea of which products are worth buying.
---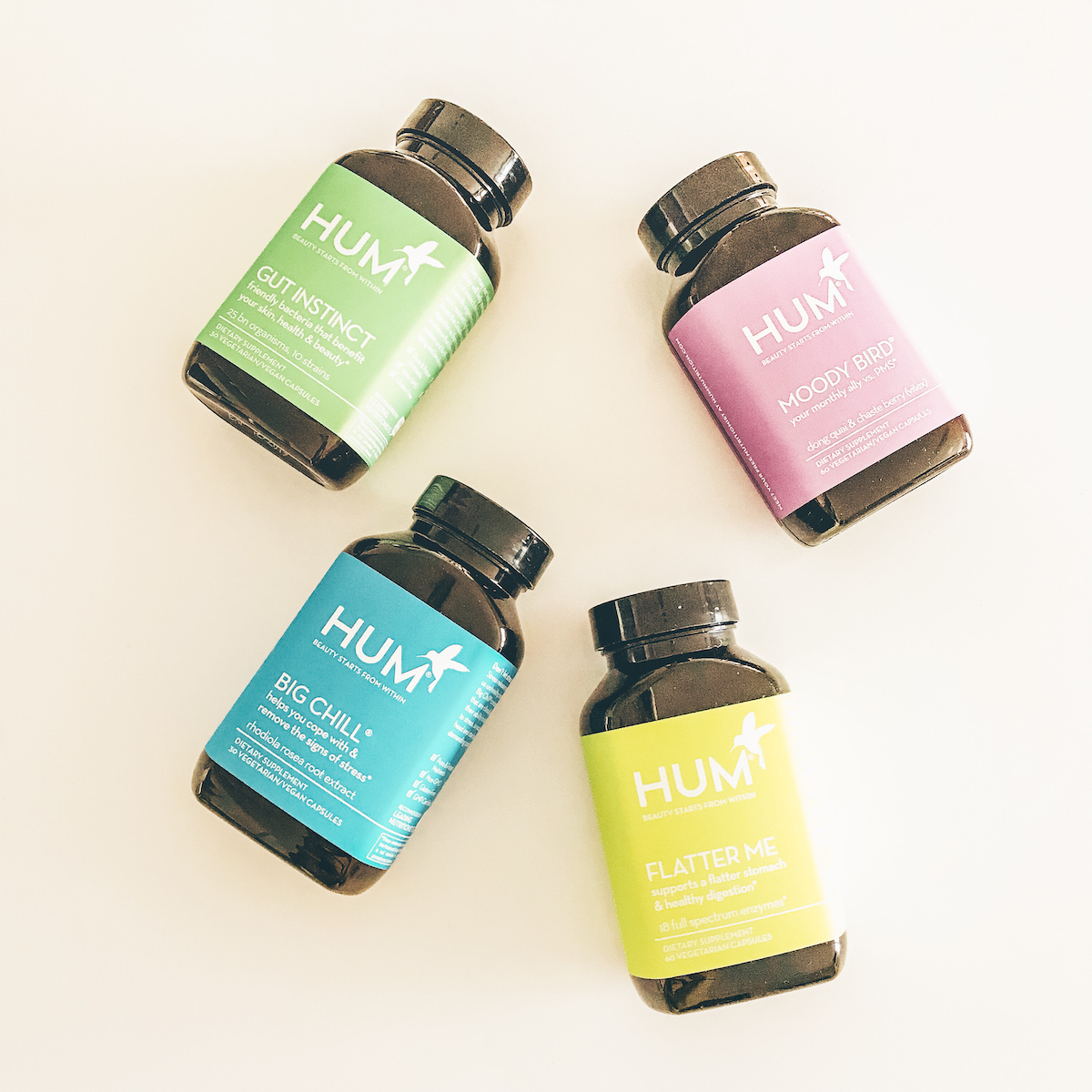 The Rundown
Product: HUM Nutrition's Gut Instinct, Flatter Me, Big Chill, Moody Bird, Daily Cleanse and Red Carpet
Price: Depends on what you buy! But most products range between $15 and $35
Where to buy: HUM Website – use the code "123366" to get $10 off your order!
Perks: Subscription-Based | Gluten Free | Non-GMO | Sustainably Sourced | Easy Returns | Free Shipping Over $50
---
Happy Gut, Happy Life
Like I said earlier, if your gut is in bad shape, you better believe your digestion, skin, mood and stress levels will be all out of whack too! And let me tell you, for the past six or seven years, my gut has been out of whack. (I'll get more into why I think that is below!)
So I was in desperate need of a good probiotic. I had been taking Pearls probiotics for YEARS! But I felt like they weren't really doing too much to help with my digestive issues (and if you do your probiotic research, you'll find that Pearls don't stand high on the must-buy list.) After hearing about HUM for quite some time, I figured why not give their Gut Instinct probiotic a go?
HUM Nutrition's Gut Instinct:
Has 25 billion probiotic organisms…wowzaaa!
Is made up of a 10-strain combination of Lactobacillus and Bifidobacterium that helps to promote a healthy, happy gut.
Doesn't have to be refrigerated (major plus for people like me who travel a lot!)
And only costs $25! Most probiotics of this quality cost at least $30 or more.
My Experiment with Gut Instinct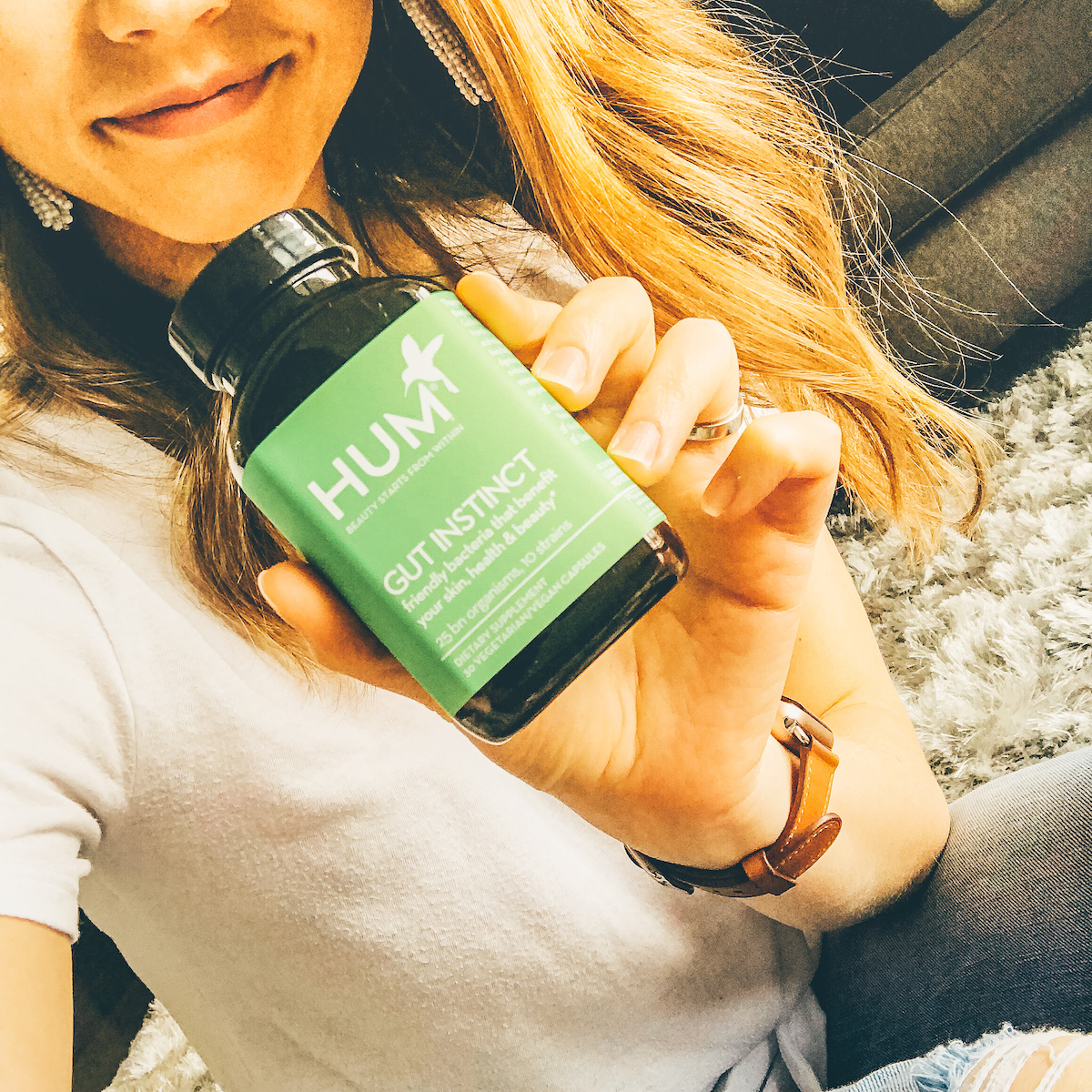 I've been taking Gut Instinct for 3 months now and I absolutely LOVE it! I take one pill every morning on an empty stomach, and I honestly think it has regulated out my system sooo much. (a.k.a emergency trips to the bathroom have diminished…greatly lol.) And I feel like foods just sit better with me! FINALLY!! My skin is looking pretty glowy lately too…it's a win, win, win!
One thing to note: About a month or so after I started taking Gut Instinct, I stopped taking my birth control pills, which I think were one of the main culprits behind my annoying digestive issues the past six or seven years. UGH! I'll save my post-birth control journey for another blog post, but I feel 100000x better!!*
*Keep in mind, this is just my own personal experience so please consult with a doctor if you're thinking about taking any of these supplements or stopping your birth control! K, thaaanks!
If you're looking for a probiotic, I highly recommend you give HUM's Gut Instinct a try! It's completely changed my digestion and that's something I never thought I'd be able to say.
Flatter Me Please!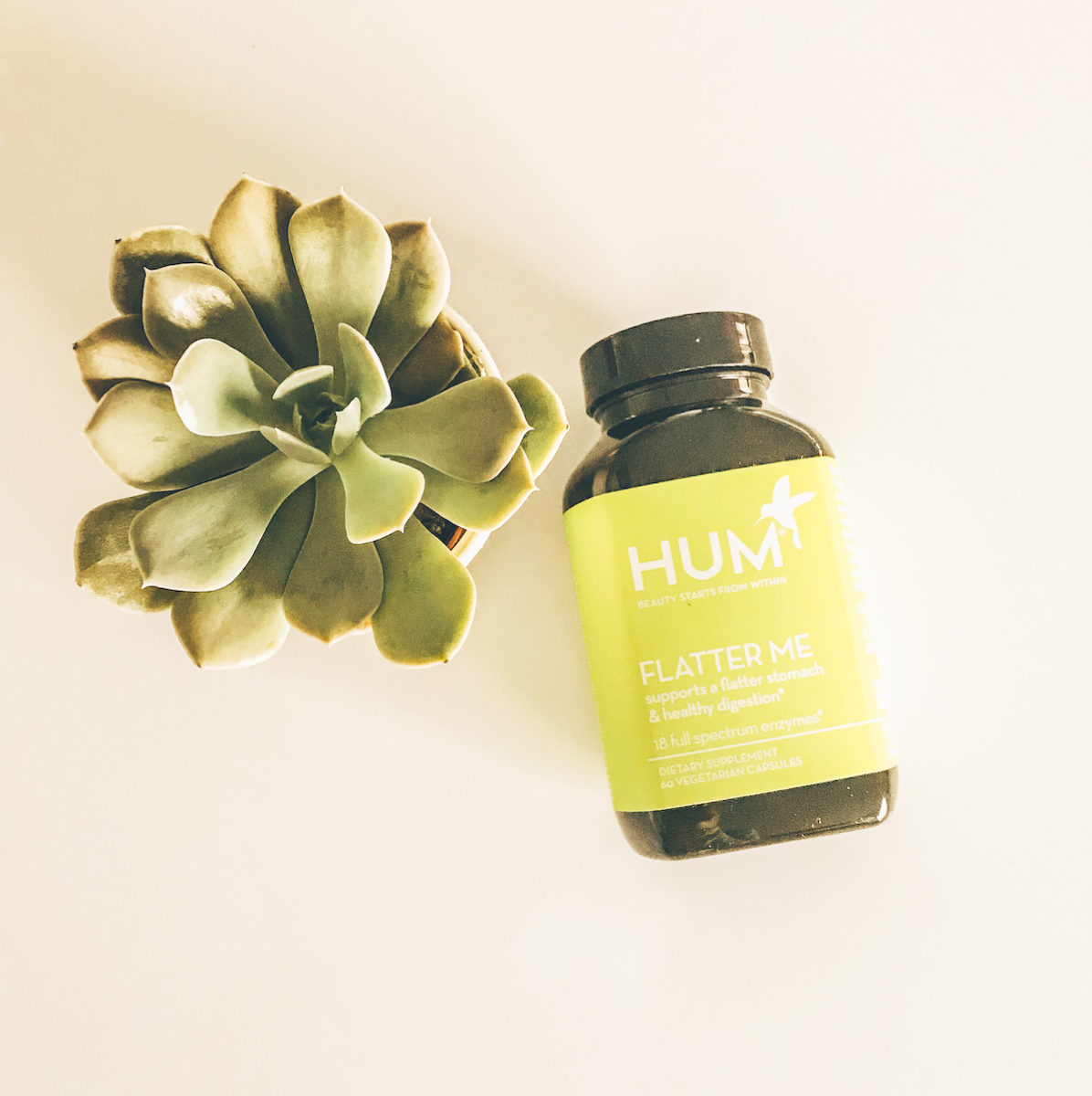 Alright, so even when your gut is totally humming and feeling mighty fine, your digestive system might need a little extra help when it comes to breaking down certain foods. And when I placed my first HUM order, I was experiencing terrible bloat. Like the kind where you wake up feeling like your belly weighs 100 pounds.
I was eating all the right foods and drinking lots of water but for whatever reason, my stomach was not having it. So I decided to give HUM's Flatter Me a try! This is their version of a digestive enzyme which is designed to optimize protein, carb, fiber and fats breakdown while also helping with nutrient absorption and providing relief from indigestion and bloating. I mean, does it really get it any better?? Not to mention, it's made with all sorts of amazing ingredients!
I started taking Flatter Me twice a day with lunch and dinner, since those are typically my larger meals. I also brought it with me on a several trips because restaurant food is typically KILLER on my stomach! And guess what?? It worked freaking wonders. Seriously, I felt like I could eat out without having to worry about running to a bathroom 5 minutes later. And the bloating definitely went down…not 100% but it got MUCH better.
Definitely stocking up on this guy!!
Take a Chill Pill Man
Not but really though! I think after Gut Instinct, Big Chill is my next favorite HUM product. This little magic pill is made of just ONE ingredient!
Friends, let me introduce you to the beautiful herb, Rhodiola. This powerhouse adaptogen, found in the highest altitudes and coldest areas of Europe and Asia, is known to increase your body's capacity to adapt to stressful situations.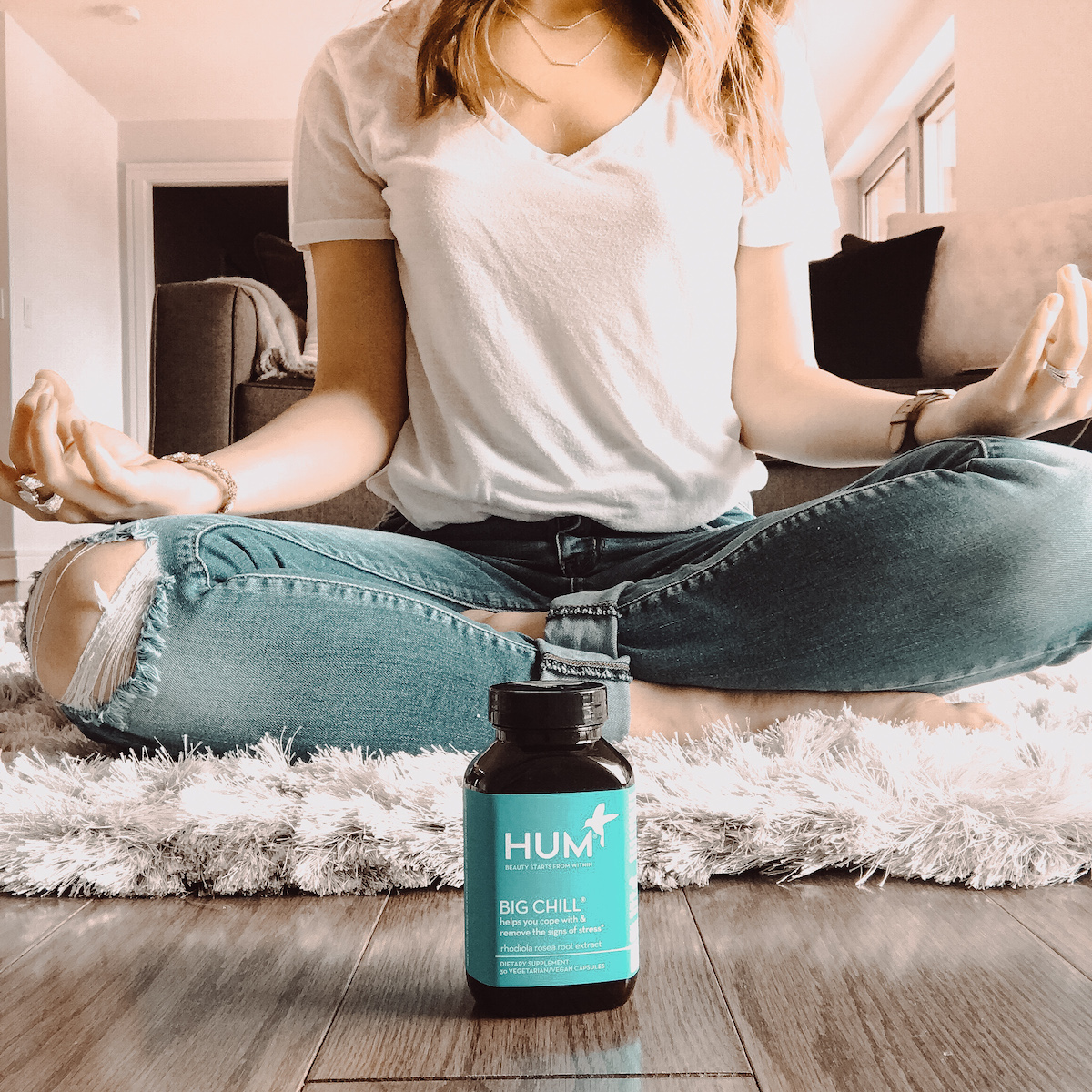 I started taking one Big Chill pill every morning after breakfast and I've found that it helps me keep a clear, level head throughout the entire day…no matter what life throws at me! With the wedding, the move to our new apartment, work AND the blog, I needed a little boost of energy and a way to keep my thoughts in order. And I can say with complete confidence that Big Chill has done all of this and more! I feel stable, focused and energized all. damn. day.
Oh and as if that wasn't enough, this supplement is only $15! THIS ONE'S A MUST PEOPLE!
Moody Little Bird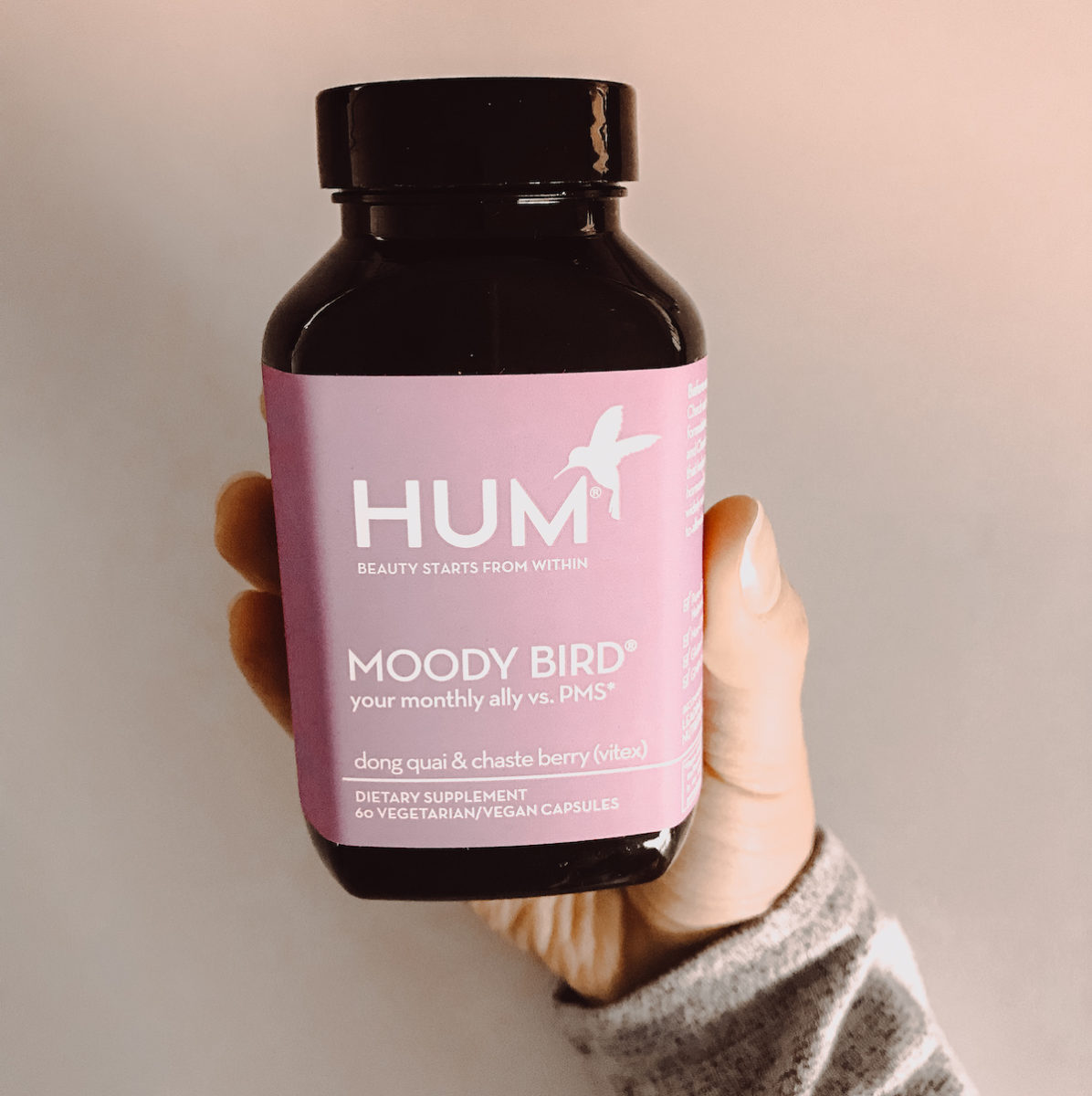 You're probably thinking, "Okay, Claudia. You're telling me all of these are a MUST! How is that possible??" Sorry guys, I'm just overly excited about all the results I've seen so far and I seriously think you guys might benefit from adding a little HUM into your lives.
Okay, but in all honesty, my birth control pills made me all sorts of moody for about two of the four weeks in a month. Like really? What a pain in the BUTT. So naturally, as soon as I saw that Moody Bird was going to be my "monthly ally versus PSM", I was like heck yeaa!! Add to cart please.
Funny thing is that since I stopped taking my birth control, my moods completely calmed down lol (Always go to the root of the problem peeps!) And my period was MIA for a few months so I didn't need to take Moody Bird at all. But, my period finally came back this week!
No mood swings this time around so I'll have to keep you guys posted on this one…
Red Carpet Ready
Sam jumped on the HUM bandwagon as soon as she heard I was giving their supplements a try…because #twinsies. And it worked out perfectly because she purchased different products than me so we have MORE to talk about!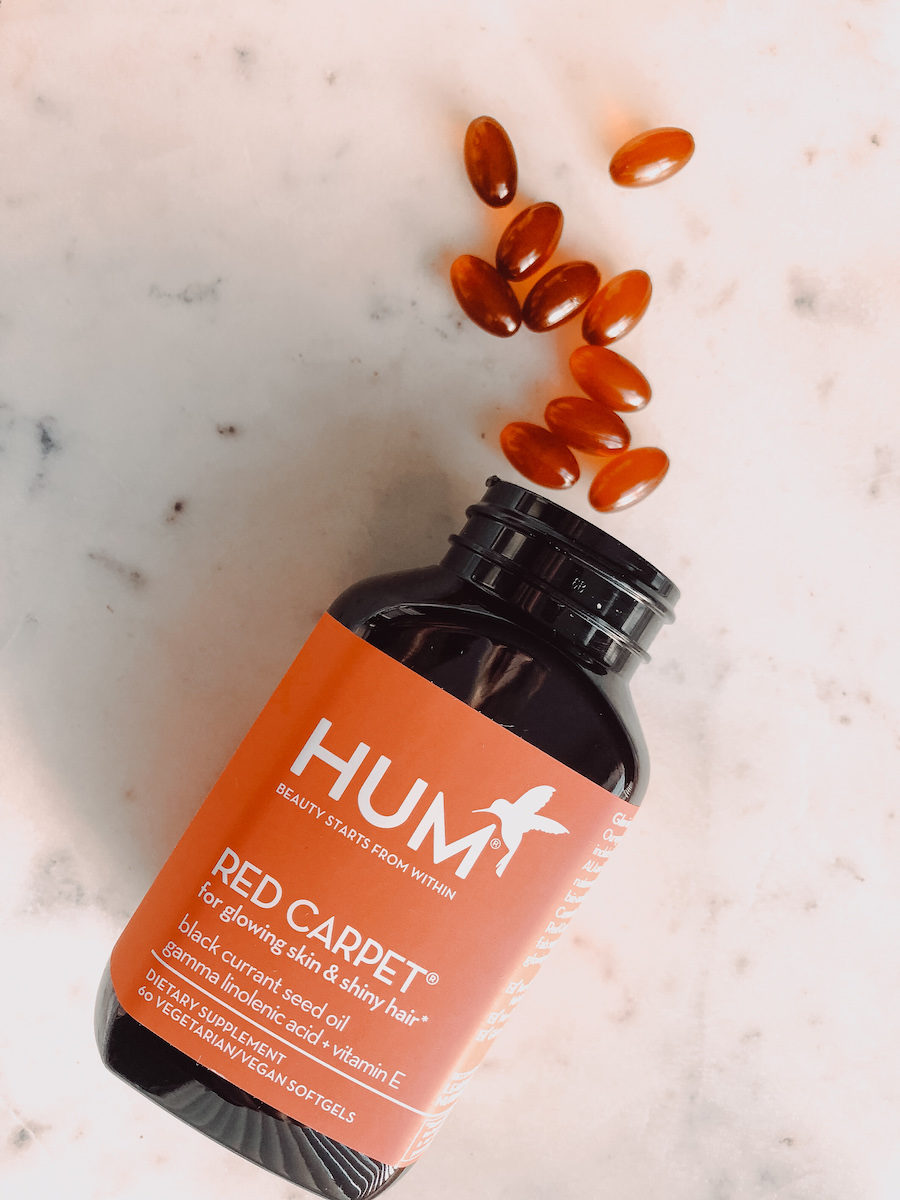 She decided to give Red Carpet and Daily Cleanse a go, which are two of the most popular HUM products. And it turns out, she fell in love with one but not the other! Can you guess which one's the winner??
If you guessed Red Carpet, then you're correct!! Sam takes this little beauty pill every day and has rarely missed a day since she got them…#dedication. They say Red Carpet leaves you with glowy skin and shiny, fuller hair in just 6 weeks. And, let me tell ya, after those 6 weeks, she could definitely see a difference in the health of her hair and skin. Her hair was actually growing so much faster that even her hairdresser was amazed…that's when you know my friends!
Even though Red Carpet won over Sam's heart (and hair and skin!), the Daily Cleanse wasn't exactly her fav.
But it was hard for her to see the full results because she had to stop taking it when she got a weird skin virus (not caused by HUM!). She never picked it back up though because it did seem to cause more breakouts in general on her body. Can't risk that with wedding events coming up this year!
Let's Summarize…
Healthier guts, less bloating, chill minds, glowy skin and longer hair…I don't think it gets any better than that people! Not to mention, HUM offers a subscription service and they send you your favorite supplements on a monthly basis so you don't even have to think about ordering your next bottle. It's so easy!
Even though Moody Bird and Daily Cleanse didn't quite pass the test, we can for sure give Gut Instinct, Flatter Me, Big Chill and Red Carpet a 10/10 in our books. This brings us to a final brand rating of 8/10!
Sooo what are you waiting for?? Go take your HUM quiz to find out what you'll be adding to your supplement regime! And don't forget to use our code "123366" for $10 off.