Honestly, I still have no clue why the company is called Drunk Elephant…I seriously just spent the last 15 minutes digging around their website and have no clue, but I do know I'm convinced I need to try literally all of their products.
Drunk Elephant takes their skincare seriously. That's something you would think all companies would do, but apparently not! Drunk Elephant is committed to using only clean ingredients that either directly benefit the skin's health or support the integrity and effectiveness of their formulations. Now that's some hype I can get behind!
Putting the Hype to the Test
I don't know about you guys, but I had heard of Drunk Elephant from just about every beauty blogger out there! When I first started researching the brand, I realized it was so far from wallet-friendly and I had to force myself to stay away…for my bank account's sake. But the more I read reviews and learned about the company's philosophy, I thought it might be worth the price in the end.
Then, I discovered the Drunk Elephant Rise + Glow Duo which gave me the ability to try two of their products in mini form without breaking the bank! I couldn't have been more excited! This dynamic duo couldn't get to my doorstep fast enough.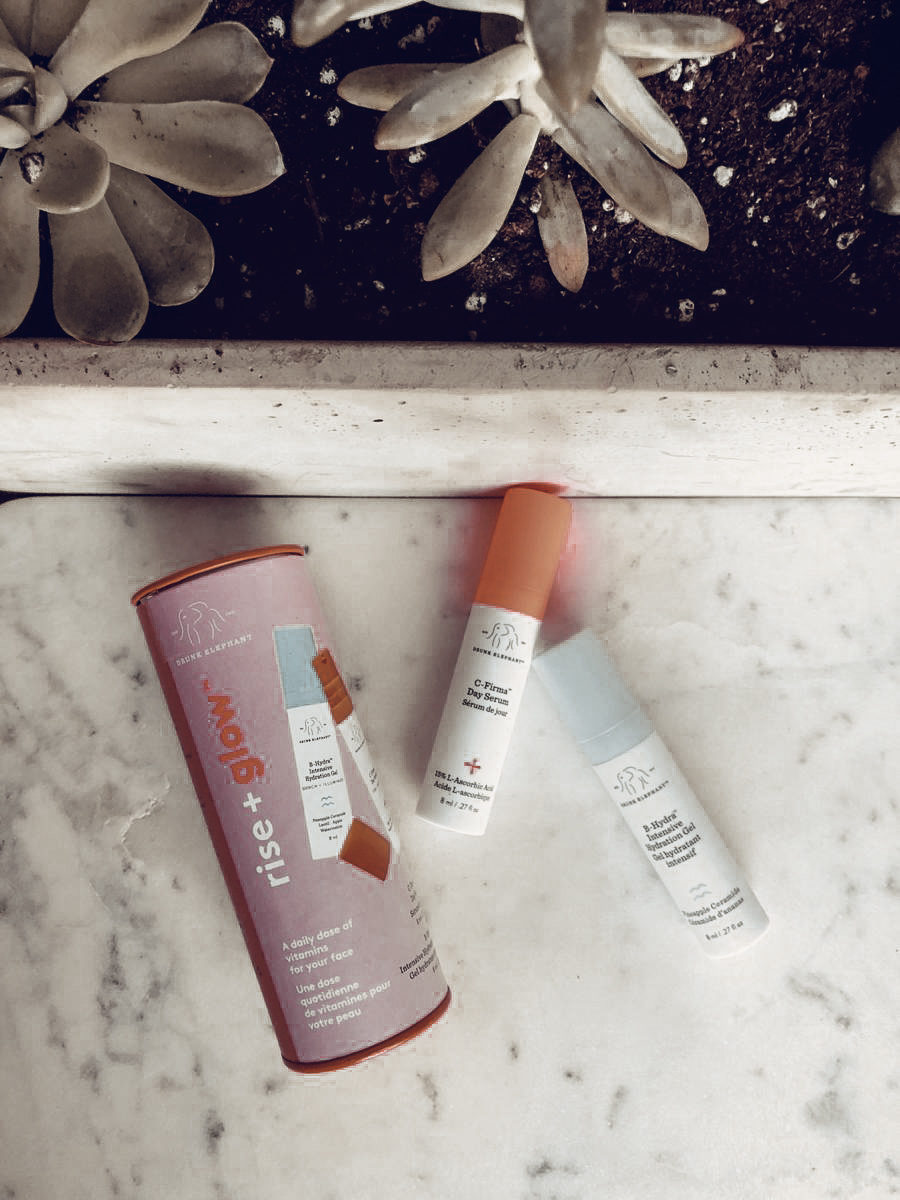 First Impressions with the Drunk Elephant Rise + Glow Duo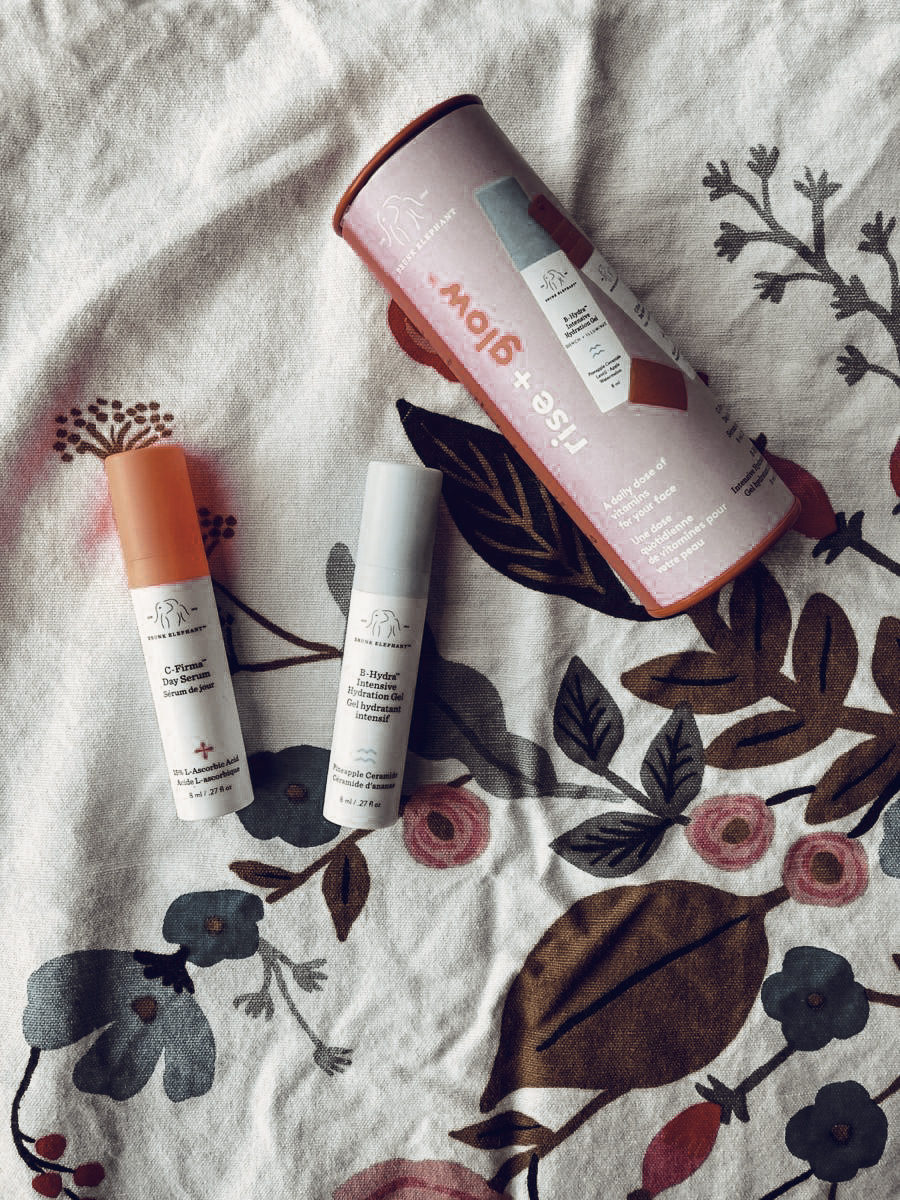 After eagerly waiting for my package to arrive (Sephora's two day shipping wasn't fast enough!), I opened it up to be semi-disappointed. The little bottles seemed oh-so-small and the only thing I could think was that they were bound to last me only a week. (Spoiler alert: they lasted WAY more than a week!)
I had learned while perusing the Drunk Elephant website that since these products are free from waxes, silicones, thick oils and butters, there's no need to layer them. You can just mix them up in your hand and apply them all at once. Talk about convenience! So I put one little pump of both the C-Firma™ Day Serum and B-Hydra™ Intensive Hydration Gel on my hand and applied it all over my face.
Hotdogs or Legs?
(Not sure where the "legs" play into this paragraph, but there aren't many phrases with hotdogs so just roll with it, okay?!) I have to be honest here…the C-Firma™ Day Serum smells a little like hotdogs… Now, I know you're all thinking that's gross and there's no way you want that scent all over your face, but honestly with the results I started to see from these products, I didn't even notice the scent anymore!
Spa-Like Results
After two days of using this stuff I went to work, like any other day, and a coworker that sits right next to me pulled me aside and said,
"Alright, did you get a facial? Your skin is glowing and I need to know how!!"
(Cue the biggest smile ever on my face!)
You guys, I can't make this up. No B.S. here. I've honestly never had anyone ask me that in my life and I felt on top of the world! I know it was the Drunk Elephant Rise + Glow Duo she was noticing because I hadn't changed any products in my routine for weeks! That's AMAZING and worth every penny in my book. Thank you, Drunk Elephant!!
C-Firma™ Day Serum vs. B-Hydra™ Intensive Hydration Gel
I've started getting questions on which of the two in the set I like better. Honestly, I've used them hand-in-hand and never apart from each other so I can't give great insight on that. However, I do know that the C-Firma™ Day Serum significantly reduced the appearance of my acne scars and discoloration (hallelujah!). Meanwhile, the B-Hydra™ Intensive Hydration Gel gives my skin the perfect amount of hydration for steamy summer days! These two both sit perfectly under my Glossier Priming Moisturizer too!
The Results
Like they say…you never know what you have until it's gone! When I first ran out of this dynamic duo, I decided to try and live without it for a while…just to make sure I really loved it as much as I did. Sure enough, within a week or so my skin was just not nearly as nice as it was before. We're talking dullness, dry spots, irritation…the works!!
Since the Drunk Elephant Rise + Glow Duo is now considered an absolute MUST in my routine, it 100% deserves a full 10/10 from me!

Seriously, I wasn't kidding when I want to try every product in the Drunk Elephant line. Their stuff just freakin' works! Simple as that.
Have you tried Drunk Elephant yet? What do you have your eye on? The T.L.C. Sukari Babyfacial™ and the new D-Bronzi™ Anti-Pollution Sunshine Serum are calling my name, BIG TIME!!