Have you seen
Vitamin C

slapped across almost every skin care product label lately?!

Samesies! And it's for good reason. Vitamin C is a power-packed ingredient that can do some seriouos work on your skin. Just like with anything else, it's important to know WHY you're using something and how to shop for it. So let's break it down.
What is Vitamin C?
Vitamin C is a naturally-occurring antioxidant that is located in the layers of the skin and plays a vital role in keeping our skin happy and healthy. So if it's already naturally in our skin, why do we have to use products with it? Here's the unfortunate reality, as we age vitamin C starts to decline (ugh!).
So what exactly does vitamin C do? It…
Defends against free radicals & boosts your SPF

. While vitamin C can't protect skin like an SPF can, it can minimize the damage you can't see by donating electrons in order to neutralize free radicals that are produced during oxidative stress (a.k.a. sun damage).

Boosts collagen production

. Vitamin C is one of the most powerful anti-aging ingredients EVER! It's actually one of the factors that stimulates collagen production which leads to improved skin texture and quality!

Prevents hyperpigmentation and helps heal dark spots

. Vitamin C has an enzyme called "tyrosinase," which is responsible for converting tyrosine into melanin, which then prevents hyperpigmentation! Vitamin C also has an innate ability to help the skin heal itself while being anti-inflammatory so buh-bye dark spots and breakouts!
Types of Vitamin C
While shopping for just vitamin C may seem simple, there are actually several different types of vitamin C. Not only that, but each type has a different absorption rate and stabilization level…just to make things a little more exciting. An important thing to know is that vitamin C is a notoriously difficult ingredient to use because it's super prone to oxidation…and once it's oxidized it has ZERO effectiveness.
Let's break it down the two most common types:
Ascorbic Acid (this can also be labeled as L-ascorbic acid). This one is the most common and when it comes to skincare. Why? It absorbs the quickest and is the most potent. Ascorbic acid is also a pure form of vitamin C (a.k.a. not man-made).
Magnesium Ascorbyl Phosphate (MAP) is another water-soluble derivative of vitamin C that can be effective in lower concentrations. This one is a synthetic form of vitamin C so it is typically more stable than it's ascorbic acid friend. There has been some research that has shown that MAP has the ability to turn into ascorbic acid once it touches the skin, but honestly, it's still up for debate.
The gist of the ingredient talk? Our vote is to stick with the pure form of vitamin C, so look for ascorbic acid or L-ascorbic acid on your ingredient labels!
How to Shop for Vitamin C
Now that you know how to find it on an igredient label, you also should look for a few other things to ensure you're getting your precious pennies' worth:
Make sure the product contains 10-30% of vitamin C, otherwise it won't be effective. If you're not sure the percentage, just make sure it's one of the first ingredients on the label!
Look for airtight and opaque packaging! Vitamin C is hyper sensitive and if it's exposed to too much light or air, it will oxidize and become completely ineffective. You can tell if your precious serum has been oxidized if it changes to a dark color over time.
Find complementary ingredients on the label. Vitamin C works significantly better if it's paired with some of its antioxidant besties (don't we all?!). Look for other ingredients like vitamin E, ferulic acid, and glutathione.
Keep your eyes peeled for these few things friends! And remember, just because a product is pricey or it's on the shelves at a reputable store, doesn't mean that it's trustworthy. Do your research and make sure your spending money on products that are going to work!
Our Favorite Vitamin C Products
My ALL TIME FAVORITE vitamin C product is of course, from the trusty Drunk Elephant. To be honest, other than this product, I haven't found another one that I absolutely LOVE. You can read my full review of this product here.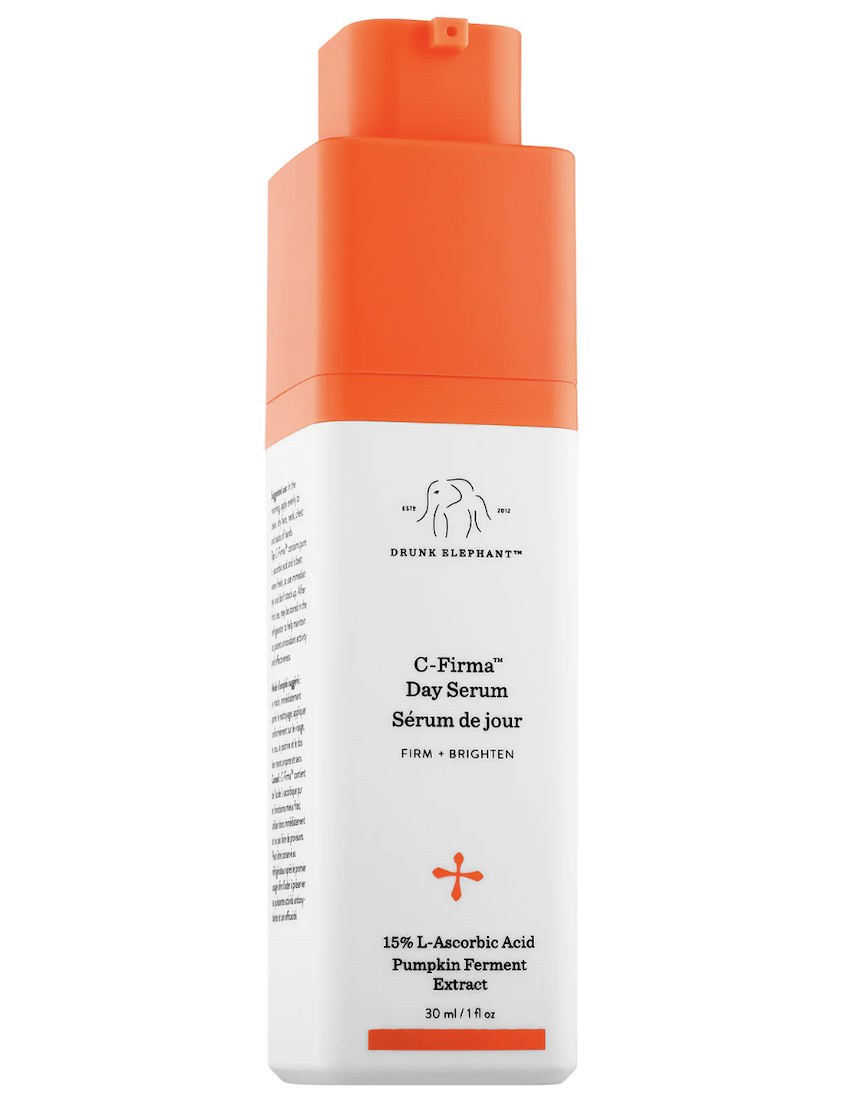 C-Firma Day Serum
Price: You can get the Rise + Glow Duo (includes the B-Hydra Serum) for $23 or you can get the full-size C-Firma Day Serum for $80.
Perks: Cruelty-free and formulated without Animal Fats/Oils/Musks, Benzalkonium Chloride, Benzophenone, Bisphenol A (BPA), Butoxyethanol, BHA, BHT, Chemical Sunscreens, Coal Tar Dyes, 1,4-Dioxane, -Cones, Detergent, Essential Oils, EDTA, Ethanolamines (MEA/DEA/TEA), Formaldehyde, Fragrance, Hydroquinone, Liquid Paraffin, Liquid Petrolatum, Methyl Cellosolve, Methylisothiazolinone, Methylchloroisothiazolinone, Mercury, Mercury Compounds, Mineral Oil, Oxybenzone, Parabens, Paraffin Oil, Phthalates, Resorcinol, Retinyl Palmitate, Siloxanes, Sulfates, Thimerosal, Toluene, Triclosan, Triclocarban.
Pro tip: Keep your C-Firma Day Serum or ANY vitamin C product in your fridge (check out my skincare fridge if you're into that)! It has less chance of getting oxidized and becoming useless if you keep it cool and protected from light and air.
I hope all this information about vitamin C is helpful! The world of skin care can be totally overwhelming and sometimes it helps to take it one ingredient at a time. From personal experience I know that vitamin C is an absolute MUST in your skin care routine! We all can benefit from it in a zillion ways! We just have to make sure we're looking for the right ingredients, right amounts, and keeping our products in tip-top shape!
If you have any questions or want to share your favorite product, comment below!