It's Sandal Season…
…are your feet ready? If you live in a winter-plagued climate, your poor feet have probably been in hibernation for about 9 months! And the thought of wearing sandals after boot-season might make you shudder. Calloused, dry feet anyone? Ugh, it's the worst! But Sam and I were on a mission to quickly rejuvenate our feet and get them ready for the glorious, summer months ahead.
Which is exactly why we reached out to our friends over at Patchology to see if we could try their Patchology PoshPeel™ Pedi Cure for our next CO Group Experiment. Because, let's face it, most of our feet could use a little extra TLC!
Lucky for us, Patchology agreed and sent over 15 sets of their PoshPeel™ Pedi Cure for all of us to try. So we shipped out the sets to our chosen #Certifiers and put them to werk! Meanwhile, Sam and I put these babies to the test as well. I wanted my feet to look perfect for my bachelorette trip to Turks and Caicos, and Sam wanted to get her feet in tip-top shape for her bridal shower!
And so, the experimentations with the Patchology PoshPeel™ Pedi Cure began…
Don't miss the results below!
---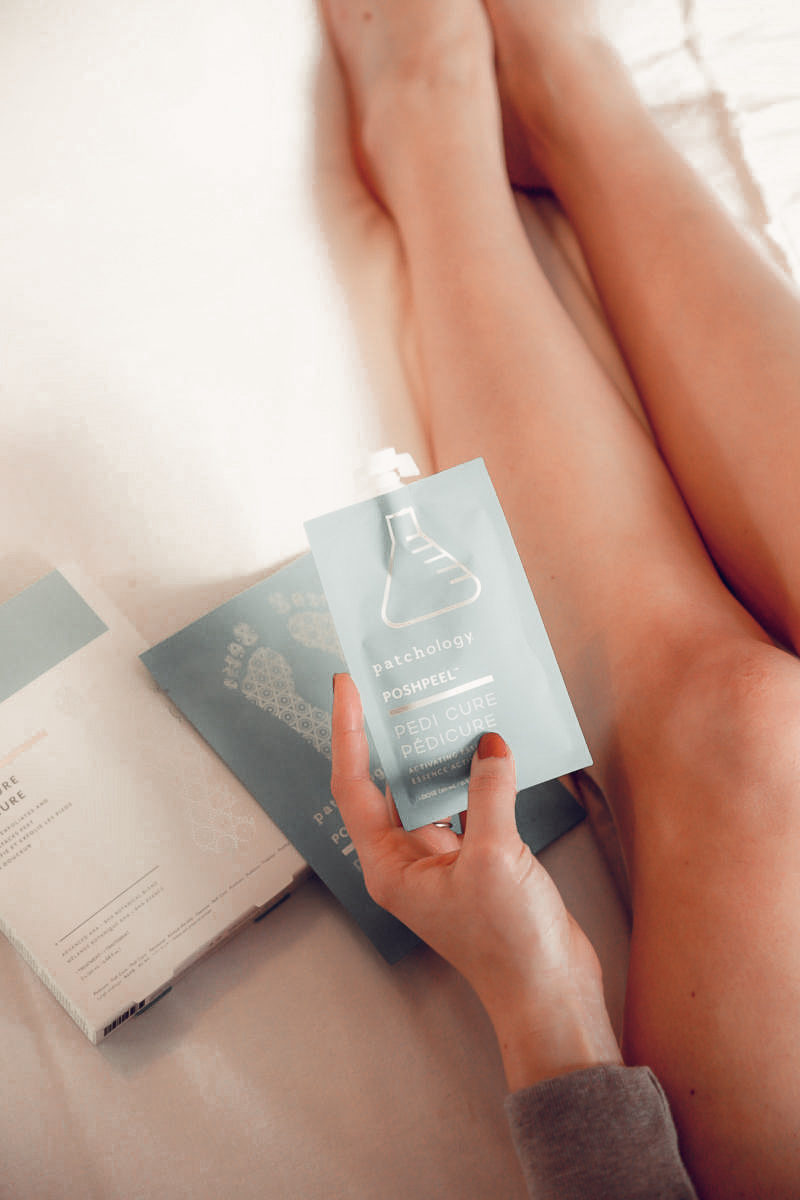 ---
How To Use the Patchology PoshPeel™ Pedi Cure
Sam and I must admit, we were a bit scared of using this product at first. (And some of our Certifiers were too!) We had never done any sort of foot mask before, but we had definitely heard of some horror stories about massive foot peeling and leaving trails of skin behind for days…gross right?!
Either way, we set our fears aside and gave these Patchology foot peels a try! And we quickly found out that they are super easy to use…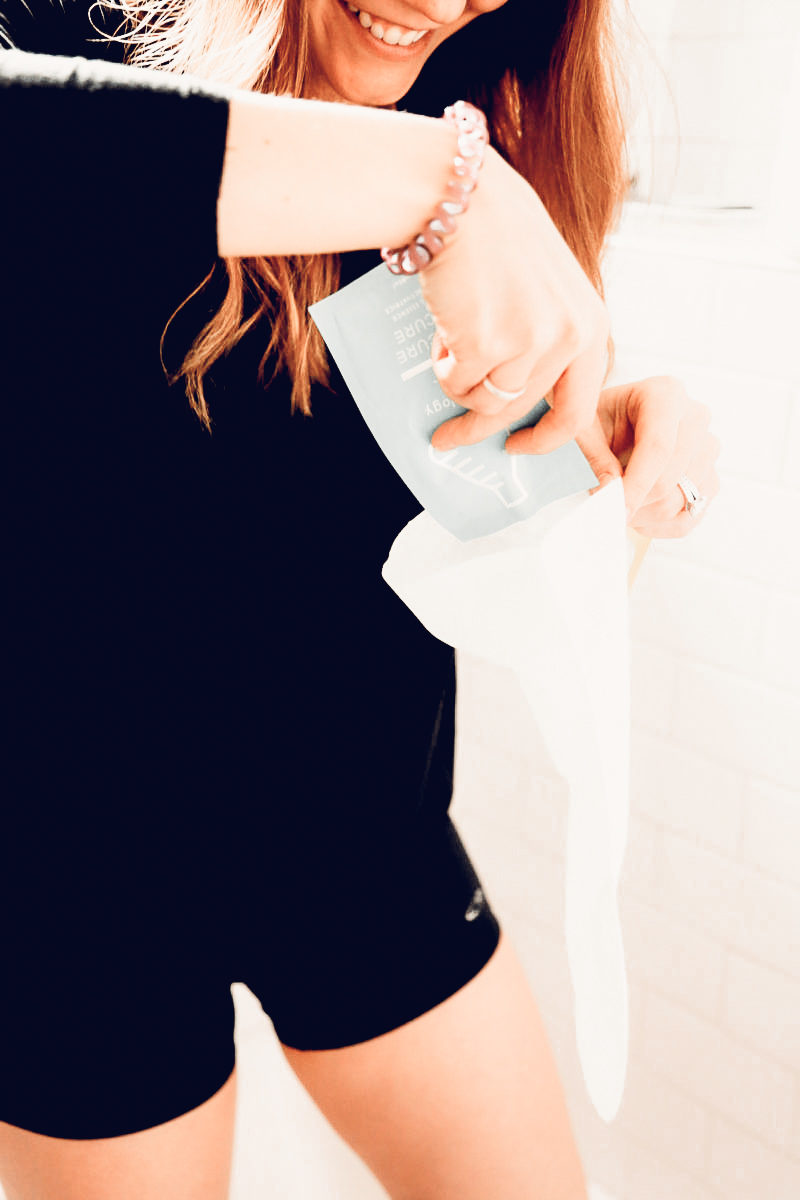 Soak your feet for 15 minutes (you can do this while you're showering to make it easier!)
Dry your feet and pour the Patchology Activating Essence into each booty
Put your booties on girl
Relax and watch some Netflix for an hour while your feetsies soak in the essence
Rinse off well after 60 minutes
That's it! Now all you have to do is wait for the peeling magic to begin.
Pretty Feet, Here We Come!
Alright, now onto the peeling process. On average, the peeling starts about 4 days after the treatment and can last for up to 7 days. For Sam and some of our other Certifiers, the peeling didn't start until about day six! We both thought that something had gone wrong with the experiment, or she just didn't have anything to peel off. She even tried soaking her feet again and using a pumice stone to encourage the peeling but NOTHING.
Really, we just had to be patient! Lol
The only big bummer for her was that between doing the mask and actually peeling, her feet felt super leathery and weird. But as soon as the peeling started, it was like a whole layer of skin was coming off! (I realize this post isn't exactly the most pleasant, but us Certifiers have to do what we have to do…#sorrynotsorry)
For me, the peeling started about 4 days after the treatment. I first noticed it in my heels, which are typically the driest part of my feet. Coincidentally, I had a pedicure scheduled when I was about two days into the peeling, which helped A TON! I felt really bad for the lady doing my feet (#actuallysorry) but she definitely helped expedite the peeling process.
So in the end, both of our feet shed a nice layer of skin leaving smooth baby feet behind. However, I did notice that it does not remove big calluses! It just kind of rejuvenates your feet and makes them a little softer.
What Our Certifiers Thought
Let me just start off by saying that our Certifiers for this experiment were absolutely AMAZING!! They gave us such great feedback, and I think you guys will love to hear how all of these experiments went. So let's get into it!
Q: Tell us about your experiment! How did it go?
It was definitely interesting to use, I've never used anything like it before. It took about 6 days for my feet to start peeling. Once my feet started to peel, my feet felt extremely soft and smooth. The peeling can look pretty gross looking but it works!
It went well! It took the full 6/7 days for me to see results as far as the peeling process. So far, no pain, no itchiness. I am not done peeling yet so I can't speak to how my skin feels overall, but the product is effective because it is helping me she'd my dry skin. The parts of the skin that remain after the peeling so far look a little smoother and take to lotion pretty well. It looks promising.
My feet started feeling after about 5 days and continued up to now (day 10) in the last few tiny spots. It was most noticeable after a shower, so I had to take an extra minute to brush away flaked skin before wearing my cute heeled sandals to an event! The mask also totally dried the skin on my feet out after the first day, and they absorb even the thickest lotions now pretty fast. The skin is much softer but it absolutely craves moisture!
I was apprehensive about trying the product but finally dedicated an hour on a Sunday to putting on the slippers. The process was easy and painless. It took 3 days to start the peeling process. Once the process started it was over really quickly. The shedding wasn't painful and happened pretty quickly. However, I didn't notice that big of a change in the texture of my feet.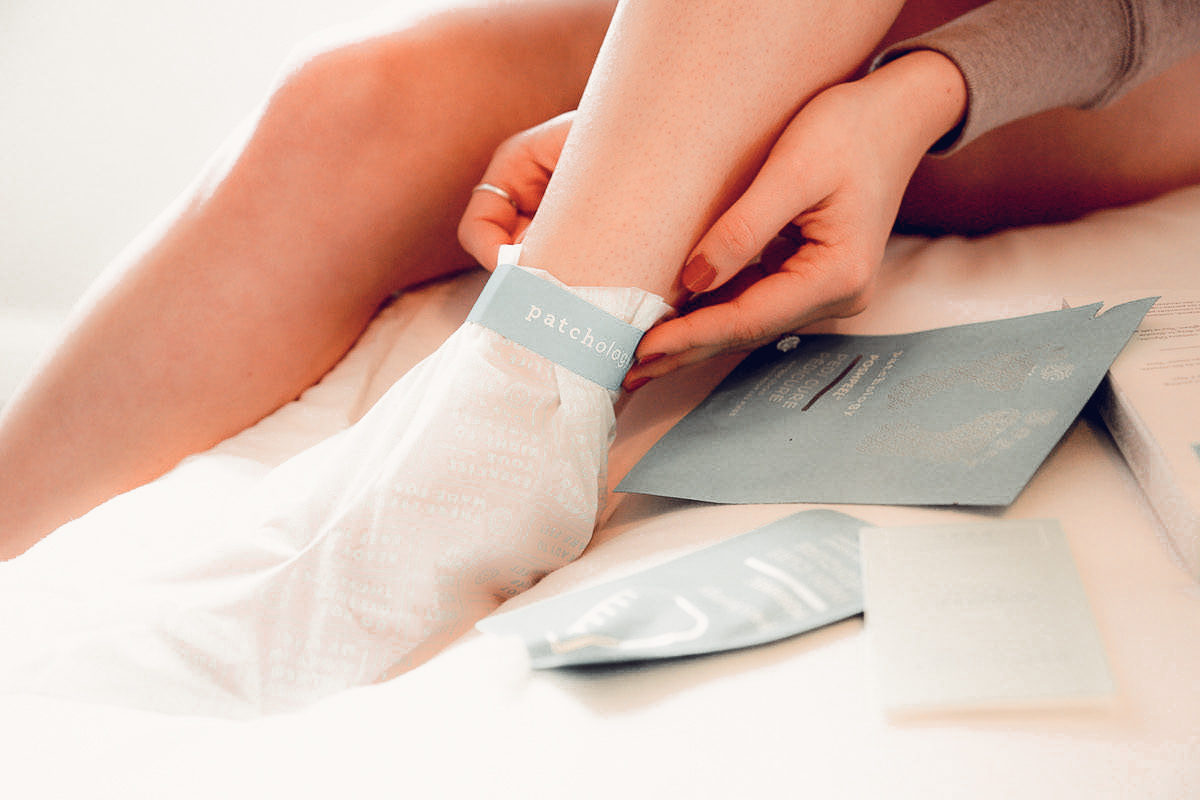 Q: What did you like or not like about the experiment?
I liked that it wasn't something I had to keep wearing or applying. It was a one time, 60-minute treatment and once I rinsed it off and soaked, I could go about my day without issue. I did feel that the solution was stinging on my ankles where I had shaved recently so just something I wish I had read up on!
I didn't like how long the peeling took to actually happen, it took about 5 days and I was going on vacation so I had peeling feet on vacation haha! Luckily the sand from the beach helped to get rid of the peeling (sorry beach goers) I loved that the process wasn't too messy. It's the first product I use that actually helps my calluses. They're not gone, but it definitely helped!
It was fun to put the socks on and feel like I'm at a spa, it did take my nail polish off but that's my fault!
I like the convenience of having an at-home spa kit for my feet. What I didn't like was the burning/tingling sensation of the peel in the beginning. But I do have sensitive skin and this was using exfoliating acids.
I didn't really like how long the flakiness has lasted. It's been almost a week, and my feet are still flaking a ton. I'd appreciate some more tips on how to help the exfoliation process along.
So did our Certifiers approve?
We got tons of messages from our Certifiers letting us know that at first, they didn't think the peel was working and then 4-7 days later, the magic began!
But the ultimate aha moment is the super soft, baby feet these Patchology PoshPeel™ Pedi Cures leave behind. Some of you might experience more peeling than others, but either way, this PoshPeel Pedi Cure is a great way to get those feet summer and sandal-ready!
Out of the 17 of us that experimented with the Patchology PoshPeel Pedi Cures, 15 of us gave it our CO Stamp of Approval!
This product is effective and does exactly what it's meant to do! Even though not all of us will purchase it again, most of us were super happy with the end result.