Everyone can benefit from a little niacinamide… no matter what your skin type is!
You read that right, friends. EVERYONE! Even though this ingredient sounds a little intimidating, it really is one of the MVPs of skin care. It's also super trendy at the moment, but keep in mind that the beauty industry has been relying on this magical ingredient for many, many years.
What is niacinamide?
Niacinamide, also known as nicotinamide, is a form of vitamin B3. You'll typically find this ingredient in water-based serums, creams and masks being that vitamin B3 is a water-soluble vitamin.
This vitamin can naturally be found in a number of foods, such as: broccoli, tomatoes, mushrooms, avocados, carrots, Swiss chard, spinach, sweet potatoes, and seeds.
However, when it comes to skin care products, it is made synthetically!
What does niacinamide do?
Well, to put it simply, niacinamide helps your cells repair damage, regenerate and function properly. It also has amazing anti-inflammatory properties! Because of that, this ingredient is used in many products that treat acne, rosacea, pigmentation issues, and wrinkles.
Benefits of niacinamide:
Keeps the skin firm and healthy
Locks in moisture
Minimizes redness and uneven skin tone
Reduces the appearance of pores
Regulates oil production
Protects against sun damage
Help to minimize fine lines and wrinkles
Treats acne
I mean, WOWZA! There really is very little that this ingredient CAN'T do.
How should you incorporate this ingredient in your skincare routine?
Most products containing niacinamide come in the form of a serum. So ideally, you'll want to apply this serum after you've washed and toned your face but before moisturizing.
This is one of those ingredients that plays well with almost every other ingredient under the sun. Retinol, peptides, hyaluronic acid, AHAs BHA, antioxidants…you name it! The only ingredient you won't want to mix with it is vitamin c.
Vitamin c causes niacinamide to it turn into niacin, which isn't a HUGE deal. But niacin can sometimes cause short-term effects such as skin redness and tingling. What you can do is apply vitamin c in the morning and niacinamide at night. Just as long as you're not mixing them at the exact same time, you're good!
Pro tip: Check out this post for a step-by-step skincare routine breakdown!
When you're out shopping for a niacinamide-infused serum, be on the lookout for the following:
Sometimes niacinamide is labeled as "niacin" or "nicotinamide".
Look for niacinamide in leave-on products, like serums or toners.
Start with a product containing at least 5% niacinamide in it. If your skin is extra sensitive, try starting at 2%!
Our Favorite Product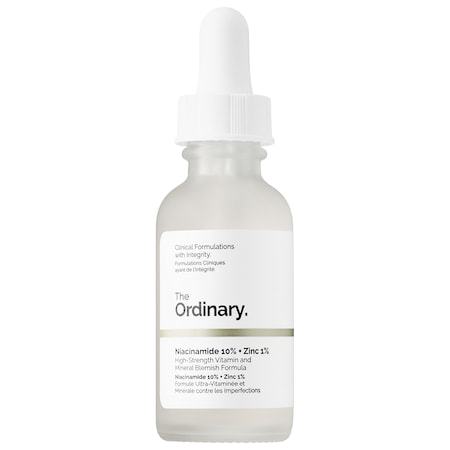 The Ordinary Niacinamide 10% + Zinc 5%
Price: $5.90
Shop: Sephora
Perks: Paraben Free | Sulfate Free | Phthalate Free | Cruelty Free | No alcohol silicone, nuts, gluten, or fragrance.
Why we like: This serum is super affordable and VERY effective. It sinks in perfectly into the skin and works well with other skin care products.
All in all guys, you need niacinamide in your life! It's one of those magical ingredients that helps with acne, locks in moisture, reduces wrinkles, minimizes pores and prevents sun damage. Seriously, jump on this one ASAP!