Many of us pride ourselves on using "paraben-free" products.
But do we really know what parabens are and why they are harmful?
As much as we love the fact that so many companies are striving to create cleaner products for us all, we sometimes follow blindly and assume that the latest "such-and-such-free" trend is the way to go. Trust us, we're ALL guilty of this! But worry not because we're here to do the research for you so you never have to question the integrity of your purchases again.
So with that, get your notepads out, and let's get into the world of parabens! DUN DUN DUN…
What are parabens?
All you have to remember is that PARABENS = PRESERVATIVES.
Parabens are synthetic chemicals that are used as preservatives in beauty products, cosmetics, pharmaceuticals and food in order to give products a longer shelf-life and prevent bacteria from growing. Sounds great, right?
Wrong!
Why are parabens bad for you?
Basically, they are hormone disruptors. UGHHHH. The worst, right??
Parabens are believed to mimick oestrogen, which is one of the main female sex hormones. When our bodies have too much oestrogen, there can be an increase in cell divisions and tumors. Hence why parabens are linked to breast cancer!
There was a British study conducted back in 2004 where they found traces of five parabens in the breast tissue of 19 out of 20 women studied. Even though they didn't directly prove that parabens can cause cancer, they were able to identify that they did in fact penetrate the skin and remained within tissue. YIKES!
Parabens are also constantly making their way into our waterways and oceans, which is leading to fertility issues in marine animals. DOUBLE YIKES!
Be on the lookout for the 5 most common types of parabens:
Methylparaben
Ethylparaben
Propylparaben
Butylparaben
Isobutylparaben
Pro tip: Not all parabens have the word "paraben" in the name! UGH. Look for ingredients like Alkyl parahydroxy benzoates and those that have "ethyl," "butyl," "methyl," and "propyl" in their name.
Is it necessary to use "paraben-free" products?
Is it necessary? No. Is it recommended? Absolutely!!
In the long run, the more we are exposed to these preservatives, the higher the chances that they could affect our health. Plus, hormone disruption is just the worst! Hormones literally control almost every aspect of your well-being – from your digestion and mood to your hair, skin and nails. And who really wants to mess with all that?? Certainly not me.
With all the clean products there are now, it should be pretty easy to make that swap and say goodbye to those pesky little parabens!
There are also natural preservative alternatives like Sodium Benzonate, which can be found in fruits and roots in nature, like cranberries, prunes, greengage plums, cinnamon, cloves and apples. So be on the lookout for that!
My favorite paraben-free product right now: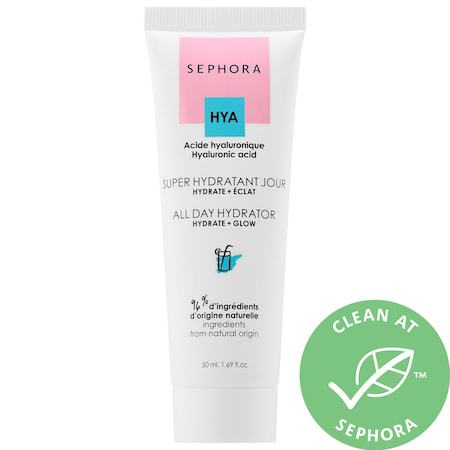 Sephora Collection All Day Hydrator
Price: $16
Shop: Sephora
Perks: Free of sulfates SLS and SLES, parabens, formaldehydes, formaldehyde-releasing agents, phthalates, mineral oil, retinyl palmitate, oxybenzone, coal tar, hydroquinone, triclosan, and triclocarban, and contains less than one percent of synthetic fragrances.
I hope you found this post helpful! Let me know if you have any follow-up questions in the comments below or DM us on Instagram!