Say goodbye to the Big10!
No, we're not talking sports here. We're actually talking nail polish! There's a new language developing around this category, and we're here to give you the inside scoop…
You may have heard the phrases "three-free", "five-free" or "nine-free" buzzing around the beauty industry recently. If not, it's ok! We're just learning about this ourselves. These terms are given to nail polish formulas that are free of harmful ingredients like formaldehyde, camphor, parabens, and acetone. The more chemicals they omit, the higher the number.
We are now up to "10-free" nail polish (hence the Big10). And Zoya is one of the only mainstream brands that can claim this new gold standard. This means their nail polishes are formulated without formaldehyde, formaldehyde resin, dibutyl phthalate, toluene, camphor, TPHP, parabens, xylene, ethyl tosylamide or lead.
If you just read that as, "blah-blah-blah…bad stuff…blah-blah-blah…more bad stuff", I feel ya. That's why we put together a little breakdown of how some of these nasty chemicals can affect our health:
Formaldehyde – You may recognize this one from high school biology labs. Remember that nasty smell? You're actually not supposed to inhale our touch this toxic carcinogen, but somehow it's made its way into the majority of nail polishes and polish removers.
Toluene – Known to cause dizziness and reproductive harm and is also found in gasoline…YUCK!
Dibutyl phthalate (DBP) – This chemical is actually banned in Europe as it is known to cause reproductive problems. WHY IS THIS IN OUR NAIL POLISH??
Isn't it funny how oblivious we were to these things not too long ago? Ignorance is no longer bliss people…
Luckily, we discovered Zoya in our FabFitFun 2016 Editor's Box and immediately rushed to Ulta to stock up on other colors. They have over 400 shades to choose from!
Now the questions is: do these polishes actually last?
Claudia's Zoya Nail Polish Experiment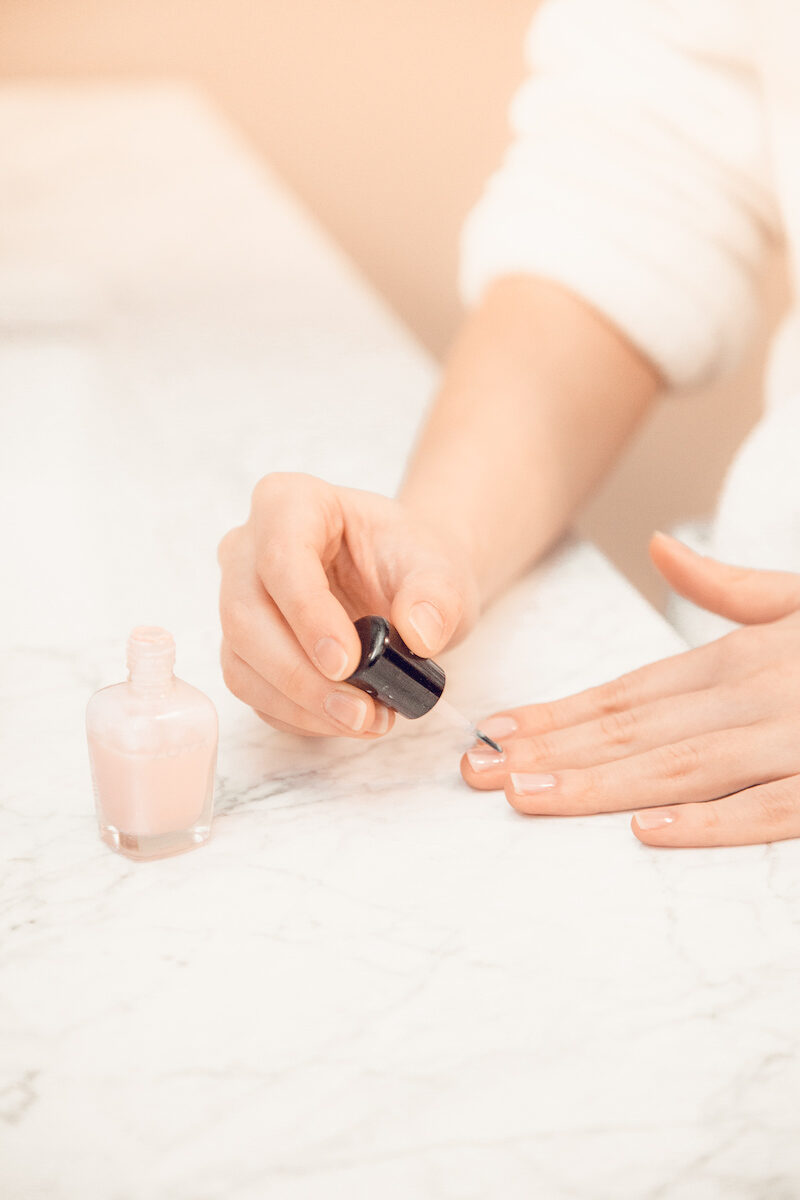 I've been using Essie and O.P.I nail polishes for as long as I can remember. Anyone else remember how iconic Essie's "Fiji Pink" was back in the day? It was the total cool girl color growing up.
Sadly, this teenage trend followed me into adulthood. Up until recently, I always gravitated towards Essie or O.P.I polishes simply out of habit, and because I knew they were the power players in the industry. Always go with the popular brands, right?
WRONG! As soon as I was introduced to Zoya and the story behind the brand, I knew I needed to read up on what exactly I was putting on my nails.
And come to find out, the "cool girl" trend of the early 2000's was a major #fail for the health of my nails.
But with Zoya, you don't have to worry about compromising health for beauty. These polishes are clean, pretty and easy to put on. And in my opinion, they last a normal amount of time. I always wind up cleaning the apartment or doing errands right after I paint my nails, so my manicures tend to only last about 3 days, chip-free.
Zoya is no different, but I've found that if I apply an extra top coat about 2 days in, they last at bit longer. Perfect for weekend shenanigans!
I'm officially saying goodbye to the chemically-ridden polishes of my past and making room for all the amazing Zoya shades I can now add to my at-home mani collection.
Sam's Zoya Nail Polish Experiment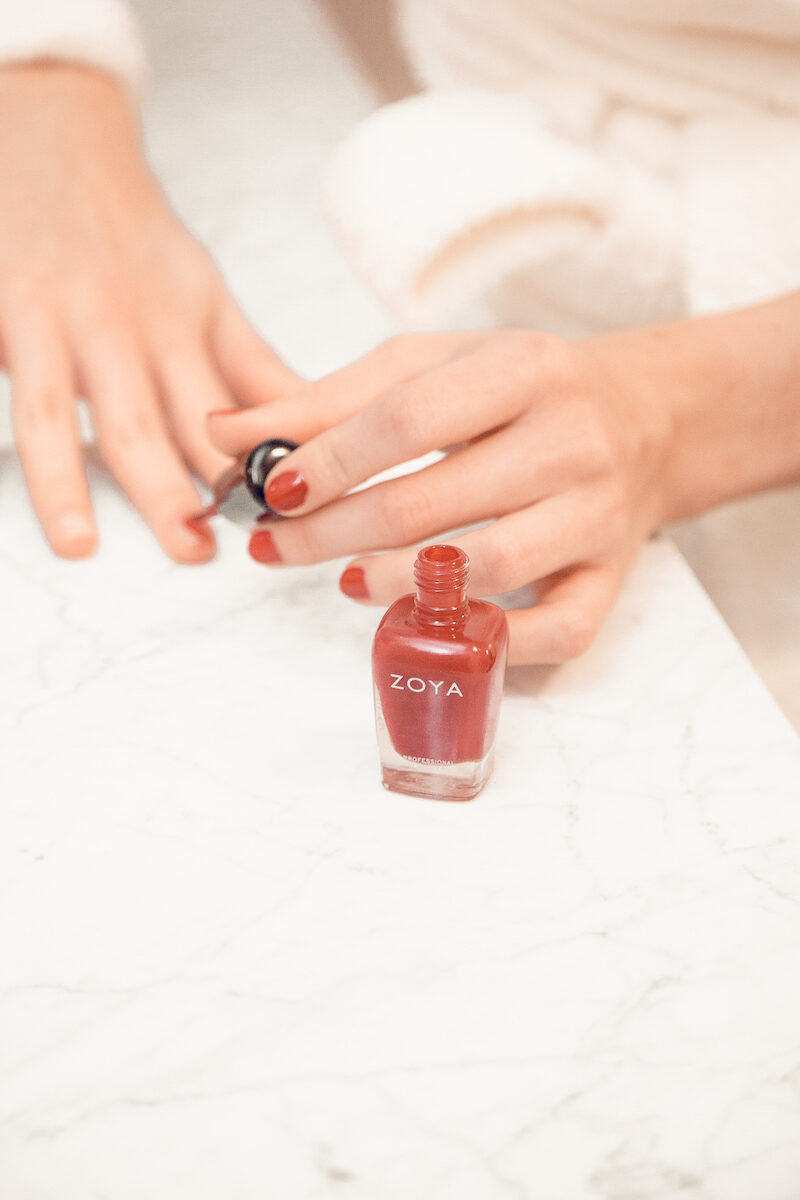 Just like Claudia, (We're so predictable. Sorry, guys.) I've been loyal to O.P.I. and Essie for as long as I can remember. It's what the nail salons used, so why shouldn't I?
I'll tell you why. You shouldn't put chemicals they use to preserve dead beings on your fingernails!! Also, why is it that all these nasty chemicals cause reproductive issues?
NO THANK YOU.
So, I've left the land of industry-leading nail polishes to a chemical-free land.
I stumbled upon Zoya in Ulta a while back, before I cared about the chemicals that were or were not in my nail polish.
I didn't even know the polish was better for you when I made the purchase. I just bought it because the color was perfect and the bottle was pretty. Oh, the days of simple product purchasing.
Zoya has now become my go-to polish brand. It might not last as long as some of its chemical ridden competitors, but I'll take less chemicals any day.
It still lasts about 4 days without chipping for me.
I'd say that's pretty good. Not only that, but I love the brush and the application. It's easy, smooth and pretty!
Don't forget they have all the colors! I mean can you go wrong with being loyal to a brand that has over 400 shades? Now I just have to figure out where I can fit all 400…
We definitely give Zoya nail polish our CO Stamp of Approval and a 10/10!