Chocolate for breakfast?
Sign us up.
We're obsessed with a lot of things, but our obsession with our favorite food bloggers is high on the list. We're talkin @shutthekaleup, @rachaelsgoodeats, and @rachlmansfield to name a few. These gals are serious #goals. Everything from the clothes they wear to the food they eat…their followers take every move seriously. We're no exception. When we started to see Eating Evolved all over their insta stories and recipes and remembered our deep love for chocolate (lol, as if we could ever forget how much we love chocolate…), we knew we had to put these products to the CO test.
This chocolate is primal. It's a superfood. Yes, you can eat chocolate as a superfood.
When done right, this go-to dessert of ours can actually be rich in antioxidants. We're not talking the sugar-filled milk chocolate candies that yell our name from the shelves above the freezer section at Trader Joe's. We're talking Eating Evolved, people.
Here's the thing. When you do a review of chocolate…you have to go big. You can't just talk about the delish qualities. Chocolate deserves more! So we brainstormed with our girl Sam (@sensibly_st), a SoCal foodie blogger you MUST follow for the best recipes, and she convinced us it's okay to have chocolate for breakfast.
We knew we loved you, Sam!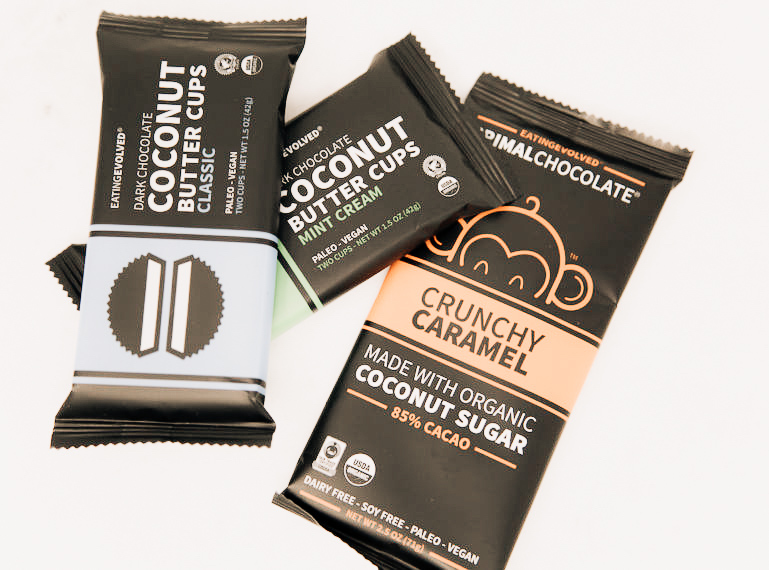 First Impressions of Eating Evolved
Since we live in Michigan, where all trends and new products arrive five years after their conception (sad, but true), we had to place an order online for Eating Evolved. A few days later, an ice-packed package showed up and we were giddy to test some chocolate…rough life, right?
When we placed our order, a lot of things were sold out (laaaaame). So with our slim pickings we decided on three things: Crunchy Caramel Primal Chocolate Bar, Classic Coconut Butter Cups, and Mint Creme Coconut Butter Cups.
We started with the Crunchy Caramel Primal Chocolate Bar. At $4.99, this bar was yummy but not ground-breaking TBH. The caramel flavor wasn't as prevalent as the maple syrup (one of only four ingredients). We love maple syrup, don't get us wrong, but we were craving that caramel flavor. The dark chocolate itself tasted very yummy! It was more bitter since it's 85% cacao, but we're dark chocolate fanatics so we were all over the bitterness. Even normal dark chocolate is just too sweet these days! Even though our Eating Evolved experimentation was off to a bumpy start, it quickly smoothed out with the coconut butter cups…
We were SO excited to try these little cups! And they truly didn't disappoint. The mint creme tasted like a York Peppermint Patty but just eighty million times healthier for you. #Winning. The inside was creamy and smooth and the outer chocolate layer was perfectly dark and bitter. What more could you want?! The classic flavor cups were just as satisfying, but definitely more…plain. We would definitely reach for either of these depending on our mood! We did get some #inspo from our favorite bloggers and put a little almond butter and coconut chips on top of a Classic Coconut Butter Cup and all we have to say is YUM.
After putting our tastebuds to the Eating Evolved test, we ran to Sam (@sensibly_st) to spill our love for the Coconut Butter Cups. She quickly replied that she had the perfect recipe to share using these bad boys…and yes, it involved chocolate for breakfast.
Sensibly ST
Sam loves food. So do we. So we became friends!
Sam's journey with food began with eating whatever, whenever and evolved into understanding the importance of a healthy and balanced diet. She received a Bachelor of Science in Nutrition and Dietetics (you go girl!) and knew she wanted to take her career to another level. So she's back in school to pursue the medical route (you really go girl!). Along the way, through Sensibly ST, Sam hopes to further help all of us understand our bodies through tips, recipes and her own experiences. She just wants everyone to feel amazing from the inside out! So sensible (get it?) and sweet!
Okay, so back to chocolate for breakfast. Sam has created the yummiest Collagen Oatmeal Recipe that goes great with Eating Evolved Coconut Butter Cups. We're basically going to have this errrday. Check it out:
Collagen Oatmeal Recipe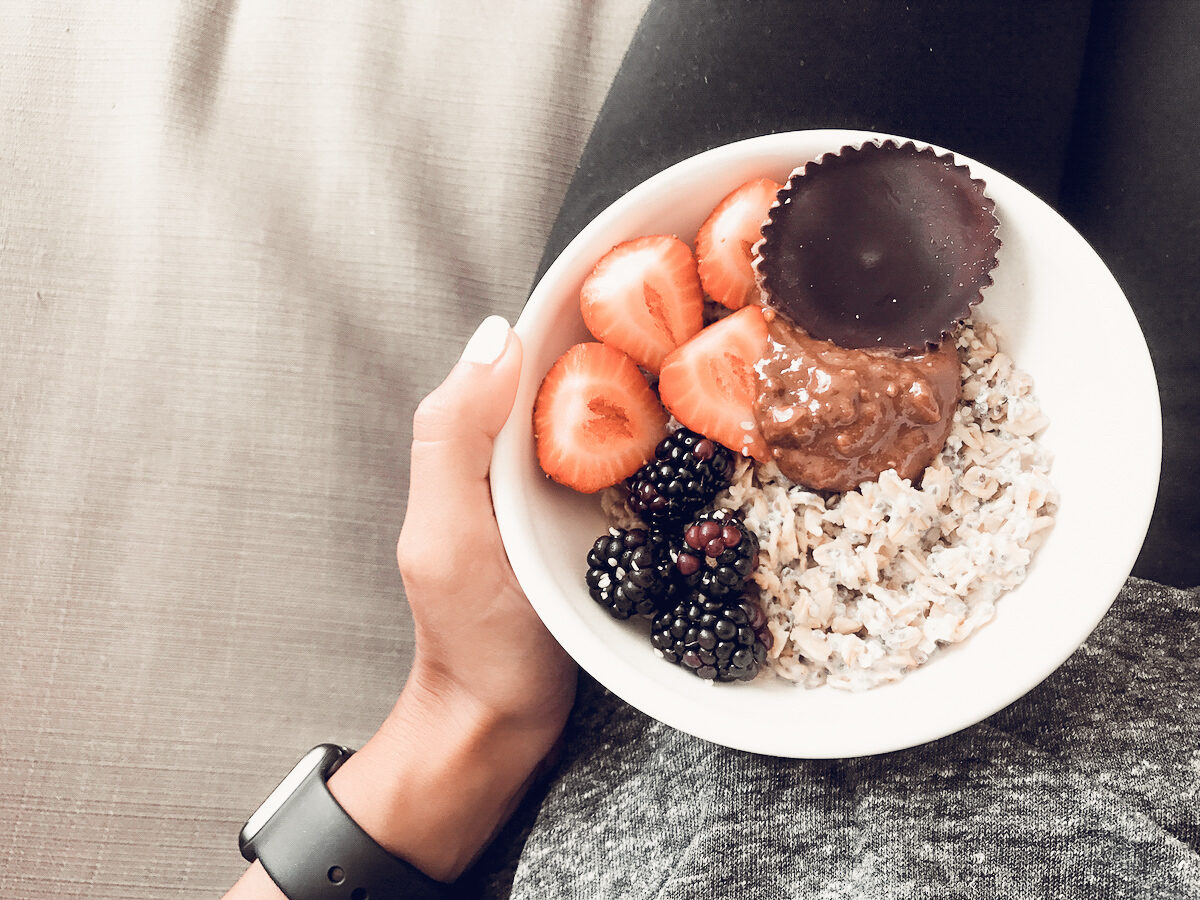 Ingredients:
½ cup rolled oats
1 cup unsweetened vanilla almond milk
Vital Proteins Collagen (However much you normally use – 1 to 2 scoops)
2 tbsp chia seeds
Your favorite berries
EATING EVOLVED COCONUT CUPS!
Directions:
Pour almond milk, oats, and chia into a pot and cook on medium heat for about 5 minutes
Right before the mix is done cooking, stir in your collagen
Pour into a cute bowl (must!), add berries, nut butter, and the yummiest part…top with your favorite Eating Evolved cup
Enjoy!
The Results
The greatest thing about these healthy treats is the minimal ingredients. All of their products have around four to five ingredients and THAT'S IT. Our other favorite cups are Justin's Dark Chocolate Peanut Butter Cups and those delightful treats have 16 ingredients…not terrible, but definitely not as good as Eating Evolved. Even with less ingredients, they still taste just as good…haaaaay!
The worst thing about this primal chocolate is that it's not available in stores everywhere. We wish we could run to our local Whole Foods and grab 'em all but sadly, that's not the case for us.
UPDATE: EATING EVOLVED IS NOW AT OUR LOCAL WHOLE FOODS!!!!
Since Eating Evolved has turned our favorite treat into a guiltless, healthy pleasure, they've definitely earned a 8/10!

Special thanks to @sensibly_st for sharing that yummy collagen oatmeal recipe with us. Seriously guys, you have to incorporate this recipe into your morning routine! Make sure you follow her on Insta for more great tips and recipes!