Senior Trainer & Integrative Nutrition Health Coach at P.volve
To say I'm excited to share this "How She Glows" feature is quite an understatement! Alexia is one of my favorite trainers at P.volve, and getting the chance to interview her is a dream. You guys are in for a treat with this one! Alexia shares her insights on what it's like to be a P.volve trainer, her beauty routines, and special tips to feel healthy from the inside out.
Let's get to it, friends!
Tell us a little bit about you and what you do.
Hey there! I'm Alexia Acebo, Senior Trainer and Integrative Nutrition Health Coach here at P.volve. I'm also a professional dancer in New York City and recently toured with CHICAGO the musical (pre-COVID)!
I originally found P.volve as a result of looking for the best training that would allow me to come back from a recurring performance injury. Once I found the method, I not only haven't experienced that injury again *knock on wood​*, but also have never felt better about the way my body moves, pain-free and at its full potential. I'm extremely passionate about helping people build strong, functional bodies that allow them to live their best lives, love well, show up, and chase big dreams – whether that be in the virtual studio, through an on-demand workout, live and in-person, or in a health coaching session!
You've been an instructor with P.volve since 2019 – how has your perspective on health and fitness changed since joining?
I LOVE this question. It has changed everything. The biggest shift for me was realizing that better isn't necessarily harder. At P.volve we talk about "mind to muscle", or neuromuscular connection – this means actually thinking about what muscles you're trying to activate and engage and then doing that with intention rather than just moving. I love to say 8 intentional reps are better than 50 reps with no intention. And I think this translates into life as well. The more we move intentionally in our workouts and in life, the better the results.
What sets P.volve apart from other fitness regimens for women?
P.volve is one of the only TRULY functional methods of movement. We're putting your body into everyday patterns like walking down the street, or reaching to grab something off of a shelf, isolating that movement and putting resistance on top of it with equipment like bands and weights. We're in search of mobility, stability, and strength that you can use to live your life better.
I find that other workouts harp on more time, more movement, more intensity, just more. And I think I can speak for a lot of women in saying we already do enough – our workouts should be effective and empowering and build the body up rather than break it down! That's exactly what P.volve does.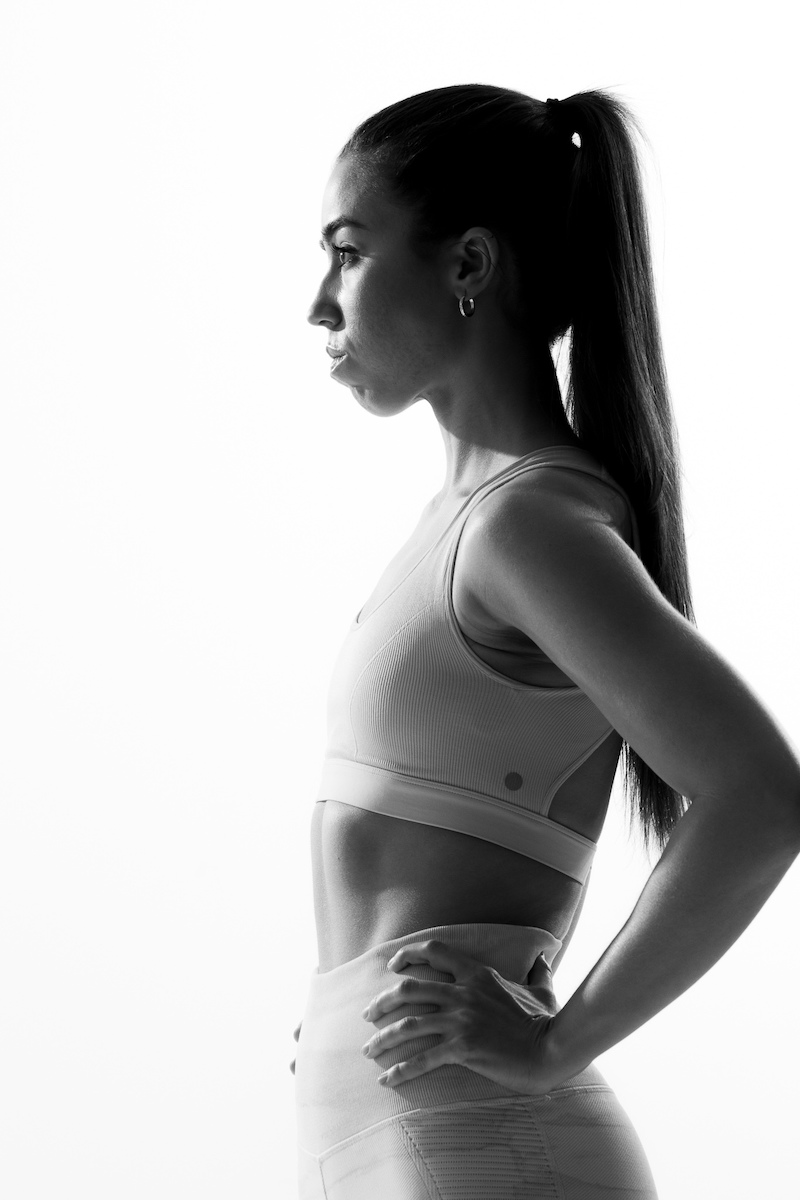 What is one tip you'd recommend to those new to the fitness game when they begin working out?
LISTEN to your body. Don't try to conquer the world in one day and know that rest and recovery are equally as important, if not more than the workout. And yes, I'm also talking to myself when I say that! Haha! But really tune in. How are you feeling before the workout? Let that determine what you choose. How are you feeling after? Let that determine your next session.
You want to be your best every day, not the best – those are two very different things. The more you allow yourself to listen to your intuition when it comes to movement, the better effort you'll give, the greater your results will be inside and out, and the more consistent you'll be!
What's your favorite after-workout recipe?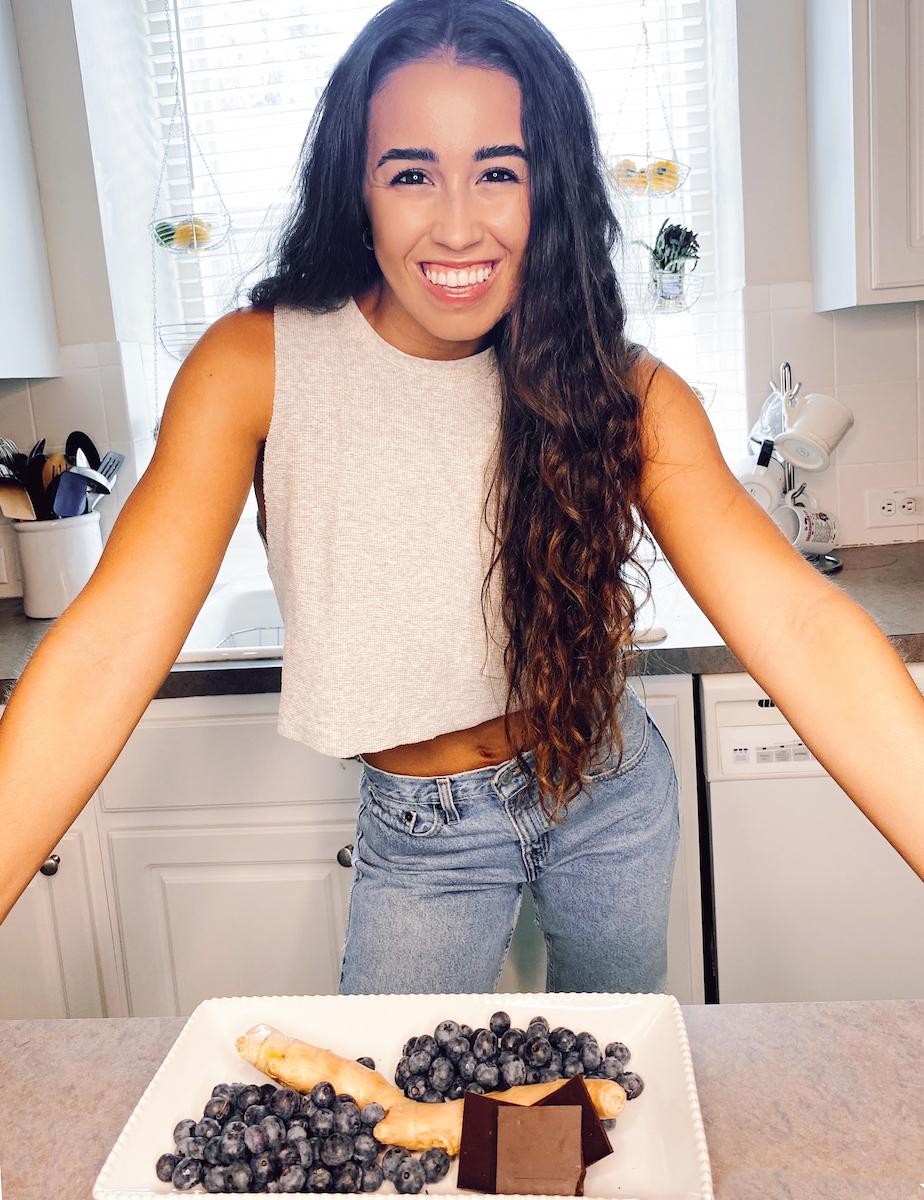 Ooooo! I'm a sucker for a green smoothie. That sounds so basic but my body just yearns for the antioxidants in some leafy greens and berries to mitigate inflammation and the protein to help with muscle recovery. Here's one of my go-to's:
1 cup almond, coconut, or oat milk
3/4-1 cup frozen riced cauliflower
1 large handful spinach or kale
3/4 cup blueberry, strawberry, or mix
1 tbsp chia seeds
1 tsp maca
1 serving plant protein
1 scoop collagen peptides
1 tbsp peanut or almond butter
Splash of water
What are your AM & PM skincare routines?
SIMPLE! I've found over the years that my skin really doesn't like any fuss so I keep it as stripped down as I can.
AM Routine:
Splash of water to gently cleanse
With a moist face, moisturize with ceramide cream to lock in moisture
A few drops of Body Unburdened Beauty Blend No. 2 Oil (she makes all of her skincare by hand and I would tattoo the website on my forehead if I could, these face oils are UNREAL!)
Quick gua sha to get rid of any puff from snoozing!
A flick of mascara and brow gel and we're off!
PM Routine:
Double cleanse with gentle cleanser
Gentle manual exfoliation if necessary 1-2x a week
With a moist face, moisturize with ceramide cream to lock in moisture
Vaseline (I know it sounds crazy but don't know it until you try it) under the eyes to seal in the ceramide cream and over any blemishes to promote healing!
What's your favorite beauty or wellness product right now?
Honestly, water with fresh organic squeezed lemon. It's simple but in health coaching and speaking to people daily about well-being, we tend to forget about the "low hanging fruit" of living well like hydration and detoxification. I try to wake up and have about a liter of lemon water before any food or other drinks to detoxify the liver, promote glowing skin and feel vitality rush in first thing!! So, lemon water and my beauty blend no. 2 🙂
What's one product you can't live without?
SUNSCREEN. I didn't realize the importance until I was healing my skin from a long-time acne battle and wanted to do everything in my power to forego scarring. My morning routine isn't complete without slathering the SPF on my face and neck, even if it's overcast or I'm working inside most of the day. It is SO important. That said, be sure to get some sun on the rest of your skin during the day for around 15 minutes to promote vitamin D production!! The benefits are unmatched. And you might smile in the process.
What are some clean swaps you've made recently?
Food storage. I finally made the switch to all glass and I'm over the moon about it. On the health coaching side of things, I work a lot with women on hormone imbalances and gut health and I think it's so important to eliminate toxins and endocrine disruptors as much as possible – a lot of which exist in our containers and materials in contact with the foods we keep! I'm a leftover fanatic and a lover of simplicity so I got my cute glass storage set and I feel like my entire life is in order.
Share one tip on how you glow from the inside out.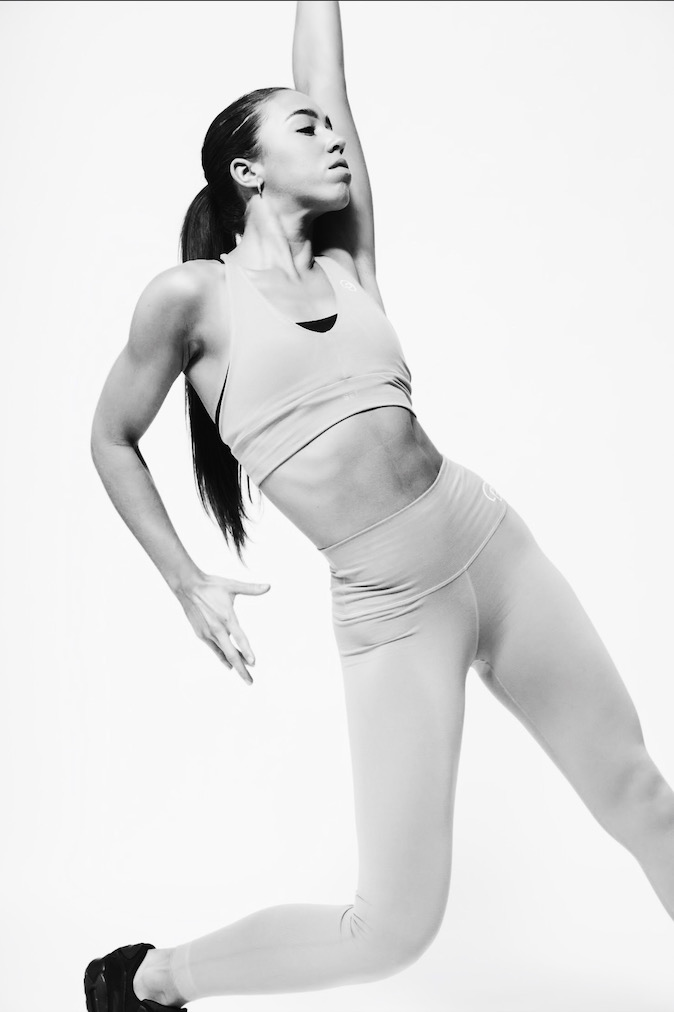 Work on the inside more than the outside. You can eat all the kale and broccoli in the world, have the perfect workout routine, and even a glass food storage set, but if your mind and spirit aren't taken care of in the same way, if not more, the glow will never show.
Take the time to be with yourself, do things you love, be with people that make you laugh until you pee, have a dance party in your bathroom, journal about your dreams, get vulnerable, and learn how to really, truly, deeply love yourself. Those are the things that are going to make you glow, the rest is just a cherry on top. 🙂
Want more from Alexia?
How amazing was this, guys? Alexia is seriously the best! If you don't already, make sure you follow her on Instagram @alexia__faith. Every morning she goes on stories and gives you one health tip for the day while she eats her breakfast. She calls it the "Breakfast Clerb" and it's equal parts hilarious and informative!
Don't forget you can book a private personal training and health coaching session with Alexia here. Get ready to take your health and fitness to the next level!
If you're interested in joining P.volve but don't know where to start, check out my handy How to Get Started with P.volve guide. (Pssst…it includes a 10% coupon code!)
Thank you so much, Alexia! We loved getting to know you better!