My list of must-have P.volve equipment and favorite workouts!
This post contains affiliate links, and at no additional cost to you, I will earn a commission if you decide to make a purchase using these links.
The two most asked questions I get from those of you looking to get started with P.volve are: What equipment should I buy? And which workouts should I start with?
Those were the exact questions I asked myself when I started this program 5+ years ago! With all the equipment they offer and the hundred of workouts in their streaming library, it can feel a bit overwhelming at first. That's why I put together this guide for anyone wanting to learn how to get started with P.volve.
ICYMI: Be sure to check out my previous P.volve post to see before and after pictures.
What P.volve equipment should I buy?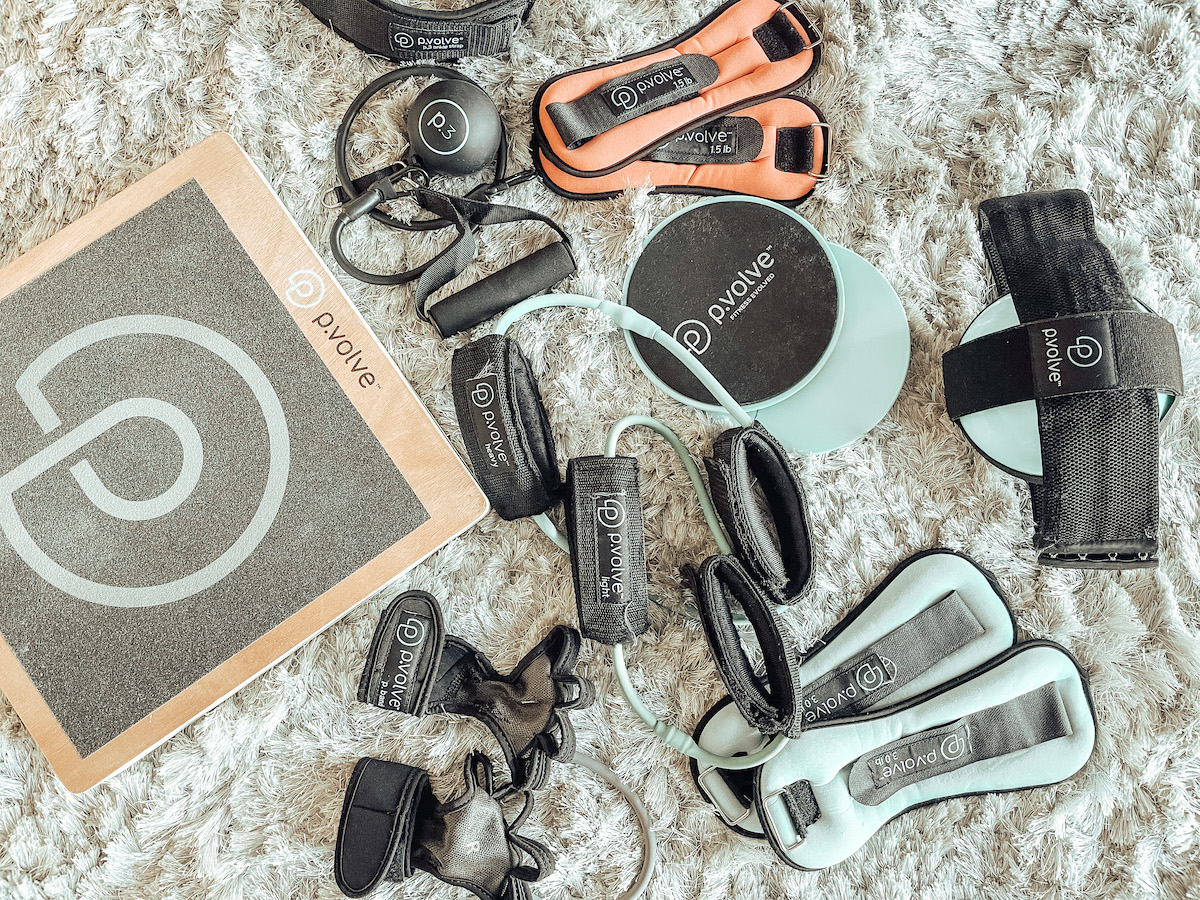 Let me start off by saying all their equipment is worth it in the end. While I don't think you need everything right off the bat, I do think their equipment is worth investing in, little by little. It's all great quality and has lasted me years…even after daily use.
If you're ready to go full out and want to start your journey with all the absolute must-haves, then I recommend you purchase the Essentials Kit ($129.99), which includes 5 must-have pieces of P.volve equipment plus a 3-month membership. Use my code GLOW30 for $30 off!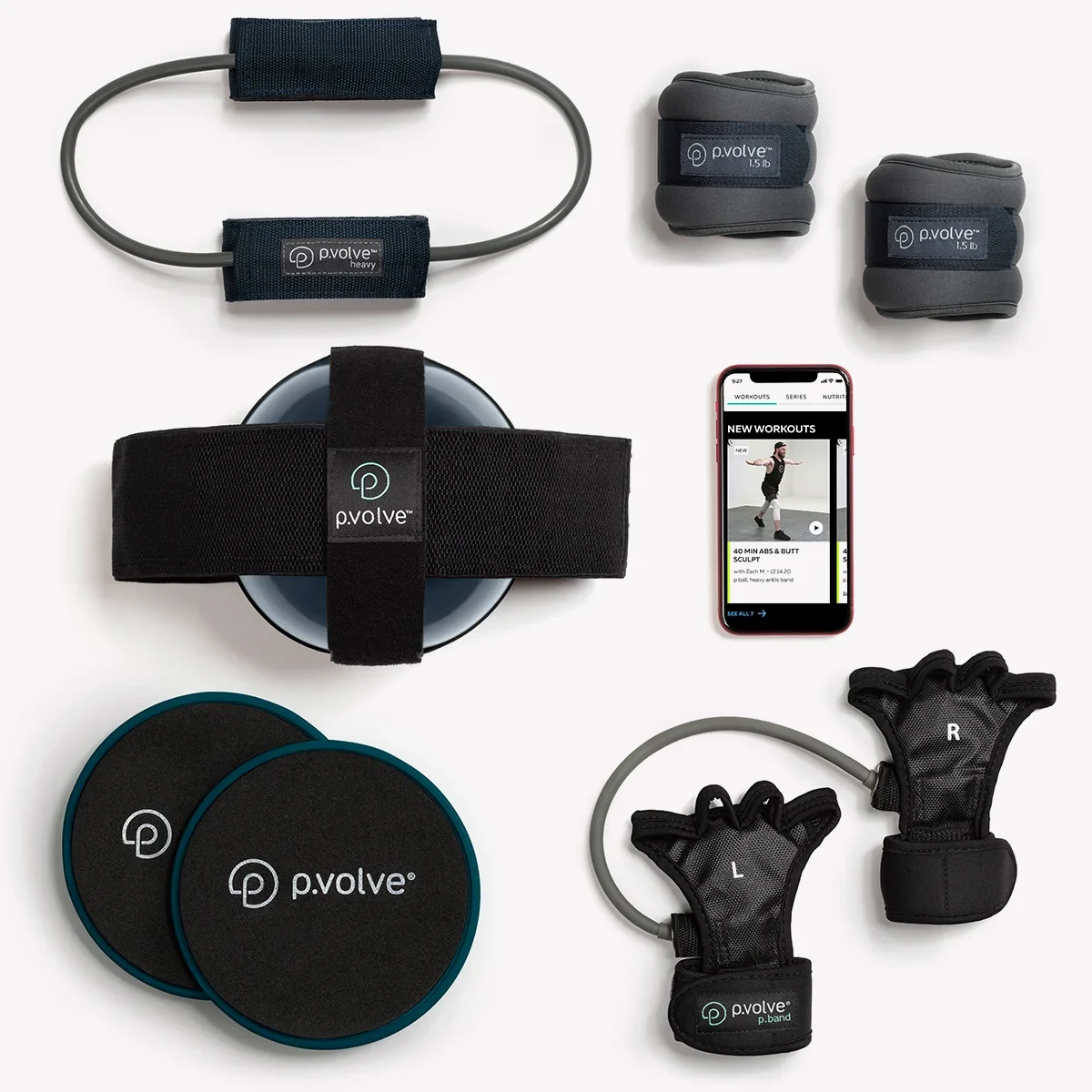 The Essentials Kit includes the: p.ball, p.band, 1.5 lb. ankle weights, heavy ankle band, gliders, and a 3-month membership to try their full digital library of workouts.
If you rather take it slow and invest in equipment in chunks at a time, check out the steps I outline below! This is how I originally got started.
Step 1: Get the basics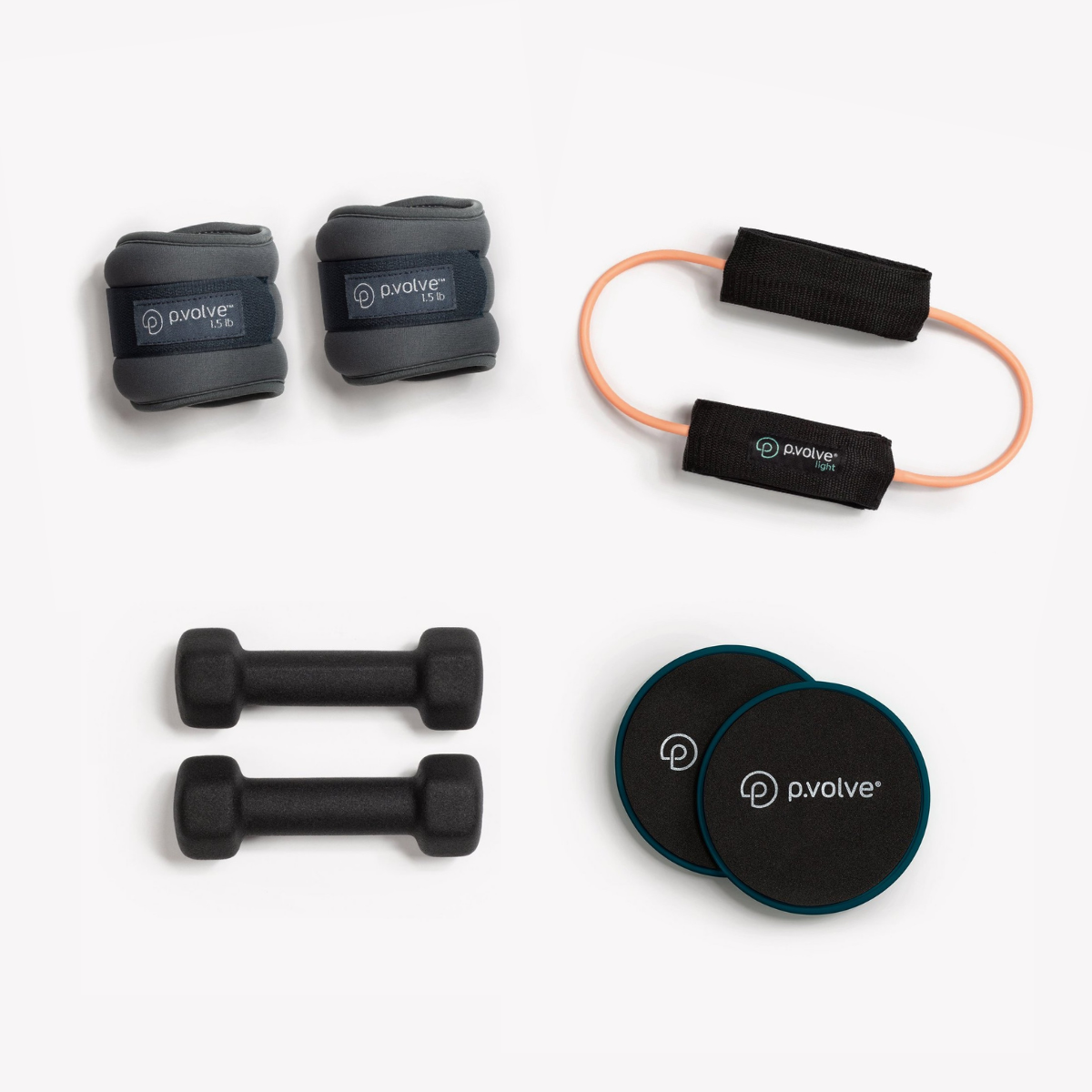 I would call these the absolute essentials for beginners. These are the pieces of equipment most widely used in the workouts, meaning you'll get lots of use out of them before needing to invest in more equipment. The best part is you can get the hand weights and gliders on Amazon if you're looking to save some mulah!
This is what I started with the first 6 months of the program and saw incredible results. Even when workouts called for the heavy versions of the ankle weights and ankle bands, I still felt an amazing workout using the light versions. I also feel starting light helps you perfect your form before you move on to more advanced moves.
Once you feel comfortable with your form, add the heavy ankle weights and heavy ankle band into the mix! I promise, these will literally kick your butt.
Step 2: Invest in the proprietary equipment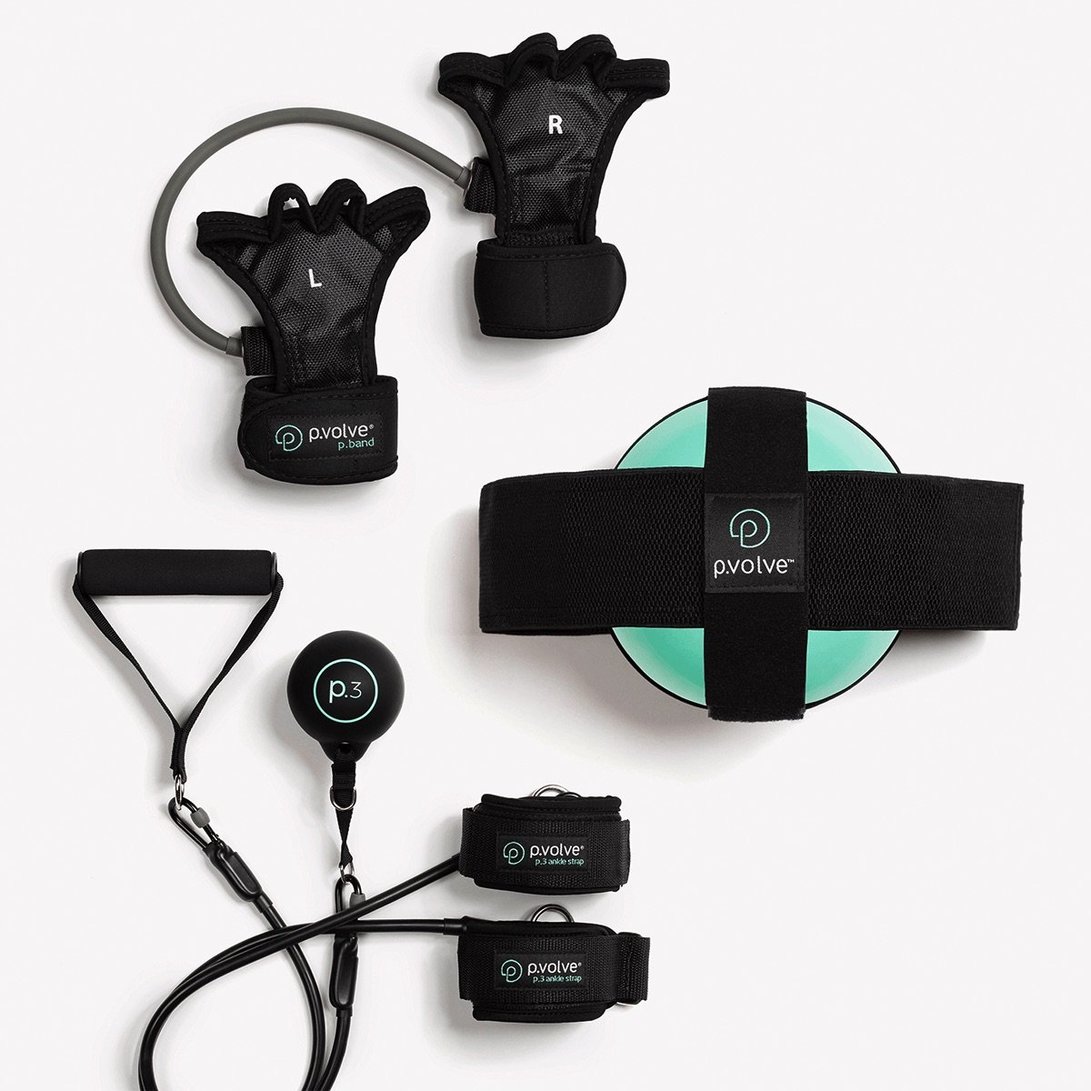 These are three pieces of equipment you won't be able to find anywhere else! And let me tell you, these give you serious results. The p.ball works wonders on the inner thighs and under butt (a.k.a the smile line), the p.band is amazing for the back and arms, and the p.3 trainer somehow targets every tiny muscle in your entire body all at once.
Step 3: Get the nice-to-haves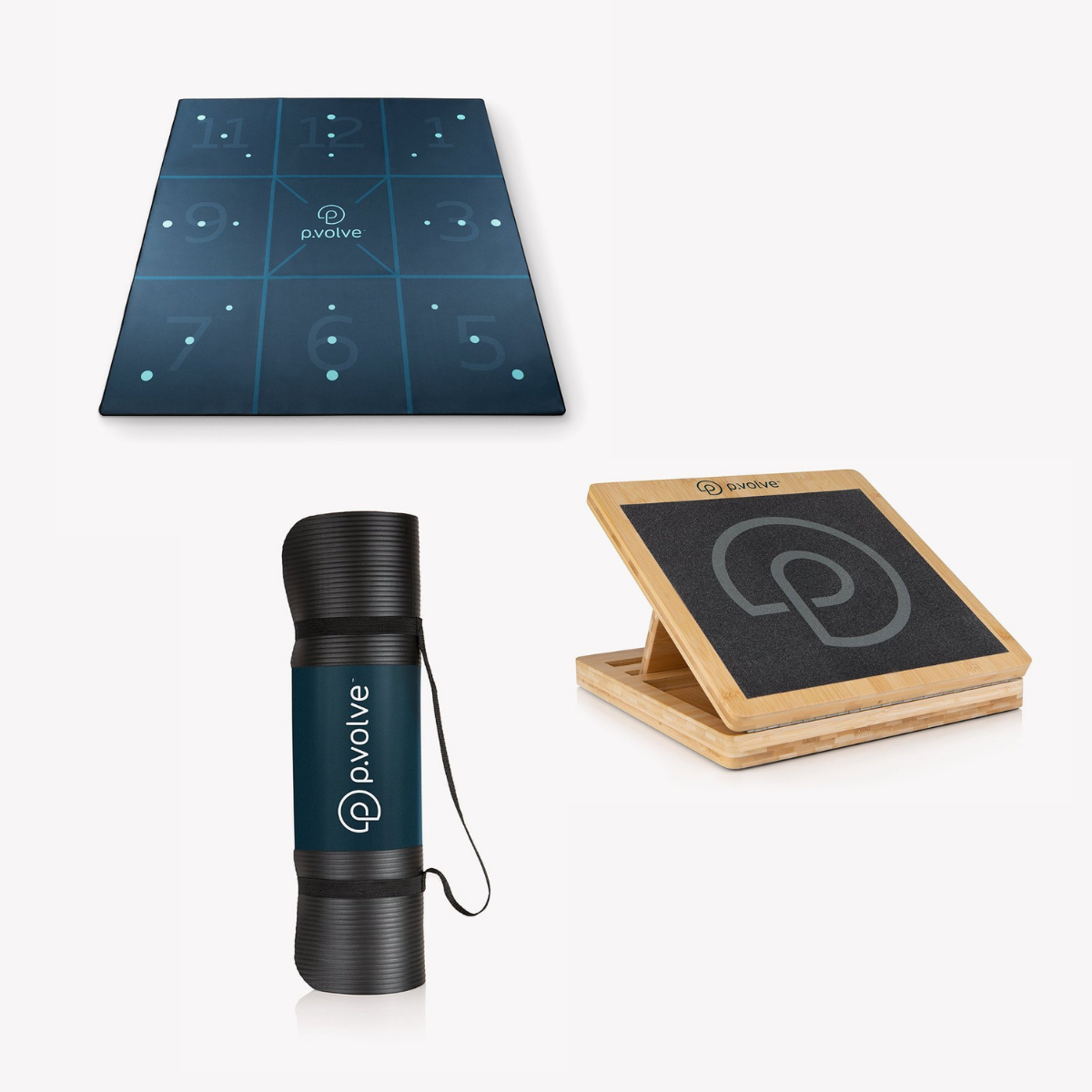 These are what I like to call "nice-to-haves", meaning I don't consider these must-have pieces of equipment. But they do make for great gifts, so be sure to add these to your holiday wish list!
I would say if you're a beginner, the Precision Mat is a great place to start because it helps guide your foot, knee, and leg placement. Form is key in P.volve!
And if you're a bit more advanced, I would 100% get the Slant Board. It targets the backs of your thighs like nothing else. Such a great way to elevate your workout (pun very much intended.)
What workouts should I start with?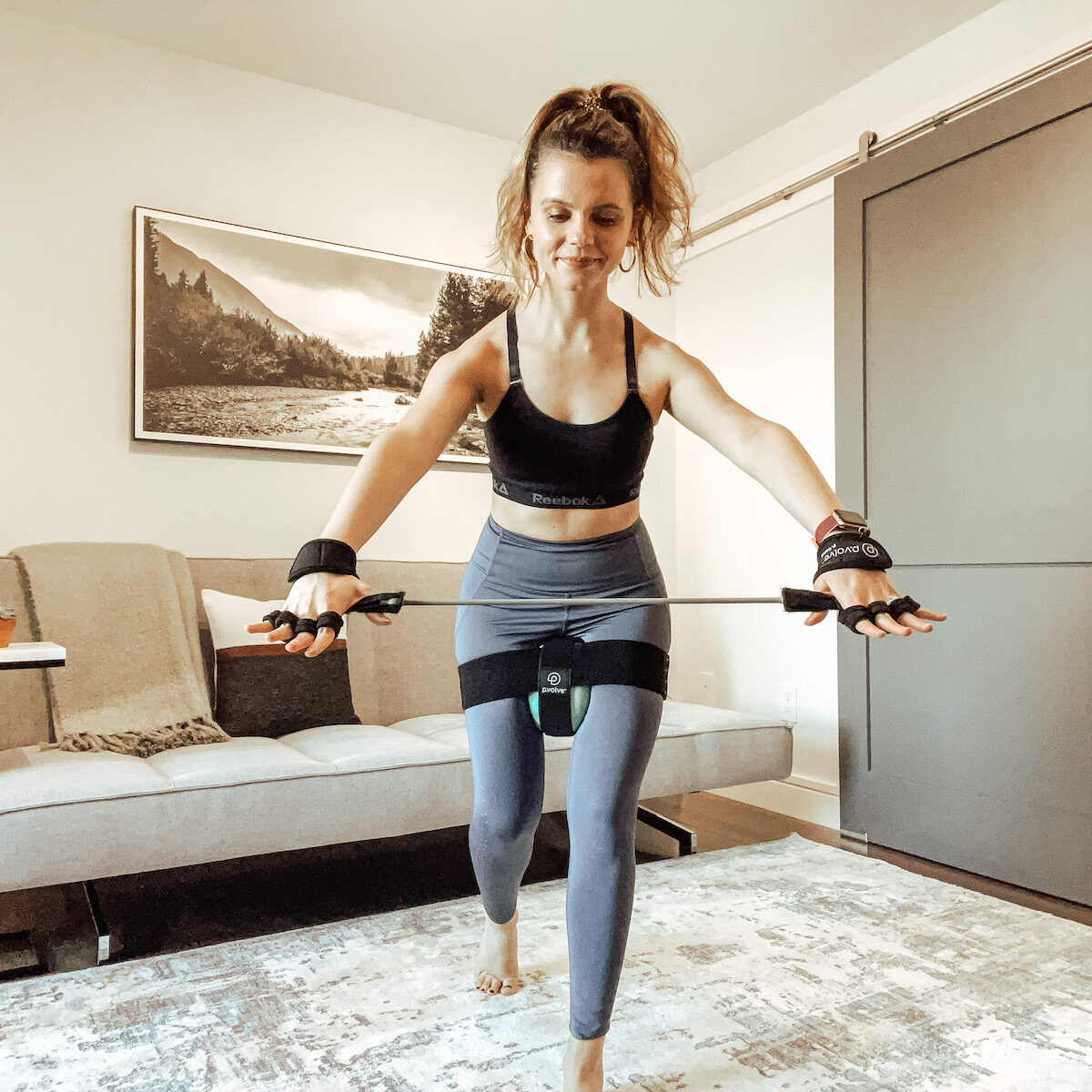 The most important thing you need to nail down when you first get started with P.volve is form. There are several positions and moves that are completely unique to the program – it's not just your typical squats, lunges, crunches type of thing. So I recommend you start with a few beginner series to really get yourself immersed in this functional training method.
Best P.volve workouts for beginners:
The following list of series will get you through your first 3-ish months of P.volve and will help set the stage for the rest of your journey. After getting through these, you'll feel more comfortable navigating the entire library of workouts!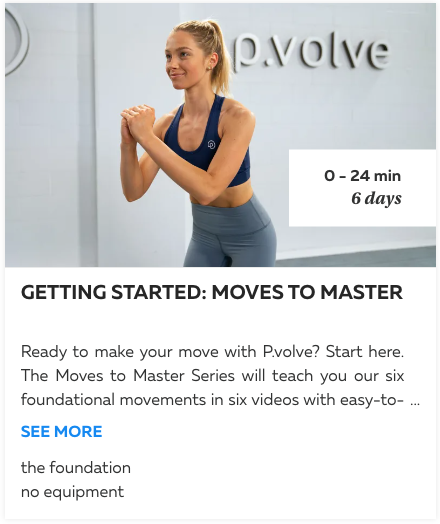 Moves to Master Series
These are short, instructional videos you can get done within a couple of days to learn all the basic P.volve moves. I highly recommend you go through these videos first!
These videos require no equipment.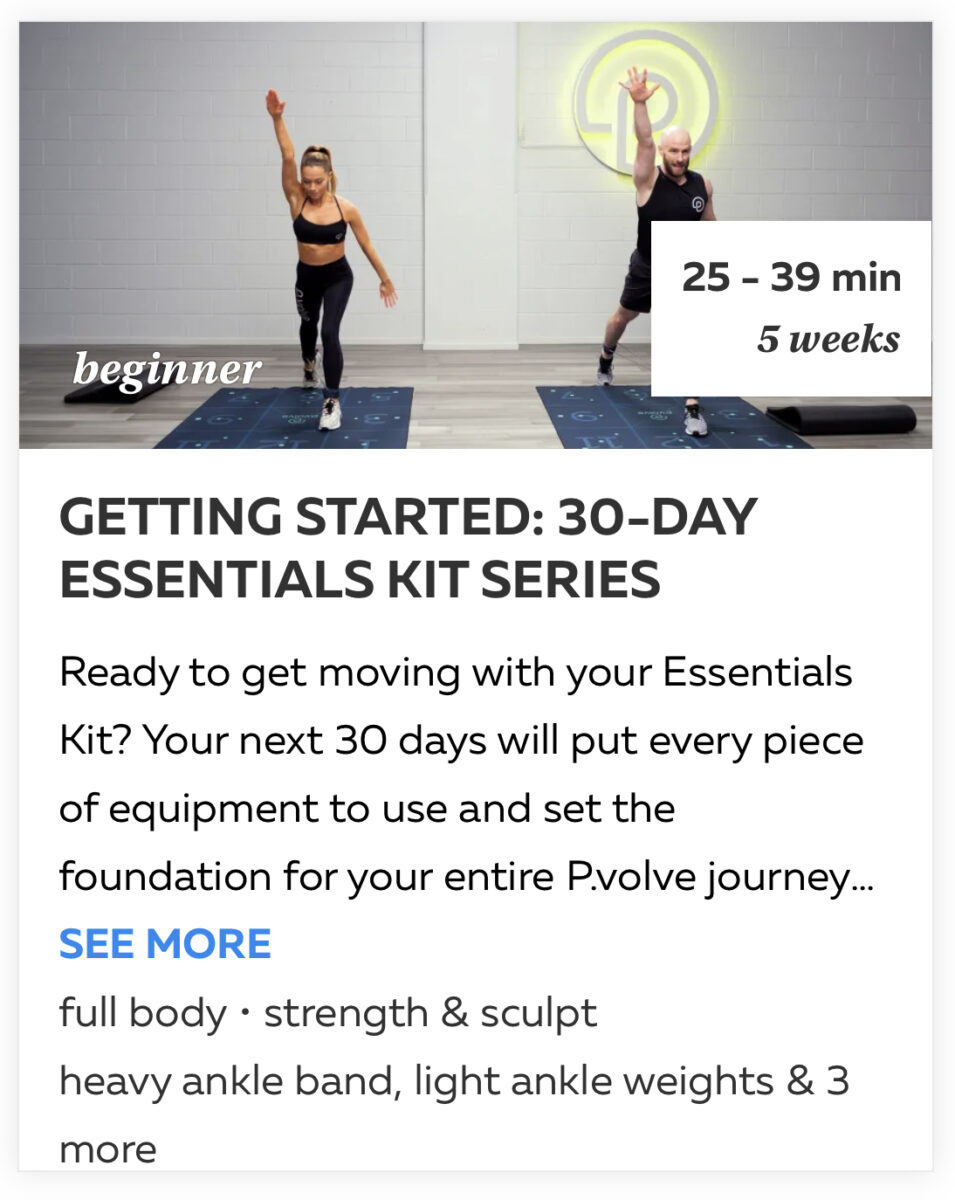 30-Day Essentials Kit Series
Once you are done with the Moves to Master, I recommend you go through this 30-day Essentials Kit series with lead trainers, Maeve and Zach. This foundational series is the perfect way to get acquainted with your equipment and really nail down your form.
Get the Essentials Kit for $30 off with code GLOW30!
My favorite advanced P.volve workouts:
Once you get through your first three months of foundational training, you can start to venture out and try other fun series or dip into the streaming library. Just pick what you're in the mood for that day and get moving!
I'm also loving the P.volve Live Virtual Studio classes! These 55-minute classes are hosted live on Zoom with P.volve's best trainers. You get to work out with women from all over the world and even get to interact with the trainers who help you improve your form. The Virtual Studio is part of the digital membership, so I highly recommend you take advantage of those classes!
Favorite Series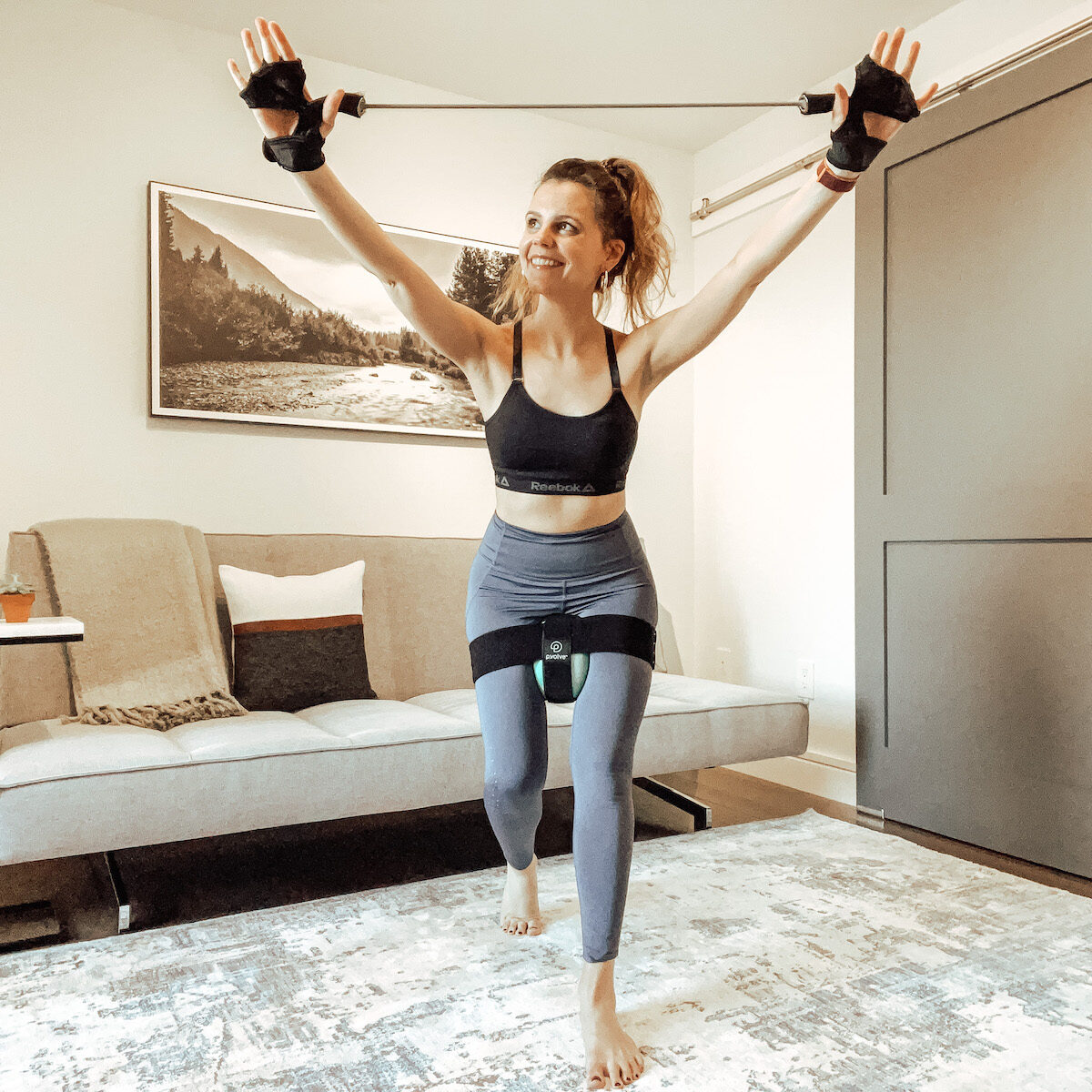 30-Day Total Transform Max: Ooof! This series will kick your booty. Maeve and Alexia lead you through a 30-day mix of strength and cardio workouts that make your entire body burn (in the best way possible!)

Phase & Function: This is a must if you have a menstrual cycle! This series will teach exactly how to work out within each phase of your cycle. It's completely changed the way I work out!
Favorite Workouts
Below is a screenshot of my top 12 favorite intermediate and advanced P.volve workouts.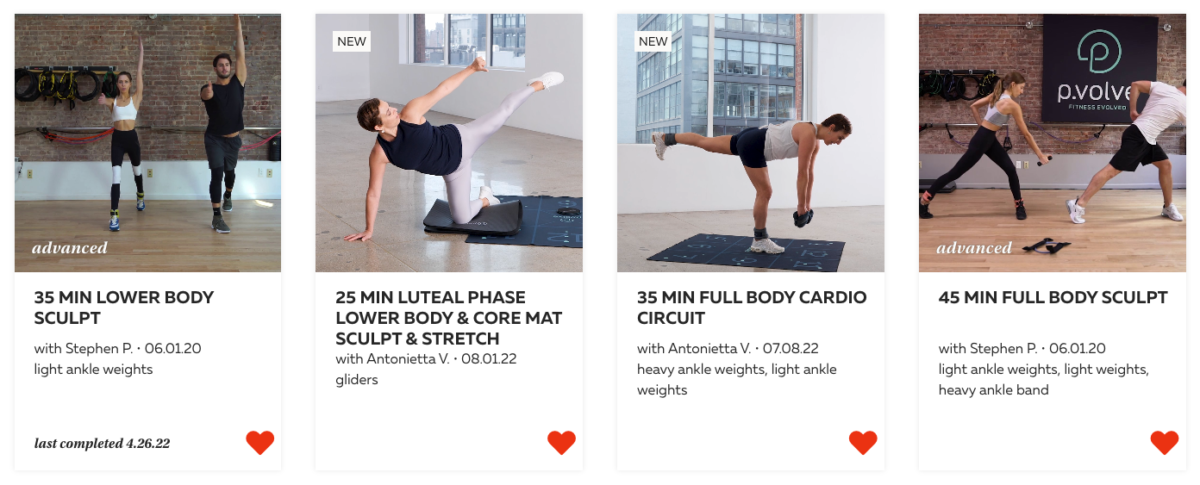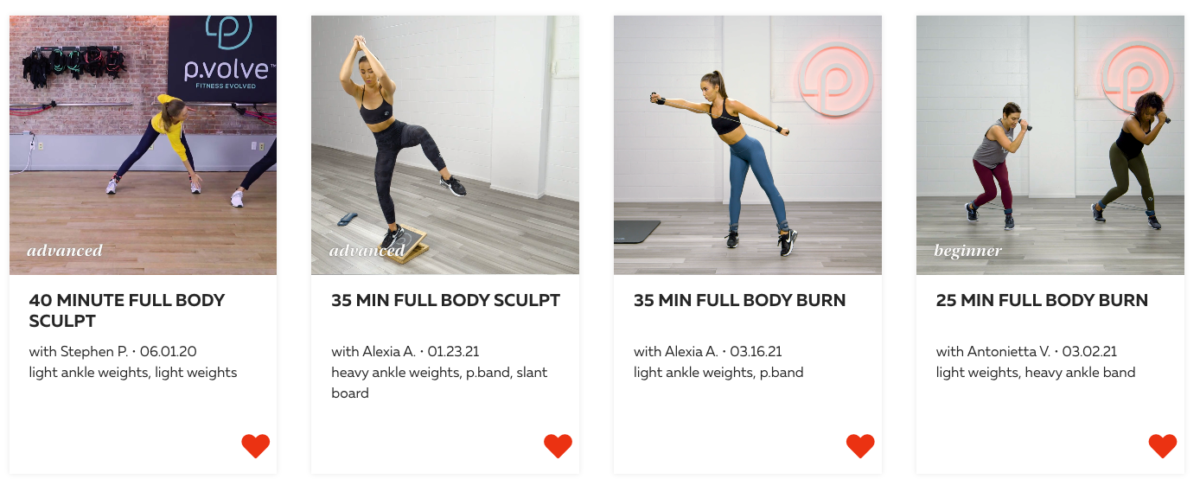 Sample P.volve Workout Calendar
I do P.volve workouts 4-5 times a week and mix in 60-minute walks when I can. As far as P.volve workouts go, I make sure to mix it up between full-body strength, targeted strength (abs, arms, booty, etc.) and cardio burns. Check out my sample P.volve workout calendar below if you need a little guidance. Keep in mind, this is just an example! Some weeks I only do 3 workouts and others I do 5. It just depends on how my body is feeling.
Normally, I like to follow this structure:
Monday: Strength + Sculpt
Tuesday: Cardio Burn
Wednesday: Live Virtual Studio Class
Thursday: Either take the day off or go for a walk
Friday: Live Virtual Studio Class
Saturday: Rest day
Sunday: Ballet class or outdoor activity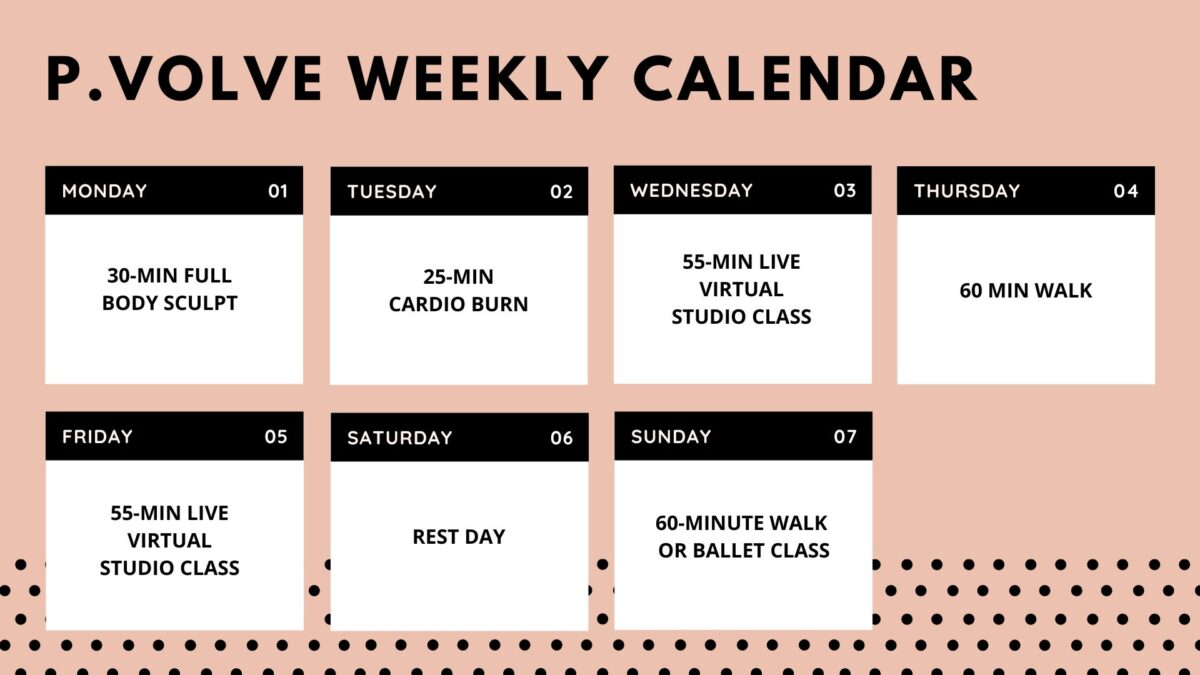 I hope this guide on how to get started with P.volve is helpful!
As always, feel free to comment below or DM me on Instagram with questions. I'm so excited to hear from any of you looking to try P.volve. I promise it won't let you down! Get started here.