Balance. Happiness. Freedom.
I know this will sound slightly dramatic, but my life completely changed the moment I found Kelly Leveque's book, Body Love. Prior to finding this amazing Holy Health Grail of a book, I was constantly bloated, I felt nauseous after every meal and was always stressing about foods I was "allowed" and "not allowed" to eat. In other words, I was completely unhappy with how I felt on the inside.
That all changed as soon as I got my hands on Body Love. This book has become my go-to guide for keeping my body balanced, happy and healthy. And I'm so excited to share it with all of you!
The Magical Fab Four
The foundation of Body Love is the Fab Four lifestyle – a lifestyle that has worked WONDERS on my digestive system. It simply focuses on one key thing: balancing your blood sugar by eating the right combination of proteins, fats, fibers and greens. Sounds easy right? Well, guess what…IT IS!
Celebrity health coach, holistic nutritionist, wellness expert, published author…Kelly LeVeque is a total health boss babe! She does an amazing job explaining the science behind the powers of the Fab Four, and how certain foods affect your hormones, health and even your genes.
She opened up my eyes to the delicious world of drama-free healthy eating! Seriously though, Kelly can we be friends??
Even though I want to tell you absolutely everything I've learned from this book, I'll try my hardest not to spoil ALL the secrets! The one thing I do want to touch on is the small change that I made to my everyday routine that helped heal my gut health forever…
Living the Body Love Fab Four Lifestyle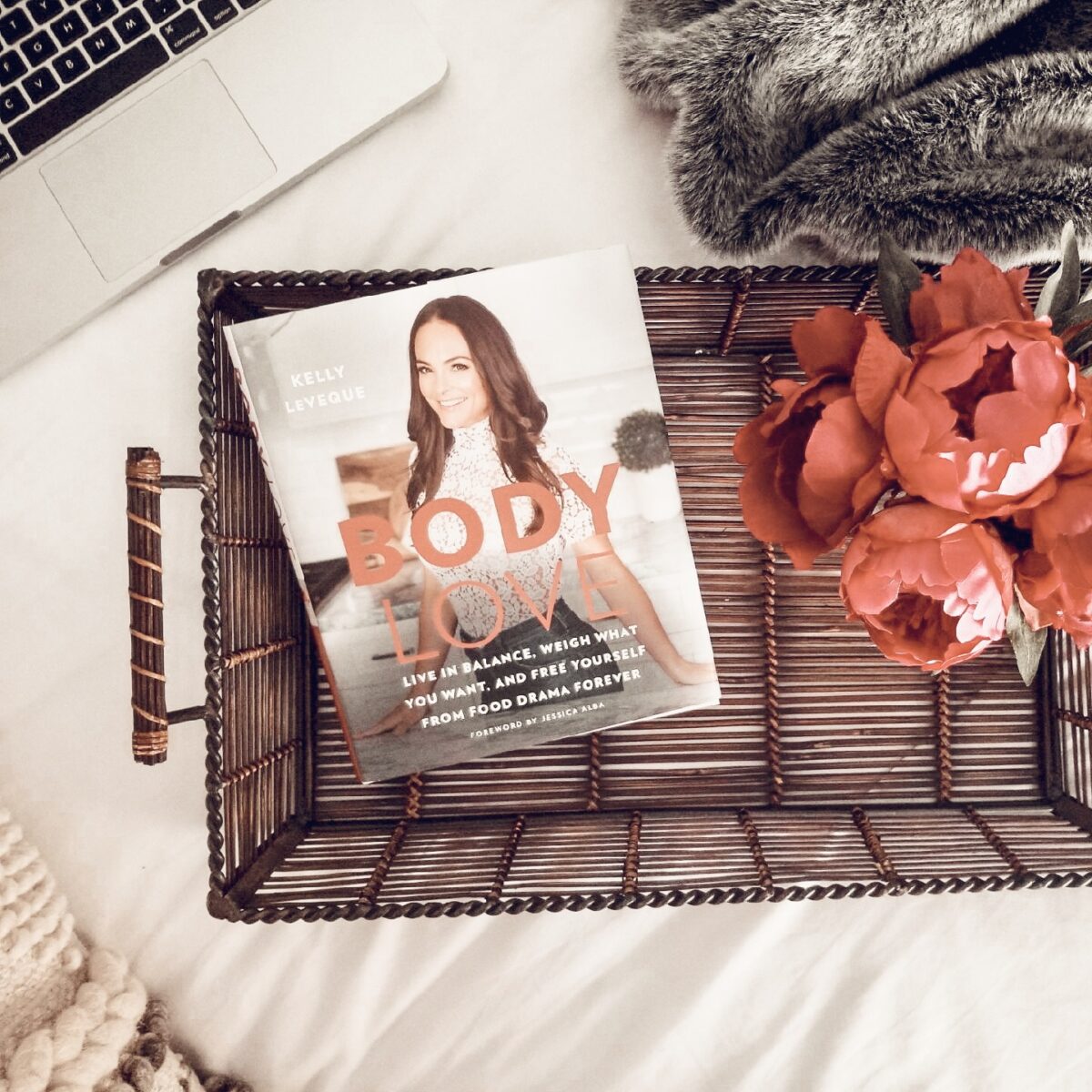 As soon as I finished reading Body Love, I knew I had to try the Fab Four lifestyle. As Kelly suggests, I started by changing just one small thing – my breakfast. She explains that if you start your day with a Fab Four smoothie, you instantly set yourself up for a successful day of blood sugar balance.
At first, the thought of giving up my morning egg scrambles and protein pancakes gave me all sorts of anxiety. I'm one of those people that absolutely LOVES breakfast, so it was hard for me to picture myself drinking a smoothie every morning and actually enjoying it. But boy was I wrong!
The Fab Four Smoothie
What goes into a Fab Four smoothie, you ask? It's simple! The FAB FOUR …duh!
Protein (at least 20 grams)
Fat (1 to 2 Tbsp)
Fiber (1 to 2 Tbsp)
Greens (unlimited!)
2-3 cups of liquid of choice and any superfoods you may want to add (adaptogens, super powders or nutritional toppings like cacao nibs or coconut flakes)
Optional: ¼ cup of fruit (I've stuck to fruit-free smoothies for the most part because it keeps my blood sugar from crashing)
With this magical formula in hand, I started my Fab Four experimentation. For the past month, I've started my days (Monday through Saturday) with a delicious Fab Four smoothie. I drink my smoothie at around 8am after my morning workout and feel AMAZING until lunch time at around 1pm. Kelly arms you with tons of delicious smoothie recipes so you never get bored.
My go-to smoothie combination is: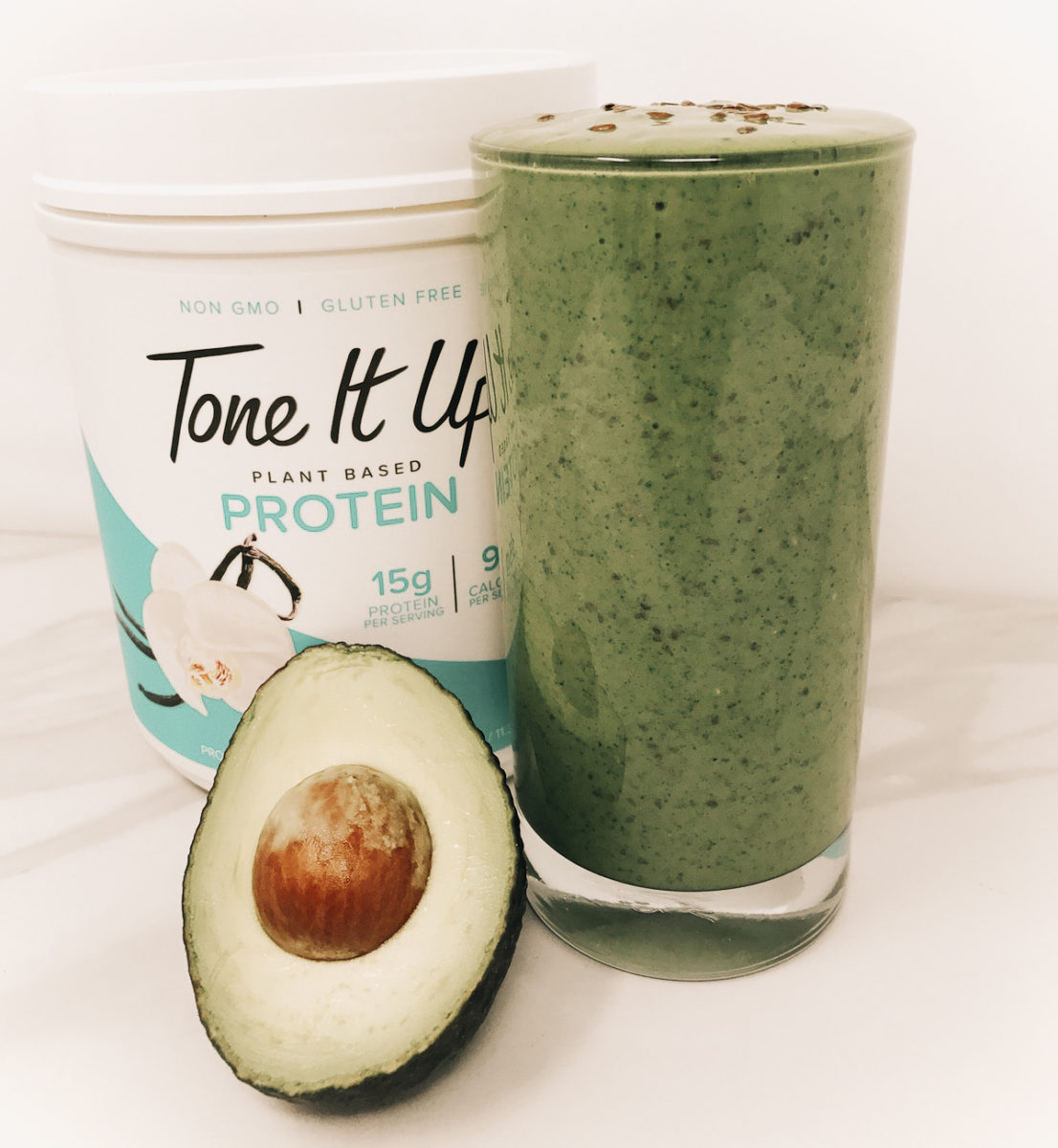 ½ avocado
2 Tbsp of chia seeds or flax seeds
1½ scoops of Vanilla Perfect Fit Protein
1 to 2 handfuls of spinach
2 cups of almond milk
Sometimes I add in a mini persian cucumber and a few mint leaves for a refreshing touch!
It's easy, delicious and keeps me full for a good 5 hours – something I haven't experienced in years! Upping my consumption of healthy fats and adding extra greens to all my meals has made a huge difference. It allows me to FORGET about food until it's time for my next meal. No stressing over mid-morning snacks, afternoon snacks, or whether I packed enough food to bring with me to the office. It's amazing!
The Rest of my Fab Four Meals
Since I was feeling so great after my smoothies, I decided to apply the Fab Four formula to the rest of my meals.
For lunch, I either bring a salad with grilled chicken, avocado, cucumbers, hemp seeds and an olive oil based dressing, or I just pack up some leftovers from my Fab Four dinner from the night before. If I'm going out to lunch for our Alchemy Fun Friday's, I just look for meals that contain a good source of protein, a yummy fat like avocado, and tons of fiber-rich veggies.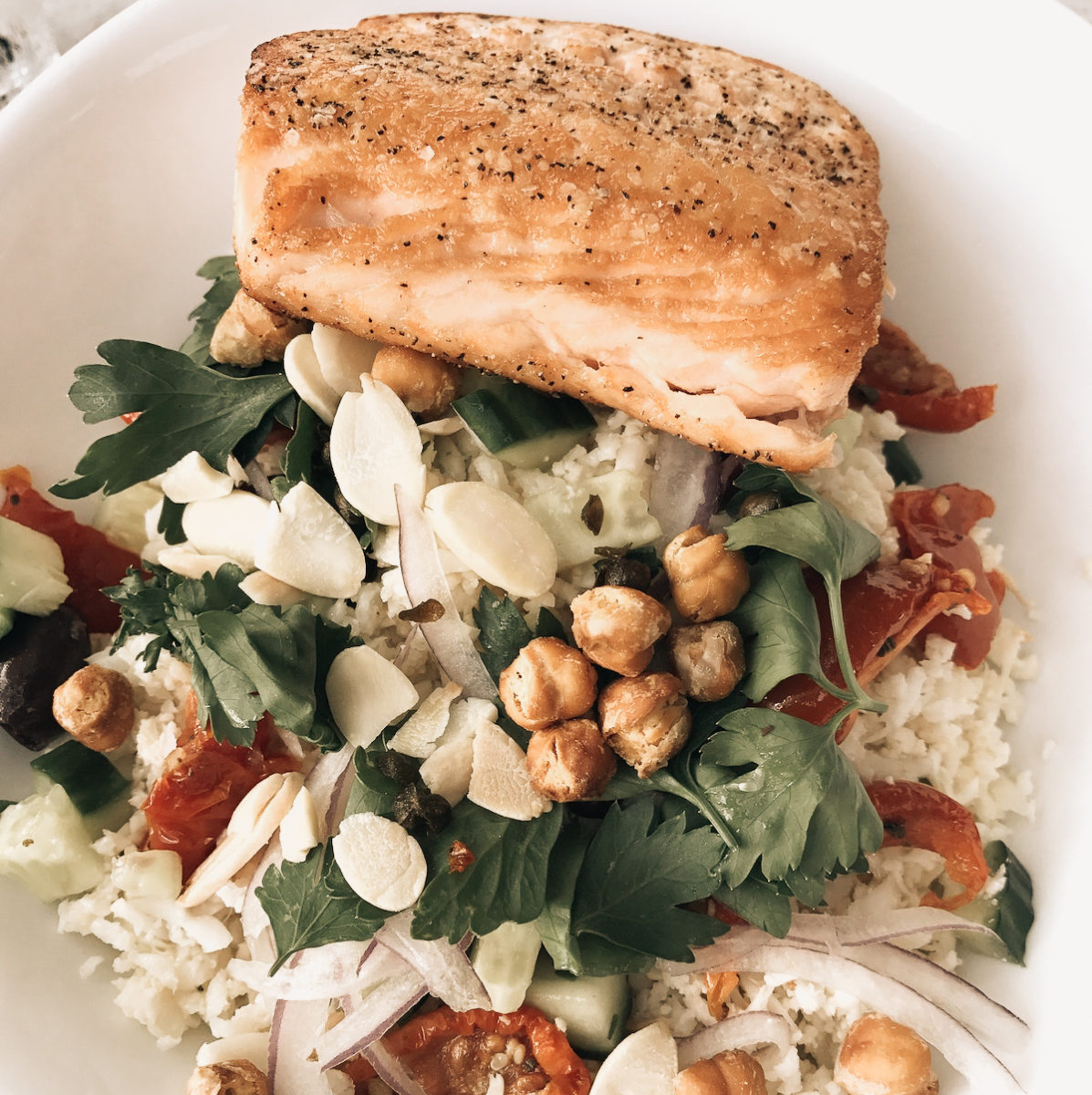 Dinners are just as easy! The Body Love book is packed with delicious Fab Four recipes that take 30 minutes or less to make. We're talking roasted chicken, mouthwatering Italian meatballs, beef stir fries and juicy baked fish. I've made about 7 recipes so far and have loved all of them…and they're Alex-approved!
After just two weeks of living the fabulous Fab Four life…
The constant bloating completely disappeared.
I was no longer nauseous after every meal. My digestive system finally had the right amount of time in between meals to fully process my food.
Trips to the loo for #2 (rhyming makes this topic cute, right?) were down to just once a day, right after my smoothie. TMI, I know, but this was life changing for me!
My body reached its prime weight. FYI, I was NOT trying to lose weight! But my body did naturally shed a few pounds, and I've been able to keep my weight consistent for the past month.
My skin was clear and glowing!
I felt confident and at ease!
That's it people! The Body Love Fab Four lifestyle is ridiculously easy and stress-free.