Thanks Tone It Up Protein Bars for helping us fight our hanger monsters…
You know how it is! You're at the office working away like the busy bee you are when all of a sudden your Hanger Monster shows up to the usual midday slump party. Your motivation goes out the window, and you feel like you basically can't function until you get a little snack (a.k.a. Tone It Up Protein Bars) in your belly.
But what do you reach for? Candy bars? Energy drinks? That donut box in the kitchen? No, no, noooo! You're asking for a serious sugar high right there.
We usually turn to healthier protein bars instead. But now the question is: what bar do you choose? There's TONS of protein bars out there…some are good for you, others aren't. The quest for the perfect bar can seem endless without a little guidance. But that's what we're here for, right?!
Tone It Up Saves the Day
Luckily, our girls Karena and Katrina have done it again! They took their delicious protein blend and turned it into even more delicious Tone It Up Protein Bars. And best of all, they sell these bars, along with their Perfect Fit protein, at Target now! #BestTargetRunEver
So do these yummy bars meet our CO snack standards? The stakes are high on this one being that we consider ourselves the snack queens of Michigan…
Claudia's Thoughts on Tone It Up Protein Bars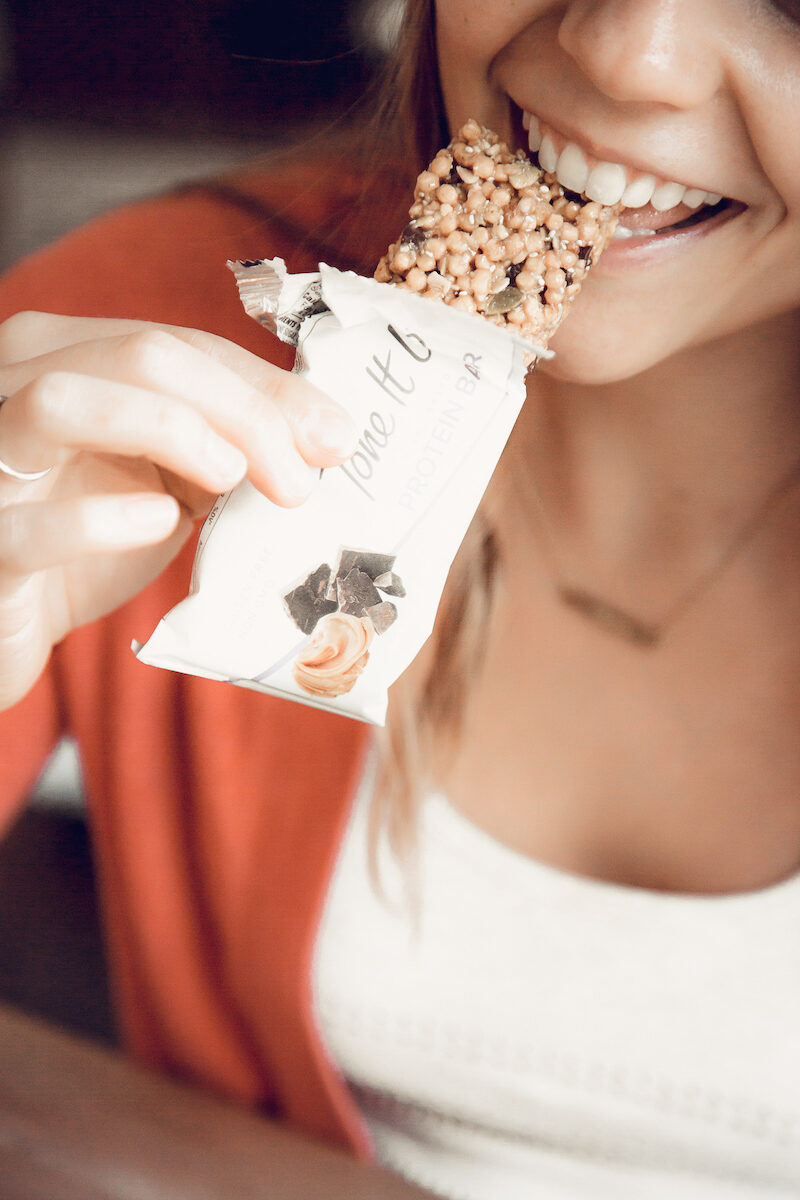 I love, love, love both flavors. I grab the Blueberry Coconut when I need a mid-morning snack and the Peanut Butter Chocolate to calm my afternoon hangry pants. Since peanut butter and chocolate is one of my all-time favorite flavor combinations, I'll be giving you the inside scoop on the Tone It Up Protein Bar in Peanut Butter Chocolate and will let Sam fill you in the on the Tone It Up Protein Bar in Blueberry Coconut.
First let's talk texture.
It's seriously the perfect blend of chewy and crunchy! I love this because it feels like I'm eating something more substantial. I also love that you can actually SEE the pieces of peanuts, pea crisps, pumpkin seeds, chia seeds and chocolate in these bars. It gives you the assurance that they're made with real (and totally delicious) ingredients.
Do these Tone It Up Protein Bars really have all the goods?
Now let's talk taste and nutrition. These bars literally taste like peanut butter and chocolate (a.k.a. the BEST combination known to man). You may be thinking they are super sweet, but nope! Each bar contains only 8 grams of sugar, which is way less than most other protein bars in the market. And best of all, these little guys are packed with 10 grams of protein and have only 160 calories…talk about the best snack bar ever!
I found that these protein bars definitely keep me full until dinner time, and they give me the extra boost of energy I need to get me through that mid-afternoon slump.
They're also easy to thrown in your bag and go. No need to overthink it. So all in all, I give these Tone It Up bars two thumbs up!
Did Sam love them too?
Anyone who knows me, knows that I'm a lover of all things chocolate and peanut butter. It's my go-to flavor combination. So, when I learned about the Tone It Up Protein Bars and I saw the chocolate peanut butter, I thought that would be my fav. Breaking news: I liked the blueberry coconut more! GASP.
Tone It Up Protein Bar Blueberry Coconut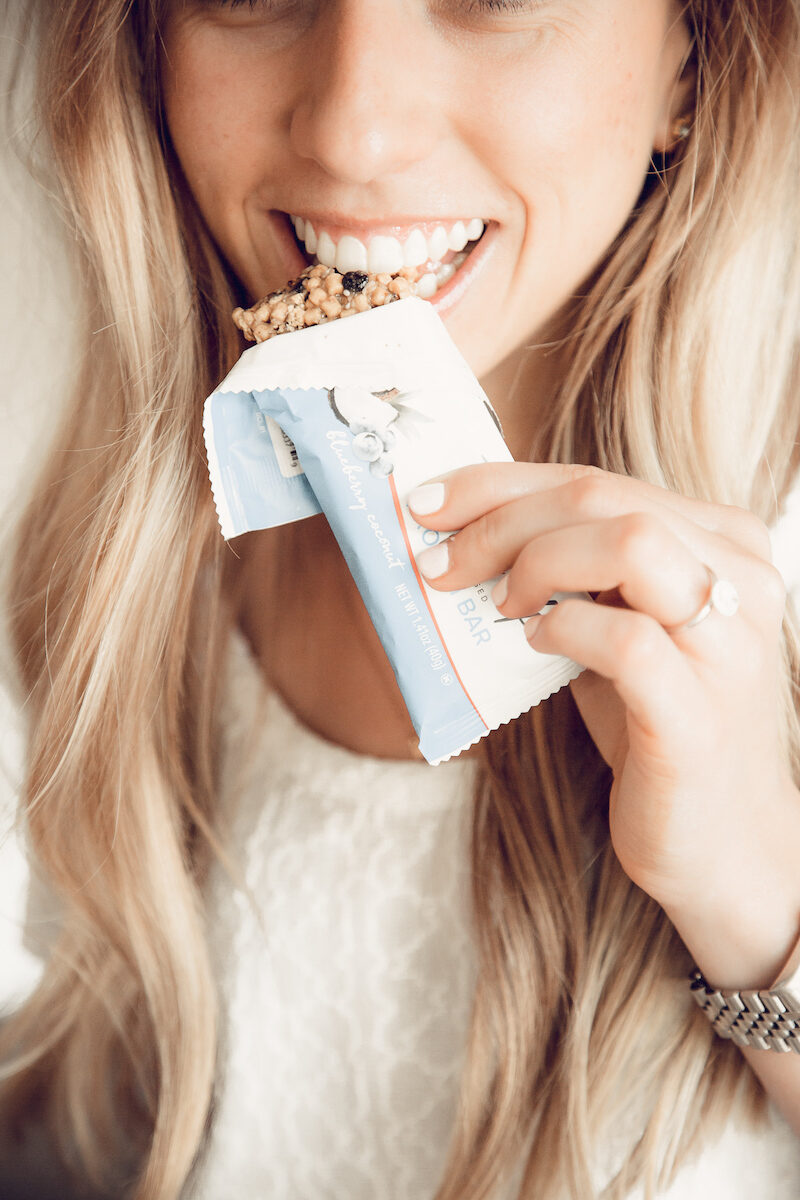 The blueberry coconut has just the right blend of both flavors and just enough sweetness. Like Claudia mentioned, it's a great morning bar, but I've been known to snack on one during my hangry afternoon hours (usually when I forget my snack and Claudia let's me raid her work stash…thx girl!).
The consistency of these bars reminds me of the Quaker Chewy Bars we used to have as kids. Remember, the chocolate chip ones that your mom refused to buy but you'd raid your friend's pantry for? Just me? Those were the perfect blend of crunchy and chewy…and these TIU bars are too! Except they're exceptionally healthier for you. Thanks for satisfying my childhood cravings, TIU!
Overall, though?
TBH…I don't know if these are my favorite protein bars ever.
They're yummy and lack yucky ingredients, but I don't ever find myself craving one.
I might not be craving them since they're only available at Target and you know what they say: outta sight…outta mind! Don't get me wrong, I LOVE a good Target run, but I only find myself at Target every now and then.
Honesty Hour!
Want another TBH moment? I don't know that I have a favorite protein bar at all. There are a lot that I love to snack on when I didn't bring a better snack, usually Square Organics, but sometimes those hit my sweet tooth just a little too hard!
Have a favorite that you think I'd love? Tell me more in the comments!
The Final Score
We'd definitely say these Tone It Up bars are on par with Square Bars (our other protein bar favs). While Square Bars are certified organic and come in more flavors, TIU bars have less sugar and less calories per bar….so there's pros and cons for each. It really just depends on what your little taste buds like!

Overall, we'd give these a 9/10.