Cooking just got ridiculously easy!
Let us introduce you to the most magical of all kitchen contraptions: the Instant Pot. If you like to cook, listen up. If you don't like to cook, definitely listen up. This #COmusthave is going to literally BLOW your minds!
What's an Instant Pot, you ask? It's a pressure cooker, slow cooker, rice cooker, steamer, sauté(er?), yogurt maker and warmer all in one. Yes, it is literally all SEVEN of those things.
So if you enjoy cooking, the Instant Pot gives you that extra helping hand so you don't have to spend endless hours in the kitchen. And if you don't like to cook, this thing will literally do it all for you…so why not?
We first heard about the Instant Pot through Sam's mom. She always has her pulse on the latest and greatest in the foodie world! Being the #KitchenBoss that she is, she was of course a proud owner of an Instant Pot. And lucky for us, she let us borrow it so we could give you guys the inside scoop!
Instant Pot Fun Facts
Let the mind-blowing begin!
It prepares dishes up to 70% faster than conventional methods while preserving more nutrients…HECK YES!
It has 14 Smart Programs to help you make everything from soups to chili to rice to slow cooker meals to sautéed meats or fish all with the simple touch of a button. The possibilities are ENDLESS!
The inner cooking pot is made out of food grade 304 stainless steel and has no chemical coating. PERF.
Not convinced yet? Keep reading. This thing literally changed our lives! (In the kitchen…let's not be overly dramatic.)
---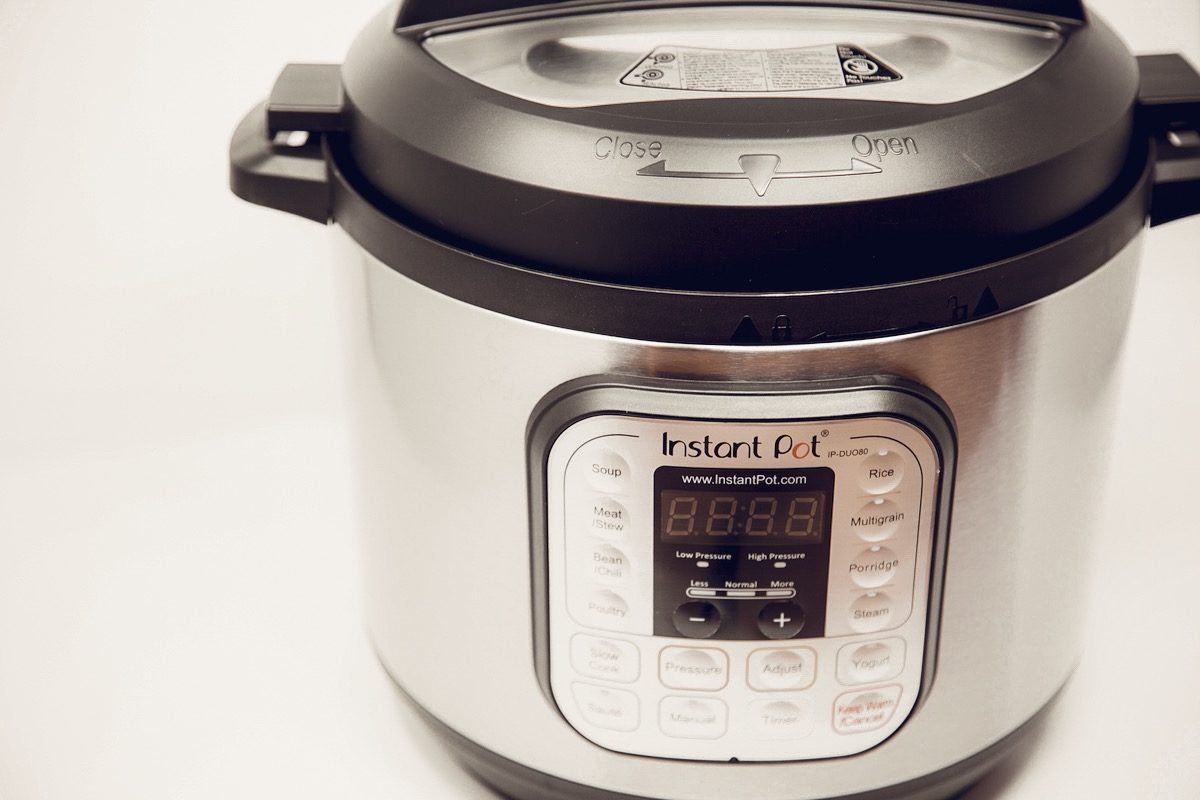 The Rundown
Product: Instant Pot DUO60 (6 Quart)
Retail Price: $99
Where to buy: Amazon, Target, Walmart, Best Buy and other locations
Perks: In-Store & Online | Wallet Friendly (7 in 1!) | Energy Efficient | UL/ULC Certified | 10 Fool-Proof Safety Protections
---
Claudia's Instant Pot Experiment
Omg, this Instant Pot cooker is overwhelming! It has so many buttons…and so many functions…and a manual I don't really want to read. Where do I begin?!
Panic did, in fact, ensue when I first opened up the box.
This thing is massive and slightly intimidating, I must admit. Not to mention, I was borrowing this brand new magical contraption from Sam's mom and she had never used it before! The pressure was literally on.
To avoid any mishaps, I read through the first couple of pages of the manual to ensure I was setting everything up correctly.
Inner cooking pot clean? Check!
Lid clean? Check!
But then, I was like…
Okay, I can do this!
After reading the setup instructions about 10 times (I was just paranoid…there actually isn't anything you have to set up besides cleaning the pot and lid!), I pulled up the Instant Pot Flank Steak Taco recipe from The Defined Dish, my latest foodie blogger obsession, and got to work.
First, I plugged in the Instant Pot, poured in a tablespoon of olive oil and hit the "Sauté" button to start heating it up.
Next, I chopped up my onions and shallots and threw them in the Instant Pot as soon as the oil was hot.
Then, I sautéed all day! (Really only 5 minutes but rhyming is fun.)
At this point, I was already mind blown. The fact that you can sauté and pressure cook in ONE POT is absolutely amazing! No frying pans, no mess.
Next, I threw in my seasoned flank steak pieces, sautéed a little more and added in the sauce ingredients. Finally, I closed the lid, sealed the valve and set the Instant Pot to "High Pressure" for 45 minutes. So basically, my personal cooking time was like…10 minutes. The rest was up to the Pot!
Mouthwatering Goodness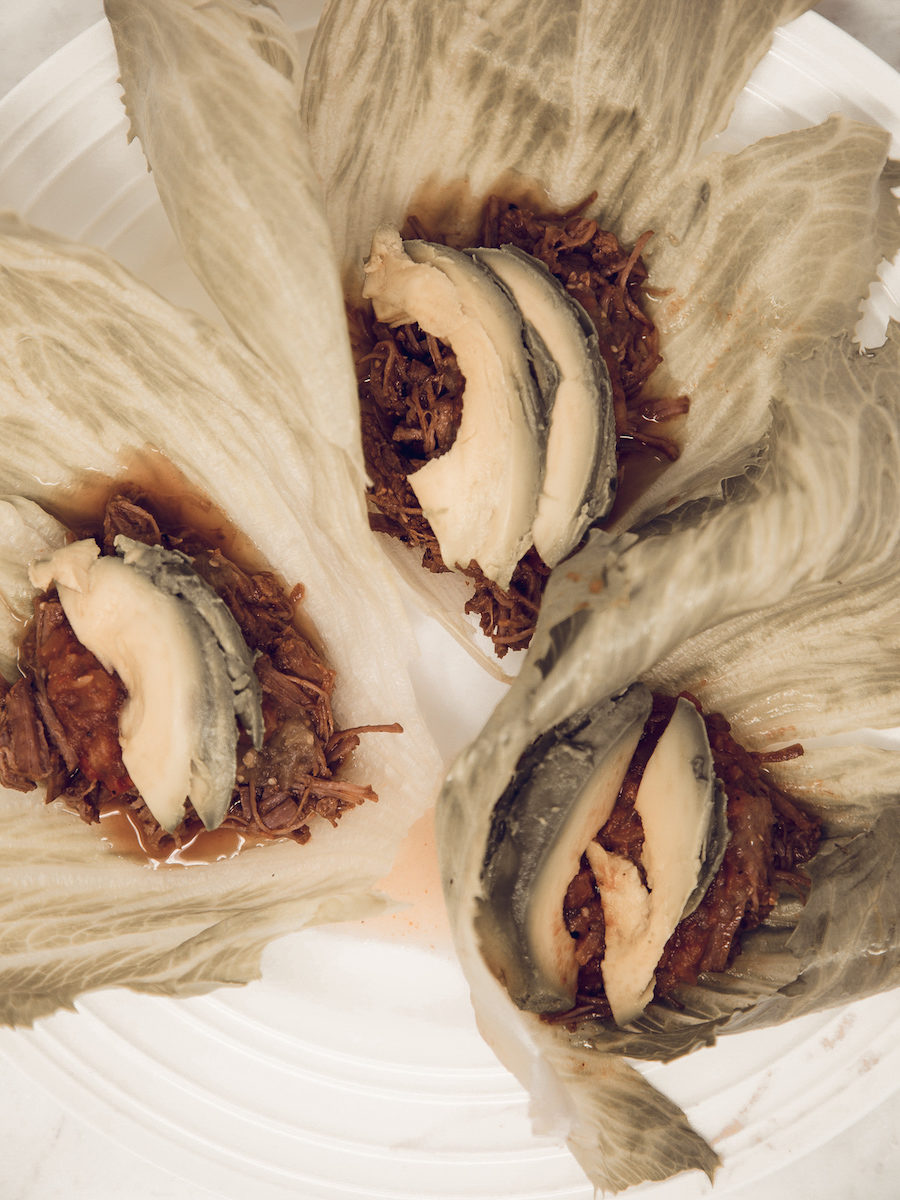 Those next 45 minutes were actually super helpful! I got to catch up on my to-do's without having to worry about whether something was burning in the oven or overcooking on the stove. You literally seal the pot and forget about it!
Of course, I was giddy with excitement when the 45 minutes was up. I opened the valve to let the steam out, unlocked the lid and low and behold, I had perfectly cooked, juicy flank steak ready to be shredded.
Let me tell you, these tacos were TO DIE FOR. Very flavorful and done in just under an hour! Definitely beats the 8-hour slow cooking day.
Instant Pot vs. Slow Cooker
Let's compare apples to apples, shall we? Are there any pros to making flank steak tacos in the regular old slow cooker? Or is the Instant Pot the way to go?
I LOVE me a slow cooked meal. There is nothing more comforting than coming home and knowing that your food basically cooked itself while you were away and is ready to be enjoyed at your convenience. Talk about stress-free living!
Good news is the Instant Pot has a "Slow Cook" mode! Duh. So if you like the idea of coming home to a prepared meal, don't want to deal with extra dishes and like your meat super tender…then Instant Pot away my friends!
Sam's Instant Pot Experiment
Honesty moment: my mom and I went through a similar state of panic when we first opened the box. There are SO many buttons. We also read a few pages of the manual and cross referenced the recipes we had on deck and we were on our way!
After a couple recipes my mom said, "Once you have the hang of this thing, it's super easy!" and she was right.
What Would I Do Without My Mom?
Knowing we were getting ready to review the Instant Pot for you guys, my mom helped me go all out for the official CO test. (My mom is an honorary Certifiably Obsessed blogger at this point.) We were determined to make hard-boiled eggs, spaghetti squash (to go with our dinner that night), and bone broth all in one night. Impossible? Not with the Instant Pot!!
I feel like I should be in an infomercial for this thing right now. You can do ALL this in JUST ONE NIGHT! (Can you hear my cheesy voice?)
The Perfect Hard-Boiled Egg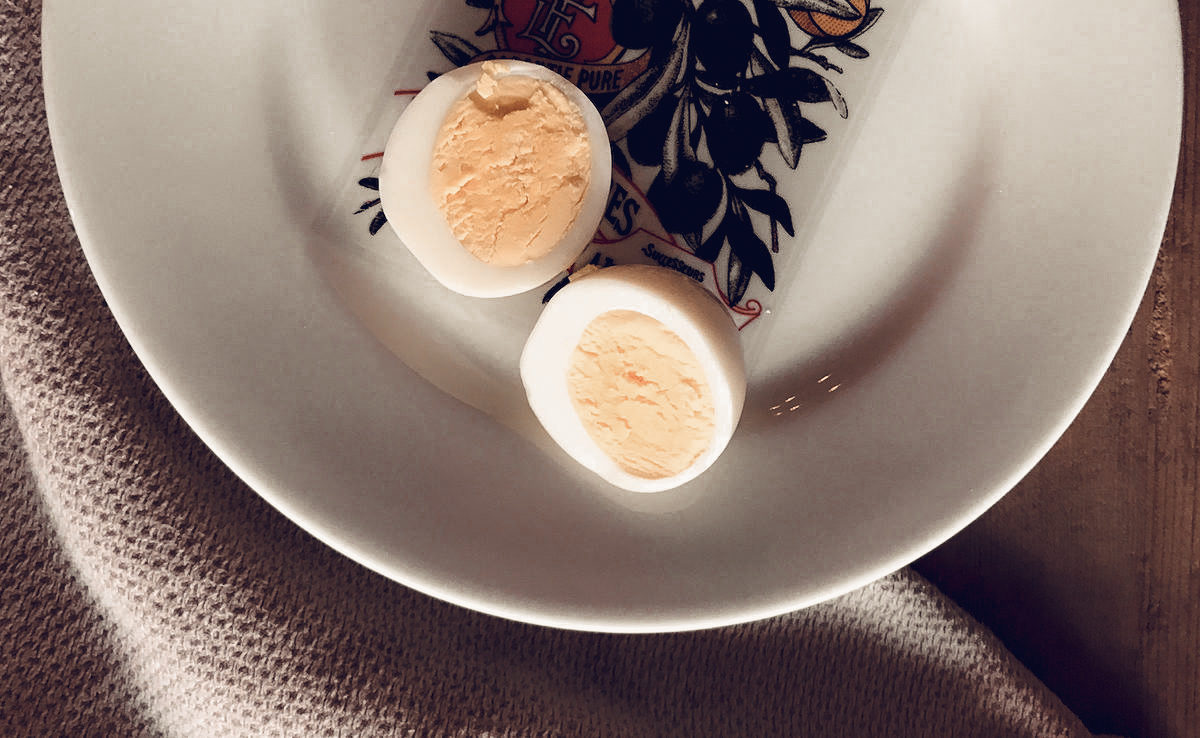 Anyone else feel like making hard-boiled eggs is usually one giant guessing game? They're always undercooked or overcooked…ALWAYS. No? Just me?
Anyway, the Instant Pot basically guarantees perfectly cooked eggs. It's as easy as one, two, three:
Pour 2 cups of water into the stainless pot.
Put as many eggs as you want onto the wire rack insert (literally you could put like three dozen eggs in here. Talk about #mealprep).
Cook on manual, high pressure for five minutes and use the instant release feature when they're done.
An optional fourth step is to pour ice water into the pot until it covers the eggs to let them cool down and stop the cooking (that's what we did).
My dad was the one who really wanted the hard-boiled eggs so he tested them first. He said they were perfectly cooked and absolutely delicious! Yes these babies are #dadapproved.
Oh, Spaghetti Squash…I Love Ya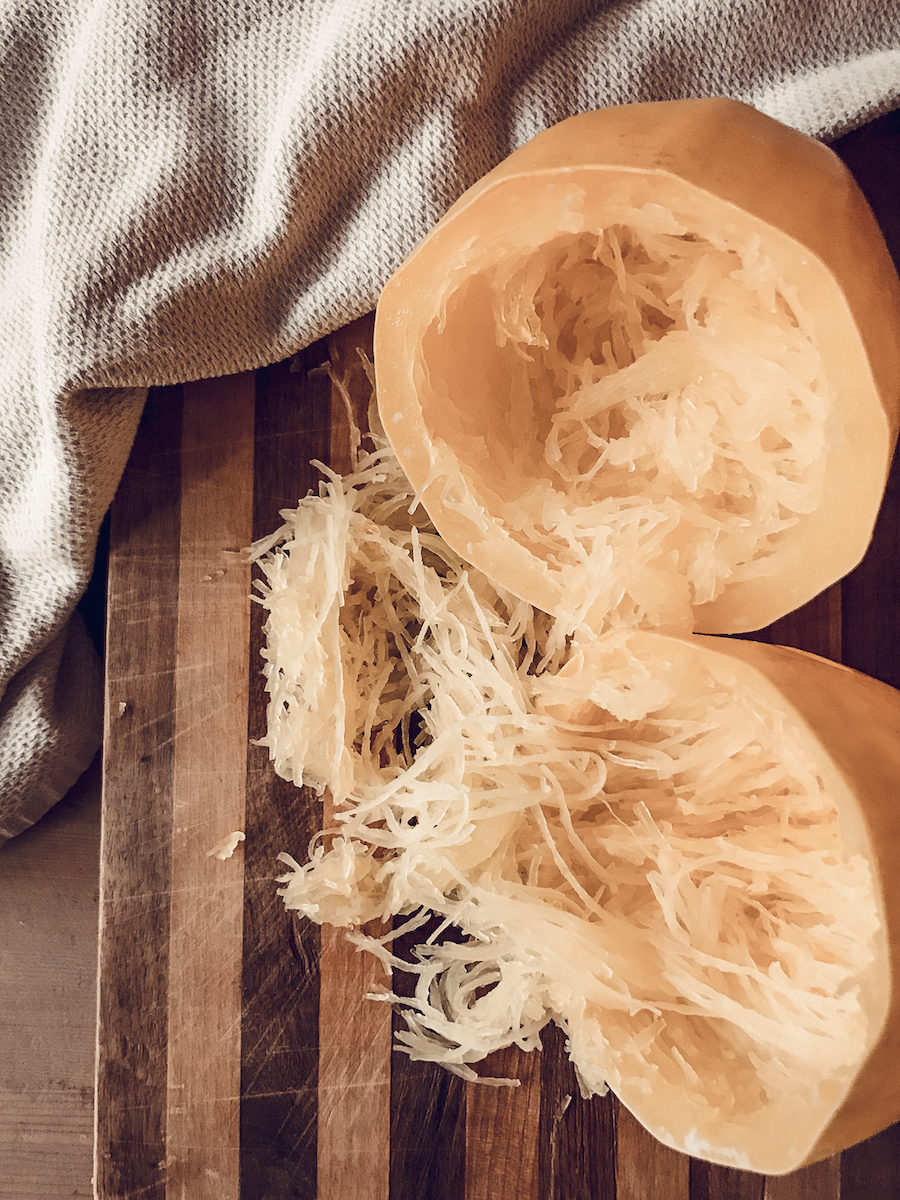 I LOVE pasta, but real gluten-filled pasta makes me feel blah. Spaghetti squash has been a go-to for me to satisfy my pasta cravings. Let's just take a moment to recognize how cool spaghetti squash really is…a vegetable that automatically turns stringy when cooked…SO COOL. (I hope you guys think this is as cool as I do.)
The real problem with spaghetti squash is it takes SO much longer to cook than normal pasta. That is, friends, until I met the Instant Pot.
Spaghetti squash can now be made in just 9 minutes as opposed to the normal 45 minutes it takes in the oven. YES, ONLY 9 MINUTES (read in cheesy infomercial voice). This recipe is the same as the hard-boiled eggs above, except only one cup of water goes into the pot. Everything else, with the time adjusted, is the same! Easy peasy.
Even with less cooking time, it still tastes just as good as when it's oven-baked. This is so #COapproved, you guys.
The Ever-So-Trendy Bone Broth
Bone broth is everywhere. It's delicious and so nutritious. There's no wonder why it's #trending. Not sure why it's so good for you? Bone broth can…
Treat your leaky gut.
Improve joint health.
Maintain healthy skin and reduce cellulite.
Boost your immune system.
Induce detoxification.
Yes, yes and YES PLEASE. All of this happens when the bones are simmered and they release healing compounds like collagen, proline, glycine and glutamine. The problem is that all this healthy simmering normally takes upwards of eight hours on the stove top and ain't nobody got time for that!
(Cue infomercial voice) NOT ANYMORE! The Instant Pot can make your delicious and nutritious bone broth in 30 MINUTES! No, you're not dreaming!!
Store-Bought vs. Instant Pot Bone Broth
Because I'm a #wannabe, I bought the Kettle & Fire bone broth from Whole Foods a few times. I say a few times because it was $12 for two servings and that adds up real quick. I thought it tasted good, but I didn't have anything to compare it to!
So my mom and I made The Defined Dish's bone broth recipe, but Instant Pot-ified it. This stuff tastes SOOOOO (extra emphasis necessary) much better than the store-bought version. Like so much better it's amazing. I vow to never ever buy bone broth again.
Moral of the story: I LOVE THE INSTANT POT. You best believe this beauty is going on my wedding registry!
Instant Pot, you will forever hold a special place in our hearts…and future kitchens.