Ghee is a type of clarified butter (originating in India) that is heated, reduced and triple-filtered. After all the fun and games, you're left with pure healthy fat that is lactose-free and dairy-free. Let me break it down for you…
Butter = Milk Solids + Butter Fat + Water
Ghee = Butter – Milk Solids – Water
Why clarified butter? Well ghee..
Has a higher smoke point than normal butter, olive oil and coconut oil so it's great for cooking, especially sauteéing!
Is rich in butyrate, which is a short chain fatty acid linked to an immune response that can decrease inflammation and help improve the digestive system (Buh-bye bloat!)
Can last a long time in your pantry (up to three months!) and doesn't need to be refrigerated.
Has very low amounts of casein (protein found in milk) and no lactose! Lactose-free and dairy-free friends, this is for you!
Is rich in fat soluble vitamins A, D, E and K. (Gimme all the fat-soluble vitamins!)
IS DELISH.
After learning all that awesomeness, we obviously knew it was time to get some ghee in our lives. The #trendy bloggers were all about Fourth and Heart, but as we've learned it's best to put the trends to the test. So, we also tried the more approachable (and affordable) Organic Valley, just for funsies.
Which brand of ghee, if any, will win our stamp of approval?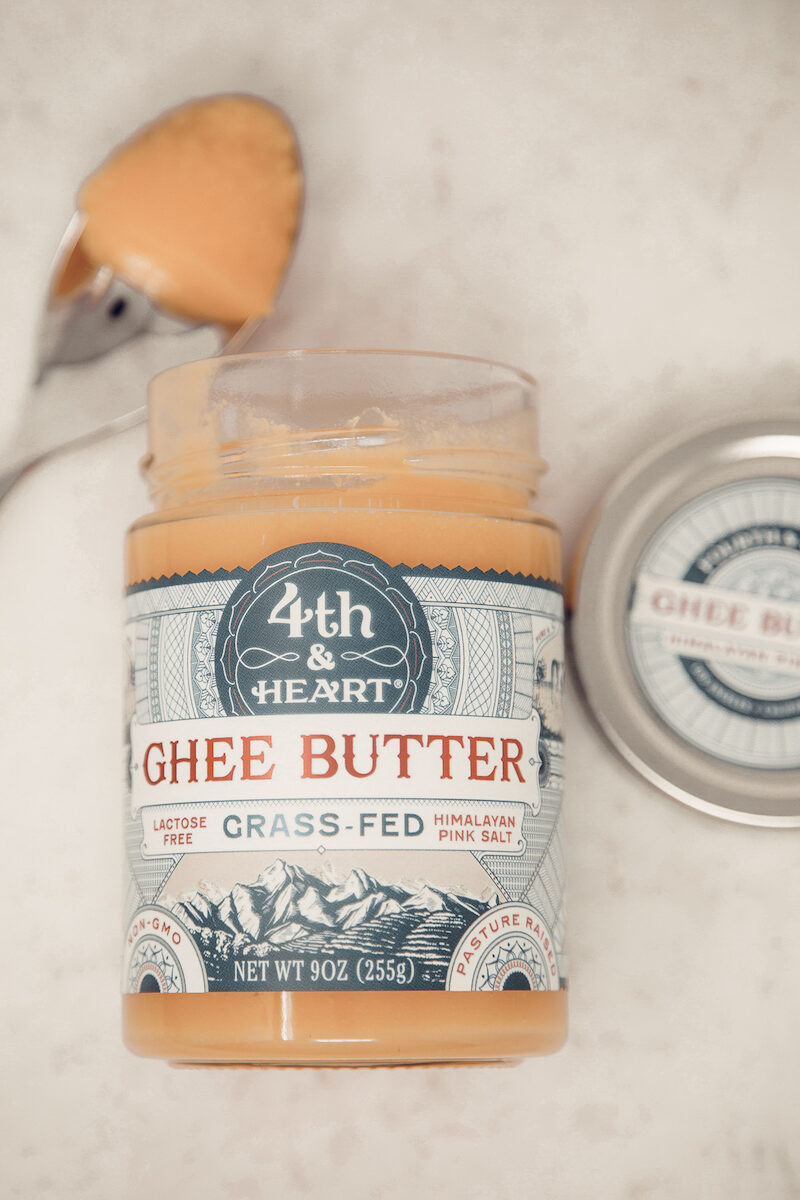 The Rundown
Products: Fourth and Heart Ghee Himalayan Pink Salt | Organic Valley Clarified Butter, Ghee
Retail Price: 9 oz. Fourth and Heart $15.99 ($1.78/oz.) | 13 oz. Organic Valley Ghee $15.19 ($1.16/oz.) (prices vary per retailer)
Where to buy: Whole Foods, Kroger, Amazon: Fourth and Heart orOrganic Valley
Fourth and Heart Perks: Grass-Fed | Lactose-Free | Kosher Dairy | Certified Paleo | Non-GMO | Halal | Fodmap Friendly | Certified Gluten Free
Organic Valley Perks: Certified Organic | No Antibiotics | No Synthetic Hormones | No Toxic Pesticides | Non-GMO | Pasture-Raised (Avg. 80% of cow's diet is grass) | Lactose-Free | Casein-Free | Shelf Stable | Certified Kosher | Vegetarian | Paleo | Gluten-Free
Sam's Experiment with Ghee
Here's a quick, humorous anecdote for you: when I was a little kid, I was out to dinner with my family and relatives and I was playing with the butter packets on the table (oh please, I'm sure you played with butter packets too). Suddenly, the packet burst and butter was on my face. Instead of being a normal kid and laughing about the whole matter, I started crying and got mad at everyone for laughing. Real nice.
Believe it or not, since then I have had a bad relationship with butter. Not only from the trauma (lol), but because I was always told that butter is bad. So when everyone turned to olive oil as a healthier butter replacement, so did I.
Then, the world changed again when all of our favorite food bloggers started using ghee. It was time for me to get over my butter fear!
General Thoughts About Ghee
Besides all of the excellent health benefits of ghee noted in The Rundown, it tastes amazing and works wonders for cooking. Literal wonders.
Not sure how you can incorporate ghee into your life? Here are some of the ways I use it…
Scrambled eggs. Just melt a teaspoon or so into the pan before putting your eggs in and BOOM. Delicious eggs.
Shrimp. (Warning: Bubba Gumpmoment ahead.) Doesn't matter if you prefer sauteéd, grilled or baked shrimp…it tastes amazing on all of it! If you're grilling, I suggest melting a little ghee into a bowl and using a brush to paint those shrimp while they're grilling! (Pro tip: squeeze lemon on the shrimp after for some delicious lemon butter flavaaa)
Sauteéd veggies. Heck, sauteéd anything! Because of its high smoke point ghee is the perfect addition to sauteéd broccoli (my fav), spinach, zucchini, etc.
Protein pancakes. Add a teensy bit of melted ghee to the pan before placing your perfectly round (are they ever?) pancakes on the griddle to give them some extra oomph!
Fourth and Heart Ghee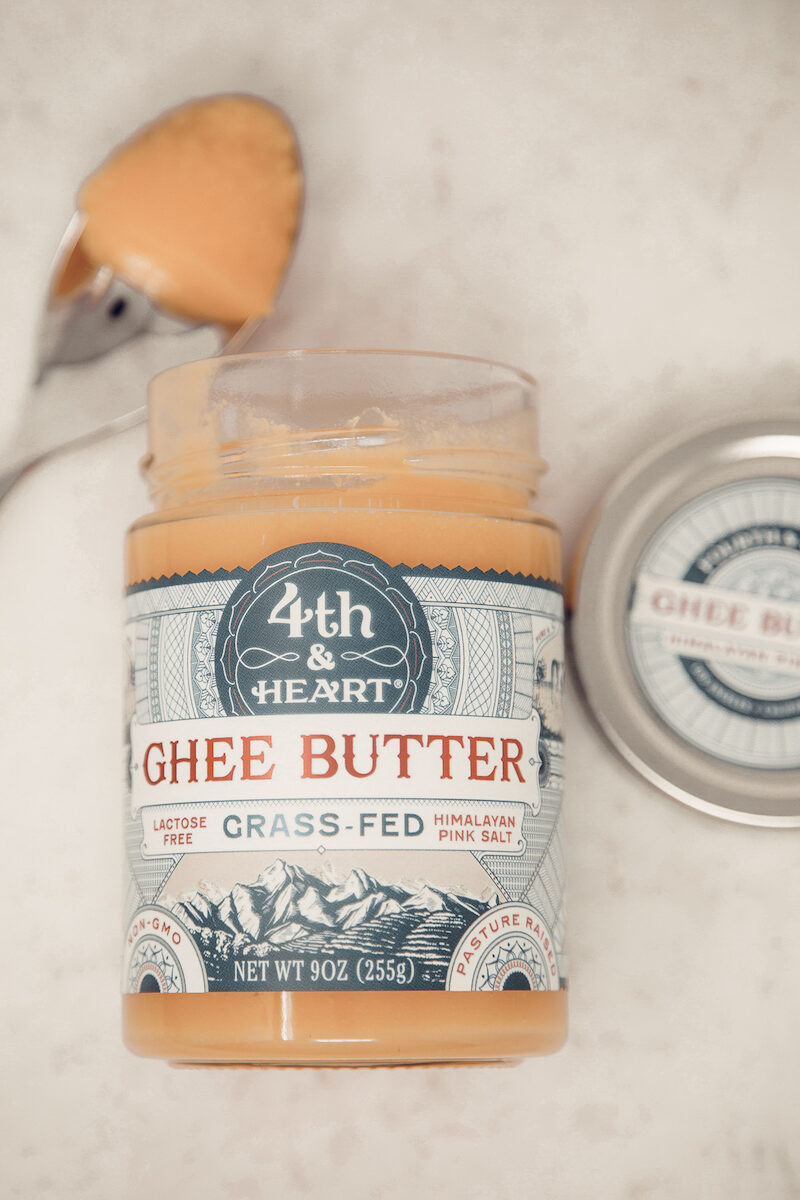 I was super excited to try this because it's literally everywhere. This brand was my first ever experience with ghee so I had no idea of what to expect. All I knew was to look for the jar with pretty packaging! Fourth and Heart has many flavors of ghee, but we went with the himalayan pink salt since that's all our local Whole Foods had. (Although, I really want to try the madagascar vanilla bean ghee on french toast or pancakes!)
After getting over the initial sticker shock, my first thoughts were that this stuff is great because it has a slight buttery flavor and cooks everything really well. I really had no complaints at this point, but I had nothing to compare it to! That is until…
Organic Valley Clarified Butter, Ghee
Being that Organic Valley ghee is significantly cheaper per oz. (about $0.62/oz. cheaper!) than Fourth and Heart, my wallet was happy, but I had some concerns. Cheaper most definitely doesn't always mean better.
To my surprise, this brand blew me out of the water. It has so much more flavor than the Fourth and Heart ghee for less money!! It's crazy to me that it had more flavor since Fourth and Heart has himalayan pink salt mixed in it. All in all, Organic Valley works just as well as Fourth and Heart and the consistency is the same.
The Nitty Gritty
Another thing I love about Organic Valley is that it is certified organic, while the trendier Fourth and Heart is not (goes to show how much a trend can be blinding!). That being said, Fourth and Heartis made from grass-fed cows, while Organic Valley is made from pasture-raised cows. (You can learn the difference between grass-fed and pasture-raised here.) While we're on the subject, Organic Valley was gracious enough to let us know that on average, 80% of their cows' diets are from grass and any grains they consume are organic and non-GMO! So you can pick what's more important to you, but Organic Valley has won my heart.
One thing you should note: the nutrition label values (when comparing Fourth and Heart Original Ghee, not Himalayan Pink Salt, to Organic Valley) are the exact same on both brands!
Overall, Organic Valley is the winner in my book due to the flavor and wallet-friendly price! Plus, I'm now over my childish butter fear. Thanks, ghee!
Claudia's Experiment with Ghee
In all honesty, I only started experimenting with ghee a couple of weeks ago! I know, I know. How could I be so late to the ghee party? I'm kicking myself over here for not having tried it before…because OH-EM-GEE guys…it's absolutely delicious! Like Sam mentioned, it adds so much flavor to our dishes. Just like regular butter…but WAY better.
Healthy Fats and Happy Guts
I'm ALL about healthy fats. Olive oil, avocado oil, coconut oil…you name it, I'm cooking with it. And now that I can add ghee to my fats repertoire, things just got a lot more exciting! Yes, I get overly excited about cooking. It's a meditative activity for me! Chop, chop, chop…sauté, sauté, sauté….ommm, ommm, ommm.
The best part about all of this for me (and Alex) is that ghee is lactose and dairy free. I always stayed away from cooking with butter because, for one, it's not the healthiest of fats to cook with. And two, it tends to upset our stomachs. Ghee, on the other hand, takes care of both of these issues. It's a healthy fat and it doesn't hurt our slightly sensitive digestive systems.
Yay, ghee!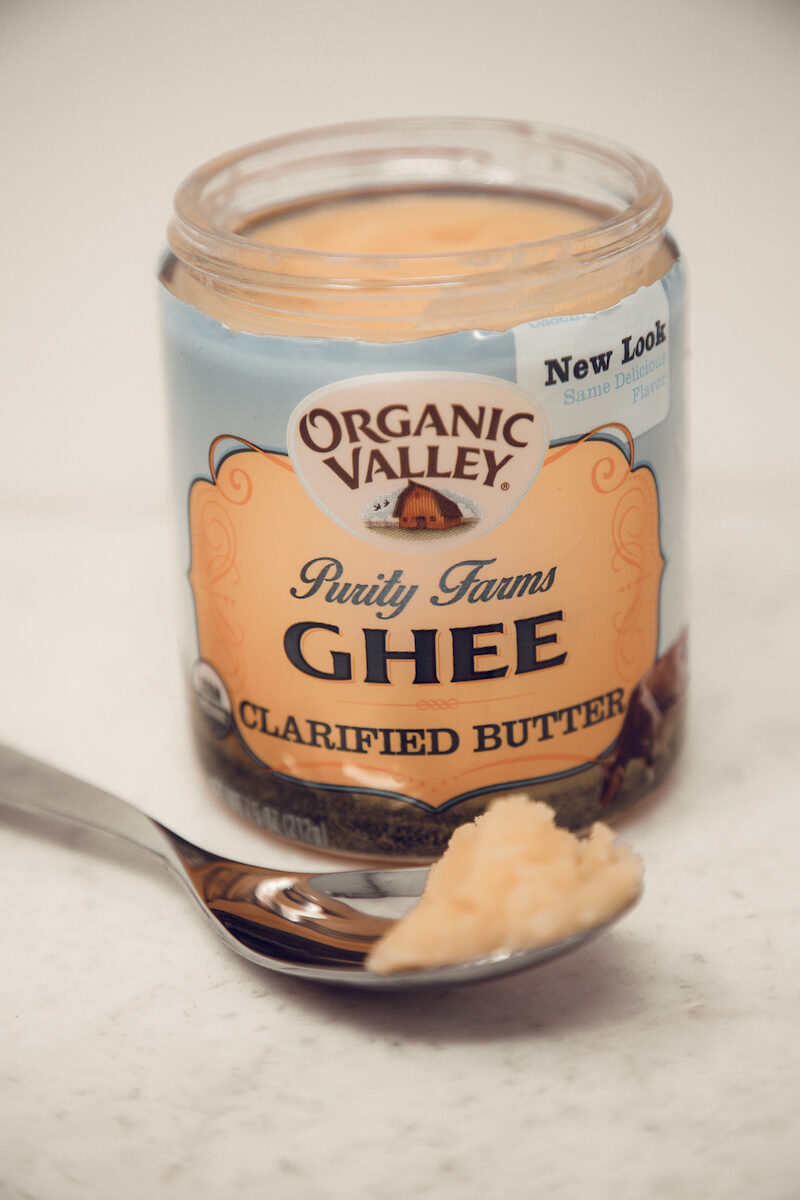 Being that I've only cooked with Organic Valley ghee thus far, I can't do a full comparison of the two brands. But I think Sam did an awesome job at covering the nitty gritty details. So instead, I'll share with you a few recipes I've made with Organic Valley ghee that turned out totally #AMAZE.
First, let me introduce you to my latest foodie blogger woman crush: Alex from The Defined Dish. Her recipes are super healthy and extra, super-y delicious! Every single recipe turns out amazing…no joke. (And it's BF approved! Alex is a slightly picky eater so this says a lot.)
Anyways, enough chit chat. The two recipes you absolutely HAVE to make from her site are the Cajun Chicken Pasta (made with zucchini noodles) and the Lemon Basil Chicken Skillet. Both amazing and both use ghee!
P.S. I did try a little bit of Sam's Fourth and Heart and my initial thought was, "This tastes like buttered popcorn!" It ALL goes back to the popcorn for me.
Since Fourth and Heart is more expensive and is slightly too buttery tasting for my liking, it looks like I'll be sticking to my Organic Valley for now.
The Results
I am officially a ghee lover. When I'm cooking, I reach for it over anything else. You just can't beat that delish flavor. Not having to worry about lactose or dairy is a huge perk too, especially for my lactose intolerant twin over here!
When I think of an the best thing about it, it's when the product changes my life and fits into it seamlessly. In my life, I'd think of this as an olive oil replacement. I typically spend about $15 on a good (ish) bottle of olive oil and Organic Valley ghee is comparable in price and ounces in a bottle.
The difference is that ghee tastes amazing and adds so much life to my meals!
For adding life to our meals and not breaking the bank while it does, Organic Valley ghee receives: