Without even realizing it, when we clean our houses, depending on the products we use, it can actually be making our surfaces "dirtier" (chemically, at least). So we've been on the hunt for our favorite non-toxic cleaning products!
Before we get into the nitty gritty of non-toxic cleaning, let's just start with a couple of things we want you to note:
We believe in balance. We still keep some stronger cleaning products (considered toxic) on hand for those germy messes you just can't compromise on (looking at you raw meat).
If you want to get an assessment of where your cleaning products currently stand on the toxicity scale, we highly recommend downloading and using the Think Dirty App.
Ultimately, switching out even one product at a time can be a total game changer in your movement toward a non-toxic lifestyle!
So let's get into our favorite non-toxic cleaning products to help you make those switches.
---
Laundry
When it comes to laundry, Claudia and I have different preferences, but that mostly comes down to one thing: I have a baby on the way! Due to that, I wanted to find an effective, non-toxic solution that would work for all members of my household (including the furry ones). With babies, it's important to avoid fragrances of any kind, but find something that really works. That said, I've been loving the Branch Basics Oxygen Boost with the Laundry Detergent for all of our laundry needs.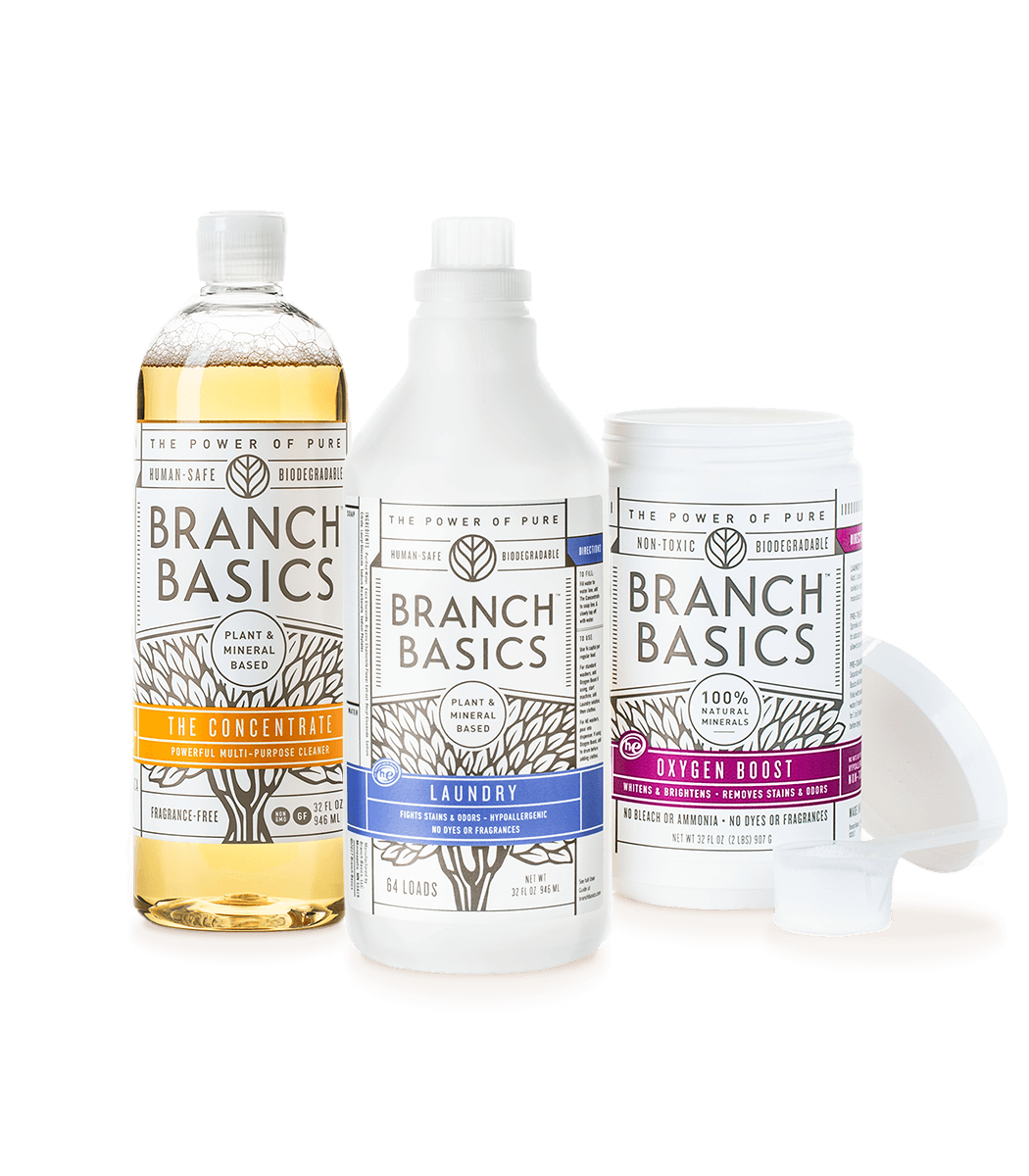 Understanding that these products don't have any fragrance, you have to know that your clothes aren't going to smell like anything when you finish. That said, they're also not going to smell bad. If you have extra stinky clothes, I highly recommend doing a soak cycle with the Oxygen Boost and The Concentrate to really clean things up!
If you want to give any of the Branch Basics products a try, you can use my link for $10 off any purchase.
Claudia and her hubs love using a combination of the ECOS Laundry Detergent and Seventh Generation Dryer Sheets. Both of these get their clothes fresh and clean without any toxic worries! Plus, the dryer sheets keep things static-free and smelling fresh! You can shop her favorites here:

---
Kitchen
When it comes to the kitchen we both like to keep things simple with a multi-surface cleaner for most surfaces. For me, it's the Branch Basics All Purpose Cleaner and for Claudia, it's a simple water and vinegar mix (a spray bottle with a 1/4 cup of vinegar and fill the rest with water!). For both of us, these work well at pulling up any messes without leaving any residue or stench behind!
When it comes to dishes and other areas of the kitchen, we have a few other favorites we'll link below! Note: the Grapefruit Seed Extract is used to clean produce! I've heard I could also use the Branch Basics Concentrate for that, but I haven't tried it yet.

---
Bathroom
Truthfully, this is one of the hardest rooms to go non-toxic in, but at the same time, it's probably one of the most important! Just like in the other rooms mentioned, I still love using my Branch Basics products for the bathroom as well. I really can use that stuff on just about anything…including the toilet!
Some of our other favorite non-toxic cleaning products for the bathroom are:

---
Carpets & Textiles
Since I have two dogs and carpet throughout my entire house (insert eye roll here), finding a good non-toxic carpet and textile cleaner option has been a major necessity for me. Thankfully, I've finally found some great solutions (it wasn't easy!).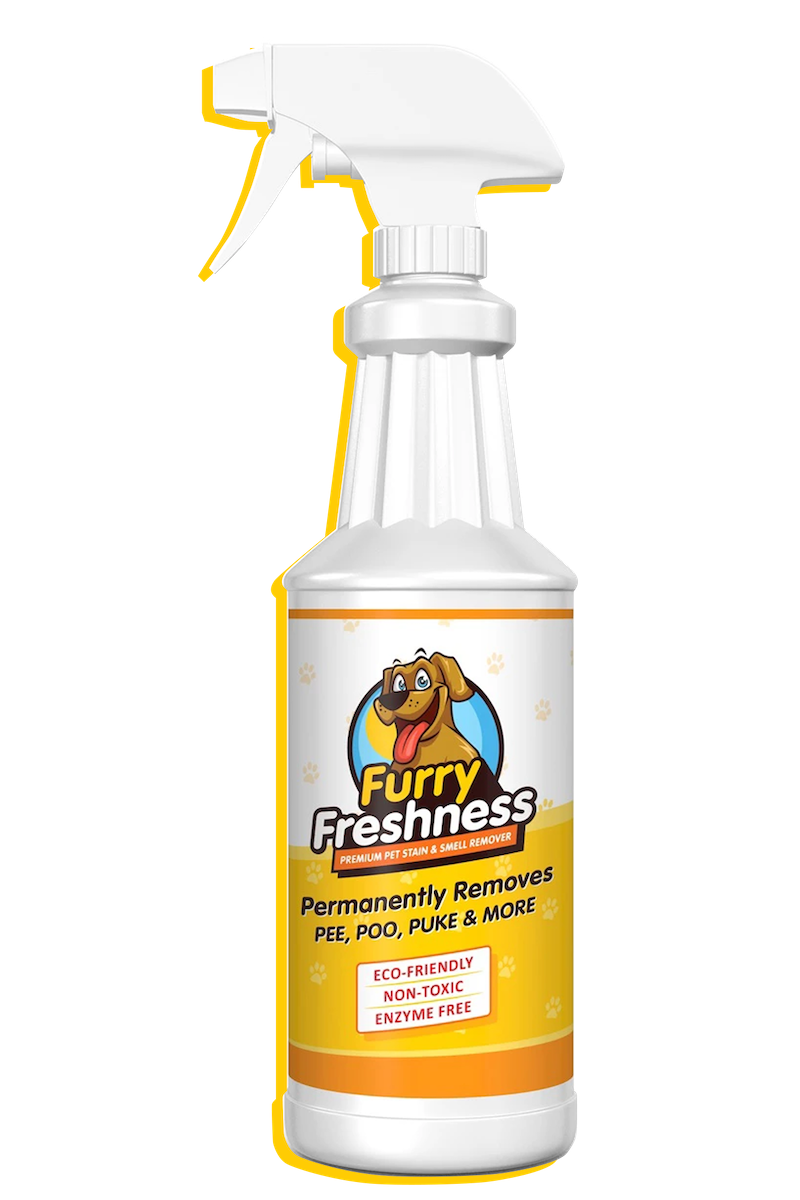 For pet stains: While we love them so much, sometimes they make mistakes and can cause some nasty messes on our carpets or couches. This Furry Freshness cleaner is BY FAR the best I've used. While others are great if you catch the mess right away, this one works no matter how old the stain may be.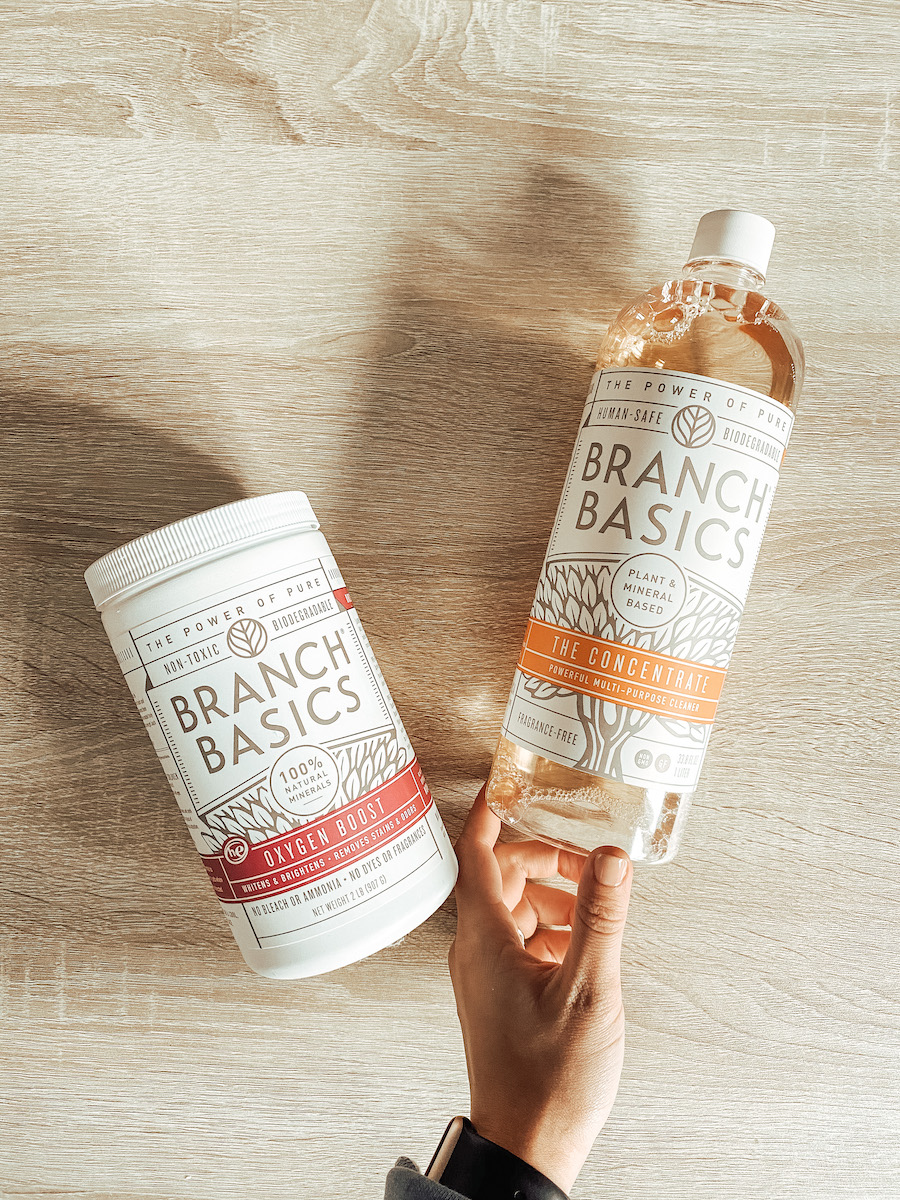 ---
Happy non-toxic cleaning, friends!
I hope this post helps you find non-toxic cleaning products that work in your home as well as they do in ours! While Claudia and I spend a lot of time researching the best clean beauty products out there, it's just as important to make sure all the products we use in our home are good for us and our environments!
You may have noticed I mentioned a lot of Branch Basics stuff…
Honestly, I was super skeptical of it after seeing it all over Instagram. I caved and purchased the Premium Starter Kit recently as we've been approaching the baby's due date. I seriously love how convenient it all is. You use the same concentrate to create each formula, along with water. Now I'm just on a subscription for The Concentrate and Oxygen Boost…and keep all the other bottles forever. I love the ease of this brand, as well as their efforts to have less waste! I'm a big fan.
If you want to try any of the Branch Basics stuff, you can use my link to get $10 off.
What are your favorite non-toxic cleaning products? Let us know below!