Has anyone had an online mattress retailer advertising to you literally everywhere you go? Yep, same. These things are everywhere! Maybe you can relate, but as I started experiencing this I had two questions running through my mind…
Are these affordable online mattresses really as comfy as their multi-thousand dollar counterparts?
If I do decide to buy one of these, which company do I go with?! Casper, Purple, Lull, Helix…to name only a few. How's a gal to choose?!
I spent weeks, even months, researching these mattresses. I was so close to checking out and buying a Casper because it seemed like the leader in the industry. Then, I thought I'd go with the Helix because it's completely customizable. Then, a friend of Patrick and mine became an influencer for Lull and I watched videos of her testing it out. I was sold!
What's There to Lose?
That's the thing, there was nothing for me to lose…except that crappy mattress we had been using since college. With a 100 day free trial period, I was ready to give it a go!
The Rundown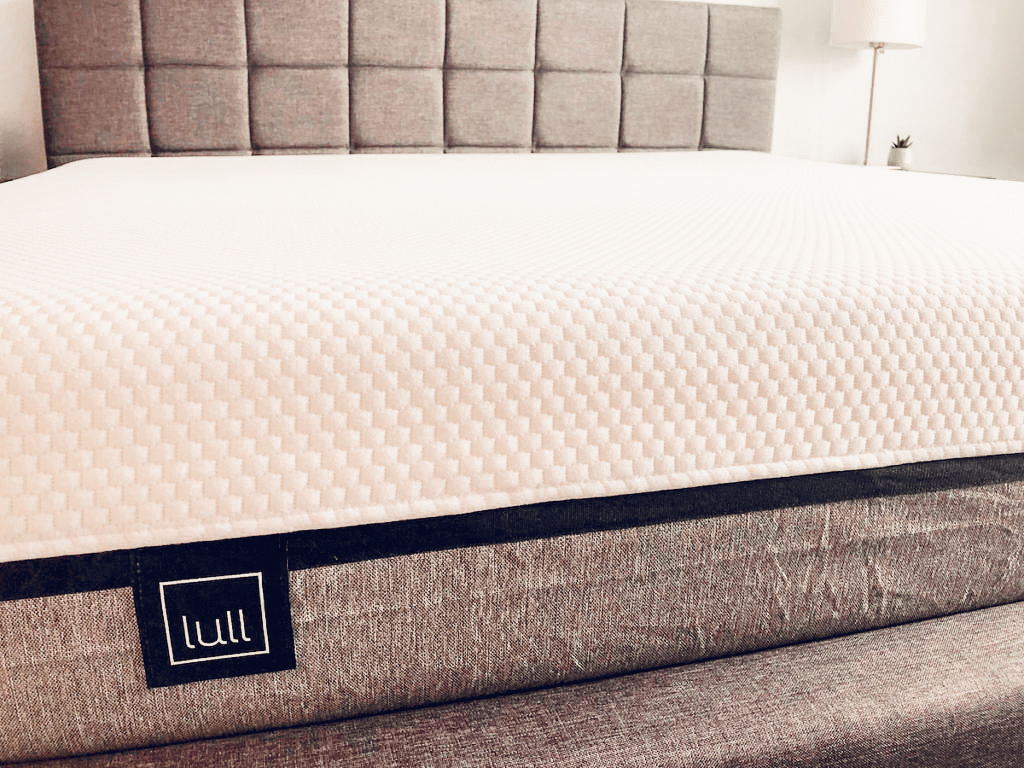 Product: Lull Mattress
Price: Twin $550 | Twin XL $600 | Full $750 | Queen $850 | King $950 | Cal King $950
Where to buy: Online only. Save $50 by using this link!
Perks: Free Shipping | Free Returns | Delivered in 1-4 Days | Wallet-Friendly | 0% APR Financing Available | 100 Night Free Trial | 10 Year Warranty | CertiPUR-US® Certified | Sustainable Furnishings Council Member | Mattress Recycling Council
Testing Out the Lull Mattress
We ordered a king Lull mattress. So yeah, it was fairly large! The whole convenience factor of this online mattress thing is that it can be delivered super quickly because it comes in a box. I have to say, I was super excited. A box full of foam…what could go wrong?!
Well, it was delivered in the middle of the day and Patrick was at work so I was on my own. I went to lift it up and was absolutely flabbergasted at how heavy it was. Then the little engine that could came chugging through my head. So I used all my might, saying "I think I can, I think I can…," almost threw out my back many times, but I dragged that box all the way upstairs.
Tone It Up…thank you! (Insert muscle emoji here.)
The Unboxing
If you've been on social media ever you've seen the videos of influencers opening the box, taking off the plastic, and watching that mattress literally come to life instantly before your eyes. So I don't have to explain what happens to you. I'll just say…it's pretty cool!
I did notice one thing that I wasn't too fond of…the smell. It's a plastic, rubbery smell that only goes away with time. Luckily, it was the beginning of summer when we got the mattress so we opened up all the windows, put the fan on and let it air itself out. After a few days, the smell was completely gone!
What Really Matters Here
The sleep quality…duh. Before we get into this, let me just put this out here: everyone has a different mattress preference. Soft, hard, bounciness, breathability, etc. You name it, there's a factor that weighs heavily on everyone when buying a mattress. For Patrick and I, it was finding the perfect balance. We didn't want to sleep on a rock, but we also didn't want to sink too deep into a fluffy cloud.
So after doing some digging, we found a lot of people went to Lull as opposed to Casper or others out there because it was slightly less firm. I watched videos of people sitting on it, walking on it, etc. and envisioned myself doing the same. Before I knew it, I was dragging a Lull mattress up to my room.
The Good Ol' Pillow Top
I grew up sleeping on a pillow top mattress and I always loved it. I didn't think there was anything better. The fluffiness surrounding me made me so cozy and so happy! As I grew older and wiser I noticed a few things about it, though…
I was always hot in the summer. There was no breathability.
Sometimes I would wake up with weird pains and strains because the mattress didn't encase me.
Lulling Me to Sleep
Lull proved me wrong. I didn't need a pillow top forever. After sleeping even just one night on the Lull mattress, I knew my life had changed. Yes, that sounds dramatic but it's so true you guys.
I never wake up hot because of the mattress anymore. It breathes and cools as you sleep!
It encases and supports your body so you never, ever wake up with pain. Seriously…no pain!!
I'm not the only one! Patrick felt the same way. My parents were in the market for a new mattress for a guest bedroom at our vacation home and I told them to give it a try.
Multiple guests have slept on it, all of ranging ages, and they all have raved about the Lull mattress!
So much so, they've been asking my mom where she got it so they can get it for themselves!
The Results
This is pretty simple…the Lull mattress is amazing. It's improved my sleep and in turn, improve my quality of life. All of that and it didn't break the bank!

There are a lot of online mattresses out there, but the Lull mattress is the one for me…and it could be the one for you!