So, Human Keratin Is a Thing…
And our hair is totally diggin' it! A couple of months ago, Sam and I were introduced to Virtue, a new brand of hair products that infuses human keratin into their formula. You're probably thinking, "Omg gross!" But it's actually kind of genius…trust us on this one.
Melisse Shaban, founder of Virtue, never thought she'd get back into the beauty industry after a 25+ year run…that is until she discovered the healing powers of human-derived keratin.
The Virtue Story
Dr. Luke Burnett runs a lab in Winston-Salem that works to advance regenerative medicine to help those wounded in battle. And through their research, they were able to develop a way to harvest keratin in its purest form…a.k.a. directly from human hair.
Melisse knew this type of keratin could change everything! So she partnered up with them and ran straight back to her roots (pun intended) to come up with a way to apply this magical protein to the world of beauty.
And so, Virtue was born…the first line of hair products to ever use human-derived keratin! They make everything from shampoos and conditioners to styling and repair products…and spoiler alert: they're all pretty amazing.
So where do they get this magical keratin from? Virtue actually uses ethically sourced, untreated human hair to extract Alpha Keratin 60ku™. It's all acquired from reputable suppliers and has been purchased at the will of the individual sellers; never donated. In addition, the hair is hand cut to assure the hair has never been dyed or chemically treated.
A lot goes into it!
What's So Great About Alpha Keratin 60kuTM?
Alpha Keratin 60kuTM is identical to the keratin in your hair, skin, and nails so it heals and repairs any damage faster than animal-derived keratin – which is what you'll find in most other keratin-infused beauty products.
In other words, your body loves this stuff because it recognizes this type of keratin as its own and automatically applies it to where it is needed. No extra work necessary! (Kind of like when you see an old friend and instantly feel like no time has passed. Supa cute.)
Now, go check out our own experimentations below…
---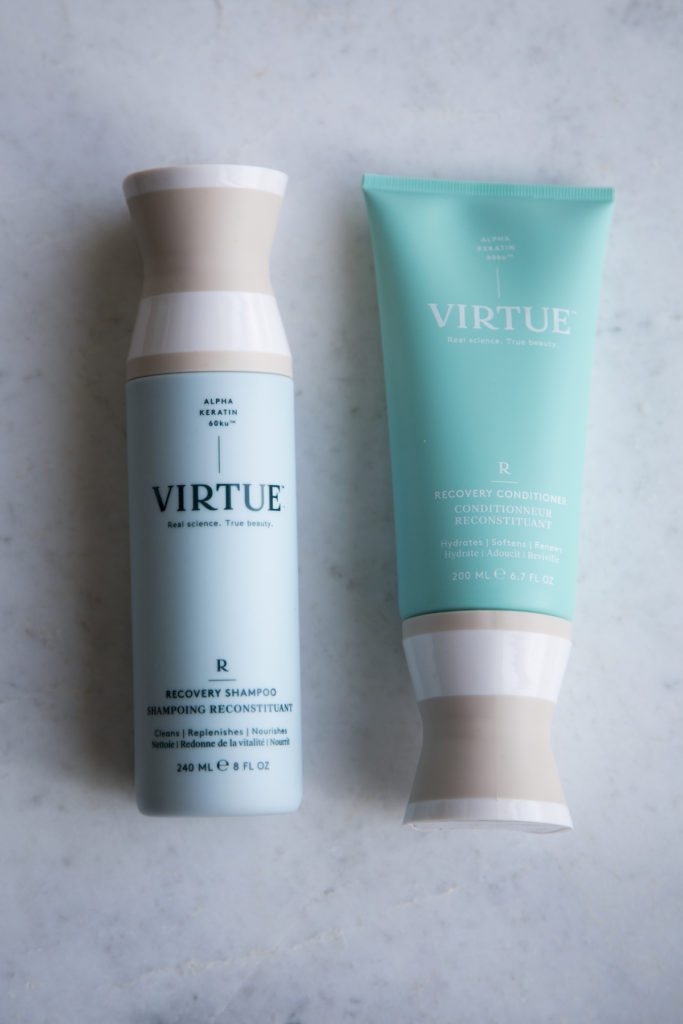 The Rundown
Products: Virtue Recovery, Smooth and Full Shampoo & Conditioner Sets
Price: Shampoos cost between $36-$38 (8 oz) | Conditioners cost between $38-$40 (6.7oz) | Travel Size $15 (2 oz)
Where to buy: Virtue website
Perks: Parabens Free | Sulfates Free | Phthalates Free | No Color & Dyes
---
Claudia's Experiment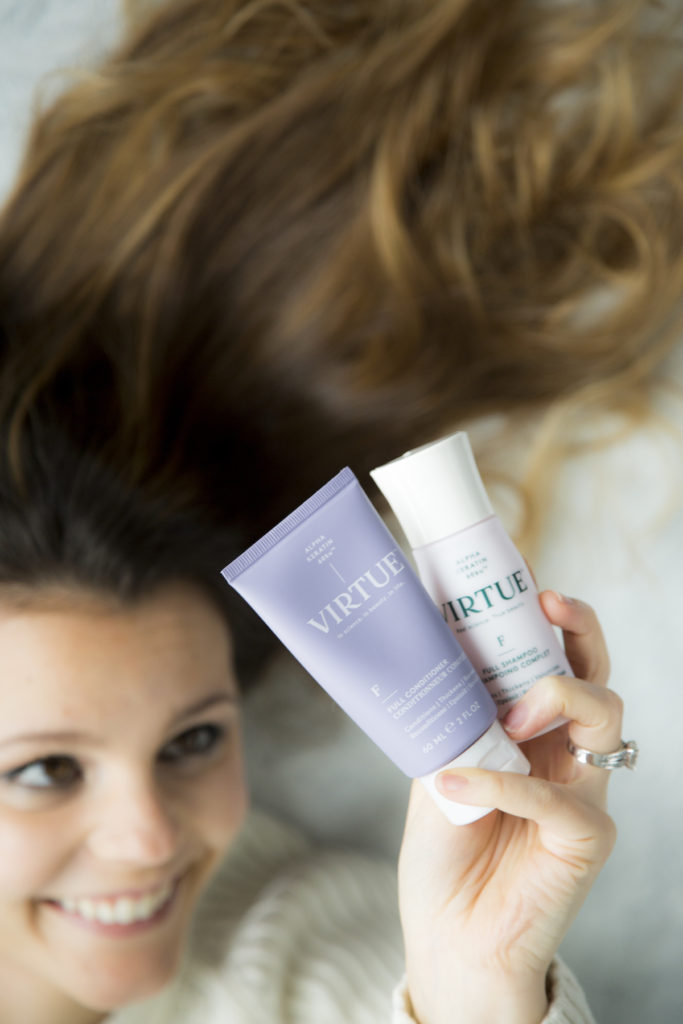 Alright guys, I'm going to be very honest with you. Before using Virtue, I was living the Pantene life. Yup, nothing fancy…just the plain old, $5 Pantene Classic Clean shampoo and conditioner every other day. After messing with many unsuccessful trendy shampoos, I had just about had it and figured I would go back to the basics.
And while Pantene definitely does the job (my hair is squeaky clean!), it doesn't necessarily do much to nurture or protect my hair from everything I put it through…hot tools, highlights, hair color, etc. But hey, it keeps my hair cleaner than anything else out there, so I'll take it.
When Virtue sent us the travel sets, I was kind of hesitant due to my failed experiments with new, trendy hair brands. But who says no to free stuff?? Not me! So I started off with the Recovery shampoo and conditioner to see if it could bring a little bit of life and moisture back into my locks.
My Love for Recovery
This set is by far my favorite! As always, I'll start off with the scent. It smells like a goddess. Or as Virtue describes it, "A rich, nurturing blend of fresh woods and clean citrus formulated with coconut and yuzu extracts." Basically what I said!
First thing I noticed was that the shampoo lathered nicely and left my hair feeling clean, even while still in the shower. And the conditioner is nice and rich so it actually detangles your hair pretty quickly!
As soon as I got out of the shower and brushed my hair, I knew these were great products. You know how you just know right away? My hair felt light, clean but moisturized all at the same time. And smelled AMAZE. I couldn't wait to see the results in the morning when it was all dry!
The next morning, I went straight to the bathroom to check out my hair and…wow. It was super clean but so bouncy and smooth! Usually with other shampoos, I'll wake up to slightly oily hair and my ends will be frizzy and dried out. But not with Virtue's Recovery line! It actually enhanced the natural curl in my hair to the point to where I didn't even feel the need to style it. Now that says a lot!
I loved it so much that I brought this set with me to all my trips last month….I couldn't live without it!
Smooth It Out
Next up was the Smooth set. The scent? Strawberry mint! Which translates to, "A restorative blend of flower, fruit, and herbs incorporating soothing lavender, sweet pear, and fresh mint essential oils." Either way, it brought back a sense of nostalgia…like the scent of your favorite bubble bath growing up!
This shampoo and conditioner is meant for those with frizzy, unruly hair who need a way to tame the mane. It's also meant for those with medium to thick hair.
Being that I don't fit into either category, I didn't feel like this set really worked for my hair. I actually felt like my hair was stringy and dry…womp, womp. Even after a full week of testing, I felt like it was just not meant to be.
But hey, if your hair profile matches my description above, this might be the perfect blend for you! And if you're not sure, take their hair diagnostic to find your match!
Gimme That Volume
Last but not least, the Virtue Full set. Out of all the scents, this was my least favorite…but it still smelled good! Claudia description: hair salon. Virtue description: "A revitalizing citrus blend of flowers and greens, including stimulating spearmint leaf oil and bright lemon essential oil." No matter how you put it, it smells nice…just not my fav.
I felt like I had a love/hate relationship with the Full set. On one hand, my hair truly did get fuller and more voluminous after every use. But on the other, the conditioner did not leave my hair as nourished as Recovery did. The ends were drier and less curly.
Sam's Experiment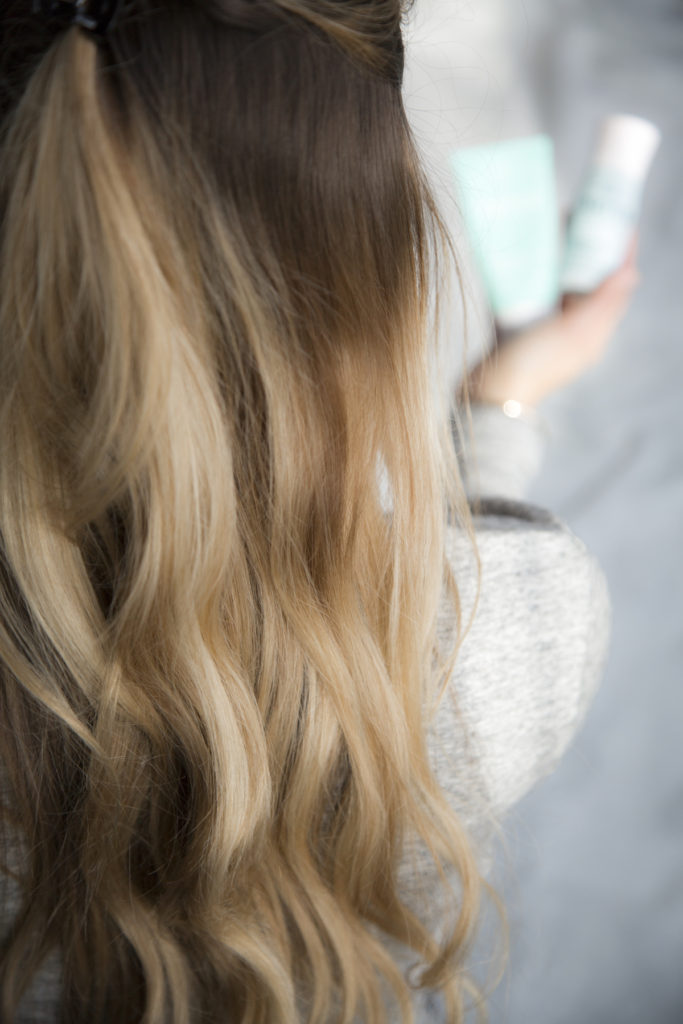 Just like, Claudia, I was tired of failed trendy hair care experiments. When Insta-worthy hair products, OUAI, came into my life I thought my luck had changed! I was using their Smooth shampoo and conditioner with the hair oil every wash. Overall it was going well…my hair was smooth and felt healthy…(Spoiler alert: Apparently, it wasn't as healthy as it could be!)
When we decided to put Virtue to the #COtest, I have to admit, I was super hesitant. I didn't know if I was ready to leave OUAI behind. Oh boy, was I wrong!
Apples to Apples
Since I was using the OUAI Smooth products, I grabbed the Virtue Smooth products first. My first impression in the shower was great! That nostalgic strawberry scent that Claudia mentioned was oh-so-perfect. We were off to a good start!
I had high hopes, but unfortunately Virtue Smooth was not for me! My hair felt stringy and gritty the next day…far from smooth. After reading Virtue's website, I have a feeling this shampoo just wasn't made for me and my hair type. All you with frizzy, unruly, and thick hair…this is probably for you!!
Recover My Locks
My Virtue experimentation took a BIG turn in the right direction after I grabbed those Recovery bottles! First, let me just reiterate what Claudia said, this shampoo and conditioner set smells AMAZE. Like, seriously so good! The best thing about it is the scent lasts for days!! I get compliments all the time now that my hair smells amazing…so obvi no complaints here!
The next greatest thing about Recovery is that it actually recovered my hair…even when I didn't think I needed it. It's been about 6 months since I had my hair cut so, needless to say, my ends were dry and rough. After just a few washes, I actually felt a significant difference in my hair. It was healthier, stronger, and had that fresh-from-the-salon feel every single day! That human-keratin does some serious magic, my friends!
Oomph There It Is!
I have far from voluminous hair…faaaaar from it! It's usually silky and soft, but never has any body. The Virtue Full shampoo is perfect for hair like mine. It actually works to build fullness overtime. It's not a one-stop shop for volume. If you're like me those other instant-volume products may create volume, but there's also a ton of buildup that comes with it. Not cute!
Since the Virtue Full set builds volume over time, I've been incorporating it into my routine with Recovery! I use Full maybe 1-2 times per week, depending on the week and I've found the perfect balance between the two! There's nothing better than perfect hair harmony.
Never Judge A Book By It's Cover
I have to admit…I didn't get the whole human-keratin thing in the beginning. It was a new concept for me and the idea just frankly felt strange. After giving Virtue a try, I'm now a whole-hearted human-keratin believer! It's a miracle worker!
After using Virtue products, my hair has never ever felt as good as it does now! That's a BIG statement. It's clean, healthy, and bouncy! What more could you want?!
Virtue not only works the first time you try it, but their products manage to give you better and better results the more you use them. Most products do the exact opposite! Looks like human-keratin is the magical Virtue key to happy, healthy hair. And we'll take it!