Sick of your hair shedding all over the place?
Yeah, so was I! And so was my husband. (If he could literally follow me around with a vacuum all day, he would.) Back in March, I noticed I was losing an insane amount of hair in the shower as well as throughout the day. I couldn't even run my fingers through my hair without hair falling out! Not to mention, I noticed my hairline was receding along the sides of my forehead. Scroll down for the before pics…
After chatting with you guys about it on Instagram, I decided to try the
Organic Olivia Mane Magic Hair Tonic.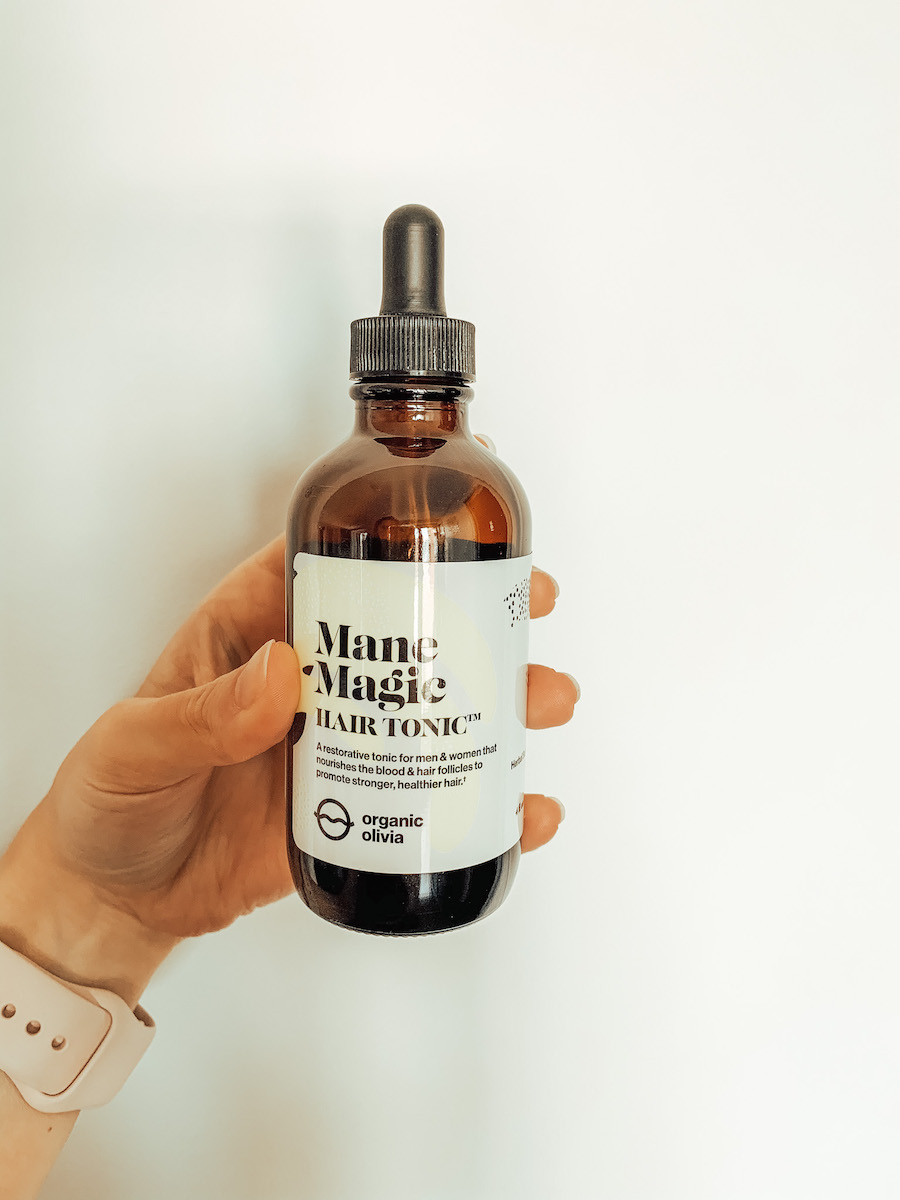 The Rundown:
Price: $59.95
Shop: Organic Olivia
Benefits: Hair growth, less shedding, more shine and strength
This hair tonic is formulated with a proprietary blend of herbs to help nourish the blood and boost circulation. According to Traditional Chinese Medicine (TCM), hair loss is related to a pattern called "blood deficiency". They say you could also experience dry skin, brittle nails, anemia, unusually light periods and brain fog. Not everyone feels all of these symptoms though!
I was mainly focused on hair loss and shedding. I was also experiencing very light periods. So, I decided to test the Organic Olivia Mane Magic hair tonic for a full three months to see if it made a difference in either aspect.
You guys have to read up on Organic Olivia. Her story and the line of products she created are incredible! Plus, everything is based off of TCM, meaning all her products are made from natural ingredients. No chemicals to worry about.
How do you use the Organic Olivia Mane Magic?
The Organic Olivia Mane Magic is a supplement you ingest. You take 60 drops twice a day mixed in water on an empty stomach. The first time I tried it, I decided to mix it into a full 8-ounce glass of water. I HIGHLY RECOMMEND YOU DON'T DO THAT! This hair tonic has a very potent smell and taste to it. Like, very very herbal. It's not for everyone!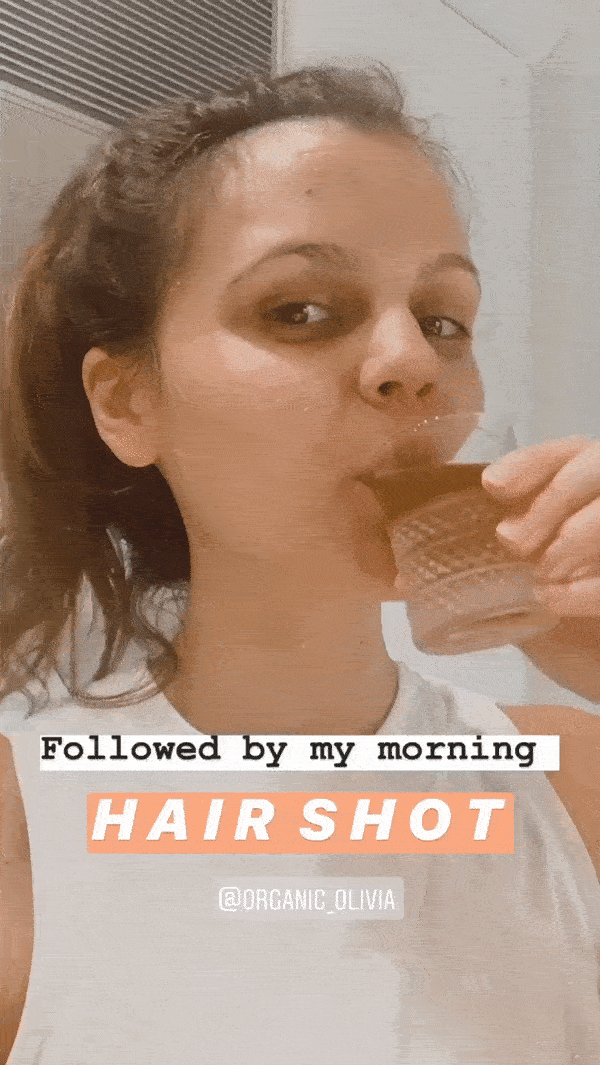 The best way to take this is in a shot glass of water. Squeeze two droppers in and drink up!
A few extra tips:
Don't bother counting out the exact 60 drops – I realized it was almost always equivalent to about two droppers full, so I stopped counting after that!
Take this right before a meal – I take it first thing in the morning before breakfast, and then again at around 3 or 4pm before a snack. This helps take the taste out of my mouth quickly.
Stop taking it a few days before your period – You are NOT supposed to take this during your period since it increases blood circulation. I suggest stopping a few days before just in case.
How long does it take to see results?
I started seeing results in the shedding department about a month in. Every time I showered, I noticed less and less hair falling out! Alex was also happy because his precious floors weren't in constant need of vacuuming. (LOL) However, it took a full two months to really see hair growth results.
Before and after of post-shower hair loss: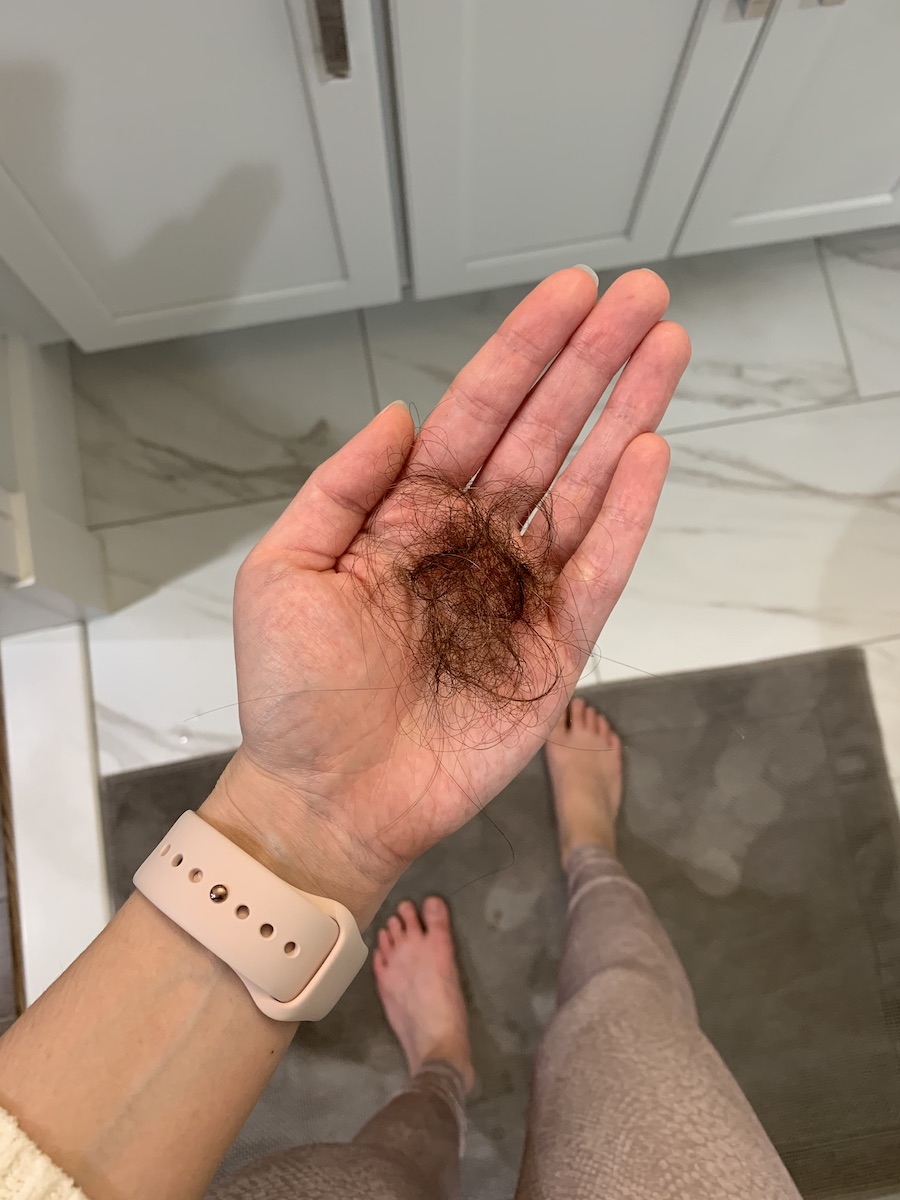 Like what?! Can you guys believe this? I was in utter shock when I compared before and after photos of the amount of hair I was losing in the shower. And this wasn't just one good day. I was seeing these types of results every time I washed my hair!
Hair growth two months into the experiment: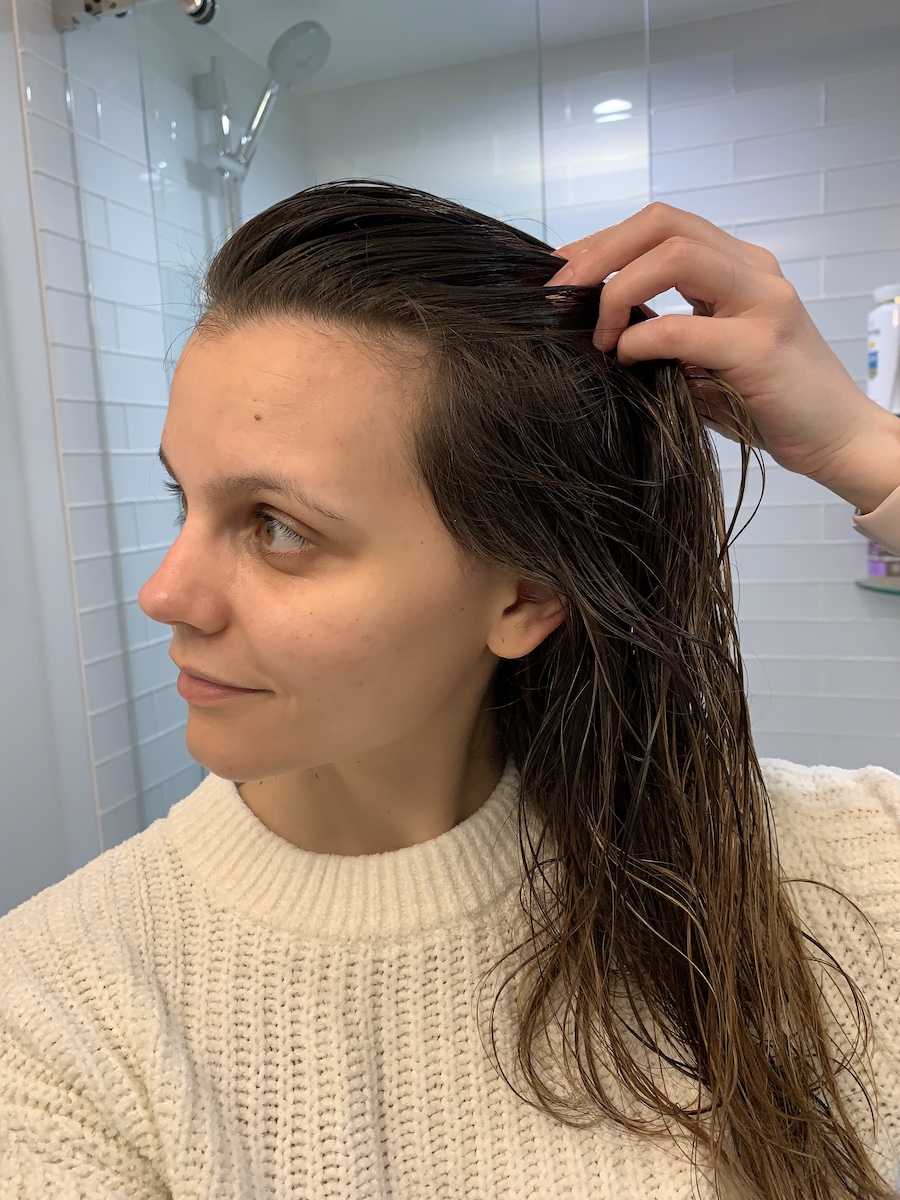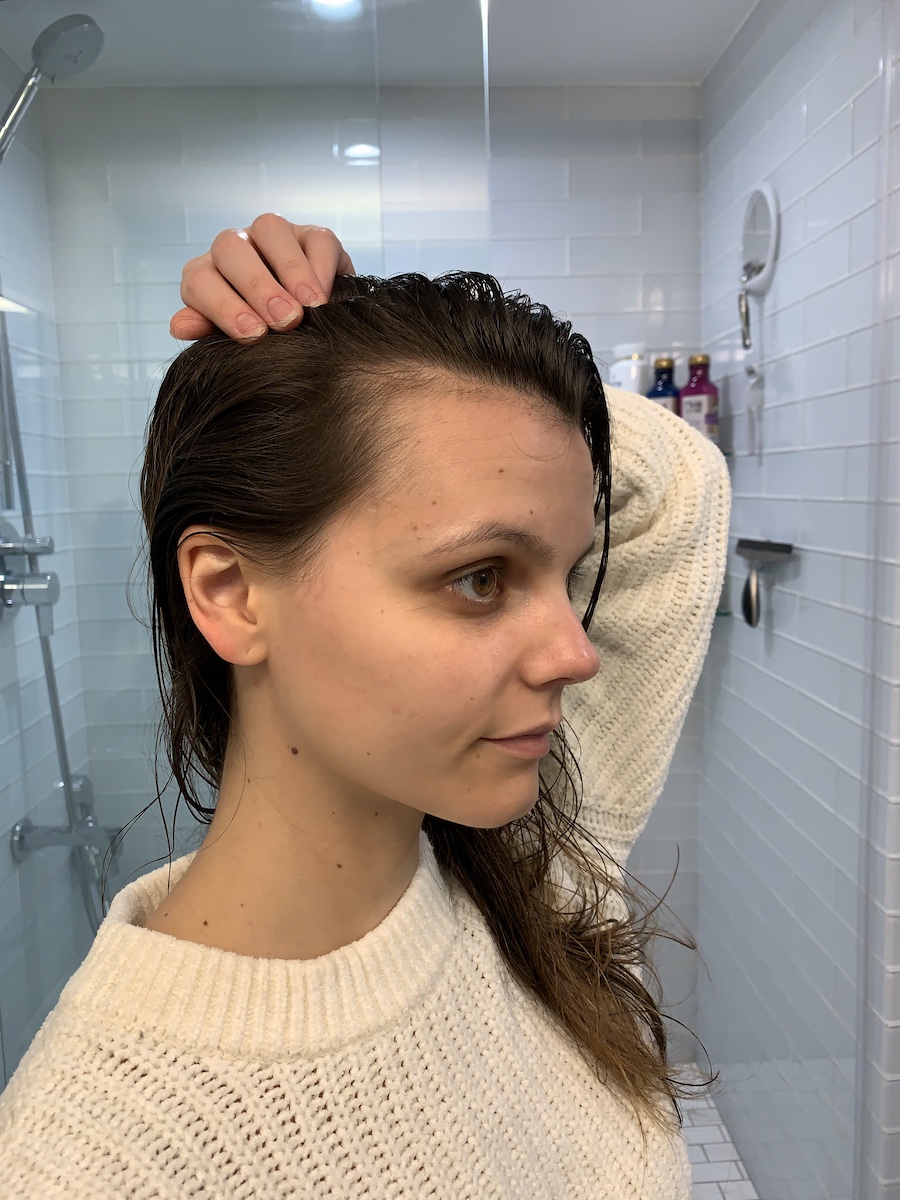 Hair growth three months into the experiment:
You can tell there was a significant amount of growth on my right side and slightly less (but still great!) on the left side. I honestly can't believe how well the Olivia Mane Magic tonic worked!
P.S. I only used one bottle of it throughout my entire experiment.
Are there any side effects?
I didn't notice anything negative as far as side effects go! However, I did notice my period was way more regulated in terms of my "flow". There was less spotting and more regularity. My period lasted less time overall because it was so much more normal! I also felt I had less PMS symptoms prior to getting it. (My boobies were less tender and spotting was gone.) I'm not sure if that was a direct result of this or not, but I sure was happy about it!
Do you have to take it forever?
After taking it for three months religiously (with breaks during my period), I decided to stop for three weeks to see if I noticed any differences.
Unfortunately, I'm seeing an increase in shedding again. This is a total bummer because I don't necessarily want to take this supplement twice a day, every day for the rest of my life!
I'm definitely going to buy a second bottle of it and take it just once in the morning to see how it goes for the next three months. I'm hoping the longer I take it, the more regulated my circulation will be and the more controlled my shedding will be.
2021 Update:
Turns out, I'm like a tree. My hair falls out in phases depending on the time of year! The transitions from spring to summer and summer to fall are definitely the worst for me. But at least, I now have a better idea of when to expect major fall out. So what I like to do is keep a bottle of Mane Magic in my pantry for the "bad" seasons to help control shedding. It's not something I feel the need to take every single day. And it's also not a cure-all, by any means! But it certainly helps keeps things under control.
Either way, I highly recommend you guys give the Organic Olivia Mane Magic a try!
As you can see, it is so worth the results. If you have any additional questions, let me know in the comments or DM us on Instagram (@uncovertheglow). More than happy to share more with you if you're unsure about it!