Dry Skin Begone!
Remember in our latest skincare update post how I was complaining about my dry skin? Well, ICYMI, I was suffering from red bumps, dry patches and irritation all along my chin, cheeks and nose. It was not pretty, my friends! Not to mention, my skin was super itchy. I tried eliminating products and even certain foods from my diet to see if anything would make a difference, but…nada!
So I went on the hunt to try and find the best cream for dry skin. There had to be something out there for me!
After doing my research, it seemed like many people suffering from dermatitis (a.k.a red, dry, itchy skin…hello!) swore by the First Aid Beauty Ultra Repair Cream Intense Hydration. It claimed to provide "instant relief and long-term hydration for dry skin", and it was the winner of Allure's 2016 Best of Beauty Awards. Hmmm, I was curiouser and curiouser…
I must admit, though, I was somewhat hesitant because it wasn't the all-natural skincare solution I was hoping for. But honestly, those products don't always work when your skin is in need of a major rescue!
So I made my way over to Sephora to snag a free sample.
Tip: Be sure to ask for product samples at your local Sephora next time you're in need of some experimentation! This is seriously the best way to try a product without putting in a major investment.
First Aid Beauty vs. Belif Aqua Bomb
I get to Sephora, and what do you know? The First Aid Beauty Ultra Repair Cream is part of their Editor's Pick display! I was feeling pretty good about my decision at this point, but just to make sure, I decided to also get a sample of the Belif Aqua Bomb cream being that it was also on the Editor's Pick display and was recommended by a friend.
And so, off I went to the land of CO experimentations, ready to give my skin the TLC it was in desperate need of!
---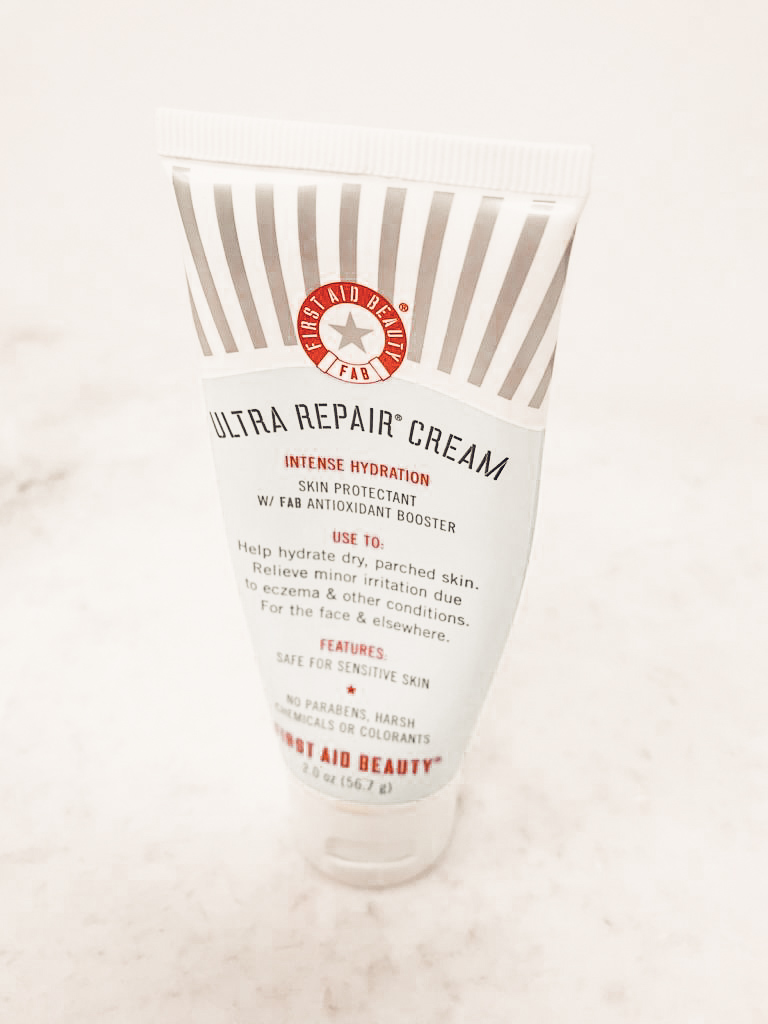 The Rundown
Product: First Aid Beauty Ultra Repair Cream Intense Hydration
Price: $12 for 2 oz. | $30 for 6 oz.
Where to buy: Our Shop Page!
Perks: Alcohol-Free | No Artificial Colorants | No Artificial Fragrance | No Lanolin | No Mineral Oil | Parabens-Free | No Petrolatum | Phthalates-Free | No Propylene Glycol | Sulfate-Free | Allergy-Tested | Gluten-Free | Nut-Free | Soy-Free | Suitable for Sensitive Skin | Vegan
---
Am I a Belif-er?
I started my experimentation with the Belif Aqua Bomb cream. This one is more of a lightweight, gel-like cream that is said to increase your skin's moisture by 70%…ummm, yes please me!
A little insight though: the Sephora beauty specialist warned me that this might not be as moisturizing for my skin as I would like it to be. But I wasn't really sure if my skin could handle THAT much extra moisture, so I figured it would be a good one to test out regardless.
First thing I noticed was that it smelled amazing! And then I thought, "This is too good to be true. If it smells this good, it must have some sort of hidden fragrance." And sure enough, the culprit "Fragrance" ingredient was on the list. Not the best if you're skin is sensitive!
Either way, I lathered up with the yummy-smelling gel every night and every morning for a week. I noticed that the dry, white patches were gone, but the red bumps were sadly still there. Also, this gel left my face kind of stiff after it dried. I felt like a plastic doll!
Not to mention, the retail price for this was ridiculous compared to First Aid Beauty. A 1.6 oz bottle costs $38! So to answer your question…no, I am not a Belif-er after all.
First Aid Beauty Ultra Repair Cream to the Rescue!
The following week, I switched over to my sample of FAB. This Intense Hydration cream had to be better than the last one, right?!
YES! It was, indeed!
First off, the smell is nowhere near as yummy as Belif. It actually has a slightly medicinal smell, in my opinion. But hey, the formula is free of any harsh fragrances and chemicals…so I'll take it!
Because this cream is thicker than the Aqua Bomb, the free sample did last me a bit longer. Ca-ching! I used this cream in the morning and night after washing my face for about a week and a half. And note: I removed every other moisturizer and toner from my routine so I could truly tell if this one was making a difference or not.
After my preliminary testing week, I was in love. My skin was COMPLETELY back to normal! No bumps, no dry patches, no irritation. I couldn't believe it!
FAB, I Love You
No joke, guys. This cream might possible be it for me. We'll see how it works for my skin in the summer, but so far it's been absolutely amazing. Like a dream come true for my skin!
After I was done with my sample (sad, sad day), I immediately ordered the 2 oz. travel size to put it through the true CO test. Plus, this was really the perfect size since I've been traveling like crazy the past two months.
This cream has not only changed my skin, but it has completely simplified my morning and night routine. All I do now is wash my face (micellar water in the morning and Acure at night), pat dry and moisturize away with my First Aid Beauty cream.
First Aid Beauty, thank you for coming to my skin's rescue!