Whether you are a dog mom, planning on becoming one, or just really love your bestie's dog, I have some advice for you!
When I first became a dog mom three years ago, I was slightly overwhelmed at all the information out there. From treats and toys to proper gear…and don't even get me started on all the food research…I was overwhelmed.
The good thing is I was also totally overwhelmingly in love with my new baby too.
Before we get into this, it's probably best for you to meet my dogs. Not only do I want to introduce you to them because I love them, but I want you to know my perspective on dog mom life. I have two small rescue dogs that I adopted as adults. So I've never had the puppy life and I've never had a big dog. Just putting that out there. Okay! Time to meet the cuties.
Now that you've been properly introduced, it's time to get into the nitty gritty of being a dog mom! Let's begin, shall we?
Now, I could talk forever about my dogs, but I'll try to keep it to these categories:
Food + Nutrition
Gear
Toys
Hygiene + Grooming
Cleaning
Local Favorites
---
Food + Nutrition
If there's one thing I've researched more than anything when it comes to my fur babies, it's food and nutrition. I mean just walk into a pet store and the options are SO overwhelming. And don't even get me started when you flip that package around and start to read the ingredients…
Here's the thing: my true philosophy on this is as long as you do your best to give your dog the best nutrition you can give him/ her, then you're doing a good job.
When we first got Bella, I started with dry kibble. The rescue didn't really have any good recommendiations for me and I just figured I'd start out with the basics. The problem was Bella wouldn't eat it. We would mix all kinds of stuff in (broth, peanut butter, pumpkin, scrambled eggs, chicken, etc.) and she would only eat the extra stuff…not the kibble. Typical.
Dehydrated Raw Food
After trying to get Bella to eat the kibble, I finally gave up and realized there had to be a better way. I did my research (joined a holistic dog care FB group…or two) and learned the benefits of feeding dogs raw. That said, I was NOT about to deal with raw meat in my kitchen. So I found some awesome alternatives! Here are our two favorites:
Both of these were great for a long time for us! Both of our dogs ended up eating these raw dehydrated foods for almost two years consistently. Then, one day, they just didn't want to eat them anymore…so I took to the kitchen myself.
Homemade Dog Food
Yup, I'm officially that crazy dog mom. You know, the one that slaves in her kitchen to make homemade meals for dogs? That's me. Now by no means am I saying that you have to make your own dog food to have healthy pups…absolutely not! But it's what works for me and my little family right now.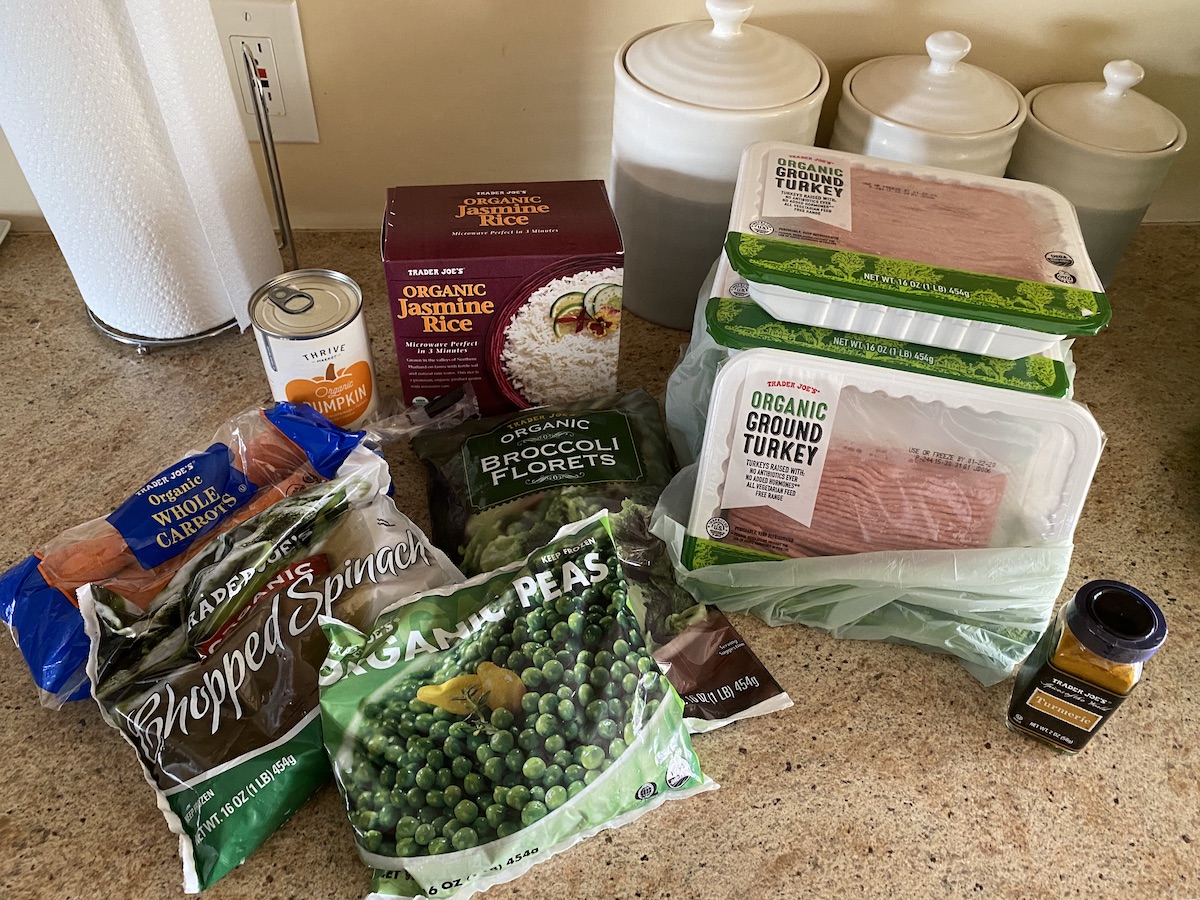 To make it, I heat up a big pot over medium-high heat with the coconut oil. Then I add the ground turkey and cooked till mostly cooked through (technically they can eat it raw so I don't worry too much about it getting fully cooked). Next, I add the turmeric and stir. To finish, I mix in all the prepped veggies and rice. Once it's cooled, I divide it up into smaller containers and freeze it. Whenever we're running low from one container in the fridge, I pull out a frozen one and we're good to go!
Supplements
When I decided to switch up my dogs' diet to homemade, I was worried I wouldn't give them the right essential nutrients they need. So again, I did my research! There are two brands of dog supplements I'm a fan of: Dr. Harvey's and Goodboy. Dr. Harvey's are more like powders that blend into their meals (and my dogs love them), while Goodboy's look more like little treats.
I give each of them different types since they have different needs. Bella is a pretty sturdy and healthy pup, so for her I just look for all-around-good-for-you vitamins. Brody, on the other hand, is chock full of anxiety and seems to have some back and joint issues.
Note: I don't use these all at the same time. I've used one brand or the other at different times. I've noticed little healthy changes in my pups, but nothing crazy. That said, I use them more for peace of mind than anything. At the end of the day, I want my pups to be healthy and happy for as long as possible so anything I can do to help, I will!
Treats
When it comes to treats, I try to keep it simple. Typical dog treats can be chock full of nasty ingredients…just like human treats! That said I'm always, always reading those ingredient labels. Here are two of my favorites (and theirs too)!
Besides these, our dogs really love snacking on the real good stuff straight out of our fridge/pantry! They'll eat rotisserie chicken (that's their FAV), carrots, bananas, apple, etc. and those are there favorite treats!
---
Gear
Day-to-Day Walk Gear
Our dogs go on three walks per day (yes, even little Brody…little man can make those legs move FAST!) so it's important I have the right stuff to get the job done. In the past three years, I've tried a lot of different brands and I have finally nailed down my favorites.
Other Gear
---
Toys
To be honest, my dogs like toys, but they're definitely not toy obsessed. Oh, and they for sure don't destroy toys very quickly. We've had the same toys for a pretty long time and I'm totally okay with that!
We originally got all of our toys from BarkBox. And honestly, BarkBox is totally worth the hype. The only reason why we stopped doing it is because we just had too much stuff. Our dogs are too small and weren't going through it fast enough. Overall, we LOVED our BarkBox experience. I would highly recommend it at least for a month or two! They also give really good high quality treats in the boxes too!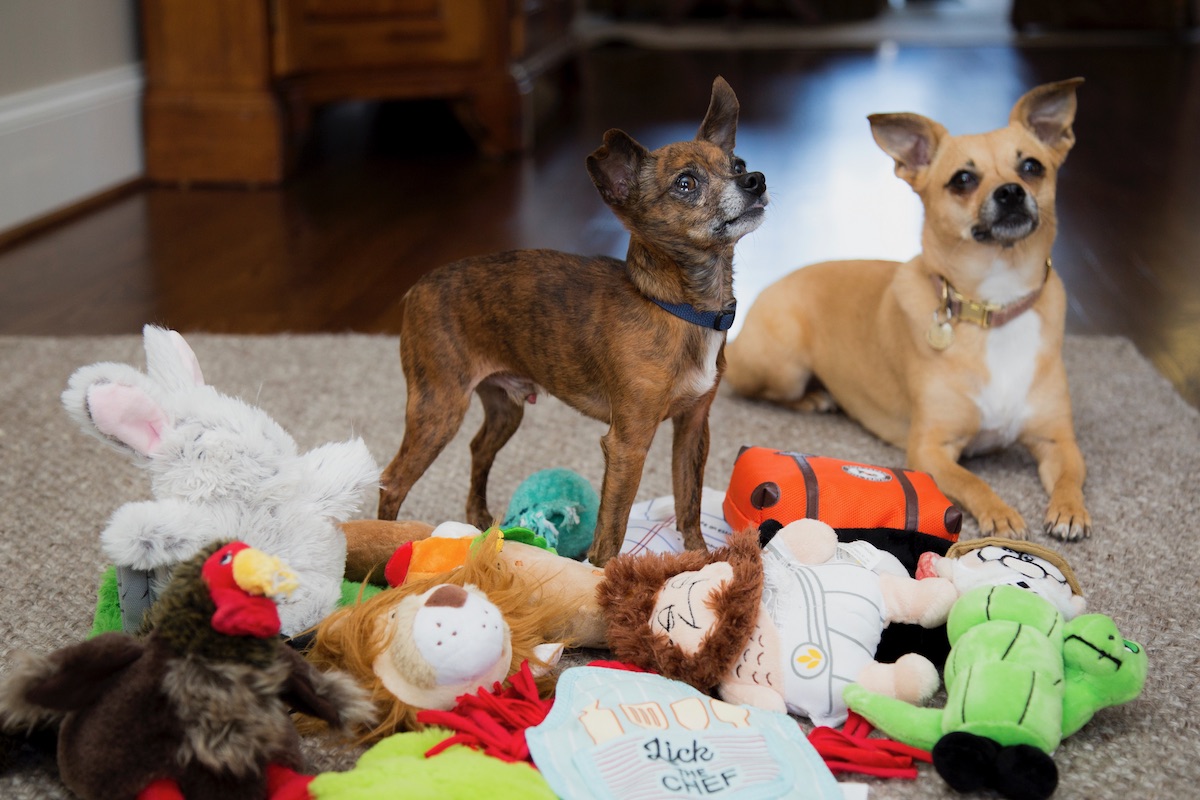 Hygiene + Grooming
My dogs are fairly low-maintenance in the grooming department. They don't need to be trimmed or anything so we do most of our grooming in home. The only thing we outsource is nail trimming (more to come on that in the last section) because I'm totally afraid I'm going to cut into the quick of their nails. Here's all the stuff we use at home:
---
In-Home Cleaning
Dogs will be dogs. While my dogs are perfect in my eyes, they make mistakes from time-to-time. We all do, right? I have a favorite product for when they do. Oh and of course, how to keep your home flea and tick free! The top two products you need:
---
Local Favorites
For any fellow southeast Michigan dog moms, I have some favorite local places to share! From groomers to stores, I've got them all.
This is the best money-saving hack when it comes to vet services (if you're local). My dogs go to a regular vet for their standard annual check ups, but when it comes to operations (neuters, spays, dental cleanings, etc.), I go too All About Animals in Warren. This place is AMAZING. They're all about taking care of animals at affordable rates. Their prices are seriously 5 times cheaper than any standard vet that I've received pricing from. Oh, and if cheap prices have you worried, don't be. This place takes great care of your babies. They're all kind, gentle people that want the best for your pup. Bella was spayed there and both of them have had dental cleanings there. I 100% trust them.
---
Dog Mom Guide: Wrapped
PHEW! There ya have it, my fellow dog lovers. Hope this helps you with your dog mom duties! If you have any questions or feel like I missed anything, make sure to comment below. Oh and if you have favorite products or tips you want to share, make sure you do! We can all benefit from some fellow dog mom knowledge.
At the end of the day, remember if you're loving and caring for your pup in the best way you can, then that's more than enough!
Sending you all the puppy love and snuggles.