Gifts You'll Feel Good About Giving
The holiday shopping season is well underway! Are any of you feeling overwhelmed? As prepared as I think I am, this time of year always brings me quite a bit of anxiety. Especially when it comes to buying gifts for the people I love! I'm a perfectionist, so I tend to put a lot of thought into gift giving. At the end of the day, I just want to make people happy!
With the topic of sustainability top of mind this year, I knew I wanted to focus my efforts of finding gifts with ethical backstories. That means shopping for products made with recycled materials or supporting businesses that create opportunities for minorities or give back to their community in some way. As much as I enjoy to make the people I love happy, I also want to feel good about the gifts I am giving!
If you're still looking for a few more ideas for the women in your life, check out this list of sustainable gifts under $100. Trust me when I say, these will make clicking the "add to cart" button a little bit easier!
Sustainable Gifts for Her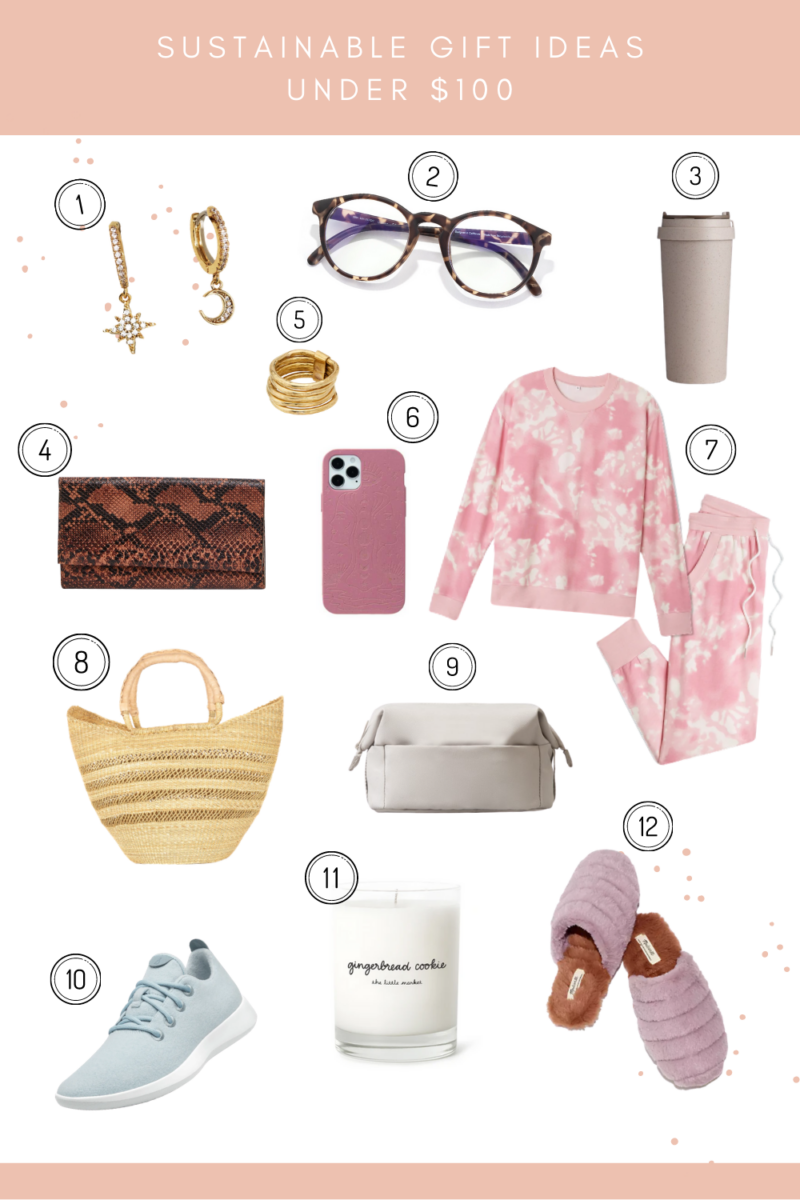 You guys know we're both obsessed with this sustainable jewelry brand! The quality of their products are seriously great. Ana Luisa uses in-house plating to avoid outsourcing to factories with questionable working conditions, and they offset 100% of their carbon emissions related to each product's lifecycle. Their jewelry is also made with low-impact, recycled materials.
Use this link to get $15 off your first order!
This is a great gift for the girl (or guy) in your life that spends A LOT of time in front of a computer screen. These glasses have literally saved me this year! My eyes feel way less tired at the end of the day, and I'm getting less tension headaches. Not to mention, these are made out of Sunski's proprietary recycled plastic, SuperLight, which is created from scrap plastic that would otherwise end up in a USA landfill.
Guys, I found this amazing little Etsy shop called begreenerShop, and they sell all sorts of cute, eco-friendly kitchen accessories. This reusable coffee/tea mug, for example, is made from wheat straw, meaning it is made from straw leftovers after grain is harvested making this a biodegradable product. The begreenerShop also offsets their carbon footprint by supporting social and ecological projects.
How cute is this snake print wallet from Able? It's slim, holds all the essentials and looks great as a clutch too. Able's stance on sustainability is focused greatly on creating opportunities for women by offering fair rights, wages and working conditions. As far as their materials go, it is actually an interesting concept! They do use real leather, meaning it is a byproduct of the meat industry. However, they make it a point to repurposes hides that would have otherwise been discarded. This process uses less energy than the production of vegan leather.
While I haven't personally tried SOKO jewelry yet, I'm totally in awe of their mission and story as a brand. Their focus is to create opportunities for artisans in Kenya. They created a "virtual factory" app that connects independent artisan entrepreneurs directly to their team and customers, which allows artisans to directly receive orders and payment. They also provide development and growth opportunities by offering apprenticeships and ongoing training. At the end of the day, artisans working for SOKO can earn up 5 times more than at an average artisan workshop!
Pela makes pretty cool eco-friendly tech accessories! These phone cases make for great, unique gifts for the tech lover in your life. They are made from flax shive and a plant based biopolymer, making these phone cases 100% compostable. Not to mention, Pela donates a percentage of every sale to ocean cleanup and preservation initiatives.
You may know Summersalt for their cute color block swimsuits, but you might want to also check out their new line of loungewear! This adorable French Terry Crew and Joggers are made from the eco-friendly fabric, TENCEL™, made from trees that are grown and replaced on specialized tree farms. This material is also produced using recyclable, earth-friendly solvents.
This beautiful tote, made from elephant grass, is handmade by artisans in the Bolgatanga region of Ghana. Every purchase of this tote helps these artisans earn a sustainable income. I love how The Little Market gives you insight into who is making the items you are buying! It helps bring everything full circle and makes you appreciate the amount of talent there is in the world.
Even though we're not traveling as much these days, this Catch-All Case can still come in handy. Especially, when it comes to organizing our beauty and bathroom essentials! This case has all sorts of convenient pockets and is made from 100% recycled polyester. It also has a water-resistant finish making it easy to keep clean. Perfect gift for the wanderlust friend!
I think everyone on your holiday list will appreciate a pair of these ultra-comfy Allbirds sneakers! Not only are they very soft and comfortable, they are also made from all sorts of renewable materials. These shoes are made from ZQ Merino wool, SweetFoam™ (which is made with the world's first carbon negative green EVA), and laces made from 100% post-consumer recycled polyester. Talk about sustainable!
Bring holiday cheer into their home with one of these yummy holiday-scented candles from The Little Market! Not to mention, each purchase empowers women artisans at Prosperity Candle – a social enterprise that invests in women who have settled as refugees in the United States. They hand-pour these clean candle mixtures made with a coconut-soy wax blend, and include their signed names on the bottom of the candles they create. These candles are also vegan, phthalate-free, Prop 65 compliant, not tested on animals, and poured into recyclable glass vessels made in the U.S.
I'm clearly all about cozy gifts this season! These Madewell slippers look beyond comfy. Love the color blocking and the fact that these are made with recycled faux fur. Your bestie will love lounging around her home in these trendy slippers all season long.
Hope you liked this list of sustainable gifts!