What is "ethical jewelry"?
Let's talk jewelry – one of my favorite topics! (Aside from clean beauty of course.) Ethical jewelry is made responsibly using sustainable materials and fair labor practices. These brands are transparent with their customers about where and how materials are sourced and how pieces are made. Some also have initiatives in place to reduce their carbon footprint by giving back to the environment in some way. In other words, ethical jewelry brands care about the environment just as much as their product.
Check out our favorite sustainable jewelry brands below! If you want to learn more about sustainability in fashion, check out this post.
1. Rellery
Meet Rellery, an ethical jewelry brand from Rhode Island.
When Rellery reached out to us to see if we wanted to test out some of their jewelry…and we were like, ummm yes please! Their pieces are beautiful! Not only that, but they are very light and easy to wear.
Rellery was kind enough to send me and Sam three pieces of our choosing, and it's safe to say, we are both obsessed with our gifts. I got the Bar Drop Earrings, Herringbone Chain Necklace, and the Scorpio Pendant. Sam got the Studded Huggies, Square Link Chain Necklace, and the Small Chrysanthemum Necklace (the November flower in honor of little Ryder's birth month!)
What we love about Rellery:
Fair prices – Rellery offers high quality at fair prices. Their jewelry is not exactly "cheap" but the prices are definitely fair for the quality you get.
Precious metals only – They only use 925 Sterling Silver, 18K Gold Over Sterling Silver, or 14K Solid Gold. No cheap, plated materials!
Customization – You can customize everything from rings to bracelets and necklaces.
Made in the U.S. – Most Rellery pieces are made by skilled artisans right in their Rhode Island studio!
Lightweight – These pieces are so light! We can literally wear these 24/7 if we wanted to.
Check out their necklaces, earrings and even cute anklets. Use code UNCOVERTHEGLOW10 to get 10% off your order!
2.
Ana Luisa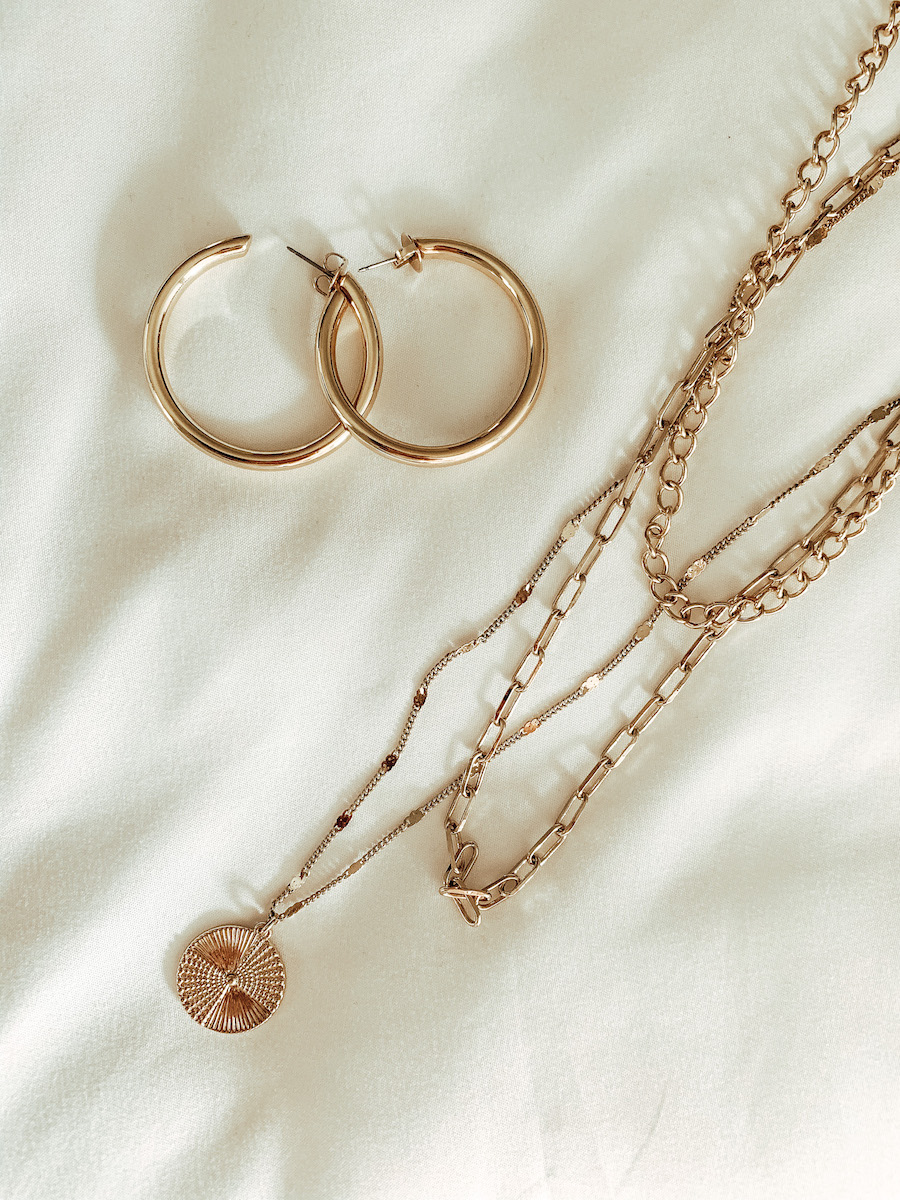 Ana Luisa is a small-batch jewelry brand focused on using recycled materials.
I found Ana Luisa through good ole' Instagram ads, and I'm so glad I did! This has easily become my go-to sustainable jewelry brand. Anytime I want something trendy yet timeless, I go to Ana Luisa. Sam loves it too!
My favorite Ana Luisa pieces are the Michelle Layered Chain Necklace and the Tia Medium Gold Hoops. The necklace is great because it's three-in-one! You can layer all three together or wear them as separate pieces. And the gold hoops are just a classic! Sam's favorite pieces are the Mama Necklace, Sia (Safety Pin) Earrings, and Venus Earrings. They are perfectly simple and totally match her style!
What we love about Ana Luisa:
Transparent Manufacturing – They are very open and honest about how they source materials, what types of materials they use and where the pieces are manufactured. Read here!
Accessible Pricing – Much like Rellery, Ana Luisa cuts out the middle man so they can offer jewelry at affordable prices. We love how we can find so many goodies under $100!
Offset Carbon Footprint – They tell you what percentage of the carbon footprint was offset for each product they sell.
Long-Lasting – No matter how often I wear these pieces, the quality remains the same. No tarnishing, no fading.
Use this link to get $15 off your Ana Luisa order!
3.
ABLE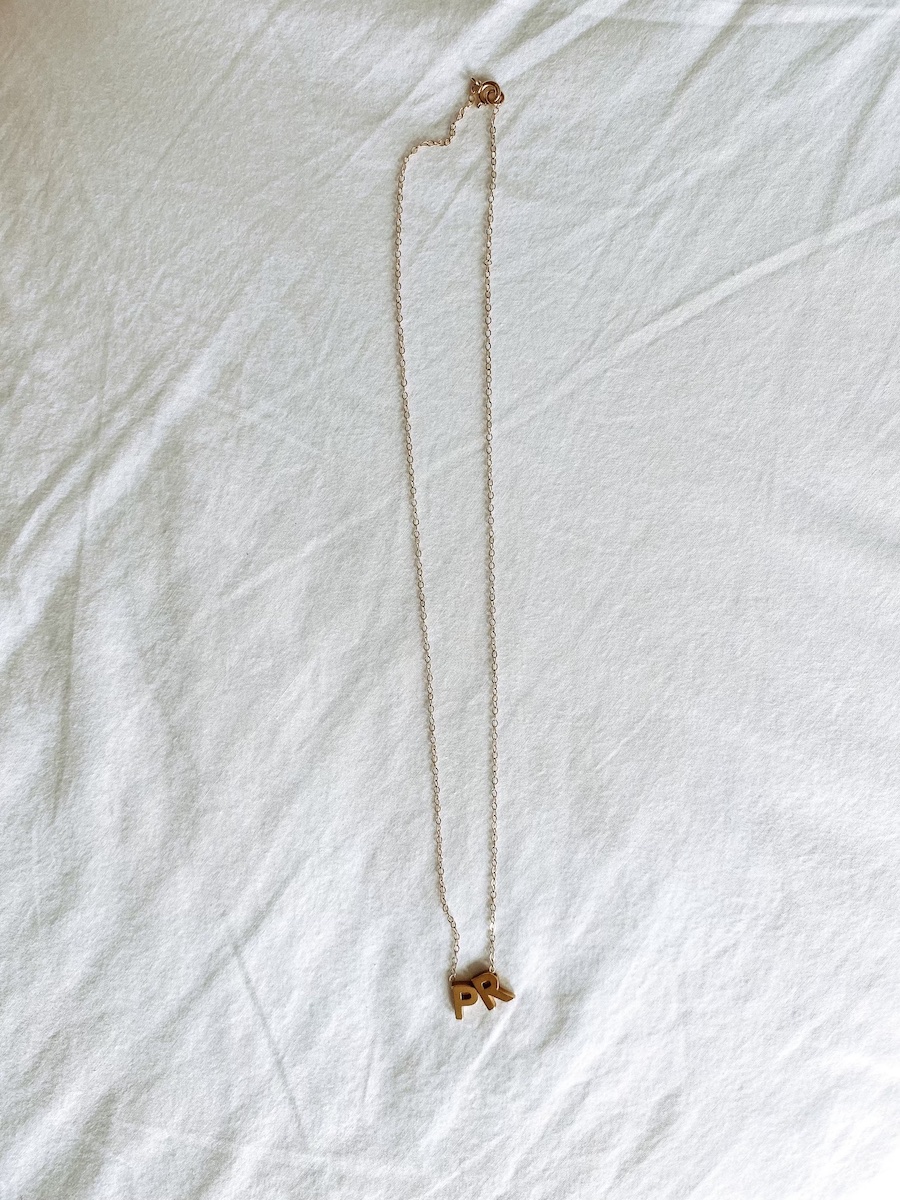 ABLE jewelry is hand-crafted in Nashville by a team of skilled women.
This is one of our go-to sustainable brands! Their shoes, handbags and jewelry are must-haves. Not to mention, ABLE's main focus is to create opportunities for women in need. You feel good supporting a brand like this!
ABLE has adorable, simple jewelry that make for great gifts. Sam's favorite is the Letter Necklace pictured above! You can select multiple letters and create a truly unique gift for yourself or a loved one. Some of our other favorite pieces to gift are the Vantage Bracelet, Citadel Necklace, and Personalized Cuff and Cuff Ring.
What we love about ABLE:
Empowering Women – We just love the ABLE mission. They are committed to reducing poverty in women by creating fair wage opportunities. Check out their story!
Transparent Wages – ABLE is not afraid to publish their wages. They are doing everything they can to pay each and every one of their workers fairly.
Personalized Options – They offer some of the cutest, daintiest personalized jewelry out there! Gifting jewelry has never been easier.
Affordable Prices – The majority of their jewelry is under $80! Not to mention, the quality is fantastic for the price you pay.
Other handcrafted brands we love: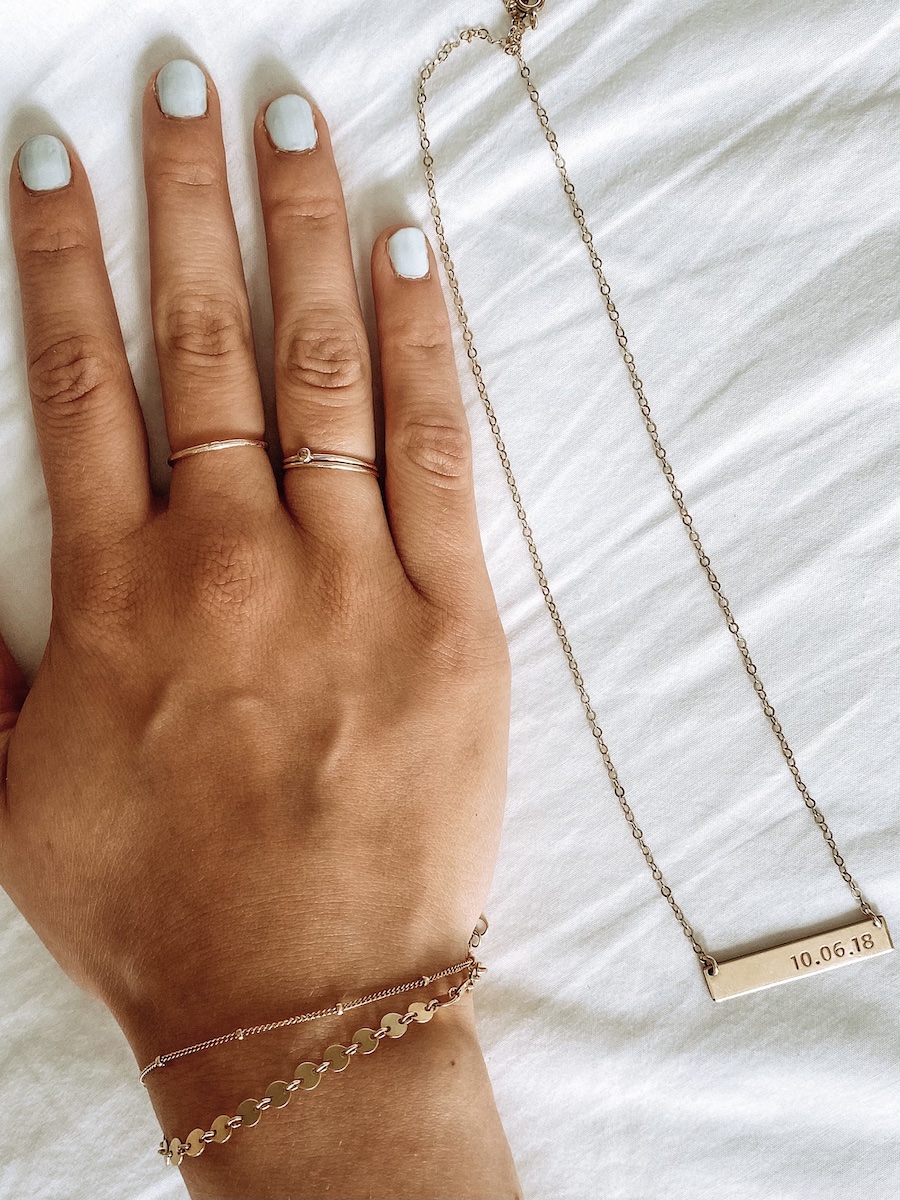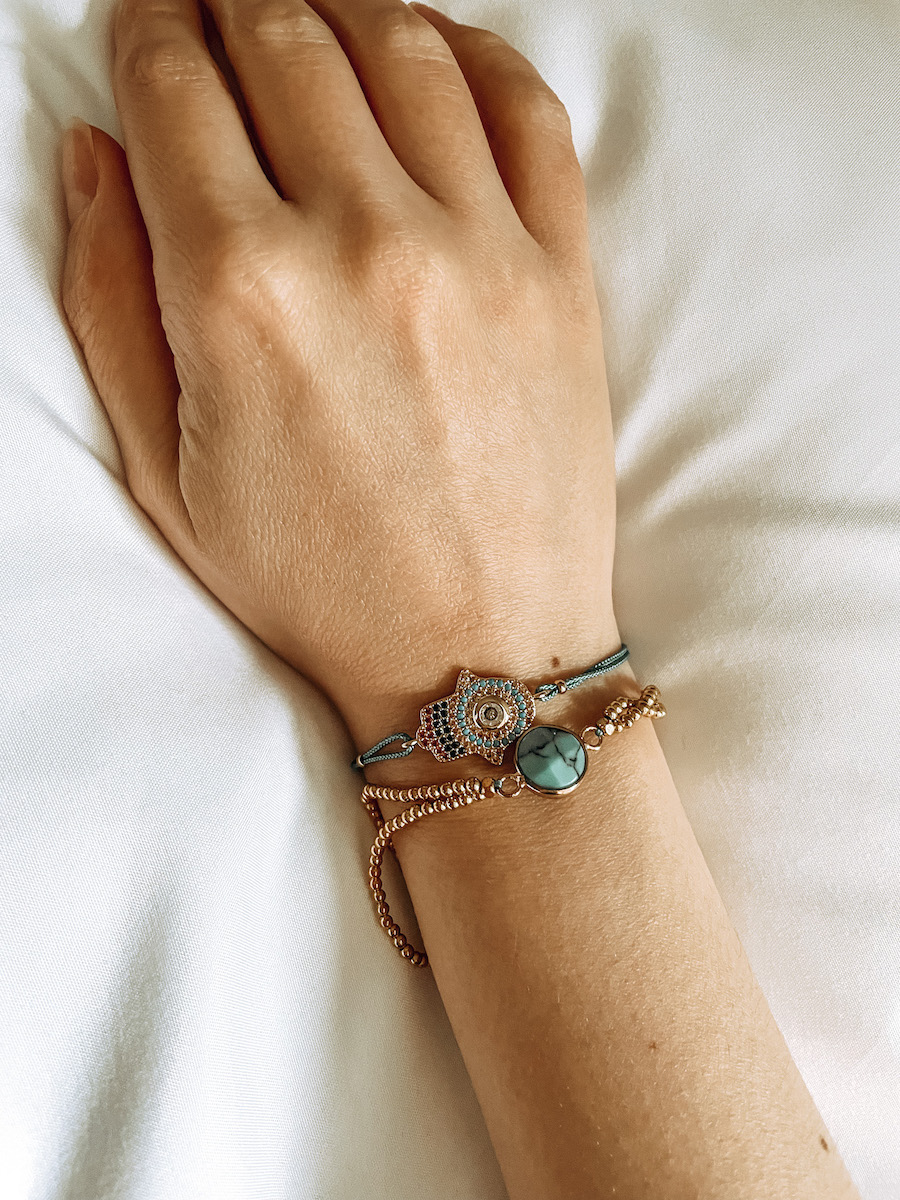 Mare Boutique Miami
My mom and I stumbled upon this adorably chic boutique in North Miami owned by the sweetest husband and wife duo and fell in love with everything. They spend part of the year in Bali working with artisans to handcraft jewelry, clothes, accessories and home decor. Sounds amazing right? If you're looking for unique pieces to add to your collection but don't live in the area, check out their new website!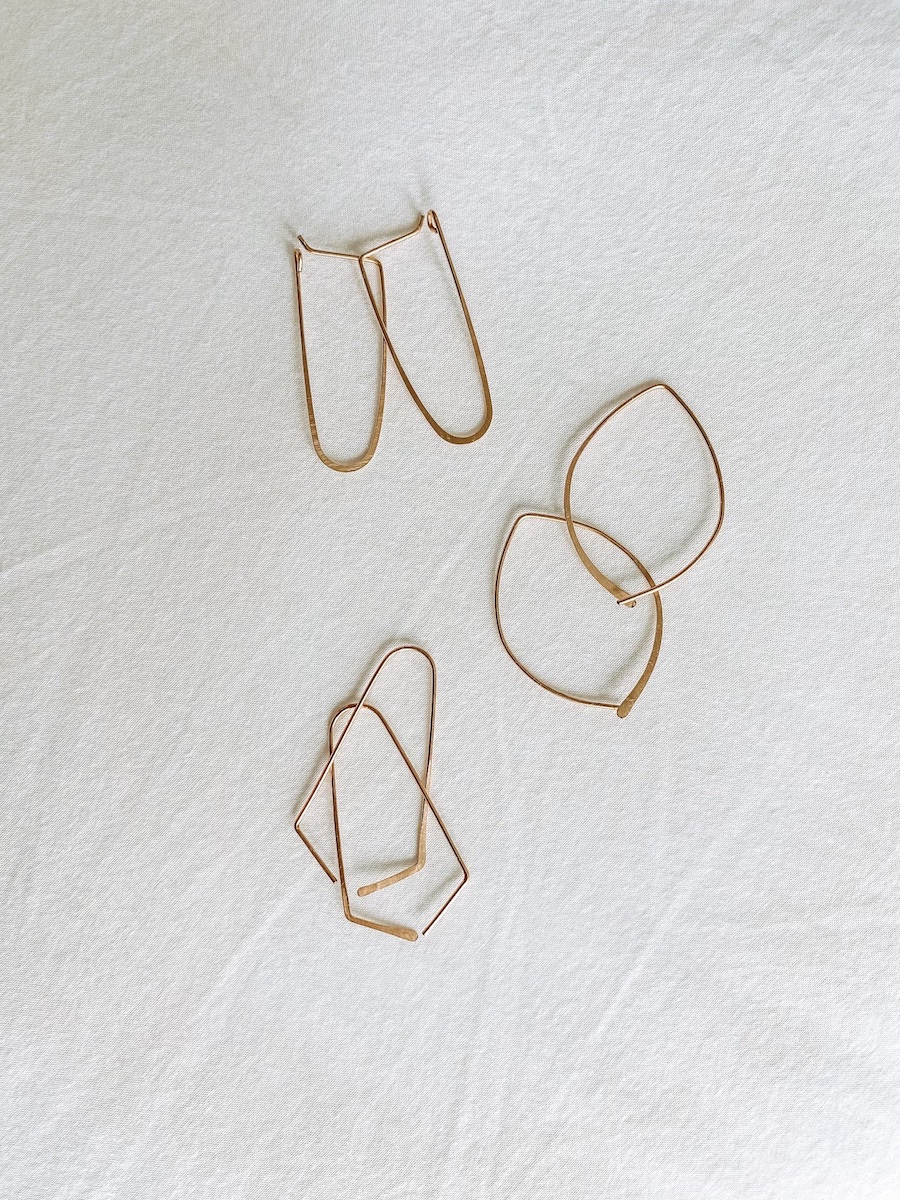 Handcrafted by Delcie
If you're looking for minimal, modern jewelry, you should definitely check out Handcrafted by Delcie! She makes beautiful pieces in her Austin-based studio that are meant for everyday wear. Sam has a few of their earrings and loves how light and comfortable they are. Everything is made with 14K gold, so you know these pieces will last!
Sam's favorites are: Jovie Earrings, Tess Earrings, and Juniper Earrings
What are your favorite ethical jewelry brands?
As you can see, our list is not big enough yet! This is definitely a work in progress, but who can complain about researching and testing new jewelry, am I right? Comment below with your favorites so we can add more to our collection! As always, we'll continue to update this post as we discover more ethical jewelry brands we love. Stay connected with us on Instagram (@uncovertheglow) for more!